Elizabeth MacLeod, BA; MDiv
Elizabeth lives in St. Thomas and is very experienced in celebrating weddings. She believes in the inclusion of all persons regardless of gender, sexual orientation, race or beliefs. As a mother and grandmother, she appreciates the importance of family and encourages participation of all within the ceremony. She has a warmth and flexibility that will put you at ease and her sense of humour will engage you and make you feel comfortable before and during your special day. With open minded eagerness Elizabeth will help to make "your wedding, your way". She is credentialed with Clergy Support Memorial Church.
Request Elizabeth MacLeod
Areas Served
Aylmer, Belmont, Dorchester, Dutton-Dunwich, London, Port Burwell, Port Bruce, Port Stanley, St. Thomas, West Lorne, Wallacetown, Union
Reviews
Jordan & Holly
Elizabeth MacLeod was fantastic. Thank you for your flexibility, kindness, and personalized ceremony. It was an honour to have you officiate our big day! Jordan & Holly August 2020
Brett & Rachel
Elizabeth MacLeod was amazing and very supportive - answered any and all questions. As well, she was great during the ceremony. Thank you for everything! Brett & Rachel September 2019
Jason & Shelley
Words cannot express how amazing Elizabeth (MacLeod) is. We had an issue one month before our wedding and suddenly didn't have an officiant. I was freaking out, but the moment we met Elizabeth I knew it was all going to work out. She has a way about her that will put your right at ease. She helped us pick out all the differnet things that made our cermony unique and even went the extra mile to make sure my step daughter was included. Even when we werern't sure what we wanted she helped us figure it out. Our ceremony went perfectly and our guests were so impressed with how suited to us it was. The majority of our guests went out of their way to tell us how much they loved Elizabeth and how perfectly she read the crowd. Jason & Shelley. June 2019
Richard & Kelsey
Elizabeth MacLeod kept things light but also kept on track the opening of our ceremony was beautiful. We will recommend you guys especially Elizabeth to any of our friends that are getting married. Richard & Kelsey June 2019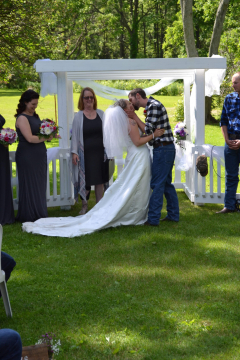 Maia and Sam
Thank you for the wonderful ceremony!! I know it was brutally hot. Thank you for accommodating us. You played a huge role in making our day everything we wanted it to be!
Jacky and Travis
We wanted to thank you for everything you did. You made the wedding nice and easy going, it was perfect! We hope you are having a fabulous summer!
Dane & Keiko
Rev Liz MacLeod was so amazing, she made our big day unforgettable, we really thank to her!
Krista & Dan
Rev Elizabeth MacLeod was warm and lovely. We adored her. Thank you Elizabeth! You are amazing :)
Sarah & Kenneth
We couldn't be happier with Elizabeth MacLeod and how sweet, caring, and professional she was. We are so happy she was our officiant and would definitely recommend her and All Seasons.
Karly & Craig
Elizabeth MacLeod was great, she answered all questions we had and completely catered our ceremony to our needs. She answered my (numerous) emails and helped our ceremony run perfectly.
Brandette & Jeffrey
Elizabeth MacLeod is fantastic! She was very helpful and approachable. I would recommend her to anyone getting married.