Elizabeth MacLeod, BA; MDiv
Request Elizabeth MacLeod
Secteurs desservis
Aylmer, Belmont, Dorchester, Dutton-Dunwich, London, Port Burwell, Port Bruce, Port Stanley, St. Thomas, West Lorne, Wallacetown, Union
Commentaires
Adam & Sara
Elizabeth MacLeod was absolutely amazing, she got everyone involved and customized the ceremony to fit our personalities. I would absolutely recommend her to anyone and everyone! October 2022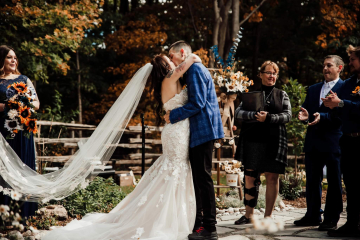 Bobbi-Joe & Kaylee
Elizabeth MacLeod was amazing! We are so happy we chose her to officiant our wedding ceremony. She was so great to work with, she explained everything from the first meeting to after the big day. Elizabeth helped make the ceremony fun, flow smoothly and perfect. Lots of laughs and happy tears! I would recommend her to anyone. Thank you so much Elizabeth! September 2022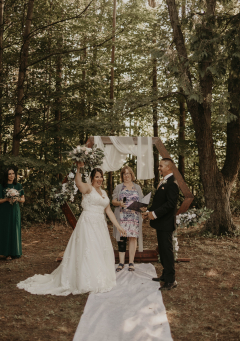 Taylor & Matthew
Elizabeth MacLeod was an incredible officiant! She went above and beyond for my husband and I. We were both crying quite a bit and she made thoughtful pauses to help us recollect ourselves. She was so warm and friendly that she felt like a part of our family! We had a small ceremony of only 16 and she made the entire experience seamless. She allowed us to make small changes and accommodated every request we had such as asking her to step aside for our first kiss picture. I will never forget our wedding day and especially our ceremony. I would recommend Elizabeth to anyone! Thank you so much for being a part of our perfect day. Dec 2021
Savannah & Matthew
Elizabeth MacLeod was so sweet, very outgoing n friendly with everyone! She did a perfect job with the ceremony my husband and I loved every part of it. Any questions I needed answers to she was also there for me. I'm glad I picked Elizabeth to be my officiant! and I would definitely refer her to other people. Savannah & Matthew August 2021
Jessica & Moe
Elizabeth MacLeod was very comforting and helpful! Thanks Elizabeth for getting our wedding party on track and making sure our ceremony ran smoothly! You made us feel prepared and not as anxious! Jessica & Moe July 2021
Jordan & Holly
Elizabeth MacLeod was fantastic. Thank you for your flexibility, kindness, and personalized ceremony. It was an honour to have you officiate our big day! Jordan & Holly August 2020
Brett & Rachel
Elizabeth MacLeod was amazing and very supportive - answered any and all questions. As well, she was great during the ceremony. Thank you for everything! Brett & Rachel September 2019
Jason & Shelley
Words cannot express how amazing Elizabeth (MacLeod) is. We had an issue one month before our wedding and suddenly didn't have an officiant. I was freaking out, but the moment we met Elizabeth I knew it was all going to work out. She has a way about her that will put your right at ease. She helped us pick out all the differnet things that made our cermony unique and even went the extra mile to make sure my step daughter was included. Even when we werern't sure what we wanted she helped us figure it out. Our ceremony went perfectly and our guests were so impressed with how suited to us it was. The majority of our guests went out of their way to tell us how much they loved Elizabeth and how perfectly she read the crowd. Jason & Shelley. June 2019
Richard & Kelsey
Elizabeth MacLeod kept things light but also kept on track the opening of our ceremony was beautiful. We will recommend you guys especially Elizabeth to any of our friends that are getting married. Richard & Kelsey June 2019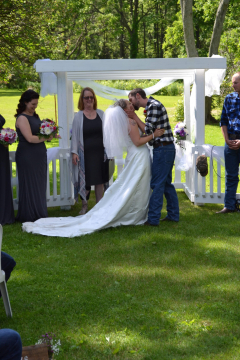 Maia and Sam
Thank you for the wonderful ceremony!! I know it was brutally hot. Thank you for accommodating us. You played a huge role in making our day everything we wanted it to be!
Jacky and Travis
We wanted to thank you for everything you did. You made the wedding nice and easy going, it was perfect! We hope you are having a fabulous summer!
Dane & Keiko
Rev Liz MacLeod was so amazing, she made our big day unforgettable, we really thank to her!
Krista & Dan
Rev Elizabeth MacLeod was warm and lovely. We adored her. Thank you Elizabeth! You are amazing :)
Sarah & Kenneth
We couldn't be happier with Elizabeth MacLeod and how sweet, caring, and professional she was. We are so happy she was our officiant and would definitely recommend her and All Seasons.
Karly & Craig
Elizabeth MacLeod was great, she answered all questions we had and completely catered our ceremony to our needs. She answered my (numerous) emails and helped our ceremony run perfectly.
Brandette & Jeffrey
Elizabeth MacLeod is fantastic! She was very helpful and approachable. I would recommend her to anyone getting married.