Carol Cousineau
Carol, who lives in Orleans, is a kind and caring person. She likes to golf, garden, read and is an active bowler. She is a fantastic person who will take her role in your wedding ceremony very seriously. Carol is the kind of professional who loves to spend time with couples to see that their ceremony is all they want it to be. She will conduct your personalized wedding ceremony the way you want it celebrated and create a warm and welcoming ambiance for all concerned.
Request Carol Cousineau
Areas Served
Ottawa, Orleans, Cumberland, Navan, Rockland, Clarence Creek, Bourget, Embrun, Kanata, Stittsville, Wendover, North Gower, Metcalfe, Manotick, Aylmer, Hull, Gatineau
Reviews
Scott & Courtnay
Carol Cousineau was amazing! Pre-ceremony, Carol took the time to ask questions such as how we met, and how we fit together as a couple, which made us feel comfortable with her right away. She clearly explained the options for content in our ceremony, allowing for customization as we wanted. During the ceremony, Carol was relatable and natural, yet professional. She also adapted quickly when the microphone was cutting in and out, moving us closer to our guests. We so appreciated this! Carol is a lovely and warm person and we are so glad that we chose her. Thank you Carol for making our wedding day extra special! You truly "saved the day" :) July 2022
Jesse & Mithila
Carol [Cousineau] conducted a beautiful ceremony for my husband and I. She was so helpful from start to finish and made great recommendations, including having a ring warming ceremony. We got married in Quebec and Carol let us know exactly what was needed so that we didn't have to stress. Thank you for helping make our day perfect, Carol! July 2022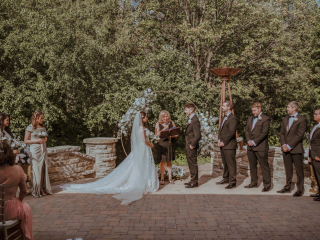 Diane & John
Carol Cousineau helped make our wedding so perfect and beautiful. Everyone commented how beautiful it was. Happy that I chose her.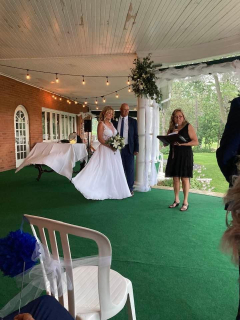 Mithila & Jesse
Carol [Cousineau], We wanted to thank you so much for conducting such a beautiful ceremony. All our guests were blown away! It went exactly as we'd hoped. July 2022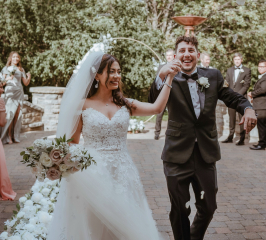 Chelsea & Matt
Carol (Cousineau), thank you so much for officiating our wedding and making the ceremony so personal to us - we had quite a few friends and family members comment on how much it felt true to who we are as people and as a couple. The day definitely wouldn't have been as special as it was without you. May 2022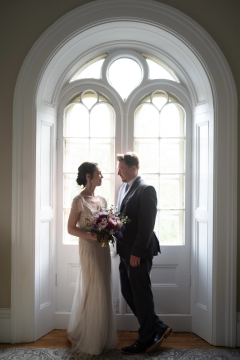 Gabriel & Lynda
Carol Cousineau took the time to get to know us and to make sure that her words would truly connect with our love story as she married us. We really felt at home with Carol. Would definitely recommend! October 2021
Alysha & Michael
Carol, we want to thank you again for being a part of our special day! You were a joy to work with. August 2021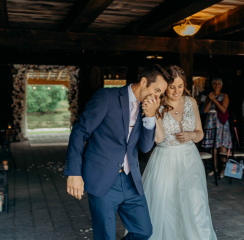 David & Jessica
Carol Cousineau was professional, punctual, flexible and well-spoken. She was very caring, Carol took the time to get to know us, and treated our wedding like one of her own family. We found the service was great value for what we paid and would highly recommend Carol to friends and family. Sept 2021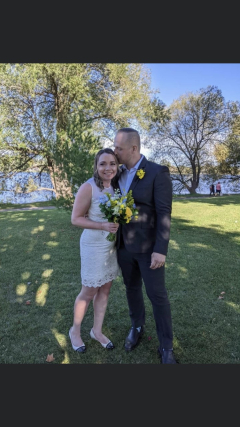 Bryanna and Ian
Carol, thank you again for being part of our special day. We received so many compliments on your ceremony! Bryanna and Ian August 2021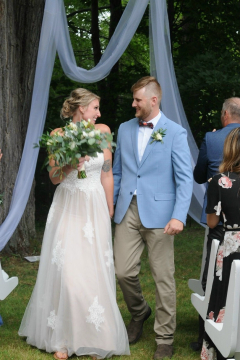 Joe & Andrea
We wanted to thank you so much for making our happy day all the better. Your professional and caring service was wonderful. The vows were easy to read (except for those of us crying a bit, haha), and everything went so smoothly. The lovely printout of the ceremony was such a nice touch. Thank you again for everything. Sept 2021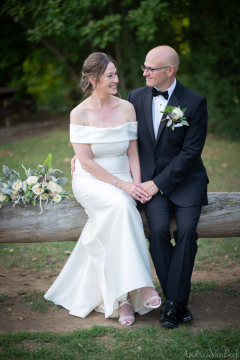 Colette & Ali
Carol Cousineau exceeded our expectations. She was amazing. Carol visited us a few weeks prior to our wedding. She clearly explained each step of the process. Carol has a kind and warm personality. She was pleasant to speak to and ensured our wedding, as simple as it was, to be truly a beautiful and memorable ceremony. Thank you Carol. Colette & Ali July 2021
Jeffery & Stephanie
Words can't express how wonderful Carol Cousineau was. She was so unbelievably helpful, kind and flexible with us as we tried to plan a covid wedding. I would not hesitate to recommend her to anyone we know. Jeffery & Stephanie June 2021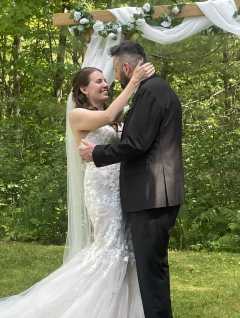 Cassandra & Joseph
We just wanted to say thank you so much for all your help preparing the perfect ceremony. We were so happy to have you standing there with us with such an important role in our day. You made a special moment so perfect, and we felt completely comfortable and at ease with you. All of our family members also complimented you and loved how personal and meaningful you made the ceremony feel. You were wonderful!! Thank you again! Cassandra & Joseph 09/2020"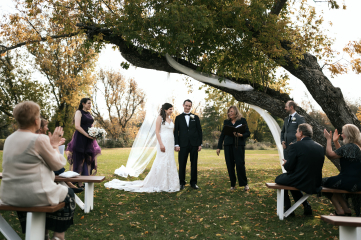 Lianne and Justin
Carol Cousineau was absolutely wonderful to work with! She was there every step of the way and supported us through our Covid wedding. She always reassured us that our day would be perfect no matter how the restrictions played out. She was very professional and her expertise definitely showed. Carol is a very friendly, warm and positive person. We had our rehearsal with our bridal party the day before, and she was excellent in preparing us all for the big day. Because of her, everything went smoothly. We would HIGHLY recommend Carol Cousineau. " Lianne and Justin October 2020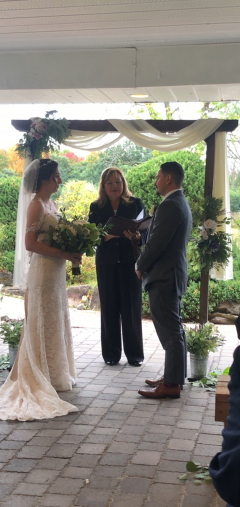 Sam & Katie
Carol Cousineau was great! I could not have asked for a better officiant. She was so easy to talk to and she made the whole ordeal so much easier for us. She even sent me some song suggestions because she knew I was having trouble making a decision. Thank you so much! Sam & Katie October 2020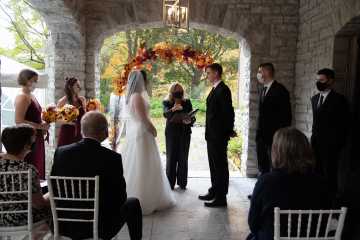 Patrick & Kaitlyn
Carol Cousineau was great at communicating, reliable and worked with us to create a ceremony that we both loved. Our guests were very complimentary, thank you for everything. Patrick & Kaitlyn September 2020
Kendra and David
Thank you Carol for doing such a great job with our ceremony and for being so easy to work with! We really appreciated all of your help over the months leading up to the big day and for helping to make our ceremony everything that we dreamed of. Kendra and David October 2019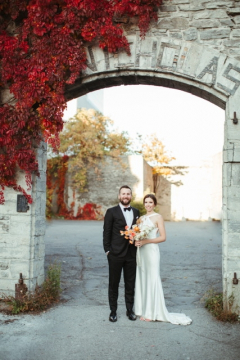 Mitchell & Marie-Pier
Carol Cousineau was great! she made herself available for our very fast wedding ceremony. She is very friendly and would highly recommend her. Mitchell & Marie-Pier August 2020
Darsey and Lindsey
Carol Cousineau was amazing. Thank you again for your wonderful services on our special day. Darsey and Lindsey May 2020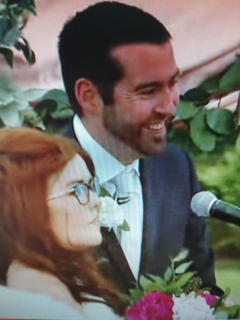 Angie and Michel
Carol, thank you for being the officiant at our wedding. We made the best of the circumstances given the timing and resources we had. The ceremony went beautifully for our family and friends. We look forward to do this all over again next year and having all our friends and family in the same room together! " Thank you so much. Angie and Michel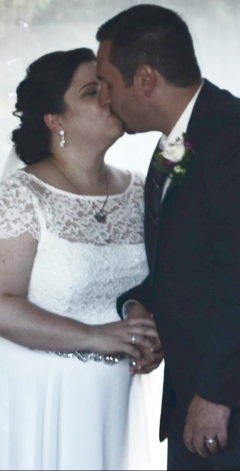 Alec & Sarah
Carol Cousineau was amazing. She orchestrated our entire wedding in just under two months. She took the time to learn about who we are as individuals and a couple. Thank you Carol! Alec & Sarah August 2019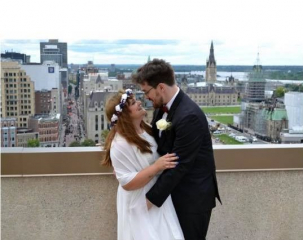 Brad and Melanie
We both would like to thank Carol Cousineau very much for her amazing job, she made our special day just that much better!! There wasn't a dry eye during the ceremony and that was in part to your fantastic officiating! Thank you again for everything Carol. Brad and Melanie October 2019
Jenn & Kyle
Carol Cousineau was the best! We had a wonderful time at our wedding and the ceremony was perfect. We really felt it suited us well, and it was great to see the guests smile and even laugh a little. Thank you Carol for helping us make our wedding special and for creating a beautiful ceremony. We appreciated how organized you were, your guidance during the planning process, and for helping everyone on the day of. Thanks for the package with all of the information as well. Thanks again for everything! Jenn & Kyle September 2019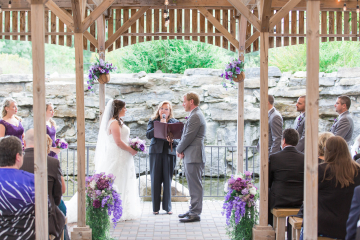 Samantha & Tom
Even the heavy downpour of rain could not dampen the day, the wedding was beautiful and the smiles were full of sunshine. Samantha & Tom July 2019
Brady & Ashley
Carol Cousineau was amazing! She exceeded out expectation. Thank you for making our day special. Brady & Ashley August 2019
Edward & Caroline
Carol Cousineau was our officiant. We wanted a simple and intimate ceremony, Carol made sure we achieved that. Thank you for helping us create a perfect day. Edward & Caroline August 2019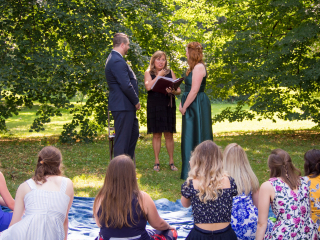 Chris & Trish
Carol Cousineau was very organized and able to manage large groups to get things going whether it be at the rehearsal or the ceremony. She shared different ideas about what to include in the ceremony, and I feel she would be well suited and prepared for many different styles of ceremony. We wanted to keep things simple and brief, but were happy to include a reading she provided and she had good options for the vows. Thank you for everything you did for us Carol ! Chris & Trish June 2019
John & Stephanie
We just wanted to say a big thank you to Carol Cousineau for marrying us and putting up with our last minute changes and giant bridal party haha! You were fantastic and we had lots of compliments on how good you were and how beautiful the ceremony was. Thank you again! John & Stephanie June 2019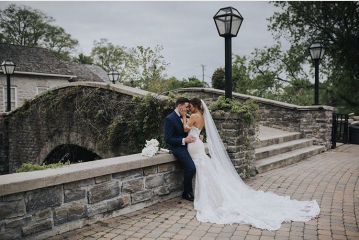 Daniel & Beth
Carol Cousineau was incredible! We had no idea what we were doing but she was so helpful and guided us throughout the entire process and made our ceremony so "us." Carol is fantastic! Her attention to detail is phenomenal and her passion is obvious in every interaction. We truly appreciate everything she did for us and will continue to sing her praises to everyone! September, 2018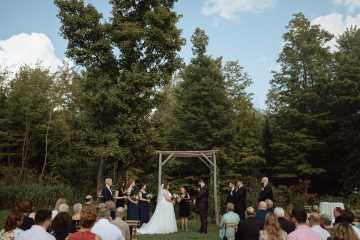 Danielle and Dean
Carol was absolutely wonderful! Dean and I planned our wedding from Australia, and she was a joy to coordinate with. She made us feel at ease, prepared, and organised even from the other side of the world. We are very laid back and we knew we wanted our ceremony to be short and sweet. Carol listened to everything we wanted and gave us tips and tricks and pointed us in the right direction. She made wedding planning a breeze! Thank you again so much for everything, we couldn't have been happier with the way the day turned out! (August 2018, Cumberland Museum)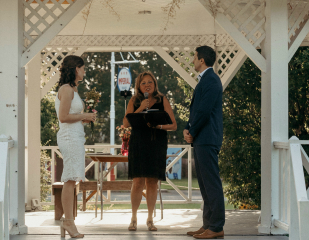 Lauren and Simon
Carol was a true delight to work with. She did an incredible job of personalizing our ceremony to exactly what we wanted, and had wonderful suggestions for things to add that would make our ceremony extra special. People are still talking about how unique and special the ring warming ceremony was, which was all Carol's idea! We are so happy she was the person who married us! - August 25th, 2018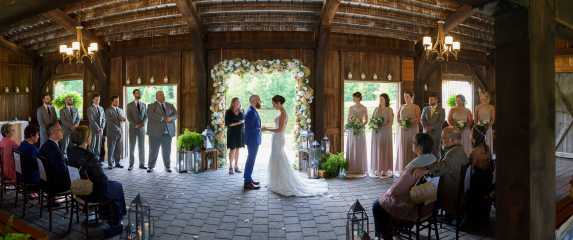 Megan and Danny
Throughout our wedding, from the planning to the ceremony itself, Carol was excellent at her job. She managed to maintain a high degree of professionalism along with a warm, approachable attitude. We received a lot of guidance, helpful advice, and tips on how to organize our special day - and with her level of experience, she easily cleared up any doubts. Communication with her was prompt and she managed to help us with our wedding in an incredibly short time-frame. We highly recommend Carol for your own special day. - August 12th, 2018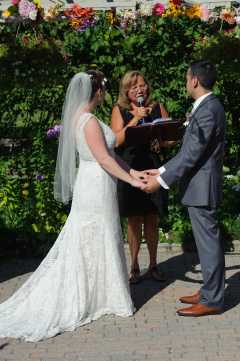 Marie & Derek
Carol did a wonderful job, and we couldn't be happier. August 24th, 2018
Virginia and Jeff
we want to say thank you for being our wedding officiant. We couldn't have asked for a better day! Everything went so smoothly (save for one nephew refusing to walk down the aisle! :) ) We have received many compliments about the ceremony and our promises. It was a day we will never forget! It was a real pleasure working with you, so thank you again.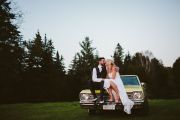 Brent and Kim
Carol, thank you so much for doing our wedding ceremony. We had so many people say how much they loved the simplicity of it, the warming of the rings and how it was very much us. Thank you for making our moment about us and helping us with our vows. WE LOVED IT!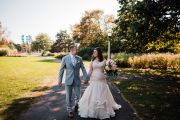 Sarah & David
As mother of the bride, I can honestly say that she helped them create a very lovely, intimate and "them" wedding ceremony. She looked professional, spoke beautifully and had a warm presence that all worked to create a beautiful ceremony. She suggested that we reverse the traditional seating arrangement so that we sat opposite our daughter and it was perfect, because we could see her face the entire time, rather than her back, as is typically the case. Great suggestion! She was key to the success of their ceremony, and we were really happy to have her officiate. Couldn't recommend her more highly.
Angelina and Shawn
Shawn and I want to thank you from the bottom of our hearts for the lovely ceremony you performed. We loved it! It was us 100% with some laughter and some tears of joy.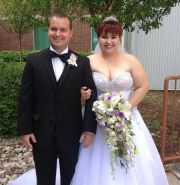 Jillian & Darren
Carol, thank you so much being part of our wedding day. You did an amazing job and made our ceremony so special and you made it feel like it was just as special to you! Thank you!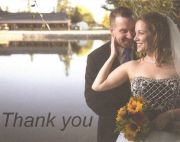 Sonia and Philippe
Carol Cousineau exceeded our expectations. She was fantastic! Thank you to Carol for her excellent services!
Brent &Cassie
Carol, we wanted to thank you for making our wedding ceremony a beautiful moment for us, our families and friends. The process working with you was so easy and we appreciated your recommendations and tips, it really made our day so special. We are looking forward to reminiscing about it for many years to come! Thanks again,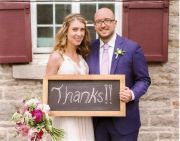 Jane & David
Hi Carol, David and I would like to thank you again for being a part of our wedding ceremony! We received many compliments from our family & friends about how beautiful the ceremony was. Thank you for helping us with all the details leading up to the wedding day. You made planning the procession so much easier than we expected! Thank you for everything! Jane & David
Sonia & Dean
I wanted to thank you very much for the wonderful ceremony. It was perfect! Dean and I really enjoyed it and based on our guest's comments every one else loved it as much as we did. We also received your card and really liked your comments. Again thank you very much for all that you have done and contributed in making our special day absolutely wonderful!!!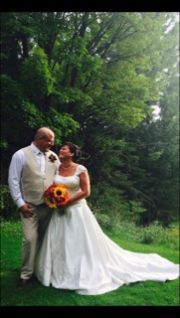 Laura & Darren
Carol Cousineau was the best. She was so kind, patient, and created the perfect wedding for us. We had never heard of a ring warming ceremony before, and after Carol explained it, we knew we had to include it in our wedding. She has a way with words, and anything we could think of, she came up with the perfect way to say it. Thank you for EVERYTHING Carol, you really made our day perfect.
Jesse and Justin :)
Hi Carol (Cousineau), I just wanted to extend a huge Thank You to you, for performing such a beautiful ceremony for our wedding. You were so fantastic and patient when it came to the whole planning process, and when it came to leading our wedding party through the whole rehearsal process. The actual execution of the real ceremony itself was better than we both imagined it ever could be. We both truly felt that it reflected us and our personalities to a tee, and it felt truly authentic. Many people came up to us afterwards and told us that it was one of the most beautiful and touching ceremonies they had seen, and people specifically commented on how wonderful an officiant you were. Thank you so very much for helping to make our Wedding Day so special and meaningful. I hope to see you at another wedding down the road! Jesse and Justin
Liz and Jamie
Carol Cousineau exceeded our expectations in every way! She was 100% accommodating leading up to our wedding, she incorporated everything we wanted in our ceremony, and she took care of all of the details we hadn't thought of. We received such positive feedback from our guests who said our ceremony was the perfect mix of sentimental and lighthearted. We couldn't be happier with our decision to choose All Seasons Weddings and to have Carol as our officiant! Liz and Jamie
Joel & Brittany
Dear Carol, We wanted to write you a note to thank you from the bottom of our hearts for such a beautiful wedding ceremony on August 31 at Orchard View. We could not have asked for a more wonderful person to work with! We really appreciated your flexibility and willingness to plan so much over email - it really put our minds at ease while planning a wedding from a few provinces away! We also really appreciated your openness to our suggestions and ideas and your creativity in bringing them all together perfectly into an unforgettable ceremony. It truly was perfect in every way. Thank you so much again! Please find attached a few shots from the big day that we thought you might like to see, including the "second kiss!' All the best,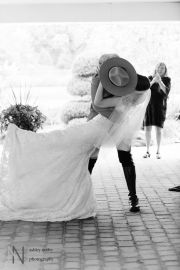 Heather &Andre
Hi Carol (Cousineau), I just wanted to send you a quick note and say thank you for delivering a such beautiful wedding ceremony on Saturday Feb 14th, 2015. Andre and I really appreciate it. It was a wonderful day and Andre and I are excited about starting this new life together as husband and wife. Thank you again! Heather &Andre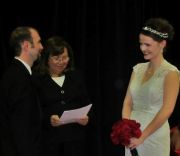 Jamie & Ben
Carol Cousineau was amazing. We had to plan a local wedding at the last minute because a family emergency prevented us from going through with our original plans. Carol was very accommodating and met with us just over a week before the ceremony. She really took the time to get to know us and to tailor our ceremony to tell the story of our relationship. She even had a draft ceremony ready for us that same evening! She was a pleasure to work with and everyone at our wedding commented on how great she was. Thank you for all your help!
Angela & Dmitri
Carol Cousineau far surpassed our expectations. Not only was she friendly and well spoken, she was also very knowledgable and organized. She gave us ideas for the ceremony that we would have never thought of. She made our special day that moch more special. From the first meeting to the ceremony she made us feel relaxed...what could have been very stressful didn't feel stressful at all. Thank you so much!
Kate & David
Carol Cousineau was an absolute pro and was invaluable in putting our ceremony together and making sure everything went according to plan. We wouldn't have know how to plan out the event without her. Also we both felt that she really took the time to understand us as a couple, which we really appreciated. Our guests really enjoyed the ring warming ceremony that Carol suggested.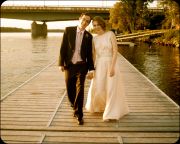 Elham & Ali
We are more than happy to have had Carol Cousineau as our officiant. She was more than friendly and helpful There was a delay in our ceremony and her patience is extremely appreciated. I would definitely recommend her to any couple, especially any Persian couples, since she is quite familiar with the Persian traditional ceremonies and customize ours with a Honey ceremony. In addition, her personality helped us to enjoy every single second of the ceremony.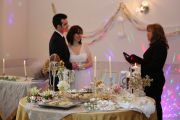 Amy & Jason
Hi Carol (Cousineau) We wanted to take the time to thank you for allowing us to achieve such an intimate and personalized wedding ceremony. We loved your professionalism and tireless help in providing us with examples of ceremonies and readings. We had no idea where to start and you simplified everything for us! Uncle Norm and aunt Ellie have only great things to say about you and we now know why. Our wedding day wouldn't have been the same without you. THANK YOU for making our day extra special. Now if my friends can wake up and get hitched, we will be referring them to you - as we believe that there is no better person to pronounce them as husband and wife! Many thanks from the newlyweds,
Sarah and Andrew
Hello Carol (Cousineau), I just wanted to send a quick note to thank you for such a wonderful job on Friday night. Our family could not stop raving about the wonderful job that you did! They did not expect such a warm felt wedding ceremony (considering it was in our living room) but you did an excellent job in doing so. I will continue to refer All Seasons, and highly recommend that your services are requested. Sarah and Andrew
Rick and Carole
Hi Carol (Cousineau), We just wanted to thank you so very much for leading our special day! You did a fantastic job at making sure our love was united with finesse and we truly appreciated it. The flow was perfect and you were part of the wonderful memories we will cherish forever! We are soooo glad that you accepted to perform our wedding ceremony, especially on such a short notice and you did everything perfectly! We are very pleased to have met you and had everything turn out the way it did, perfectly! We will definitely recommend "All Seasons" to anyone we hear may be looking to get married in the future as the whole team were absolutely great!
Kathleen & Thomas
Carol Cousineau was the right person to conduct our ceremony. She is knowledgeable and observant; a kind and gentle person with a sense of humour! She coached us through the intricacies of the ceremony from the entrance to the toast, delicate details that were well appreciated. Our wedding day was exquisite; all of our guests felt welcomed and relaxed. Tom and I savoured every moment. Carol, thank you for all that you contributed to making this day a memorable one. The staff was exceptional, by that I mean good customer service from the time we made initial contact and for the duration of the planning stages. I am an event planner so I am experienced in dealing with a broad variety of people across the country. Your website is very informative and user friendly for those who need the step by step. You have a wonderful organization in place.
Jill & Dean
Carol Cousineau was amazing. She helped us get everything in order and created a ceremony that joined both of our families together. It was more than a wedding ceremony and we were thrilled to have her perform it. All Seasons Weddings was the perfect choice for us. We were very happy with everything as all the little details were covered. She brought up things that we did not know we needed to do to ensure all of our bases were covered before, during, & after the ceremony. The ceremony was perfect and we were thrilled with the end result.
Marc and Ursula
Hello Carol (Cousineau), Marc and I just wanted to say how happy we were with the wedding ceremony. It was exactly how we had envisioned it. Thank you for your cheerful attitude and impressive attention to detail. We really appreciated it and it made our day that much more enjoyable. Marc & Ula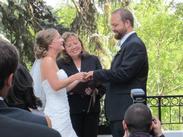 Carole and Richard
Carol Cousineau exceeded our expectations. She offered additional ideas of what to say and the sand ceremony. She helped to make it that much more special. We wanted to make our wedding more of a family affair because it was the joining of my son and my new husband and I as a family. Carol suggested he read a poem called "family". It was a very special moment my son will always remember. Just want to say a big thank you to Carol Cousineau. Carol you were awesome and can't thank you enough for helping to make our day so special.
Joanne and Mario
Carol(Cousineau),We just wanted to take this opportunity to thank you very much for officiating at our wedding. You did a fantastic job and we would recommend you to anyone. You were always on time for meetings and most importantly for the day of the wedding. You had an air about you that really put us at ease on the big day. I really appreciated the little lace handkerchief you gave me. It's now in our wedding photo album as a keepsake.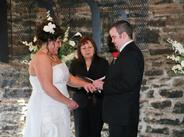 Sarah & Shaun
Carol Cousineau was a GEM to have in our ceremony. We told her that we wanted something light hearted, romantic and beautiful. And that is exactly what she made for us. We have her business card and we are telling everyone who is getting married that they would be smart to use Carol. We can't say enough how wonderful she made us feel. She took away our stress, metting with her was great. She was just what we needed. She asked us questions and taylored the ceremony to our personalities and those of our guests. It was perfect :)