Heather Klatt
Heather is a much in demand and experienced officiant. She would love to make your wedding day special by listening and delivering on what you want for your ceremony.Heather is an Ordained Minister with Clergy Support Church and graduate of the Canadian Ministers Institute where she specialized in Pastoral Care and Church growth via Life celebrations. She has lived in Leduc County all her life. She has many years of public speaking experience. Heather and her husband have a blended family consisting of one daughter and four sons, and one grandson that she absolutely adores. Heather loves sports, mainly hockey (played net for many years), baseball and football.
Request Heather Klatt
Areas served
Beaumont, Calmar, Devon, Edmonton, Leduc, Millet, Pigeon Lake, Thorsby, Warburg, Wetaskiwin, Sherwood Park
Reviews
Lori & Paul
Heather Klatt was great, she was very punctual and her ceremony was perfect for us! Thanks again Heather.
Neil & Sarah
Heather Klatt was professional and personable. I would highly recommend her. Neil & Sarah, July 2018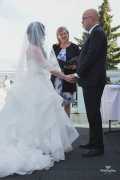 Haley & Brett
Rev. Heather Klatt was the perfect officiant for us. We loved her!!! We would recommend Heather to all of my friends getting married!
Jamie & Shayne
Rev Heather Klatt was absolutely fantastic! She was so kind and friendly, going above and beyond, helping to customize our ceremony to fit our family. Heather was professional, thorough, intelligent, well-spoken and organized. I loved her personal touch and how easy she was to work with. She went out of her way to text me the morning of the wedding with a sweet message, and even followed up a couple weeks afterwards, which I really appreciated. She was always very quick to respond to my emails and was flexible when scheduling appointments, willing to come to us, catering to our busy schedule. I would recommend Rev Heather to anyone getting married. She exceeded my expectations! Heather was always smiling and friendly. She was helpful and courteous; She was always quick to respond to my emails and answer any questions I had. Rev Heather really helped make our day special!
Darryl & Kerri
Rev Heather Klatt was excellent, she was extremely easy to talk to and that made it much easier to feel comfortable and at home which is where our ceremony was. August 25th, 2018
Mike & Jaime
Heather Klatt did a wonderful job, she had all the experience and knowledge to guide us through this exciting yet confusing and rewarding experience that we had no idea how to deal with. Thank you Heather Klatt! Mike & Jaime May 2019
Marcus & Heather
Heather Klatt was absolutely amazing. She is so kind and very easy to work with, we couldn't have asked for a better officiant. Heather explained everything to us, asked us questions and answered ours. Helped us through our rehearsal and was lovely on our wedding day. Phenomenal! We would highly recommend her to others. Thank you! Marcus & Heather July 2019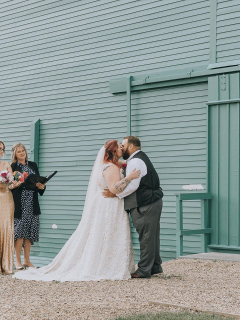 Liam & Gailene
Heather Klatt met our expectations and more; she was a perfect match for us. She assisted us with making a beautiful and intimate ceremony. We would highly recommend Heather! Liam & Gailene September 2019