Heather Klatt
Request Heather Klatt
Secteurs desservis
Beaumont, Calmar, Devon, Edmonton, Leduc, Millet, Pigeon Lake, Thorsby, Warburg, Wetaskiwin, Sherwood Park
Commentaires
Cody Watson & Vicki
Heather Klatt was so lovely and so kind! Our short and small ceremony was great thanks to Heather! And her attire was extremely appropriate for the occasion. We couldn't be happier! August 2022
Krysta & Austin
Heather Klatt did an outstanding job of working with us to make our ceremony exactly what we wanted. She was so kind and helpful throughout the whole experience. I would 100% recommend Heather!! Aug 2022
Brittany & William
I'm blown away, Heather Klatt was able to help us and how kind and caring she was. Heather was wonderful through and through. July 2022
Colby & Samantha
Heather [Klatt] was amazing. We had originally booked another officiant but they were unable to be a part of our day on short notice. We browsed through a list of available officiants for our date (provided kindly by All Seasons) and we stumbled across Heather. We chatted over the phone, had a one on one with her via zoom and long story short.... We loved her. We felt very comfortable, and very at ease about the ceremony. And she was so helpful with the small details, like personalized announcements, the writing of our own vows. She actually offered to have our vows sent to her and she would put them onto a nice card stock for us if we didn't have little books for them already. (We thought this was really sweet). We were so nervous about our ceremony as neither of us like to speak in front of an audience and this is the most vulnerable time, especially when writing your own vows to each other. But when the time came, it was more comfortable than we ever could have imagined. The personal touches Heather brings to a ceremony are just enough. Guests really enjoyed her and so did we. We would recommend her to anyone. June 2022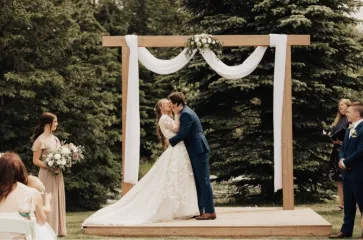 Sami & Amanda
Heather Klatt was very professional and friendly. She efficiently completed her job and sent in the paperwork. We were very impressed and excited to have Heather as our officiant. April 2022
Nicole & Taylor
Heather Klatt went above and beyond on our wedding day. She was kind, professional and compassionate, helping us have the ceremony of our dreams in spite of Covid. Not only was she able to accommodate our change of venue, but she also adjusted her speech so my father in law with a hearing impairment could hear perfectly too. A real gem of an officiant! Nicole & Taylor May 2021
James and Lorraine
Reverend Heather Klatt was very friendly and helpful. It was a nice service and many members of the gathering were of the same opinion. James and Lorraine August 2021
Bryan & Angelica
Heather Klatt was great! She went above and beyond my expectations. When we spoke over the phone before the wedding, she asked all the right questions to tailor the ceremony to who we are as a couple. She made some suggestions that i was very thankful for... as they were things that i would not have thought of on my own. And everything worked out great! Bryan & Angelica August 2020
Aidan & Danielle
Heather Klatt was wonderful. With such a small and intimate ceremony, we were so pleased to have Heather make us feel comfortable. Would absolutely recommend! Aidan & Danielle June 2020
Liam & Gailene
Heather Klatt met our expectations and more; she was a perfect match for us. She assisted us with making a beautiful and intimate ceremony. We would highly recommend Heather! Liam & Gailene September 2019
Marcus & Heather
Heather Klatt was absolutely amazing. She is so kind and very easy to work with, we couldn't have asked for a better officiant. Heather explained everything to us, asked us questions and answered ours. Helped us through our rehearsal and was lovely on our wedding day. Phenomenal! We would highly recommend her to others. Thank you! Marcus & Heather July 2019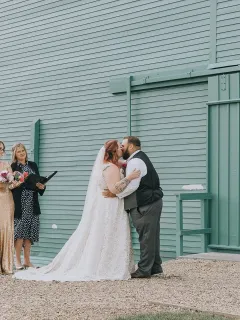 Mike & Jaime
Heather Klatt did a wonderful job, she had all the experience and knowledge to guide us through this exciting yet confusing and rewarding experience that we had no idea how to deal with. Thank you Heather Klatt! Mike & Jaime May 2019
Darryl & Kerri
Rev Heather Klatt was excellent, she was extremely easy to talk to and that made it much easier to feel comfortable and at home which is where our ceremony was. August 25th, 2018
Jamie & Shayne
Rev Heather Klatt was absolutely fantastic! She was so kind and friendly, going above and beyond, helping to customize our ceremony to fit our family. Heather was professional, thorough, intelligent, well-spoken and organized. I loved her personal touch and how easy she was to work with. She went out of her way to text me the morning of the wedding with a sweet message, and even followed up a couple weeks afterwards, which I really appreciated. She was always very quick to respond to my emails and was flexible when scheduling appointments, willing to come to us, catering to our busy schedule. I would recommend Rev Heather to anyone getting married. She exceeded my expectations! Heather was always smiling and friendly. She was helpful and courteous; She was always quick to respond to my emails and answer any questions I had. Rev Heather really helped make our day special!
Haley & Brett
Rev. Heather Klatt was the perfect officiant for us. We loved her!!! We would recommend Heather to all of my friends getting married!
Neil & Sarah
Heather Klatt was professional and personable. I would highly recommend her. Neil & Sarah, July 2018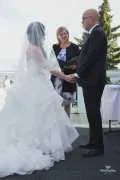 Lori & Paul
Heather Klatt was great, she was very punctual and her ceremony was perfect for us! Thanks again Heather.