Brenda Hamilton
Located in the Beaches area of Toronto, I am excited to offer my skills as a wedding officiant. Being a lover of personal growth, I respect relationship as an ordinary thing that provides an extra-ordinary opportunity for transformation through the hard work and the great pleasure of sharing your life with another. I would be delighted to celebrate your relationship with a wedding ceremony you have tailored to reflect your love. I enjoy deep conversations and laughter, yoga, tennis, biking, skiing, books and babies. I am a happy person with a sense of calm. I'm organized and try very hard to meet the expectations of others, all in the spirit of joy.
Request Brenda Hamilton
Areas served
Ajax, Beaches, Brooklin, Cliffside, Concord, Don Mills, East York, High Park, Markham, Meadowvale, Mississauga, North York, Oshawa, Pickering, Richmond Hill, Scarborough, Toronto, Toronto Island, Unionville, Vaughan, Woodbridge, York
Reviews
Jen & Shekeb
Dear Brenda, our "good vibes officiant", of all the wedding-related to-do's, going through the process of tailoring our ceremony to fit our backgrounds and personalities with you was the one thing I didn't have to worry about. We are so lucky to have met you and to have our big day imbued with your energy. Much love, Jen & Shekeb Nov 22nd, 2018.
Justin & Samantha
Brenda Hamilton was very kind, throughout, helpful, and flexible. We loved having her as our officiant. Since we eloped we have talked about when we are able to have another ceremony with friends and family going back to Toronto just to have her be our officiant (we live in the US). All Seasons was terrific too! One thing that sold me on the package was the guarantee to have an officiant if for some reason Brenda couldn't make it the day of. Compared to competition this was one of the top reasons we went with you! April, 2019.
Marlon & Karen
We did not have a long engagement, and did not have a lot of time to secure an officiant for our wedding. We were referred to All Seasons by another couple who had used their services, and reviewed the profiles of many of their officiants. After reviewing her profile and video, we settled on Brenda Hamilton as our officiant. We could not have made a better decision. Upon meeting her in person, we knew we had found the right person to handle our ceremony. She was readily available throughout our planning process, both in person and by phone, whenever we needed to contact her. She was more than willing to incorporate all of our ideas and wishes, and made some great suggestions that we felt really captured what we wanted to share with our guests. On the day big day itself, she was prompt and professional, yet brought a sense of lightness and fun to the ceremony. Her calm demeanor and positive energy really made the ceremony special. After the ceremony, she was great in her interactions with our guests. We really cannot thank Brenda enough for agreeing to be our officiant. She did a fantastic job, and we would not hesitate to recommend her to anyone in need of an officiant. Karen and Marlon May 2019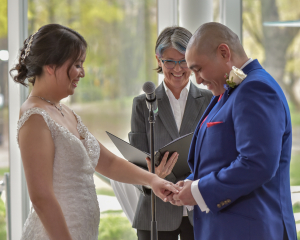 Brennan & Victoria
Brenda Hamilton was great and made us feel comfortable. She is a very kind soul :) Thank you Brenda, everything was perfect. Brennan & Victoria August 2019