Brenda Hamilton
Located in the Beaches area of Toronto, I am excited to offer my skills as a wedding officiant. Being a lover of personal growth, I respect relationship as an ordinary thing that provides an extra-ordinary opportunity for transformation through the hard work and the great pleasure of sharing your life with another. I would be delighted to celebrate your relationship with a wedding ceremony you have tailored to reflect your love. I enjoy deep conversations and laughter, yoga, tennis, biking, skiing, books and babies. I am a happy person with a sense of calm. I'm organized and try very hard to meet the expectations of others, all in the spirit of joy.
Request Brenda Hamilton
Areas Served
Ajax, Beaches, Brooklin, Cliffside, Concord, Don Mills, East York, High Park, Markham, Meadowvale, Mississauga, North York, Oshawa, Pickering, Richmond Hill, Scarborough, Toronto, Toronto Island, Unionville, Vaughan, Woodbridge, York
Reviews
Young & Melissa
Brenda Hamilton was wonderful - surpassed our expectations! She was so supportive throughout the wedding ceremony preparation process, offered amazing advice that made our ceremony run so much more smoothly and even more magical. Our guests loved her too - very well spoken and personable. Would definitely recommend her! November 2022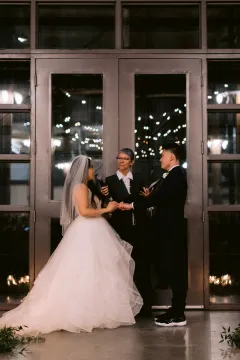 Heinz & Agustina
Brenda Hamilton was very kind and flexible. Very nice ceremony. Thank you . September 2022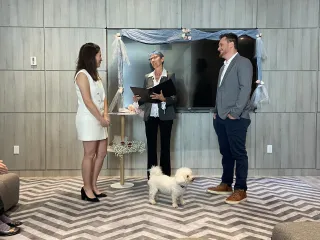 Vincenzo & Shelby
Brenda Hamilton was wonderful to work with! She was easy to work with and made my wife and I extremely comfortable throughout the process. She was very responsive and had excellent ideas for our ceremony. The meetings we had with her were always productive. The ceremony was wonderful and went smoothly. Many guests commented on how professional she was and the tone and vibe she brought to the wedding - very calming. September 2022
Anthony & Shelby
Brenda Hamilton was so kind, professional, and easygoing (smiled through rain, dog, annoyed bride, etc.). And her delivery and energy during the ceremony was exactly what we had envisioned. Would definitely recommend! October 2021
Florin & Anne
Brenda Hamilton was a joy to work with from start to finish. She exceeded our expectations with her care, her desire to really get to know who we were, individually and as a couple, and her wonderful good humour. She exudes calm and joy, smiles easily and deeply cares about the importance of the ceremonies she conducts. She made a "gentle" suggestion which was very much appreciated and in retrospect exactly the right thing to do. She was flexible, open to our unusual little ceremony and we wouldn't have wish to share the day with anyone else. We are deeply grateful! Florin & Anne June 2021
Eric & Maagda
Brenda Hamilton was the best! Despite the fact that we spoke Spanish, she had a lot of patience, I have not met many wedding officials but if I remarried I would want her to officiate my wedding. I give it a 200 out of 100 . she was so kind. Thank you Brenda. Eric & Maagda March 2021
Wesley & Tomoko
Thank you for your calming and awesome energy. I knew just seeing your photo that you would help us on this special day and as soon as you recognized The Cure playing in our apartment my instinct was confirmed. You're awesome. Thank you! April 2021
Elizabeth & Zechariah
Brenda Hamilton went above and beyond to make our day the exact way we wanted it! Elizabeth & Zechariah October 2020
Anthony & Amanda
Brenda Hamilton was so lovely. We communicated the perfect amount leading up to the day. She remained flexible while our venue plans changed multiple times due to weather. She even shared a selection of poems for us to choose from to read related to getting married on a rainy day. Thank you Brenda! We were so happy to share our special day with her. She felt like she belonged - like a friend! Anthony & Amanda October 2020 Anthony & Amanda October 2020
Israel & Candy
Brenda Hamilton was very accommodating with our wedding during COVID. We did a video chat beforehand, and we feel like we got to meet someone genuine. She gave us lots of information before hand, great communication and calm during the crazy day. Very professional and very happy with our choice. Israel & Candy October 2020
Kristina & Kenneth
Brenda Hamilton was amazing! She made our Covid wedding very special and memorable despite the bigger wedding plans we had. She was very delightful to deal with, listened to our needs and most importantly made our little intimate wedding super magical!!! I would bring her to Punta Cana in a heart beat to officiate our bigger wedding there when it's safe to fly again. Overall a very great experience during a very stressful and strange time, they made it so much more easier despite of everything going on with the pandemic. Again, a million thanks for the wonderful experience! Kristina & Kenneth August 20020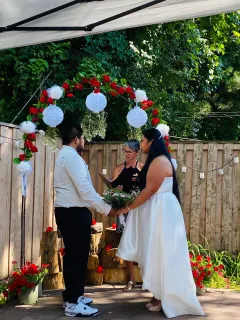 Jordan & Lindsay
Brenda Hamilton was fantastic. She was professional, kind and made us feel like she truly cared about our love story. Thank you Brenda! Jordan & Lindsay August 2020
Richard & Hamza
Brenda Hamilton was a very pleasant woman, displaying and maintaining professionalism throughout ceremony. I am actually glad she was the one that officiated it as she made everyone at ease. Richard & Hamza June 2020
Ramata and Dave
We wanted to thank you again for the lovely wedding ceremony you conducted for us last weekend. It was a very special moment for us, and we appreciated the spirit, excitement and positivity you brought to the ceremony. Ramata and Dave (Married outdoors in the teeming rain July 2020)
Andi & Christine
Brenda Hamilton was very nice and helpful .I was impressed with the quick responses and flexibility given the complexities of the ongoing COVID problems. Thank you for making our day possible. Andi & Christine May 2020
Chris & Janet
Brenda Hamilton was wonderful and made everyone feel at ease and comfortable during such an exciting occasion. We couldn't be happier. Thanks Brenda! Chris & Janet November 2019
Brennan & Victoria
Brenda Hamilton was great and made us feel comfortable. She is a very kind soul :) Thank you Brenda, everything was perfect. Brennan & Victoria August 2019
Marlon & Karen
We did not have a long engagement, and did not have a lot of time to secure an officiant for our wedding. We were referred to All Seasons by another couple who had used their services, and reviewed the profiles of many of their officiants. After reviewing her profile and video, we settled on Brenda Hamilton as our officiant. We could not have made a better decision. Upon meeting her in person, we knew we had found the right person to handle our ceremony. She was readily available throughout our planning process, both in person and by phone, whenever we needed to contact her. She was more than willing to incorporate all of our ideas and wishes, and made some great suggestions that we felt really captured what we wanted to share with our guests. On the day big day itself, she was prompt and professional, yet brought a sense of lightness and fun to the ceremony. Her calm demeanor and positive energy really made the ceremony special. After the ceremony, she was great in her interactions with our guests. We really cannot thank Brenda enough for agreeing to be our officiant. She did a fantastic job, and we would not hesitate to recommend her to anyone in need of an officiant. Karen and Marlon May 2019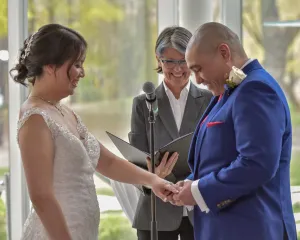 Justin & Samantha
Brenda Hamilton was very kind, throughout, helpful, and flexible. We loved having her as our officiant. Since we eloped we have talked about when we are able to have another ceremony with friends and family going back to Toronto just to have her be our officiant (we live in the US). All Seasons was terrific too! One thing that sold me on the package was the guarantee to have an officiant if for some reason Brenda couldn't make it the day of. Compared to competition this was one of the top reasons we went with you! April, 2019.
Jen & Shekeb
Dear Brenda, our "good vibes officiant", of all the wedding-related to-do's, going through the process of tailoring our ceremony to fit our backgrounds and personalities with you was the one thing I didn't have to worry about. We are so lucky to have met you and to have our big day imbued with your energy. Much love, Jen & Shekeb Nov 22nd, 2018.