Ann Marie Fitzgerald
I am always honoured to be asked to perform a wedding ceremony for any couple! No matter the type of ceremony you have chosen – traditional, spiritual or same gender, it's at that moment you are truly enlightened by the love and joy that surrounds you. Originally from Newfoundland, I settled in Kitchener and my spouse Barb and my ever expanding family have been my greatest blessings. I have a degree in Pastoral Ministry through Loyola University, New Orleans. Along with my Pastoral work, my time is spent with family and friends, enjoying sports, gardening and playing with our dog. I look forward to meeting you and being part of your journey.
Request Ann Marie Fitzgerald
Areas served
Kitchener, Paris, Waterloo, Cambridge, Guelph,
Reviews
Alex and Kase
Ann Marie Fitzgerald did such a great job with our wedding. She was quick but thorough in communications leading up to our special day, and met with us on site one month out to discuss through further details and make sure everything was in order and that we were happy with everything. On the day of, she was flexible and patient despite an outdoor venue where we had the back luck of rain until about 5 minutes before the ceremony was scheduled to begin. The ceremony was a great success as a result of her guidance and presence. Thank you Ann Marie!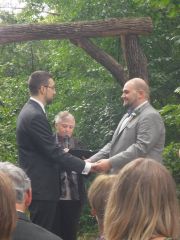 Annie and Steven
Hello just wanted to thank Anne Marie fitzgerald for a wonderful wedding.! We sure enjoyed your officating at our wedding such fond memories and we can't thank you enough! Sincerely ❤
Pierre & Michael
Anne-Marie Fitzgerald was great! Very professional and friendly. She made our wedding a wonderful experience.
Alison & Stephen
My husband and I were so thrilled with Anne Marie (Fitzgerald)! She made the day so very special and made sure that we and our wedding party were comfortable with the ceremony. She was also incredibly flexible and made the ceremony fit what my husband and I wanted. It was also very evident that she cared about what she was doing and she was always ready to answer our questions via email. Our wedding ceremony was seamless and beautiful and we have Anne Marie to thank for that. Alison & Stephen Nov 18th, 2017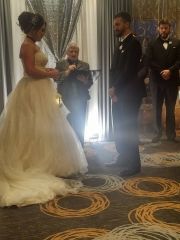 Alisha & Brad
We cannot say enough, Ann-Marie (Fitzgerald) walked us though what to expect on the big day and went though every detail of our ceremony. We communicated though e mail and Skype as my wife and I are from out of province. You would think this would be hectic but Ann made it smooth. Though e-mail she sent us our ceremony, we made a few changes and sent it back to Ann. She then followed up with us over Skype. We were really impressed with her attention to every small detail and she pointed things out that we over looked to help make our wedding wonderful. The day before the wedding we met at our hotel lobby to go over all the paper work. She took her time and refreshed our memory on the order of events. We are extremely happy with Ann and the way she handled our big day, We would recommend her to anyone! Thank you for being a part of our wedding, Alisha and Brad 08/25/2017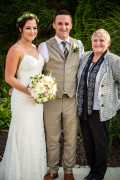 Paula and Nelson
Ann Marie was the officiant for myself and my husband Nelson on March 31st. We can not say enough about how absolutely wonderful she is. It was such a beautiful ceremony. She is an amazing person who went out of her way to make sure we had exactly the kind of ceremony we both wanted. Thank you so much Ann for all your hard work!! We were truly honored to have you marry us.❤❤❤