Rev Ann Marie Fitzgerald
Originally from Newfoundland, I recently moved to Sarnia from Kitchener with my spouse Barb. If you have ever met anyone from Newfoundland you will know we are high spirited and joyful folks. I love to embrace laughter, friendship and joy in all occasions. No matter the type of ceremony you have chosen – traditional, spiritual or same gender, it's at that moment you are truly enlightened by the love and joy that surrounds you. My ever-expanding family has been my greatest blessing. I have a degree in Pastoral Ministry through Loyola University, New Orleans and I am a member of the Canadian Association for Spiritual Care for over 20 years. As a chaplain I have worked for many years in long term care facilities, hospitals and in the community. I am always honoured to be asked to perform a wedding ceremony for any couple! Please feel free to contact me for more details! I look forward to meeting you and being part of your journey.
Request Ann Marie Fitzgerald
Areas Served
Sarnia, Point Edward, Corunna, Courtright, Mooretown, Brigden, Sombra, Camlachie, Forest, Plympton-Wyoming, Bright's Grove, Petrolia, Oil Springs, Watford, Port Lambton, Lambton Shores, Wallaceburg
Reviews
Fred & Gail
Ann Marie Fitzgerald was an amazing fit for us. The best thing was how Ann Marie Fitzgerald made the ceremony about us and how we are blending our families together. She did an amazing job, love her and so did all of our guests. She made our special day even more special. I would highly recommend Ann Marie Fitzgerold, she is delightful, funny and so personable. She made our day amazing. Jul 2023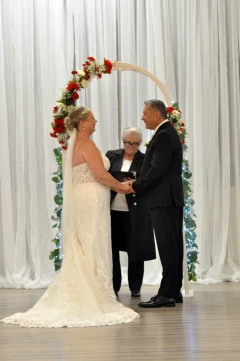 Jeremy & Madeleine
Booking through All Seasons made it easy to find a local officiant and booking was simple and efficient! Our ceremony was lighthearted and heartwarming. We smiled all the way through. Ann Marie made us feel at ease and spoke beautifully about our love and our marriage. None! May 2023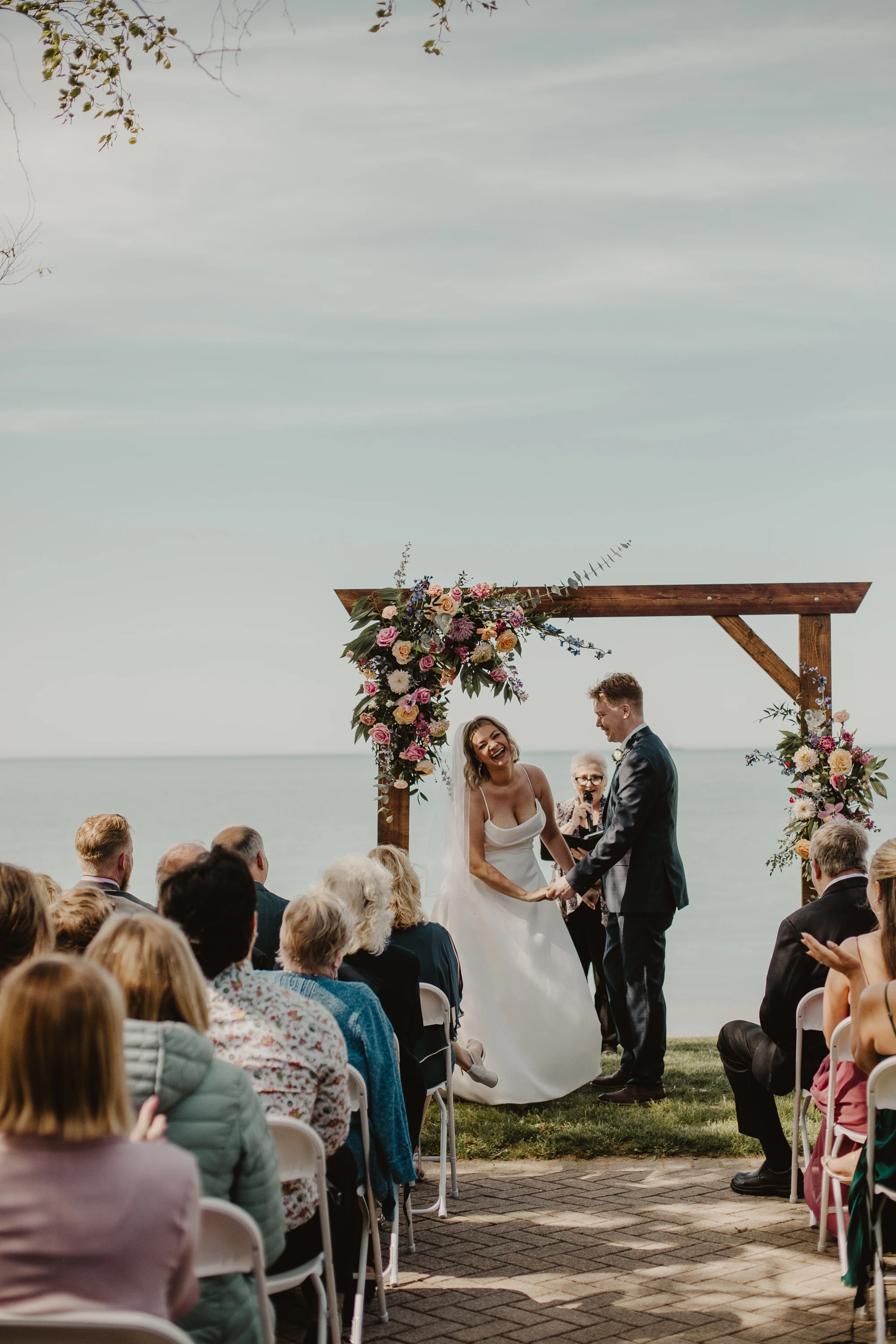 Credit: Olivia Saint Photography
Andrew & Natalie
Ann Marie Fitzgerald was so sweet and friendly. She made us feel comfortable and our ceremony went perfectly. It was everything we wanted and we are so happy Ann Marie was our officiant! November 2022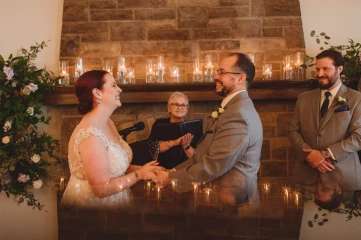 Nick & Amanda
Ann Marie Fitzgerald was absolutely wonderful . Thank you for a beautiful ceremony . March 2023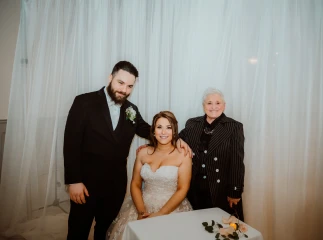 Alison & Ryan
Ann-Marie, From the bottom of our hearts, we would like to thank you for sharing in the joy of our of our wedding. We felt the love and sincerity all around us, which made it the most memorable day of our lives. September 2022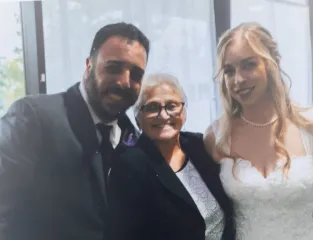 Troialee & Christina
Thanks so much Ann Marie Fitzgerald did an amazing job on our special day. May 2022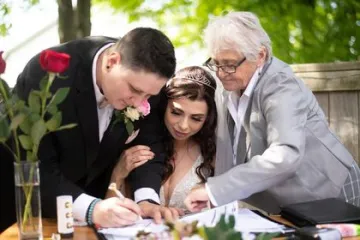 Manpreet & Prebhjett
Ann Marie we enjoyed the time we spend with you. Thank you so much for making our day wonderful ❤️ Manpreet & Prabhjeet Oct 2022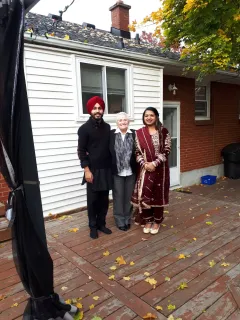 Michelle & Joshua
Your wedding is arguably the most important day of your life, so my wife and I wanted our ceremony to be perfectly suited to the beautiful adventure that brought us in front of our friends and family on our big day. Ann Marie took the initiative right from the start, asking us questions about what we wanted our ceremony to look like and providing ample reference material to inspire us in building the perfect celebration of our love. We could not have been happier with how our wedding ceremony turned out and we received a number of compliments from our guests for how stunning it was from start to finish. With a heart of solid gold and a personality larger than life, we would recommend Ann Marie to any couple looking for a little help in tying the knot. June 2022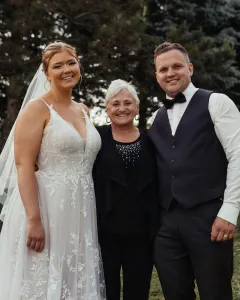 Emily & Nathan
We chose Ann Marie for our intimate wedding ceremony with our closest family members. We communicated through email leading up the the ceremony. Ann Marie was so helpful, ensuring we had thought of everything and providing prompt responses to any of our questions. We met Ann Marie for the first time on the day of the ceremony. Our guests were shocked we hadn't known her longer. They remarked on how it was as if she had know us for years with her warm demeanour and the way she had crafted the ceremony to suit us as a couple. We opted to not do a rehearsal as our ceremony was quite simple but she really put us both at ease and seamlessly guided us along. Our guests, as well as ourselves, could not say enough great things and would recommend her to anyone. Thank you, Ann Marie! - August 2022
Brittany & Ryan
Rev Ann Marie Fitzgerald was the perfect person to officiate our marriage. She was easy to contact and always responded promptly. When we met her on the day of the wedding, it was as though we had known her for years. She had the ceremony already in order so it was MUCH easier for us to go through without any prior rehearsal. Her experience was obvious and she made both of us feel at ease. We requested at the last minute to include a small ceremony of lighting candles to remember the loved ones from each of our families that were no longer with us. She was able to make a quick adjustment and make it a seamless and natural part of the ceremony – it was beautiful. I don't think any one else could have pulled it off like she did. Thank you so much Ann Marie, you were wonderful and we will never forget your part in our magical day!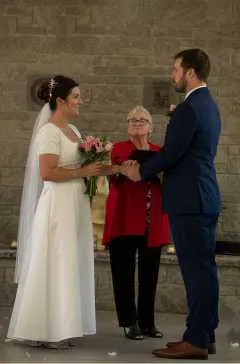 Emily & Nathan
"We are so grateful to have had Ann Marie as our officiant. We chose the simple package as we were looking for a fairly standard, small ceremony. Ann Marie was so helpful and kind from the moment we first contacted her. She was an e-mail away with any questions we had and told us exactly what we would need! Her knowledge and kindness relieved a lot of anxiety for us during the planning process. We met Ann Marie for the first time at our wedding and our guests remarked it was as if she'd known us for years. Her familiar, calming demeanor put us at ease and made for a lovely ceremony for both us and our guests. Our family, guests and ourselves cannot say enough great things. We'd recommend Ann Marie to anyone! August 2022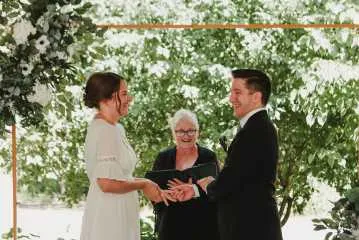 Lorrie & Trevor
We would absolutely recommend Ann Marie Fitzgerald to people looking to get married. She was very organized, helpful , personable, friendly and professional. She helped us create the wedding we dreamed of. August 2022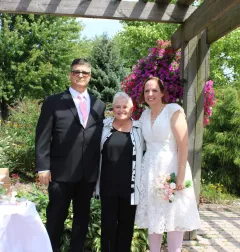 Ashley & Stephen
Ann Marie Fitzgerald helped us a great deal in personalizing our ceremony. Thank you for making our wedding day the most unforgettable day of our lives! Our ceremony and reception was even more beautiful than I could ever have imagined it! Our special day would not have been possible without you, so thank you for all your hard work, time and expertise! July 2022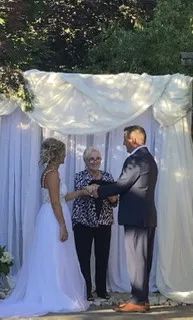 Anshul & Geetika
Hi Ann Marie: It was lovely having you at our auspicious day to make it memorable. You made our short wedding a little more fun and joyful with your lovely nature. Thank you.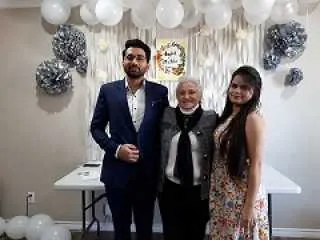 Chloe & Greg
It was a joy to have Ann [Marie Fitzgerald] officiate our wedding. Her ceremony was very heartfelt, meaningful, and tailored to us. Ann was able to convey the significance of the moment and provided a perfect balance including both modern elements and aspects of our spirituality and religion, which made us and our families very happy. She also came up with a beautiful way to honour my late brother and made it feel like he was part of the ceremony which meant a lot to the family. We received lots of compliments from the guests about how beautiful the ceremony was and how wonderful Ann was as the officiant. She was very easy to communicate with whether it was on the phone, email, or in person. Throughout all our interactions with her we could always tell she loves her work and making the couples happy. We heartily recommend Ann! November 2021
Ashley & Bryce
It's hard not to write a review on something like your officiant, as they play a vital role on your special day. Ann Marie [Fitzgerald] came for a home visit to get to meet us better and discuss our wedding day further. She is very responsive with any question you ask: big or small, silly (to some) and serious. She never failed to just send a message to check in with us on our journey as well. She has a very kind smiling face and is very welcoming and comfortable to be around. She is great with kids and knows how to go with the flow of things. We opted out of a rehearsal for our wedding...... scary, I know!! But Ann Marie helped us hold it all together and the ceremony ran smoothly even with three toddlers involved! Ann Marie was a breath of fresh air to deal with and it made me as a bride a lot less stressed. We cannot thank her enough! Keep smiling and spreading positivity. September 2021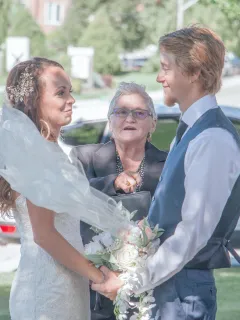 Victoria & Kristen
Thank you for helping us celebrate love! Ann Marie Fitzgerald was amazing and we loved getting to know her! Being from Vancouver and getting married in Sarnia, with distance and a three hour difference as a challenge, Ann Marie took the time to video chat before the wedding and helped us prepare for our big day! She met with us in Sarnia the week before and we felt as ease knowing she was going to officiate! We loved every second of our wedding day and we are glad Ann Marie was a part of it! August 2021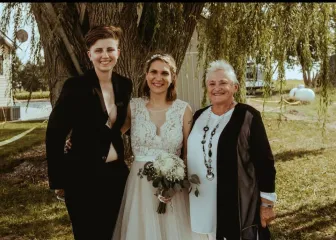 Brad & Lee-ah
Ann Marie was nothing but amazing as our officiant. From the moment we met we knew she was meant to do our ceremony. She is a very warm and loving person. I believe children are great judges of character and this was apparent when our 4 year old ran up to Ann Marie upon first meeting her and gave her a big hug. We had an outdoor ceremony and it rained all morning. Ann Marie called me and offered to push back the ceremony if needed because of the rain. The fact she thought of us and wanted everything to be perfect was very touching. My husband and I had a perfect wedding day and a large part of that was due to Ann Marie. September 2021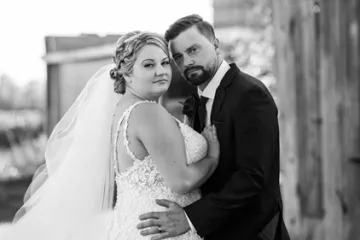 Katie & Dan
Hello Ann Marie! How amazing was Katie & Dan's wedding day? It was such a joy to see the overflowing of love and joy between them and their loved ones. It was so lovely working alongside you and no doubt, your talents played a huge role in crafting all the bespoke elements of their beautiful day. August 2021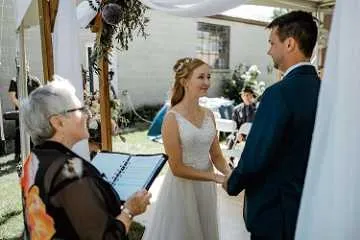 Bonnie & Ed
Ann is amazing. I would recommend her to anyone needing a service. I promise you, you will become friends and she will feel like part of your family. Thanks again, you made Ed and I so completely happy. August 2021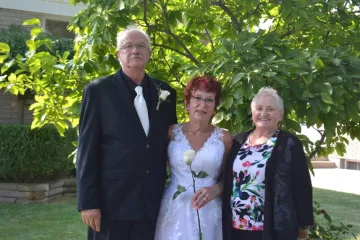 Mike & Elyssa
Ann Marie did an absolutely wonderful job officiating our very intimate wedding ceremony. Though we were contending with some ill-timed and unfortunate restrictions, she helped make our special day a great success. Arriving precisely on-time, Ann Marie brought with her a genuine and warm presence that was in keeping with our vision and helped cultivate an environment solely dedicated to my wife and I. We both sincerely thank Ann Marie for her contribution to an important day we will always remember. Highly Recommend! June 2021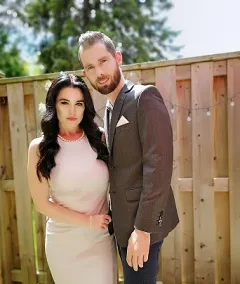 Shawna & Wolf Peter
Thank you so much for helping to facilitate this special day. Even though our original plans couldn't happen, we are very grateful you were here to help us join our lives together. June 2021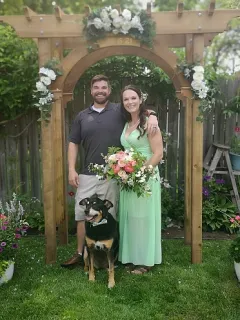 Chen & Jim
Rev. Ann Marie Fitzgerald conducted our wedding ceremony and we could could not have have wished for a better wedding. Rev. Fitzgerald and the two witnesses she provided created a wonderful atmosphere. They took pictures with our mobile phone which we will treasure forever. December 2020
George & Judith
Ann Marie: Thank you for your knowledge of the system, and keeping us on the right path. 2020 has been a challenge for all of us, lives changed, focus challenged, and our paths redirected. Our lives may never be the same again, due to Covid-19. We appreciate that fate directed us to you, for being an important component in of our plan to end 2020 in a positive way. Thank you for your patience and kindness. You are a true Newfoundlander!!!!! George (a true Newfoundlander) & Judith (a wannabe Newfoundlander), December 2020
Colin and Jade
Ann Marie made our special day that much more perfect! Even in these uncertain times she was able to make us comfortable and our wedding the special day it is supposed to be! Thank you so much! Colin and Jade
Brittany and Megan
Dear Ann Marie: Thank you again for being our officiant! I've attached a photo from the day for you. We're so glad we were still able to get married this year, and the small group of people was so special. Thanks :) Brittany and Megan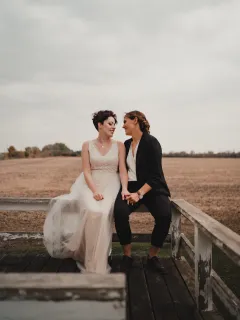 Kirk & Heather
Ann Marie Fitzgerald was everything we needed for our day and more. We aren't super traditional, but some of our family are, so we were looking for a nice balance of humour and tradition. She kept the ceremony light and fun, and had us smiling the whole time. She made us feel at ease through the whole process. Kirk & Heather September 2019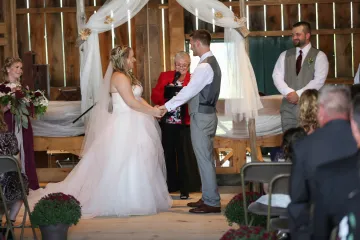 Kelly and Chris
Thank you so much Anne Marie! It turned out to be such a perfect day. Even though Chris and I only met with you for that short time we connected rite away! Meeting with you helped us prepare for the day and relaxed us so much. Love Kelly and Chris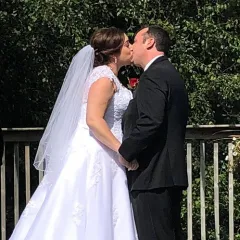 Cara and Alex
We were beyond pleased with the ceremony Ann Marie preformed for us on August 18, 2018. She made us feel at relieved with the process of planning our ceremony and she even added a special part to our vows incorporating our love for animals. We had many wedding guests come up to us and tell us how at ease and comfortable they felt during the ceremony. We had a sudden switch of our ceremony site the day before due to weather. Ann Marie adjusted and didn't miss a beat, and none of our guests knew the difference! Our day was perfect, we would highly recommend Ann Marie; Thank you again!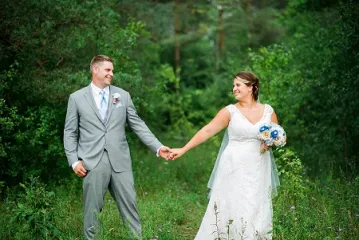 Jason and Whitney
You were so fun to work with and super accommodating...you were able to capture everything we wanted our service to be. It was the length we desired and had a great personal touch and people commented on how it was so personalized to us. We would HIGHLY recommend you to any other love birds out there in search of an officiant. Thank you for making our special day perfect! Love Whit and Jason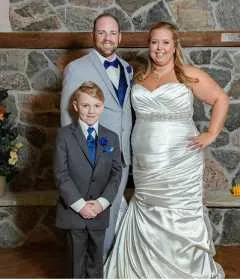 Bryon & Ron
Dear Ann Marie: Thanks again for the wonderful ceremony - we greatly appreciated you being part of our special day. We've included the testimonial below and a photo. Ann Marie was a wonderful officiant for our wedding. She was so kind, patient, and thoughtful. Leading up to the wedding, she gave suggestions to make the ceremony even more personal. She helped ensure everything was in place and that our special day went off without a hitch. Her calm presence really helped to keep the nerves at bay and made for a relaxing and enjoyable afternoon. The ceremony felt very genuine, and we had many compliments from our guests about it. Bryon & Ron Thanks Again, Bryon & Ron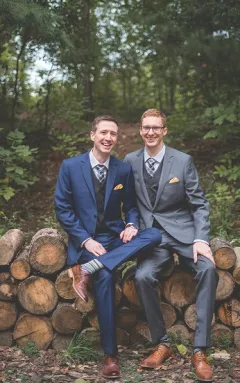 Nicholas & Shelsie
We would absolutely recommend Ann Fitzgerald to others. She was very organized and on-point through the entire process, and gave us many options to choose from so that we she could help us create a wedding ceremony that fit our expectations and personalities. The rehearsal and ceremony went off without a hitch. Thank you, Ann, for helping to make our special day such a success.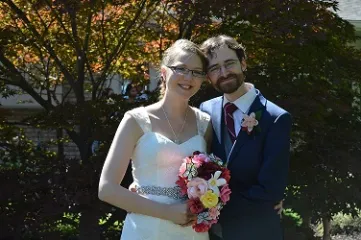 Peter & Kathy
Dear Ann Marie, We were so pleased with the wedding service you provided for us on July 1, 2018. Your professionalism in what you do is truly evidence of the love you have doing it. Thank you so much for your step by step guidance in our preparation for our wedding day. We highly recommend you as an officiant for any wedding ceremony. Thank you again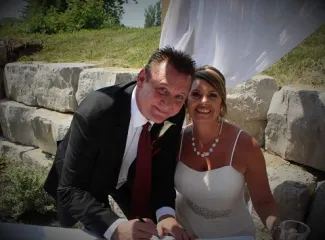 Caroline and Brian
Ann Marie was a pleasure to deal with from the start. She had great suggestions that added that extra special touch to our day. She made us feel like we mattered and she couldn't do enough to make sure our day was special. She was quick and thorough but we were never rushed. Ann Marie emailed our full ceremony well in advance in case we had last minute changes while at the same time we knew exactly how it was going to go on our day. Thank you Ann Marie. It was a pleasure to have you as our officiant for our wedding.
Ashley and Lakisha
Ann Marie was an amazing officiant for mine and my wife's wedding. She kept in close contact us and walked us every step of the way before the ceremony and afterwards. It was an amazing and special day thanks to her help! We also have received many compliments from our friends and family about her and how well the ceremony went! Thanks so much Ann :)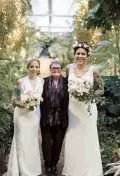 Paula and Nelson
Ann Marie was the officiant for myself and my husband Nelson on March 31st. We can not say enough about how absolutely wonderful she is. It was such a beautiful ceremony. She is an amazing person who went out of her way to make sure we had exactly the kind of ceremony we both wanted. Thank you so much Ann for all your hard work!! We were truly honored to have you marry us.❤❤❤
Alisha & Brad
We cannot say enough, Ann-Marie (Fitzgerald) walked us though what to expect on the big day and went though every detail of our ceremony. We communicated though e mail and Skype as my wife and I are from out of province. You would think this would be hectic but Ann made it smooth. Though e-mail she sent us our ceremony, we made a few changes and sent it back to Ann. She then followed up with us over Skype. We were really impressed with her attention to every small detail and she pointed things out that we over looked to help make our wedding wonderful. The day before the wedding we met at our hotel lobby to go over all the paper work. She took her time and refreshed our memory on the order of events. We are extremely happy with Ann and the way she handled our big day, We would recommend her to anyone! Thank you for being a part of our wedding, Alisha and Brad 08/25/2017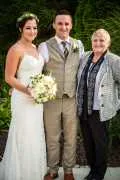 Alison & Stephen
My husband and I were so thrilled with Anne Marie (Fitzgerald)! She made the day so very special and made sure that we and our wedding party were comfortable with the ceremony. She was also incredibly flexible and made the ceremony fit what my husband and I wanted. It was also very evident that she cared about what she was doing and she was always ready to answer our questions via email. Our wedding ceremony was seamless and beautiful and we have Anne Marie to thank for that. Alison & Stephen Nov 18th, 2017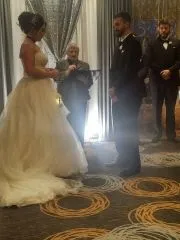 Alex and Kase
Ann Marie Fitzgerald did such a great job with our wedding. She was quick but thorough in communications leading up to our special day, and met with us on site one month out to discuss through further details and make sure everything was in order and that we were happy with everything. On the day of, she was flexible and patient despite an outdoor venue where we had the back luck of rain until about 5 minutes before the ceremony was scheduled to begin. The ceremony was a great success as a result of her guidance and presence. Thank you Ann Marie!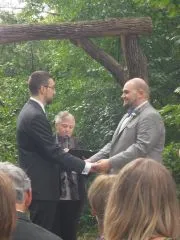 Annie and Steven
Hello just wanted to thank Anne Marie fitzgerald for a wonderful wedding.! We sure enjoyed your officating at our wedding such fond memories and we can't thank you enough! Sincerely ❤
Pierre & Michael
Anne-Marie Fitzgerald was great! Very professional and friendly. She made our wedding a wonderful experience.