Robb McDonald
Robb has been our most in-demand wedding officiant across Metro Toronto for several years. He is fluent in French and English. Spend a few moments talking with him and see for yourself how engaging he is. He has an amazing personality and sense of humour that allows people - including your guests - to feel very welcome and comfortable.
You will be assured of a day to remember, highlighting the unique ceremony that will be yours to treasure.
Robb's compassionate and non-judgmental approach along with his unique outlook on life and love will ensure that he will help create a wonderful wedding ceremony for you and your loved ones to remember.
A word of caution: Robb books up very early because he really is the best!
Request Robb McDonald
Areas Served
Toronto, Toronto Downtown, Etobicoke, Scarborough,York Region, Vaughan, Woodbrige, Concord, Brampton, Mississauga, Oakville, Oshawa, Whitby, Markham, Thornhill,Toronto, Yorkville, Rosedale, The Annex, Forest Hill, Lawrence Park, Lytton Park, Deer Park, Moore Park, Casa Loma, Garden District, St. Lawrence, Corktown,Wychwood Park, East York, Etobicoke, North York, Old Toronto, Scarborough, York, St. James Town, Regent Park, Moss Park, Alexandra Park, Parkdale, Kensington Market, Chinatown, Leslieville, Cabbagetown, Riverdale, Greektown, Little Italy, Portugal Village, Little India, Crescent Town, Thorncliffe Park, Weston, Oakwood–Vaughan, Willowdale, Newtonbrook, Downsview, Toronto Harbour, Don River, Distillery District, Ontario Place
Reviews
Mathieu & Maria
Robb was amazing and my whole family loved him and the ceremony. It was an incredible experience working with him and we are forever grateful he was a part of our big day. September 2023
Tom & Joanna
Robb McDonald was the absolute best! We could not have asked for a better officiant. We knew from the first time meeting him, that he would be a perfect fit for us. We loved his humour and energetic personality. Robb gave us the most perfect ceremony from beginning to end with laughter and happy tears! Robb is someone who is open to doing a ceremony however you choose to do it, giving suggestions and ideas but still maintaining a non-judgmental approach which was very comforting. Robb even stayed a bit after the ceremony while we took our pictures outside the venue and helped position my dress for photos, while also going inside to grab us some drinks. Robb is an absolute gem! Such a kind hearted and fun person. We could not be happier with our choice of having Robb offiate our wedding and we can't thank him enough for everything! August 2023
Credit: Sara Reid Photography
Dima & Meagan
It was really easy! We were able to get a great officiant last minute because the process was so simple. Robb McDonald was really great! We loved his ceremony and would definitely recommend him to friends and family! July 2023
Jeffrey & Lauren
The process of booking our Officiant with All Seasons Wedding was super easy and stress free. Our ceremony was short and sweet which was exactly what we wanted with a great officiant - Robb McDonald. We wouldn't have changed a thing. June 2023
Ruth & Rick
Robb McDonald was amazing to work with from the first meeting. He is great with communication and suggestions, through to keeping us both calm on the day! He saw our vision and had great input to contribute and enhance our ideas. He supported and helped us to include our siblings, children, and grandchildren with their fun readings and antics! Even down to the music choice at the beginning of the ceremony "Let's go crazy" - yes we played Prince!!! - thank you Robb for helping our dream day come true. We were truly blessed to have you be a part of our day. Oct 2022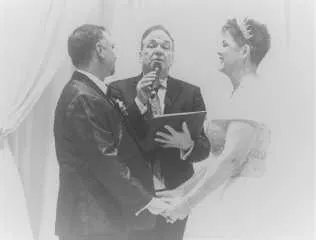 Michael & Alejandra
Robb McDonald was incredible, very kind, friendly, spoke beautiful words and went above and beyond for us. I would refer him in a heartbeat. February 2023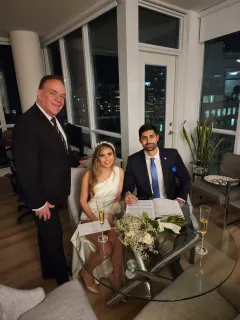 Evgenii & Jiyul
Robb McDonald exceeded our expectations! We had a small, yet beautiful and deeply meaningful ceremony. Robb created a warm and very special atmosphere for us and our guests. It was an event that will always be memorable and special for us. January 2023
Adam & Emily
Robb McDonald is friendly and outgoing, and made the day easy and stress free for us. January 2023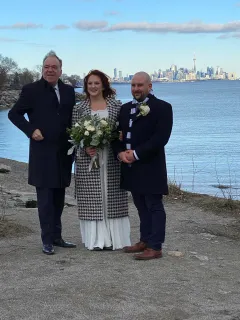 Lee & Christie
Robb McDonald was kind and patient throughout the entire process, and helped us make our wedding exactly what we wanted. December 2022
Jason & Stacey
Robb McDonald was fantastic. Took the time to listen to our story to ensure our ceremony was personalized, unique, and special. He made all our guests feel welcome and important - cannot thank him enough. December 2022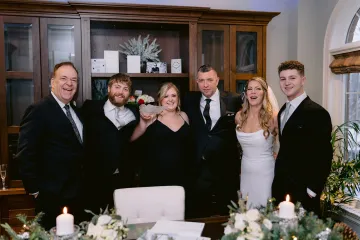 Jason & Sharon
Robb McDonald is an incredible person and officiant! Sharon and I are thrilled with how our day went thanks to his professionalism and light-hearted sense of humour! December 2022
Dean & Jennifer
Robb McDonald exceeded all of our expectations. He is a one-in-a-million and provided insight on all of the arrangements pre and post ceremony. It was a pleasure getting to know him and to listen to some of his stories. November 2022
Nick & Alexis
Robb is the absolute best! He is unbelievably professional, kind, thoughtful and funny. He took away any and all stress that came along with planning our ceremony. Not only did he recommend small tips and advice to make our ceremony reflect who we are as a couple, he was so helpful the day of our wedding - even helping coordinate a surprise for a family member. Robb went out of his way to ensure that our ceremony would be special and we are so grateful for him. Robb's officiating style will ensure your guests enjoy your ceremony as much as you will, all our guests all raved about him! Don't hesitate to work with Robb on your special day, he goes above and beyond. September 2022
Rafael & Hazel
Robb McDonald is thoughtful, personable, considerate and humorous. He officiated our wedding with grace and poise, in-spite of the sweltering heat! Everything flowed smoothly and we would highly recommend his services! Thank you again Robb! Nov 2022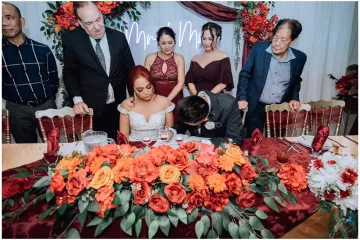 Juliana & Daniel
Robb McDonald did a phenomenal job for our wedding ceremony. It was beautifully constructed and with Robb's gentle and soothing voice, it made our audience cry. Thank you, Robb, for helping us create our lovely ceremony and capturing our relationship together. You are wonderfully funny and kind! We hope our paths cross again with you one day! Nov 2022
Kelvin & Zoryana
We had the pleasure of having Robb McDonald as our officiant for our wedding. It was wonderful to work with him, he took the time to get to know us and throw in some personal details into the ceremony. Everyone loved his humour through the entire thing. He walked us through everything and made us feel comfortable throughout. He went above and beyond, especially when it came to our wedding photos. He put on his assistant cap and was very helpful getting us pics, with the limited daylight we had. Robb did a great job before, and during the ceremony. Everything came together perfectly. - September 2022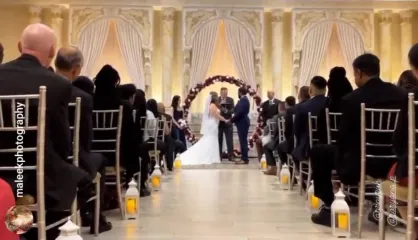 Cory & Samantha
Robb McDonald was absolutely amazing! We wanted a fun ceremony and something that represented us. Robb made sure that we go exactly what we wanted! He made it very personal to us and we had many people compliment us on how fun our ceremony was! We would 100% recommend Robb and All Seasons Weddings to anyone and everyone! October 2022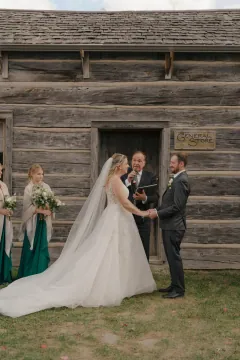 Krisha & Danny
From our very first call with Robb up until the ceremony, Robb was nothing short of amazing! He was so easy to work with, funny and full of little tips and tricks to make our day extra special. On the day of our wedding it was as if Robb had known us for years – he took care of us like family, calmed our nerves, fixed our outfits and even made sure our first look was incredibly memorable. We are so thankful to have had Robb officiate our wedding, he really made sure everything was as perfect as it could be. Thank you Robb!!! - October 2022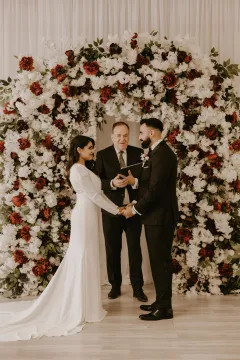 Daniel & Stephanie
Robb McDonald is the best and I would recommend him to anyone looking for an officiant! He provided a 10/10 experience that way exceeded our expectations. September 2022
Cory & Danyelle
Robb McDonald went above and beyond our expectations and really personalized our ceremony. He took the time to get to know us and really have us, our kids, and our family participate. He made the day extra special and I am forever grateful that we chose him. Perfect day. August 2022
Angélique & Daniel
Robb McDonald was incredible. We had guests at our wedding who only spoke French, and Robb crafted a beautiful bilingual ceremony with our input. Robb's energy is infectious and his passion for his work is very apparent. This is a person who has truly found their calling in life! Robb is also exceptionally eloquent, and he commanded our guests' attention throughout a ceremony that struck a perfect balance of being both lighthearted and profound. We're so glad we chose Robb to officiate our wedding! August 3 2022 / photo by https://www.jaclynroth.com/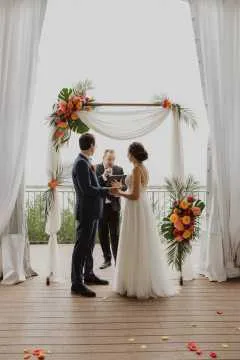 Kate & Andrew
Robb [McDonald] blew every expectation out of the water! Not only is he a world class officiant, but an even better person. His professionalism, leadership, and just the overall flow of the ceremony helped make our special day one we will never forget. There are a very few people you cross paths with that leave an unprecedented mark, and we can both easily say Robb is one of those people. Overall, both us and all of our guests could not say enough about Robb and the incredible job he did, before, during and after the ceremony. Thank you, Robb!! You are a legend! July 2022
Michelle & Robert
Robb [McDonald] was super nice, friendly, and helpful. We loved him. August 2022
Margot & Jason
Thank you so much for being part of our special day! It was so nice to have someone who took the time to get to know us and put together such a personal story for our ceremony. We've received so many compliments about how great you were! Working with you made the whole wedding planning experience so much easier knowing our ceremony was going to be filled with love, warmth and laughs. Another big thank you for providing each bridesmaid and myself with a rolled up tissue in our bouquet - man did those come in handy. September 2022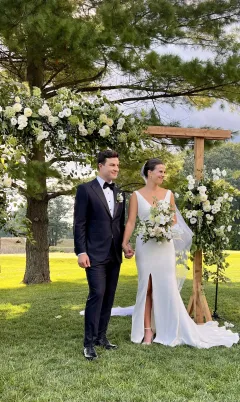 Nikhil & Jeena
We were so happy we decided to have Robb as our officiant. Robb did a phenomenal job officiating our non-religious ceremony. He had such a great attitude and truly understood the crowd and ensured that the entire event went smoothly. He was also able to guide us whenever we needed instructions and was able to offer solutions and suggestions as the event was going on. I would highly recommend Robb for your big day! October 2021
Emily & Andrew
Robb McDonald made our day. Our guests loved him and he tailored the perfect ceremony to fit our wants and needs. His joyful personality shines through while showcasing the couple. He truly goes above and beyond and even stayed to help with some family photos after the ceremony. HIGHLY recommend! May 2022
Stephen & Maryan
Robb McDonald more than met our expectations. He was warm and friendly and everyone just loved the ceremony, saying that it captured us perfectly. May 2022
Matthew & Courtney
Robb McDonald joined us as our Officiant for the 'Make It Legal' service. Even though it was brief, Robb did a wonderful job walking us through the formal process and made it so special for our wedding party and parents. We were absolutely thrilled to have Robb join us as our legal officiant. All Seasons Weddings staff helped us tweak the ceremony time and date as we had to reschedule due to COVID. Thank you All Seasons Weddings for your patience and prompt responses to us and our wedding planner in finalizing everything. Extremely happy with the service from start to finish - thank you! Would absolutely recommend Robb McDonald - he was professional, kind, warm, and brought such a positive vibe to our special day. March 2022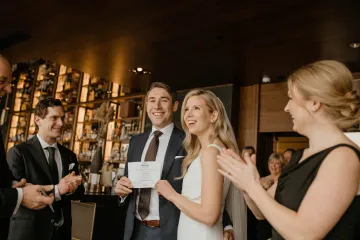 Jennifer & Scott
Robb McDonald was the best officiant we could have asked for. He went above and beyond to ensure we had the exact ceremony we wanted. He worked with us to create a script that was so personal, and he was extremely attentive to all of our questions and requests. He's also just a really great guy! We sincerely enjoyed getting to know him. He's obviously so passionate about his work, and it was such a joy to have him officiate our wedding. We had a ton of compliments about the service afterward, and about Robb himself. Highly recommend! April 2022
Lina & Emre
Robb McDonald was absolutely amazing ! He made our little ceremony even more memorable for all of us. We couldn't be more grateful to Robb. From the bottom of our hearts, thank you Robb! Jan 2022
Kaitlin & Kevin
From start to finish Robb McDonald was absolutely AMAZING! He was way more than just an officiant. He went above and beyond from start to finish, from helping me with the wedding procession to customizing our vows to include our newborn son. He made the ceremony light yet intimate with some humour thrown in. Everyone LOVED him!! My sister is getting married next year and plans to use him too. Nov 2021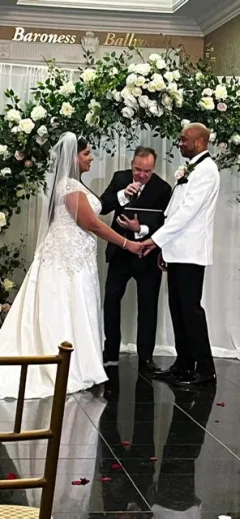 Elkie & Matt
Robb McDonald went above and beyond our expectations! He has great attention to detail and is very approachable, this enabled him to tailor the ceremony to our wishes. Robb puts a great amount of effort and pride into his work and it shows. He guided us and made the ceremony a memorable moment for us and our family/friends. Robb was professional and wonderful to work with, we highly recommend him! September 2021
Saf & Stephanie
Robb McDonald exceeded our expectations! He was outstanding in everyway! Robb was the perfect officiant! We helped us every step of the way, from planning the ceremony, to helping me fix my dress and fix my veil and train for photos. There was a truck that made a delivery during our ceremony, and he handled it with such class, and made some jokes to lighten the mood. We enjoyed having him at our ceremony so much we invited him to stay for the reception and all the guests absolutely adored him. We can't say enough good things, I would absolutely recommend Robb for any other couples looking for an officiant. His service was outstanding, and he will not disappoint!
Rebecca & Aries
Rob McDonald was AMAZING. Literally could not have asked for a better officiant. He was warm, welcoming and so so personable. We had so many people come up to us after the ceremony to ask us where we found him! September 2021
David & Jessica
Robb McDonald was FANTASTIC!! A ++ exceeding our expectations and more! SO happy we found him, he definitely made our day extra special and was so much help. I definitely recommend him! David & Jessica September 2021
David and Julie Aug 2021
Robb not only met but exceeded our expectations. We were so impressed with his level of detail and service from the moment we first connected with him in 2019 to our wedding in 2021. Robb has always been very kind, empathetic, and accommodating - he has provided his support at every step of the way from planning with us leading up to the wedding and making sure everything was perfect for our wedding day. He brought charm and charisma to our wedding ceremony that had our guests laughing, crying, and telling us how much they enjoyed the ceremony for days after the wedding. Robb was a joy to work with and we were so glad to celebrate our wedding with him.
Hilary & Brian
Robb McDonald went above and beyond. He performed an amazing ceremony and was completely fun but professional from the start to finish. We couldn't have asked for a better experience from our officiant. Hilary & Brian July 2021
Sahil & Kriti
All the positive reviews about Robb on his profile were justified when he performed our wedding ceremony. He made our ceremony so PERFECT. It was light, fun, romantic and he engaged our guests which we had never really seen at a ceremony before. WE LOVED IT :) All of our guests praised about him as well. He helped us make our day so special and memorable. As our parents were not here with us and joined through a video call, he acknowledged that and involved them as well in the ceremony. We highly recommend Robb since he makes the entire ceremony enjoyable for everyone. - Sahil & Kriti July 2021
Brendon & Marion
Let's start by saying we won the lottery when it came to Robb McDonald being our officiant. We had booked our ceremony with a venue that provided the officiant for us and had no idea whom we might be given. With the first phone call we had with him we knew he was going to be the perfect match for us! Robb was super accommodating with script changes and very communicative when it came to answering all of our questions. Because of our venue, we didn't have a rehearsal but after a short conversation with the groom *right before our ceremony, Robb had made it sound like he had known us forever! He even came out to the car to speak with the bride and calm her nerves before the ceremony. We received many many compliments from our friends and family about how personable, humorous, and enjoyable Robb was. He engaged with all of our guests, both virtual and in-person attendees. We will forever recommend him to any and everyone! Brendon & Marion June 2021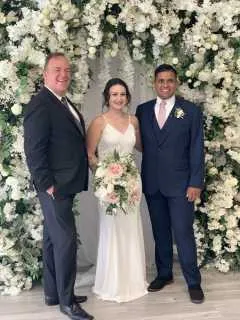 Cezar & Ana
Robb McDonald's charisma, personality and support have stuck with us to this day. Initially, we didn't know what to expect due to Covid restrictions, cold weather and general timing and had kept our expectations low. We keep on looking back on the day and are still in awe how wonderfully everything worked. Robb was a true professional in every sense of the word, and thanks to his recommendations on the location and photographer, numerous virtual meetings & emails to discuss the process and give feedback our small Covid wedding ceremony turned out perfectly! When talking to all (our 10) guests, everyone believed we've had a perfect ceremony with a very professional team. I was also in the first trimester of my pregnancy and Robb made special considerations for me throughout the day. Looking back, I don't think we could've reached this level of perfection without Robb's involvement and endless support. We are filled with so much gratitude! We would recommend Robb McDonald and All Seasons to anyone in a heartbeat! Thank you Robb and All Seasons for giving us a wedding of our dreams! Cezar & Ana March 2021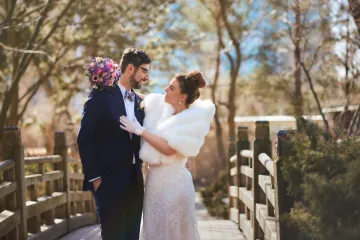 Nathan & Sandra
Robb McDonald went above and beyond our expectations. It was a very, very hot day, but Robb still managed to make our guests laugh with a wonderful, romantic ceremony. He stayed a bit after the ceremony, which he didn't have to, to help us out with pictures and mingle with our guests. He kept making sure my dress was displayed nicely during the pictures and kept getting us water to keep us hydrated. Robb is a wonderful, considerate, thoughtful man. I would recommend him to anyone to officiate their wedding ceremony. Thank you so much Robb for a fantastic ceremony! We wish you all the best. Nathan and Sandra June 2021
Sean & Deborah
Robb McDonald went above and beyond for us. Our ceremony was extremely last minute, due to some unfortunate circumstances. Robb was extremely accommodating and flexible, and made the day truly special. Sean & Deborah May 2021
Julien & Danielle
Robb McDonald went over and above our expectations. He made meeting in a pandemic easy. He worked together with us to build a ceremony that was 100% personalized to my husband and I and for that, we are truly grateful. Robb did so much more than just provide us with the average experience. He really got to know us and know our story and it showed when he officiated our ceremony. Julien & Danielle April 2021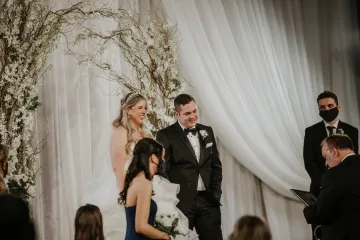 Brad & Cassandra
Robb McDonald went above and beyond. Amazing personality and definitely fit in with our family! We would get married over and over again just to have him there ! We would definitely recommend Robb to be anyone's officiant as he is so amazing! Thank you Robb again ! Brad & Cassandra March 2021
Karol & Aleksandra
Robb McDonald is awesome. Amazing experience! Very professional! Made the ceremony extra special! Karol & Aleksandra February 2021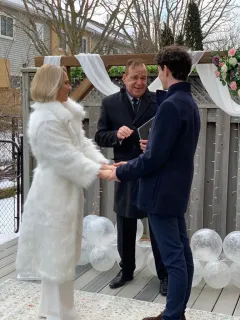 Matthew & Christina
We had an excellent experience planning our wedding ceremony with Robb McDonald! He was very professional in meeting with us, producing a script for our day and having us customize it to our liking. He was so helpful at the rehearsal, directing the processional with music and timing in mind. Robb made everything very easy, creating a beautiful ceremony event that we will never forget! We also received many compliments from our guests on how intimate and personal our ceremony was. Matthew and Christina Aug 2020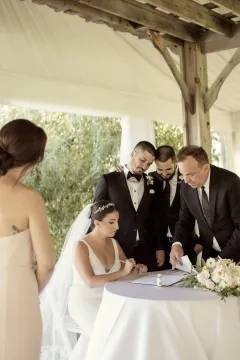 Philip & Deirdre
Working with Robb McDonald was absolutely incredible and truly unforgettable. Robb completely surpassed our expectations! From the original meeting (pre-COVID), through all of the ups and downs of re-planning our wedding through COVID, Robb was so supportive, patient, kind and attentive. He took time to get to know us and our story, and helped us shape a truly customized ceremony script that was honest, engaging, personable and unforgettable. Not to mention, we loved how Robb also injected his wonderful sense of humour and humanity into our special moment! It was perfect. Robb went above and beyond to stay connected with us throughout the entire process and made us feel so comfortable on our wedding day. Our families continue to rave about Robb to this very day, and we know our wedding ceremony would not have been the same without him. There is a reason he books up fast, folks! He is truly the BEST in the BIZZ for a reason! Philip & Deirdre September 2020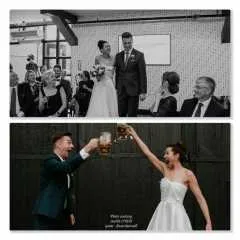 Bo & Brenda
Robb McDonald was fantastic and helped us take pictures! He was considerate and understanding given the unique situation with COVID-19. He had no problem moving to an outdoor wedding ceremony! Thank you Robb! Bo & Brenda December 2020
Lee & Reagan
Robb McDonald exceeded our expectations. From our very first discussion he put our mind at ease, helped us to navigate restrictions, helped us to think through components of the wedding that were important to us and how to ensure at the end of the day it was what we dreamed of. He was patient and kind, took the time to "get" us, understand us and used humour to make our virtual introductions seamless. he listened to our story which made his presence at the wedding even more natural and kind. He was readily available as we navigated the restrictions day by day before lock down and was able to put our mind at ease. Our guests, both in person and virtually, thought he was absolutely fabulous - he engaged the guests, made everyone feel comfortable and felt like an old family friend. Lee & Reagan November 2020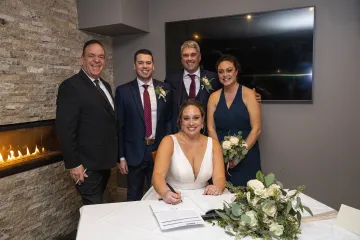 Gurjot & Harvinder
Robb McDonald was so helpful throughout the entire process, answered all of our questions and gave continual support. He made the day very special and worry free. If you're getting married I would recommend Robb for sure ! Gurjot & Harvinder December 2020
Paul & Jean-Sébastien
Robb, in a pandemic, you'd think of a wedding ceremony would feel sterile and bland however you certainly made the difference in making it personable and fun. No wonder you are the first choice in the city! Thank you, Thank you, Thank you for making our day and making it memorable! Paul & Jean-Sébastien - October 2020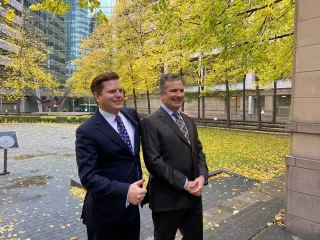 Jana & Julien
"We're still riding the high wave of our amazing day and often talk about the day and all the great memories we have. Jana and I are very lucky and thankful that you were able to officiate our wedding, despite all the negativity around COVID-19. Thank you again Rob for making our day so special and feel custom to Jana and I. Jana & Julien - October 2020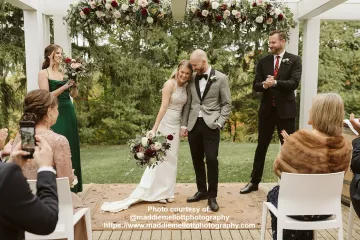 Xueyang & Chang
Robb McDonald is more than the best, he is super thoughtful, and our whole family likes him a lot! Xueyang & Chang October 2020
Shawn & Stephanie
Robb McDonald completely EXCEEDED our expectations. Robb was our pick from the start - we really loved his profile and thought he would be best suited for the style of wedding we wanted and our personalities. Let's just say he hit it out of the park!!! He is truly a professional and really delivered a unique, personal and entertaining ceremony that our friends and family are still talking about to this day! We couldn't have wanted or imagined a better ceremony! He provided some truly great ideas and suggestions that made the ceremony even more memorable. We can't say enough great things about Robb - he really made our wedding day!!!! Shawn & Stephanie September 2020
Michael & Maria
Robb McDonald was fantastic, and that expands beyond the great job Robb did on our wedding day. He was a true advisor to us. For the day of our wedding, Robb engaged very well with our guests and made our day extra special. Thank you Robb! Michael & Maria July 2020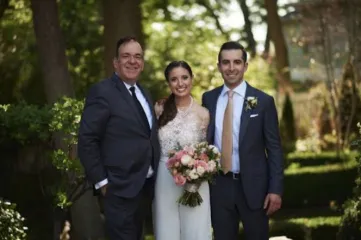 Peter & Jessica
Robb McDonald was amazing - we got nothing but compliments regarding our ceremony on how intimate and personable it was. Everyone thought Robb had known us for years he really made our marriage an incredible including and engaging all of our guests! Peter & Jessica September 2020
Selo & Emily
Robb McDonald went above and beyond to accommodate us for our wedding date on such a short timeline. With wedding season 2020 being very difficult for everyone, it was such a relief to find Robb. From the moment we met him during our pre-ceremony planning meeting we knew he was the right choice. He really helped pull together our backyard wedding ceremony and provided much needed direction on the day of the event. His ceremony was very memorable and due to the nature of the event he made sure he included all attendees and made everyone feel welcome. It was a perfect day and we wouldn't have been able to pull it off without Robb and we sincerely thank you very much! Selo & Emily August 2020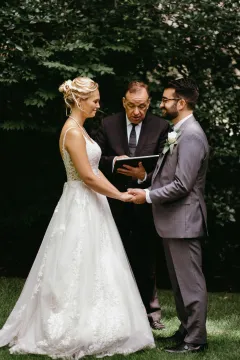 Conchita & Philip
Conchita and I wanted to thank you for the wonderful ceremony that you provided us. You were fun and charismatic while still managing to make the important parts of the ceremony both intimate and special. Our families and friends had nothing but good things to say about the ceremony and how much they loved you! We are so glad we made the decision to have you officiate our wedding as your experience and personality made the day that much better. - Philip & Conchita - August 2020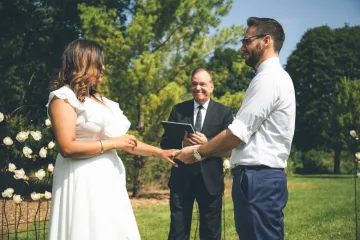 George & Ekatha
We had a great time with Robb. He not only knew how to handle the unexpected nature of our COVID alleyway wedding but also on how to do so while over 100 viewers were watching us live online. George & Ekatha May 2020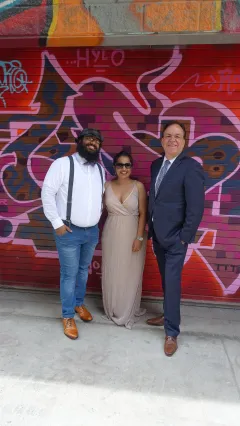 SAM & ADELA
Robb McDonald was just great he made us feel very comfortable with him. He made us feel like he was part of our family we enjoyed chatting with him he is a lot of fun to be around . My wife and I still talk about him from time to time. He was very professional and knew what he was doing . I would highly recommend him to other couples getting married. Thank you for walking with us though these times. And make our lives so VERY HAPPY THANK YOU once again . SAM & ADELA April 2020
Timothy & Laura
Robb McDonald was absolutely amazing, we can't express with words how amazing the ceremony was thanks to him. Our little private ceremony was more than we ever imagine it would be. He was incredibly professional, super kind and sweet. Timothy & Laura February 2020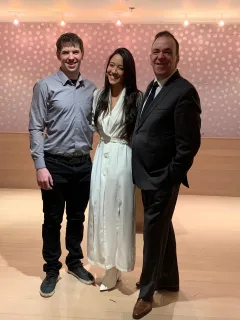 Yuan & Rui
Robb McDonald exceeded our expectations on all accounts, friendly, well spoken, pays attention to details and very good body language for our recorded video of the ceremony. Thank you for everything . Yuan & Rui December 2019
Sameera & Nayela
Robb McDonald was amazing and funny and cheerful! Thank you for everything, it was perfect. Sameera & Nayela December 2019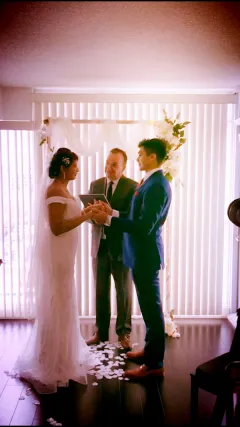 Victor & Diana
"Thank you so much Robb for our more than perfect Wedding Ceremony on Dec 1st of this year. Your words were kind, honest, and true. I believe our guests felt the love just as much as we did. What a great experience you gave us. And we are so thankful for it. With Love, Diana & Victor" Victor & Diana-December 2019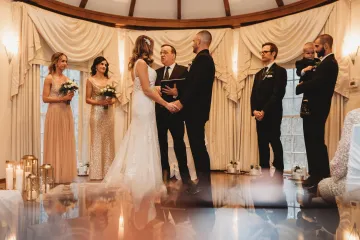 Daniel & Tracy
Robb McDonald was great from the first meeting. His expertise was greatly appreciated when dealing with some family issues. He worked well with the staff at our venue and made our entrance and ceremony experience seamless. I did not have to worry about anything but walking down the aisle and saying I Do. The wedding script was near perfect. I only changed a few details about the way my husband and I met, but he really had nailed it. It took some work to find things to change and some of it was so perfect I didn't need to touch it. Daniel & Tracy September 2019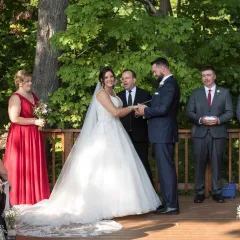 Daniel & Paul
Thank you very much for this lovely message. Reflecting back on our wedding in August, we feel extremely honoured that you officiated our ceremony and celebrated at our reception with us. Our ceremony was the highlight of our wedding. We absolutely loved it — your heartfelt messages were touching and all of your jokes landed — and our guests couldn't stop talking about what an excellent officiant you were. We've never cried that much in our lives! Thank you so much again, and we wish you all the best in the future. Daniel & Paul ~ August 2019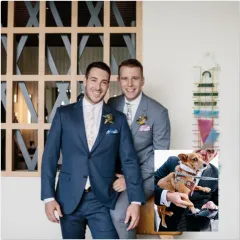 Jason & Kristen
Robb McDonald exceeded all our expectations. He was so wonderful and accommodating. He was the perfect mix of professional and fun. When we initially met, he was so nice and made us feel comfortable. We knew then we had made the right decision. He sent over the most beautiful ceremony piece that made us both cry and worked with us on any changes we wanted to make. Robb worked hard to please both me and my husband as well as our family and other guests. You can tell Robb has been a pro in this industry for a while, he knew all the little details to think of. He even bustled my dress for me! Jason & Kristen October 2019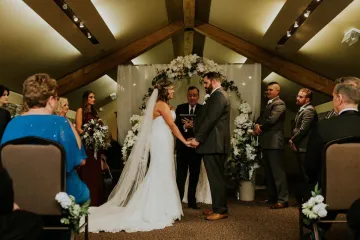 Cameron & Stephanie
This is long overdue considering that the wedding took place almost a year ago, but we would like to take this opportunity to thank Robb for being our officiant on our special day. We appreciated his guidance and support leading up to the wedding, and the ceremony itself struck just the right balance of meaningful and lightheartedness. We received many compliments afterwards; in fact, he was the inspiration for the ceremony at a wedding we recently attended in August! Thank you again for being a part of our wedding. Cameron & Stephanie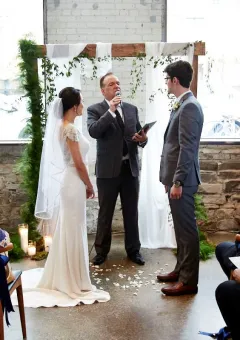 Ronan & Caleigh
We absolutely loved our ceremony, thank you so much for making it fun and memorable – the ceremony felt so much like "us", it was perfect. Working with you on our ceremony script was very smooth – you were quick to reply and made the process so easy for us. Watching our wedding video, we saw that you truly had the perfect balance of lighter moments where you engaged the crowd to the more serious moments, and you spoke so well. Thank you for encouraging us to write our own vows and to add the many special touches – like the thank you to the parents and the opening story about our relationship. We will be recommending you to all of our friends! Ronan & Caleigh July 2019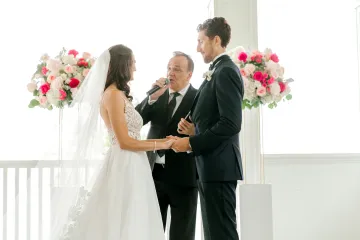 John-Peter & LaReine
Robb McDonald married my brother 2 years ago and from that day I knew he was going to marry me. I loved everything about his style of officiating. From our meeting to the ceremony he communicated all the details thoroughly. He kept us all entertained during the ceremony just as he did at my brothers. Now that I've finally got my wedding photos I can see that not only did we love the ceremony, you can see on our guests faces how much they enjoyed his words. Robb was an absolute pleasure throughout and I hope I get to attend more weddings that he will officiate because I know they won't be the least bit boring like they typically are. Thank you for everything Robb!" John-Peter & LaReine August 2019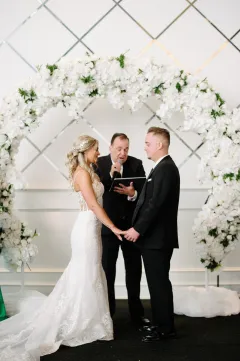 Kaan & Alejandra
We were very pleased with the ceremony, Robb McDonald was very friendly and professional. We will be forever grateful... Thank you for everything! Kaan & Alejandra September 2019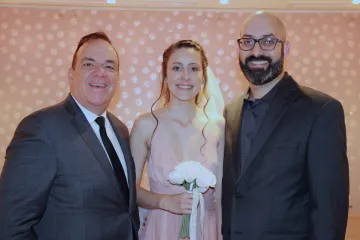 Dave & Laurie
Robb McDonald was the most wonderful and professional officiant we have ever had the privilege to meet. I knew from the moment he was a part of our wedding on Sept 20 2014 that he would help to make it wonderful and memorable! We have been together for 5 years and still look back on that day as a one of THE MOST fond memories to cherish forever. A simple Thank you will never ever be enough.He was genuine, authentic, went with the flow, efficient, kind and studious. Our Hand tying ceremony was the greatest! May everyone be as blessed with other All Seasons weddings officiants as we were with Robb McDonald. Dave & Laurie September 2014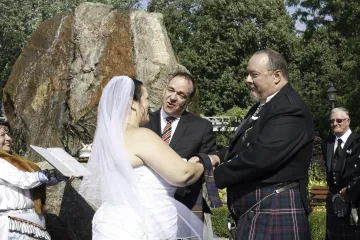 Krystina & Alex
Robb was our officiant , words can't even begin to express enough of our gratitude for such a wonderful ceremony! Robb made sure it was "us" and you were able to capture all of what we wanted our day to be & more! He calmed our nerves, made us laugh and helped us in every way possible- including putting ice packs on my back in my dress for the hottest day of the year with no AC! Robb was more than our officiant, he was our friend! I will be highly recommending him to anyone I know getting married because Robb was absolutely amazing! All our love. Krystina & Alex July 2019. "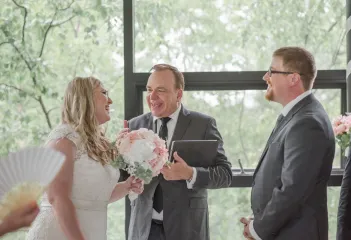 Steven & Teresa
Robb McDonald was incredible to work with. Right from the start he was on board with our midnight ceremony and other unique requests. We felt such a warm and fun presence from his personality which made us hit it off from the start. He helped us understand the official process, and also took the time to personalize the ceremony to us. It was a beautiful blend of love, with hints of humour, a dash of whimsy, and of course a pinch of tears (good ones though)! We can't thank him enough for being the one to marry us, it was a perfect match of couple and officiant! Steven & Teresa August 2019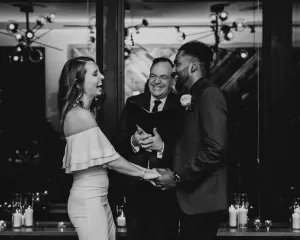 Kees & Katelyn
Robb McDonald was amazing. He was everything we wanted and more. Thank you for making our day special. Kees & Katelyn August 2019
John-Peter & LaReine
From the first meeting to the wedding day it has been a pleasure working with Robb McDonald. He is fun to be around and made our ceremony entertaining he got lots of laughs out of our guests. Robb married my brother and I had to have him for my wedding, all the guests raved about how fun Robb made the ceremony so I'm sure he will be getting more clients from my wedding when the time comes! John-Peter & LaReine August 2019
Aloysius & Catherine
Robb McDonald We were so pleased with Rob McDonald, I cant praise him enough. He is very personable and made everyone feel comfortable right from the start. I would definitely recommend him to anyone using an officiant. Thank you so much Rob for making this day go so smoothly and memorable for us. You knew exactly when to come in and when not to as we were all old friends reminiscing about old times. Keep bringing joy and good vibes to all the newly weds brother. Aloysius & Catherine July 2019
Ryan & Irena
Robb McDonald was awesome! He helped makes our day perfect. Thank you Robb for everything . Ryan & Irena July 2019
Alicia & Mathew
Robb, We can't thank you enough for being our Officiant on the big day. You went above and beyond the call of duty, and we couldn't be happier with your service. Every single attendee that we spoke with (all 150) mentioned how great of a job you did. You took the time to get to know us, hear our story and understand what style of wedding we were looking to showcase - a great mix of fun lightheartedness and formality. We highly recommend you to all couples who wish to get hitched. All the best, Mat & Alicia (June 2019)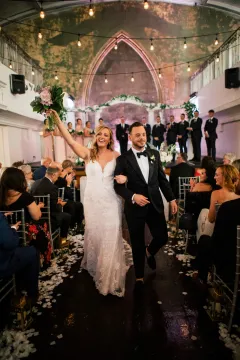 Michaela & Mark
We could not have asked for a better officiant than Robb. He instantly understood the type of wedding we wanted to have based on our personalities and made suggestions for how we could make our ceremony personal to our story. He has an excellent voice and stage presence, was engaging and a true professional. Our guests loved him! He took the stress and guess work out of planning our ceremony. He even helped us organize the flow of our evening. We cannot thank him enough! (Nov 2018)
Nathaniel & Cheryl
Robb McDonald was absolutely amazing - super friendly, funny, and easygoing. My husband and I are not very good with our words so having a base script to work with and being able to make it our own (with the help of Robb) made our lives that much easier. I would definitely recommend him to any couple who is looking for not just an officiant, but a reliable and professional entertainer who can make sure all your guests have a great laugh and make the ceremony that much more personal and memorable.
Kelsie & Kyle
Where do I even begin to explain how AMAZING Robb McDonald was on our very special day. It started from the very first video chat, Robb made the entire experience remarkable. Robb, you went above and beyond all of our expectations. You made the process so smooth and easy and FUN! My husband and I did not want a conventional wedding ceremony, we wanted it upbeat and one to remember. That is exactly what Robb gave us. From his humor, to the way he was able to express all kinds of emotions. All the comments we received after our wedding weren't about the food, flowers or the decor, it was about how amazing and perfectly fit the officiant was! Thank you from the bottom of our hearts Robb - even though I don't think that will ever be enough! Kelsie & Kyle (Dec 2017)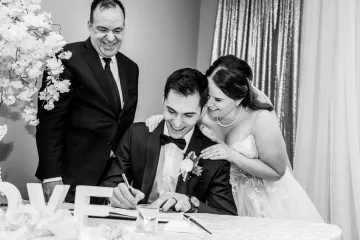 Erin & Shawn
We cannot say thank you enough to Robb McDonald. We had met with him a couple times prior to the ceremony, and after meeting him, I knew within 5 minutes that he was the perfect choice for us. He is kind, personable and caring. He truly wants to make each couple's ceremony meaningful and memorable, and will spend the time ensuring that it is just that. The ceremony he performed was perfect, he kept the audience engaged and he really made us feel that the ceremony was just for us, not a typical generic ceremony. I had multiple guests ask me "where did you find him?!". Again, we really cannot say thank you enough for helping us create the most memorable ceremony that was truly beyond what we imagined. Thank you, Robb!
Annie & Spencer
From the moment we first sat down with Robb we knew he was the perfect officiant for us. He took the time to get to know us on a personal level, and collaborated to ensure we had a ceremony that matched both our personalities. Friendly and outgoing by nature, Robb was a big hit at our rehearsal dinner and offered some fantastic recommendations to our coordinator. When it came time for our big moment, he delivered a funny and warm ceremony that was so well received by all our guests. We had tons of compliments and were asked repeatedly how we got so lucky in finding Robb. He was elected as the best wedding officiant in Toronto and all of Canada, and after our experience we couldn't agree more!! June/18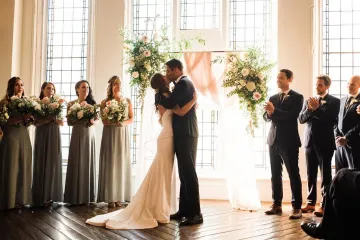 Julia and Kian
When we envisioned how our ceremony would unfold on our wedding day, we wanted it to be uniquely ours; fun, loving and honest. From the start, Robb took the time to understand our wants and needs and worked with us to design a ceremony that was a true reflection of our relationship and commitment to one another. He was personable, approachable and treated our wedding with the perfect combination of reverence and humour. All our guests commented on what a great job Robb did and we would absolutely recommend his services to any couple looking for a beautiful, honest and loving wedding service. ~ Julia and Kian August 2018
Nicolette & Andrew
Robb was so great to work with, even as we planned our wedding long-distance from Seattle. It was easy to find a time to meet with him while we were in town for our short trips as well as over Skype/email. He did a great job helping us write our ceremony script via email. He worked really hard to help us make our ceremony as personal as possible, and he had amazing ideas to help us incorporate our dogs, the ring bearers, into the ceremony more. During the ceremony he kept our guests laughing and all the guests commented on how great Robb was. We greatly appreciate everything he did for us! Thank you again! Andrew & Nicolette August 2018
Kimberley & Pasquale
Robb McDonald delivered our ceremony perfectly! We specifically requested for him for his sense of humor because we wanted to keep it light - he had the crowd laughing, but was serious when he had to be. We received so many feedback from our guests saying our ceremony was absolutely beautiful! We even had guests asking us "where did you find your officiant??". Robb stuck around after our ceremony to make sure everything was ok, and even checked up on myself and my husband to see if we needed anything. I'm pretty sure he didn't have to do that, but it was very nice of him to do so and very comforting. Robb is in high demand, but he's definitely worth the cost. I would highly recommend him. Robb, thank you for being part of our ceremony and making it as perfect as everyone says! -- August 2018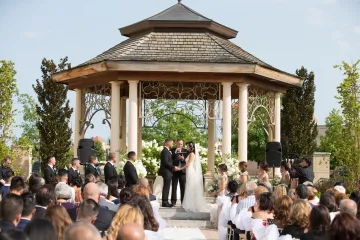 Iva & Joshua
I think Robb McDonald's reputation speaks for itself. He was phenomenal and an absolute pleasure to work with. He by far exceeded our expectations and we could not possibly have been more thrilled to have him be a part of our day! He went well above and beyond his duties for our day and we had dozens of guests, including our bridal party, praise him endlessly! They could not believe how incredible he was and neither could we! [August, 2018]
Vana & Giorgio
From our very first Meeting, Robb McDonald made us feel so comfortable and in control of how we wanted to personalize our wedding ceremony. Every word, every reading and every aspect was all of us. Robb allows you to create your own ceremony, the way you want, and for us as a couple this was very important. There are few people you come across in life like Robb, and for this opportunity to have him marry us is beyond what we could have imagined for our wedding. Robb was very friendly and open to any of our ideas and suggestions and had beautiful ideas that we included into our ceremony. On our Wedding Day, Robb showed up on time and ready with everything that was needed for our ceremony. He was very enthusiastic and welcoming towards our guest. They loved him and are still talking about our ceremony. He was patient with us as we read through our emotional vows. After our ceremony Robb continued to be his sweet, caring and genuinely kind self by getting us a drink, taking some photos of us, which turned out to be one of my favourites of the night, and even helped to assist with our family photos after the ceremony. We would like to say how grateful we are to have gotten the honour of having Robb McDonald marry us on July 28, 2018. I would highly recommend him to those reading this, and all of my Family and Friends. It will be the best decision you will make for your Wedding Day. Robb we wish you everything good in life and will hold the memories of our Wedding Ceremony near and dear to our hearts, for a lifetime. Sincerely, we thank you Vana & Giorgio Millena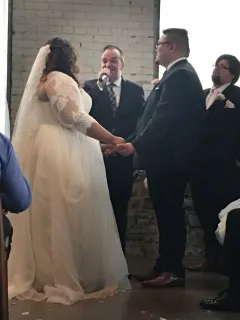 Meghan & Jeff
We wanted to thank you (again) for helping make our day exactly how we envisioned it. The ceremony was perfect for us - just the right amount of everything! Afterwards we had several guests share with us that this was the best ceremony & officiant they had seen, so thank you!! We wouldn't have changed a thing!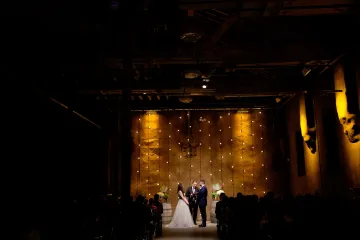 Jacob & Matthew
Robb (McDonald) was truly fantastic to work with from beginning to end. He came highly recommended by friends of ours that he married a few years ago, and he exceeded all expectations on our own day. Robb was efficient and communicative throughout our planning process and on the day of he delivered a beautiful service that captivated everyone present at our intimate ceremony. Thank you Robb for a job well-done and making our ceremony even more special than we could have imagined. Jacob & Matthew 08/13/17
Carolyn and Nicolas
Robb - you are an absolutely amazing officiant! Nick and I were so lucky to have found you. We had SO many compliments on our ceremony and we owe this to you. You were fun, light hearted and made our ceremony something that we will always remember. Not only that, after the ceremony you went above and beyond your job description by getting me drinks, and helping me look beautiful in my pictures. I cannot thank you enough. I would absolutely recommend you to anyone looking for a wedding officiant.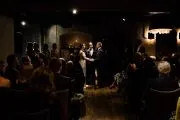 Lesley & Sachin
We couldn't have asked for a better officiant than Robb (McDonald). From our very first meeting, he made us feel excited and confident about how our day would unfold, and had great suggestions about how to tailor the ceremony for our unique situation. Robb's good humour and genuine interest in making the big day truly special came across every time we spoke. He really went above and beyond and ensured our guests had a fantastic time and that we were happy and relaxed. Robb set the stage for the best day of our lives. Thank you Robb, we'll never forget you!!! Lesley & Sachin 05/13/2017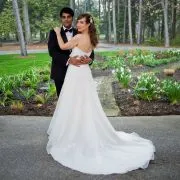 Karla & Jeff
Robb McDonald surpassed our expectations. He was extremely helpful prior to the ceremony giving us advice as well as informing our families of how the ceremony was going to go. He was able to adapt throughout the ceremony (it was EXTREMELY hot) the day we got married and he knew right away that we (my husband and I) didn't want to stay outside for any longer than we had to. Robb also stayed after the ceremony and spoke to our guests. He made us feel like he really cared and was not just there to make a buck. He was amazing! All Seasons was extremely professional, punctual and helpful from the very start. Even when we were just looking for an officiant, All Seasons treated us like we were already clients. It was a very seamless and easy process and was one of the things we felt we didn't have to worry about. The instructions on how to apply for a marriage license was also very helpful. Absolutely. I would refer All Seasons to all my friends and family looking for an officiant/officiating service.
Chris & Laura
One of the best decisions we made while planning our wedding was choosing Robb MacDonald to officiate our wedding. We wanted a ceremony that truly reflected our personalities - lighthearted and funny but also sincere and heartfelt. Robb encouraged us to truly make the ceremony our own. After our first meeting, when we brought Robb a loosely revised version of the typical wedding script, Robb suggested we throw it out, break away from the "template" and write something fresh. This encouragement was what we needed to create a ceremony that was completely honest, funny and memorable. Robb was not only on board with doing something unique and fun but clearly really enjoyed the opportunity to be part of our day. We are still getting compliments from our guests, telling us how great Robb was, what an excellent speaker he was, and how much he contributed to our ceremony while always letting us stay the focus. Robb is a funny guy and our meetings with him were a delight. We cannot emphasize enough how much of what made our wedding so special and amazing was Robb's encouragement and insistence that we create something true to ourselves. Every word in the ceremony was ours, so every laugh and tear we evoked from our guests was thanks to them thinking "That is so Chris and Laura!" as opposed to "This is a pleasant generic wedding." Robb orchestrated and delivered our ceremony seamlessly and professionally. Plus, he brought drinks to us in our holding room afterwards. Our wedding was OUR wedding thanks to Robb MacDonald. - Chris & Laura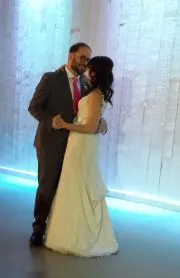 David & Geanderson
Robb is a master of what he does. He took the time to get to know us, customized his words to reflect our love, and delivered a ceremony that had everyone in tears. Robb set the tone for the night. After a moving ceremony, the energy at the wedding was transformed to one of pure love and support, and this continued throughout the evening. We are so thankful we chose Robb to be part of our special day. On a personal note, Robb is sweet, caring and very funny man. He was very easy to reach and correspond with. He is a veteran in the business and my partner and I felt like we were in very capable hands. Thanks Robb! David & Geanderson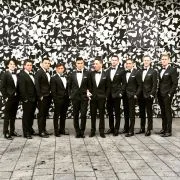 Christina and Randy
Hi Robb, Here is our testimonial for All Seasons to post on your page. I've also attached a picture if you wish to include it. By the end of our first meeting with Robb, we knew we had found our officiant. He really took the time to get to know us and created a ceremony that was truly beautiful and unique. His personality made it very easy to be comfortable from the moment we met while his professionalism and support took away all of our stress and made planning our ceremony enjoyable. Robb's experience and composure was so comforting during both the rehearsal and ceremony. Randy and I both felt a great connection to him and it really helped to ease our nerves on the day. Our family and guests were very impressed with him, and we still receive compliments of our ceremony to this day. Robb is very well spoken and he definitely kept everyone's interest throughout the entire ceremony. He is truly amazing! We would ABSOLUTELY recommend him. We are so glad he was such a big part of our wedding! Also - thanks for clarifying the marriage application process :) Have a nice Tuesday, Christina and Randy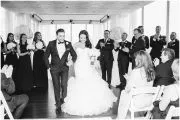 Cameron and Rachel
Robb, Thank you so much for helping us have the most AMAZING wedding! We couldnt be happier with how the ceremony went. You made the process easy, understandable, and personal. We loved it. People keep telling me how moving the ceremony was, and I couldn't agree more. I will remember holding Rachel's hands, looking into her eyes, and saying "I do" for ever. Thank you so much, Cameron
Val & Rick
From our very first meeting, we knew we had chosen the right Officiant. Robb (McDonald's) sense of humor and sensitivity made our special day even more special. We had such wonderful feedback from the guests about the ceremony. Our wedding theme was "It's About Time" as we have been together for 26 years with a pile of kids & grandkids between us. It is time for us! Thank you Robb from the bottom of our hearts for helping us to create this memorable day, despite the fact that I apparently married a 'fetus'. Just a little more humor in the life of Rick and Val. We both feel that a lifelong friendship has been started with you, Robb and look forward to many more laughs.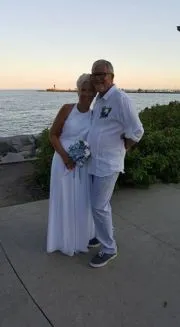 Michelle & David
Robb, Thank you so much for officiating our Wedding!! Your sense of humour and professionalism is top notch and your passion for what you do really shines through! We absolutely had the best day ever and you were a big part of that. We received many comments that you were great! Thanks again! Michelle & David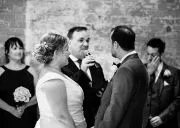 Robert and Gary
I want to give a huge shout out to All Seasons Weddings, particularly Robb and Kathleen, for their magnificent attempt to make a dying man's wish come true. I am a clinical social worker in a Critical Care Unit. For weeks, I had worked with two lovely gentleman who had been friends since they were eight years old. In their twenties, they decided to live together and became a couple, despite the fact that this was a challenge. One of the partners became critically ill upon their forty fourth year of living together. Their wish as a couple had been to be married upon being together fifty years. They regretted that they would never be married. I had no idea how to make this work but contacted All Seasons Weddings, who graciously offered an officiant to us for that very evening, given the timeliness required. This couple had a "ceremony of marriage" in our Critical Care Unit. Not only that, but they tried valiantly the next day to help secure a marriage license, which regrettably did not come through. My patient has passed- but his partner will always remember the professionalism, generosity, caring approach of All Seasons Wedding, as will I! My thanks and kudos to them, and also their generosity in doing this pro bono!"
Tracy & Pierre
We are very grateful we had Robb McDonald for our wedding, he has been an amazing officiant! The ceremony was beautiful, lively, simple, fun, and bilingual! Having families from Canada and France, Robb was able to bring two cultures together and switch between languages in the smoothest way. The organisation of the ceremony was really well managed, and everything was easy for us. Robb helped us find the right words for the ceremony, and left space for it to be personal. Robb is a warm, genuine, kind person. We highly recommend him. Thanks a lot Robb!
Caroline & Mitch
Good morning Robb We are now back from our honeymoon. Mitch and I want to take the time to thank you for your attention to detail and professionalism on your performance during our wedding day. We received many compliments from our guests, both francophone and anglophone. You made us feel comfortable and at ease during the biggest moment of our lives. Thank you for being comforting and honest with us. The ceremony was memorable : you helped us make our vision a reality. Robb, we cannot thank you enough for all that you have done for us. Truth be told, from the moment we met with you, we had no doubt you had everything organized. You understood our vision, and made sure to share your every thought with us. Our marriage ceremony was beyond perfect. From the bottom of our hearts, thank you thank you thank you. Caroline & Mitch - July 2014