Richard Gauthier, BA (Catherine Booth Bible College)
Richard and his family enjoy living the city of Kelowna, located in the beautiful four seasons playground that is the Okanagan Valley. He believes that part of our overall health and wellness involves being as physically active and involved in sports as a person can be. Richard is an active racquetball coach, taking youth to compete in numerous national championships and served as personal coach at the World Junior Racquetball Championships in Mexico. Additionally, Richard has competed in provincial and national racquetball championships. He is a musician and singer songwriter and has appeared on the Aboriginal People's Television Network. His community work includes serving as president of the board of the Okanagan Métis Family Services, a past member of the Kelowna Métis Association and past president of the Kelowna Masters Racquetball Association. Richard will take the time to listen to your ceremony wishes and truly enjoys helping couples celebrate their joining of vows in both a personal and professional manner.
Request Richard Gauthier
Areas Served
Kelowna, Peachland, Oyama, Westbank, West Kelowna
Reviews
Lowell & Kendra
Richard Gauthier was absolutely wonderful. Thank you! January 2023
Hailey & Abe
Richard Gauthier is true gems. We can't say enough good things about him and neither could our guests! We received such positive feedback on the wonderful ceremony that he performed. From the moment we started the planning process, we felt at ease and like we were in the very best hands. He walked us through every step and made sure that we were always on track and fully understood the process. Richard gave us numerous sample ceremonies, he listened to what we wanted, and had no problem adapting the wording to align with our relationship. Through the entire ceremony his sense of humour and authenticity was exactly what we needed, and we forever grateful for him! If you are looking for a wedding officiant, you will not be disappointed with the service that Richard offers, he is truly amazing.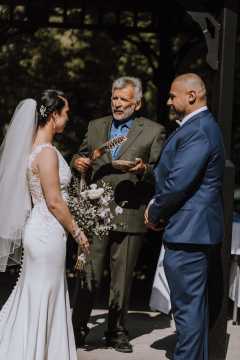 Cassy
Richard was amazing! He really made it feel special by how intentional and truly caring he was with his words. He has such a beautiful energy and it was the perfect addition to our special day.