Rev Roni Lipstein
Located in Montreal, Rev. Roni (Rhonda Sheryl Lipstein), is an ordained high priestess and wedding officiant whose honour it is to ensure your special day is created with a professional, personalized touch, to meet all your needs, and to actualize your blissful visions for your wedding ceremony. Rev. Roni is delighted to offer her Ministerial services specializing in non-denominational, inter-faith, spiritual, LGBTTQQIAAP, non-conformist, unconventional, unique, and traditional ceremonies for area brides and grooms. She is also a holistic healer and life guidance therapist, providing insightful pre-marital and couple's counseling. She has hosted her own talk show, and is often a guest speaker at events, as well as being a published author, guaranteeing your ceremony shall truly echo your heart's deepest desires. She looks forward to helping you create a personalized and meaningful wedding ceremony. Roni is ordained with the Metaphysical Ministry of Canada.
Request Roni Lipstein
Areas Served
downtown Montreal, Old Montreal, Outremont, The Plateau, Mile End, Laval, St. Dorothy, St. Rose, Chomedey, St. Laurent, Town of Mont Royal (TMR), Westmount, Snowden, Lachine, South Shore, St. Henri, Cote St. Luc, Lasalle, Iberville,
Reviews
Katerina & Frederic
We had such a wonderful experience with Rhonda Lipstein (Rev. Roni). She brought so much magic to our day and made it extremely memorable. She is highly knowledgeable in what she does and made sure that we understood the whole process of getting married very clearly (including the boring paperwork that we definitely did not want to deal with. She made it super easy). Would highly recommend her to anyone looking for a professional, fun, and spiritual reverend for their special day. Aug 2022
Christopher
I highly recommend! 5-star service from beginning to end. Rhonda was able to answer all of my initial inquiries quickly and very detailed. She made sure to question where we were at in the planning process and pointed out several things that we had not thought about (which helped us a lot!) She was available whenever we needed, whether it be regarding her services as our officiant or with questions related to wedding planning. She took care of all the necessary legal documents from beginning to end, when we received our marriage certificate, and we never had to worry about a thing. You will receive grade A service and have piece of mind, knowing that everything will be done on her end. I would highly recommend to anyone looking for a charismatic, highly detailed officiant who goes above and beyond in every aspect! August, 2020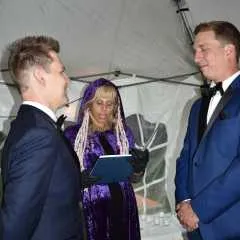 Jennifer
Amazing experience!!! We worked with Rev Roni for our small, intimate backyard wedding this summer and we couldn't be happier with her service. She was so accommodating and helpful with our requests, worked with us to craft the perfect ceremony and answered every single question we had. She was so great to work with, we're so glad we found her and that she was a part of our special day! You will not regret working with her! August, 2020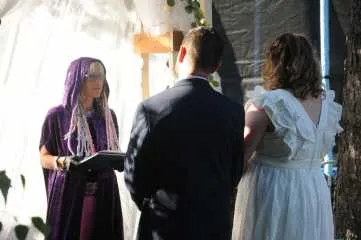 Kate
Reverend Roni was something out of my dreams. I had always dreamed of having a handfasting ceremony and I had looked up many officiants before I found her. We met via Skype, and I knew she was the one. So compassionate and knowledgeable, she worked with my husband and I to create the ceremony we had imagined. She is absolutely a pleasure - blending humour with profound spirituality and wisdom. I was very stressed prior to the ceremony due to a delicate family situation, and she sat me down, guiding me through breathing and reminding me that the day is about joy. I thank her so much for helping me overcome that anxiety and for helping me find my joy again in that moment. Some of my family is very Catholic and I was curious about how they would respond to a non-Christian ceremony. They all LOVED it, and still talk about how our ceremony was one of the most beautiful they had ever attended. I highly recommend her to anyone looking for a very personal spiritual ceremony.