Pamela Alleyne-Tracey
I live in Burlington, the home of Canada's largest Botanical Gardens. I would like nothing more than to perform your personalized wedding ceremony and be a part of your journey of faith and love. I have two adult children that are a great source of joy in my life. Born in Guyana, I travelled and studied in the United Kingdom. I've been voted Hamilton's Woman of the Year in Communications in 2002. My background in Nursing became my rock for my ministry and I find my role as Clergy very fulfilling. I also contrubute by promoting the well-being and quality of life in others as an Inspirational Speaker and teaching Laughter Yoga for the developmentally challenged. Playing golf and enjoying leisurely walks are some of my hobbies.
Request Pamela Alleyne-Tracey
Areas Served
Ancaster, Binbrook, Brantford, Burlington, Caledonia, Carlisle, Copetown, Dundas, Grimsby, Hamilton, Milton, Mississauga, Mount Hope, Oakville, Stoney Creek, Waterdown, Winona
Reviews
Lucas & Owynn
The process to book our Officiant with All Seasons was so easy! Pamela Alleyne Tracey was so kind! We just want to say Thank you for everything! We will have photos from the wedding but we just have not received them back yet. September 2023
Matthew & Melanie
We were recommended All Seasons by our venue. We chose Pamela Alleyne-Tracey out of the list of officiants after reading the bios for each. After our introductory call with her, we knew instantly that we would be choosing her. Pamela was so warm and easy to chat with that we felt like we had been friends for a long time. She did a beautiful job officiating our ceremony. The marriage itself should really be the most important part of any wedding day! We liked that All Seasons provided a ceremony outline with the "perfectly planned" package. We loved that were were able to edit the ceremony script and make changes and personal touches so it was more meaningful to our relationship. Our officiant Pamela took an incredible amount of time to guide us during regular meetings so we were well supported throughout the whole process. Thank you All Seasons for a seamless booking and well organized communication and thanks to Pamela for a beautiful ceremony. We had so many compliments from our guests about how meaningful the ceremony was!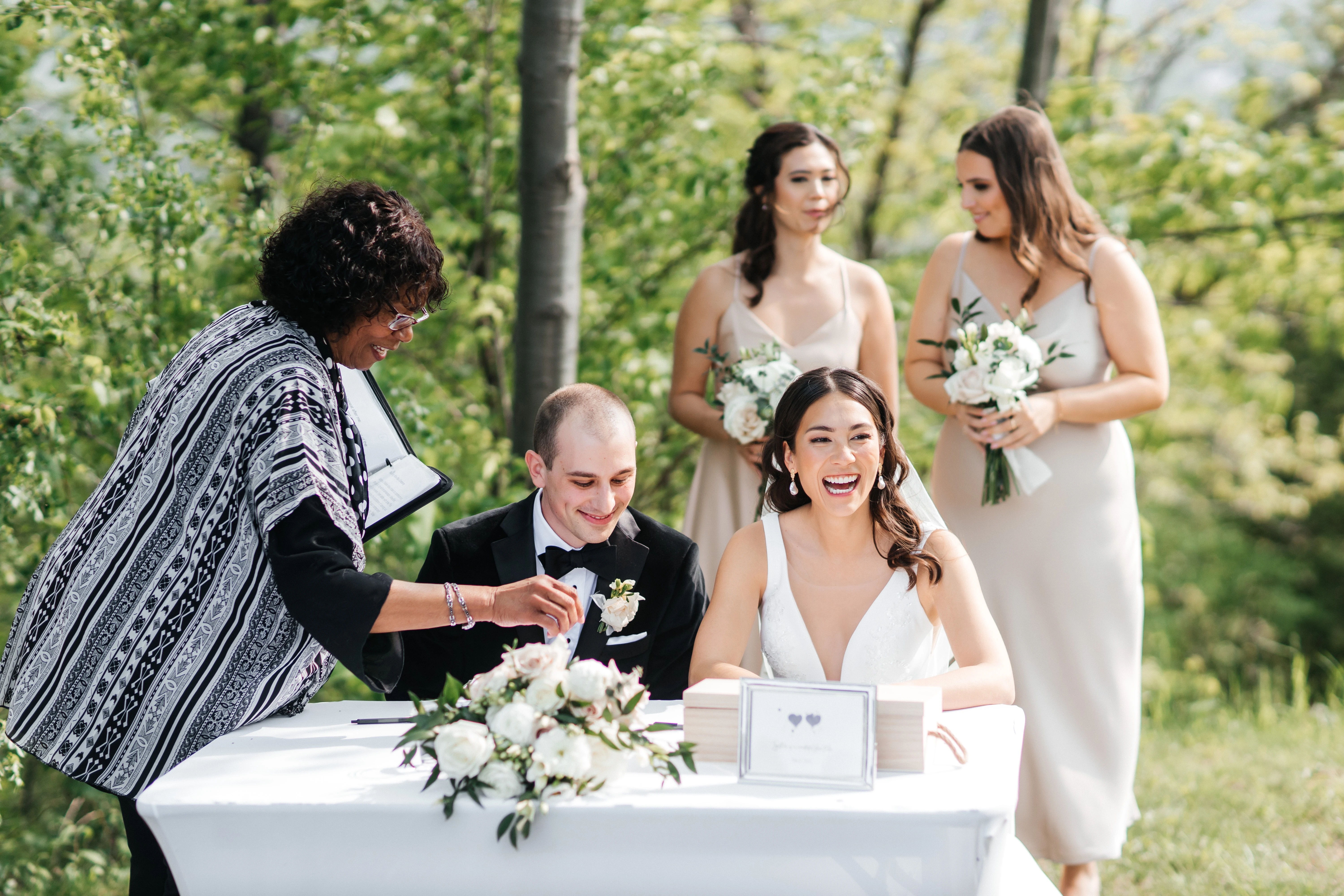 Credit: Wait One Day Photography
Robert & Tracey
Pamela Alleyne-Tracey you were instantly family from the moment we first spoke on the phone. You made our wedding so easy.. ( also you didn't mind the song I came out to lol ) I would personally recommend you to officiate for friends and family. You are amazing ❤️ August 2022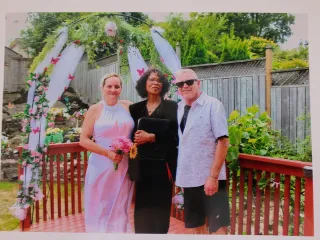 Nathan & Amy
Pamela Alleyne-Traceymarried us on September 10, 2022 and we could not have chosen a better officiant! From our first phone call, her gentle, caring and cheerful energy reassured us that we were in good hands. Throughout our many phone calls afterwards she was so thorough, confident and organised, making sure we were prepared and totally happy with our ceremony- she even helped us to incorporate a personal message that we had written to our parents. She kept us calm, kept us laughing, and got us excited for our big day, and was always sure to let us know we could reach out to her at any time. On our wedding day she helped to wrangle everyone to their right places, and delivered a beautiful ceremony- we received a lot of compliments from our family and friends about what a wonderful job she did! Pamela genuinely wanted for our day to be perfect and we felt that throughout our time together. We will treasure the day always Pamela, thank you from the bottom of our hearts! September 2022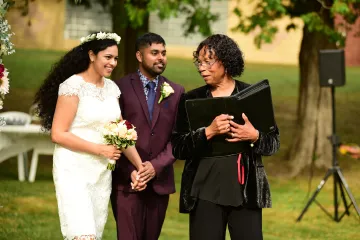 Jeannie & Mark
Our officiant canceled 4 weeks before our wedding for a pool tournament. So we immediately went with the competitor. We chose Pamela Alleyne-Tracey for her warmth. Even more impressed with her positivity and enthusiasm. Pam got us excited about our marriage. Where the other peeps well … I have no words. The staff at All Seasons were brilliant, organized, professional, and fun!!!!! I've already recommended All Seasons Weddings to one of our guests, and to our delight, they want Pam! Aug 2022
Jesse & Katie
We could not be happier that we chose Pamela to be our officiant - it was one of the best decisions we made for our wedding. Pamela met with us multiple times leading up to our wedding date to make sure that we felt prepared for our ceremony and she was kind, funny, thorough and organized each and every time we spoke. She did an amazing job with our ceremony and we had more than one person come up to us after and mention how wonderful she was. We would recommend Pamela to anyone getting married - I have no doubt that she will not only help you feel confident in all aspects of your ceremony but she will become like a friend and play a very important role in your special day! August 2022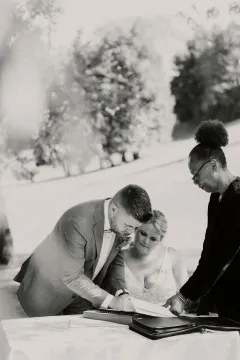 Kyle & Darin
Pamela Alleyne - Tracey made our day incredibly special and meaningful! Her enthusiasm for our wedding kept us excited in the weeks before. Our ceremony was romantic and just as we wanted. We are so happy that she married us. Thank you Pamela! September 2021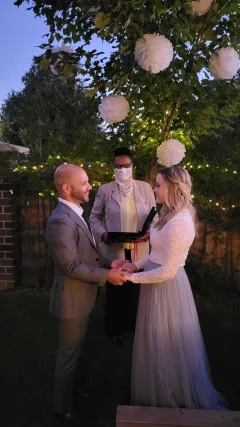 Tylar and Olisya Aug 2019
This review is a long time in the making but Ms. Pamela Alleyne Tracey was so warm and professional it still feels like it all happened just yesterday. From the first messages we exchanged with Pamela through email and text, it was clear that she is exactly who we needed to be our wedding officiant. You can tell that she truly loves what she does and genuinely cares about her clients. We have received so much love and support even beyond our wedding date that I would go as far as to say Ms. Pamela Tracey is a part of our family and most definitely has a place in our hearts forever. She was very hands-on during the preparation phase to ensure that everything was done the way that we envisioned it. She offered suggestions as well as the flexibility that we needed to plan our big day. She arrived early on the day of with that beautiful big smile of hers and open arms that added the final touch of love and support that we needed to make our special day go off without a hitch. Ms. Pamela Tracey also made sure to help guide us through all the paperwork that needed to be complete and reminded us of exactly what steps needed to be taken for the legal side of things. We also felt comfortable to reach out to her at any time with any questions that we had and we have stayed in contact for the years following simply because she has such a beautiful energy and aura around her that we can't afford to let her go! If you are looking for a wedding officiant with the highest levels of professionalism, experience, passion, love, integrity, (I could go on forever here…) look no further because you have most definitely found everything you are looking for in Ms. Pamela Alleyne Tracey!
Troy and Shelby
Working with Pam as our Officiant for our wedding was such a delightful experience. Her dedication, attitude and attention to detail, assured us we were in the right hands and our day was going to be taken seriously. She arrived on time and took care of everything that needed to be done, she guided us so well throughout the process, with a sense of humour through it all. We would recommend her to anyone looking for a great officiant. Thanks Pam! " Troy and Shelby August 2021
Jen and Dev
We would like to express our gratitude to Pamela for her services at our wedding. Despite numerous setbacks due to Covid-19, Pamela helped us to create the most beautiful and memorable wedding day! She was professional, flexible and very accommodating throughout the entire planning process. It was a pleasure and a privilege to have her officiate our wedding! Highly recommend! Jen and Dev 2020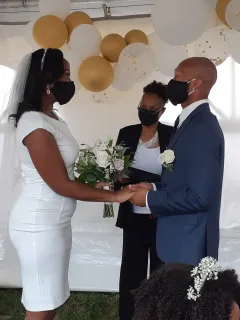 Heather and Joe
Thank you Pamela for making our day special. Even though there was covid -19 to deal with, you were able to provide us with a lovely ceremony. Thanks again. Heather and Joe June 2020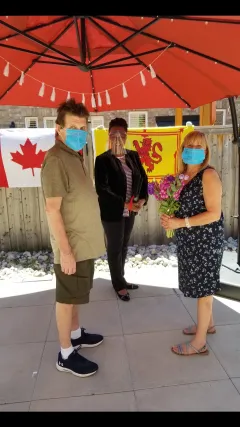 Nadine & Edmond
From the time we first spoke with Pamela Alleyne-Tracey, my husband and I knew that we had found a kindhearted professional and trusted friend in an Officiant. From the inception, Pamela made sure that we were knowledgeable about all aspects of our impending nuptials and extremely comfortable when it came to ensuring that we had all avenues covered before the ceremony. In the events leading up to the wedding she was in constant contact with us to answer questions and to give reliable feedback. Pamela made our wedding day a dream come through with her level of knowledge and skills of the entire process. Her ability to make not only us, but the entire gathering comfortable, was a wonderful skill that we appreciated greatly. We wish to give our sincere thanks and best wishes to Pamela and your entire company. Your overall level of professionalism and efficiency go beyond words. Thank you. Nadine and Edmond February 2020
Jane & Ford
We had a wonderful experience with Pamela Alleyne-Tracey ! You made the process so easy for us. Thank you. Jane & Ford August 2019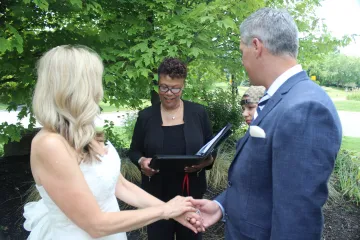 Byungsu & Suin
Pamela Alleyne-Tracey It was a pleasure to my wife and I that you officiated our wedding. Throughout the preparation of our wedding, we felt very supported because you were always available to answer our questions. You took the time to explain all the important information to us and as a result, we were able to have a great ceremony, just the way we wanted. We will remember the kind words you said and how happy we felt during our special day. When we look back at the event, we can certainly say that we made a right choice by having you as our officiant. Byungsu & Suin July 2019
Alison & Tom
Right after meeting Pamela (Alleyne Tracey) for the first time we were certain we wanted her to be our wedding officiant. We literally turned to one another in the car and said, "She's the one!" She immediately put us at ease, greeting us with a big smile, open arms, and her warm supportive energy – someone you feel like you've known already for many years. We weren't sure exactly what we wanted for our ceremony, but Pamela helped guide and inspire us, bringing out our vision for the day. She was very organized, professional, and flexible, open to customizing any style of ceremony, always assuring us that it was our day. She was happy to adopt our nerdy alternative titles, – like "Wedding Cabinet" instead of "Wedding Party," and "Wedding Whip" in place of "Mother of the Bride" – embracing her role of "Wedding Governor General" with excellent humour. Pamela has an amazing way of connecting, and made us feel like she had our backs. She'd get us talking away and laughing every time we interacted. She even helped us navigate the marriage licence application and the various documents needed for legal purposes. Pamela encouraged us to contact her at any time, day or night, if we had any questions, thoughts, late-night worries, or wanted something changed. From her experience, she also has a wealth of ideas and advice for adding special touches. For example, we wanted a way to bring in and honour passed loved ones, and she gave us the idea to set out a chair for them with their picture, a candle, and any special symbol or belonging of theirs. This was also a way for us to include some of our younger family members, who had the role of candle-lighters. We received so many compliments about our ceremony, with several of our guests commenting that it was the best that they had ever attended. Our parents, grandparents, friends, everyone loved Pamela, and she made it hands-down the best part of our day. If/when we do a vow renewal, it's got to be Pamela! We absolutely recommend her! [August 12th, 2018].