Nicholas Scime
Nicholas lives on the Hamilton mountain and is no stranger to ceremonies, community work, or speaking engagements. A past career as a Community Development Manager, and a Chef leading cooking shows on TV has given this minister his upbeat and outgoing personality. He hopes to assist you with your unique wedding ceremony, and the start of your life with your special partner. His passion for life and values have served him well as a husband and a father of three great men. Nicholas enjoys traveling, cooking and is fortunate to combine his two loves when he has the opportunity.
Request Nicholas Scime
Areas Served
Hamilton, Stoney Creek , Beamsville, Dundas, Ancaster, Brantford, Burlington, Grimsby, Waterdown, Cayuga, Flamboro, , Binbrook, Mount Hope, Hagersville, Caledonia, Milton, Oakville , Carlisle , Winona
Reviews
Philip & Cassandra
Nicholas Scime was amazing to work with! He was super friendly and helpful and took his time to answer any questions or uncertainty. He walked us through our ceremony step by step and was very open talking about his personal life to take some of the pressure off us . We would %10000 recommend him to anyone looking for an officiant ! September 2022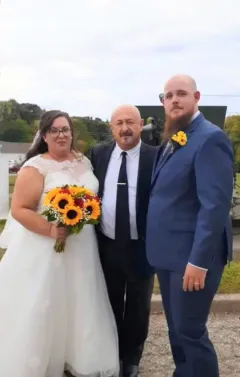 Jessica & Tom
Nicholas Scime made the process super easy. He reminded us what the day was all about, not to rush and to pause to take it in. He was on time and stayed to join us for a meal while he chatted with guests. Would highly recommend! June 2022
Beth & Zach
Thank you so much! It was such a great day, and again we are so thankful you were up for wearing a kilt! Beth & Zach, September 2021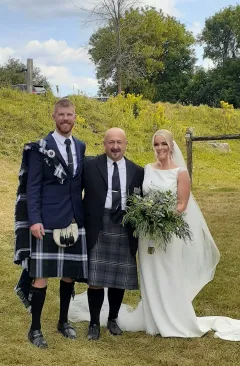 Sacha & Matthew
Nicholas Scime was amazing and he accommodated us even though we had three changes during the pandemic. After our ceremony, a friend also requested him. Sacha & Matthew August 2021
Adam & Hayley
Nicholas Scime was extremely helpful in getting us ready for our big day and was very receptive to all instructions and requests from us. He was very kind! Adam & Hayley September 2020
Jamie & Kim
Nicholas Scime exceeded out expectation and delivered an excellent service. Jamie & Kim September 2020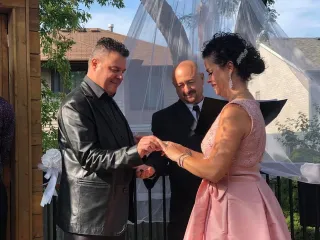 Jason & Katherine
Nicholas Scime was our wedding officiant and he was great! He met us about 1 month prior to our ceremony to run through and plan out the ceremony. He allowed us to personalize the wording and add our own vows. He arrived to the venue early and performed an engaging ceremony. He was a great officiant and we would definitely recommend him to others. Thank you Nicholas for being apart of making our day run smoothly and perfectly. Jason & Katherine September 2019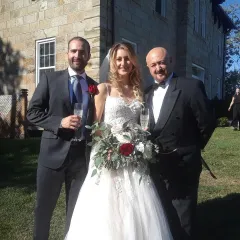 Rachel & Alan
We had an excellent experience with Nicholas Scime as our officiant. He was accommodating to connect with us for a phone interview, in person meet, as well as an offsite rehearsal. His role as an officiant really excelled with his confidence, recommendations, and experience. He guided us through the process of the ceremony every step of the way. There are many things that can go wrong in planning your wedding day, but choosing Nicholas is not one of them! Rachel & Alan November 2018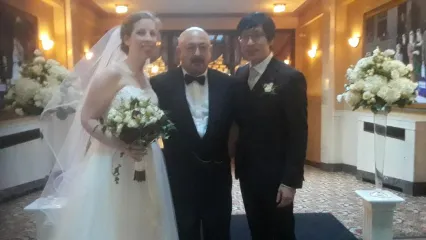 Tracy and Doug
I have known Nicholas Scime for many years and I am so happy he was available to officiate our wedding on Oct 13/18. He has a great personality and he is very enthusiastic about everything he does. Nicholas was professional, sincere and very flexible in allowing us to customize our ceremony to the way that made Doug and I comfortable when speaking. We would recommend Nicholas to any couple looking for a Wedding Officiant. Thank you again for being able to share our special day with us! Tracy and Doug
Lisa
Nicholas Scime was absolutely amazing! We would highly recommend him to anyone! Lisa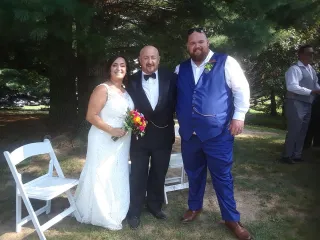 Arielle & Chris
Nicholas was a fantastic officiant. He was very helpful in preparing us for the day as well as punctual. Very approachable and great sense of humour. We would highly recommend him for your special day! [08/18/2018] Arielle and Chris.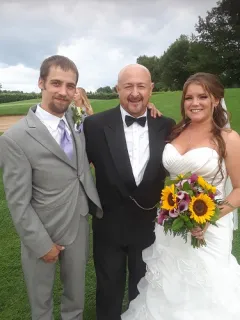 Nicole and Philip
Nicholas was the officiant at our wedding in June 2018 and we are very pleased with the service provided. Nick was professional, courteous and sincere, and took care to make sure we were fully prepared for our ceremony. Within minutes of sitting down with Nick, we felt like we were speaking with an old friend. We're glad he was part of our big day.
Agathe and Michel
Michel and I would thank you for the amazing job officiating our marriage. we can't thank you enough. Agathe and Michel
Michael and Eleonora
Michael and I met with Nick one month before our wedding day. We were immediately impressed with his professionalism, support, enthusiasm, and ultimate interest in our needs and opinions for the ceremony, and especially in being a part of our special day! He was completely flexible in having our own unique choices for the ceremony readings met. On the wedding day, Nick completely exceeded our expectations. He spoke proficiently, confidently, and profoundly from the heart. Nick provided direction and support throughout the entirety of the ceremony, and helped with modifications, so that we both felt comfortable when speaking. We recommend Nick to any couple in need of a kind, professional, and truly caring Wedding Officiant. Thank you! Michael and Eleonora