Natalie Fraser
Natalie is a unique healer and teacher, speaker, and writer who draws from many traditions and has a lifelong approach to learning. The founder of Moment-M, and currently launching Unedited Woman, she is celebrated for her innovation, expedience, and effectiveness. She is a theatre performance graduate from Concordia University and did her minor in English literature at Ottawa U. She continues to pursue teachings in Indigenous culture, New Age religions, self-awareness, and human dynamics. In those fields, she has found the same lessons of healing that she had learned in her study of theatre. Her ambition has always been to be creative, spread love, and help others. Natalie is open to all kinds of unions and settings in both Ontario and Quebec. With her guidance, she will help you to create a memorable ceremony.
Request Natalie Fraser
Areas Served
Aylmer, Breckinridge, Bristol, Cantely, Chelsea, Eardley, Gatineau, Heyworth, Hull, Luskville, Norway Bay, Pontiac, Quyon, Wakefield, Ottawa, Ottawa downtown, Ottawa East, Ottawa West, Nepean, Kanata, Gloucester, Orleans
Reviews
Ian & Savannah
Natalie Fraser was incredibly kind and easy to work with. She explained the legalities and official processes in an easy and relaxed way. On our wedding day, she was early and organized. I was incredibly touched to see a tear on her face during the ceremony itself. I am so grateful Natalie was our officiant! Thank you! September, 2022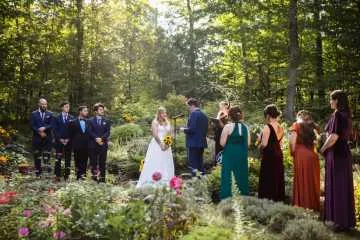 Chantal & Solomon
Natalie Fraser is wonderful. Went above and beyond our expectations. I, the bride, would have been completely list without her help. She is exceptional. Highly recommended. August 20 2022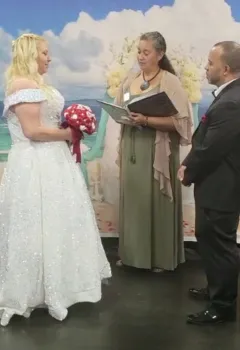 Kim & Richard
Natalie [Fraser] was wonderful - gentle and competent presence, a warm, clear voice, friendly and flexible. She had the perfect energy for the kind of intimate ceremony we were hoping to create. I would not hesitate to refer her or All Seasons Weddings to anyone. July 2022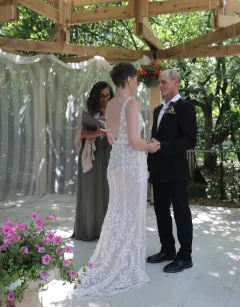 Lucas & David
Natalie Fraser was great! She was very flexible and accommodating with what we wanted, very warm and professional. She officiated a really nice and intimate ceremony, in a very charismatic way, and everybody felt they were a part of it. Thank you so much! June 2022
Alex & Sonya
Natalie Fraser performed a beautiful ceremony for us. She has a calm presence about her and even when I (the bride) was running late and was a little frantic, her energy helped remind me that everything will be alright. Thank you Natalie for being part of our day. November 2021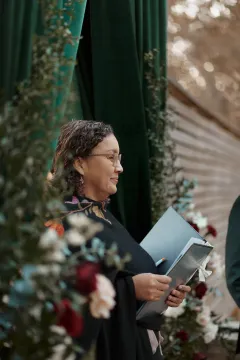 Skylar & Carlina
Natalie Fraser was extremely sweet and overall amazing!!!!!! We would 100% recommend her to anyone. March 2022
Nicholas & Keira
Natalie Fraser was amazing and very easy to communicate with. Thank you for a beautiful ceremony. September 2021
Christopher and Anna Aug 2021
Natalie was just perfect. She answered all of our questions and went above and beyond for our wedding ceremony. She was always so kind to us and made us feel secure. Our wedding was outdoors and despite it being incredibly hot and humid, she still spoke beautifully. We will absolutely be recommending her and All Seasons Weddings to our friends who are getting married. Thank you so much Natalie.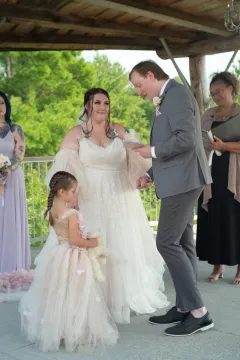 Malcolm & Renee
Natalie Fraser was so poised and graceful. Our ceremony was beautiful. Thank you Natalie! Malcolm & Renee October 2020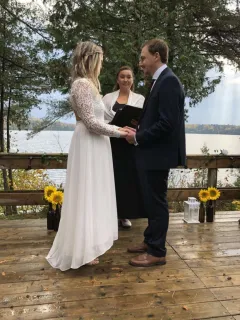 Natasha & Ian
We had a great experience both with All Seasons weddings and our Officiant Natalie Fraser specifically. Everybody was super quick to respond, found out all extra into we had asked for, were very helpful. Natalie was on time and even was able to accommodate a last-minute earlier time change. Very pleasant to work with. Highly recommend! Natasha & Ian Oct 2020
Stephen and Shannon
On behalf of my husband and I, I would like to thank Natalie Fraser for uniting us in matrimony after 20 years of living together. She was so professional in her demeanour and her delivery of the ceremony. She made us feel so comfortable and relaxed. She helped us personalize the readings and prayers to fit us perfectly. I was also very pleased that because of Nat's clear delivery of the ceremony, my mother-in-law who is hearing impaired was able to understand everything she said, without the need for a microphone. Thanks so much! It was such a special day. Thanks for being a part of it! Stephen and Shannon Sept 2018