Morwen Galway
Morwen is a Designated Minister with Clergy Support Memorial, serving Huntsville and the surrounding area. She grew up visiting the family cottage on Walker's Point and so it was inevitable she would return to the area year round. Morwen has always enjoyed interacting and helping people, learning about new cultures, and has a love of travel. Her friendliness, compassion, and great sense of humour will make you feel at ease. Morwen welcomes all couples, faiths and beliefs. Whether your ceremony will be held on the dock by the lake of the family cottage, in Algonquin Park overlooking the beautiful vistas, or anywhere in between, Morwen would be honoured to help make your celebration one to remember forever.
Request Morwen Galway
Areas Served
Huntsville, Dwight, Dorset, Algonquin Park (Hwy 60 access), Whitney, Bracebridge, Port Carling, Gravenhurst, Burk's Falls, Arrowhead Provincial Park, Rosseau.
Reviews
Tyler & Miranda
Morwen Galway was wonderful!!! We loved having her be apart of our special day! Thank you for everything !!! October 2021
Valentina & Oliver
Morwen Galway was lovely and we were so very happy she came even if it was raining! We would absolutely recommend her! Valentina & Oliver July 2021
Stephanie & Jake
Morwen Galway was wonderful, very down to earth ,professional and made us feel comfortable. I would highly recommend her to officiate you wedding. Stephanie & Jake January 2021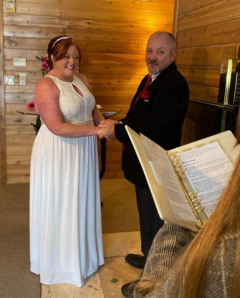 Kristopher & Kayla
Morwen Galway was wonderful, she showed up early and was very pleasant to deal with. I would definitely recommend her to friends and family. She was patient with us making sure everything was set up correctly and spoke loudly so our friends and family could hear everything. Thank you Morwen! Kristopher & Kayla December 2020
Randy & Kelli
Morwen Galway was incredible. She is so friendly, kind and extremely helpful. Any questions I had, she answered before and after our wedding. She made sure to have a small visit with me before the ceremony which was an extra nice touch! She fit in perfectly with our day, low key and relaxed. We are so happy to have had Morwen lead us through our special day! :) Randy & Kelli October 2020
Cody & Jacky
Morwen Galway was so wonderful! We had lots of open communication before the ceremony. On the day she was so accommodating- some of our guests were late and she had no problem waiting. Thank you for making our day perfect! Cody & Jacky August 2020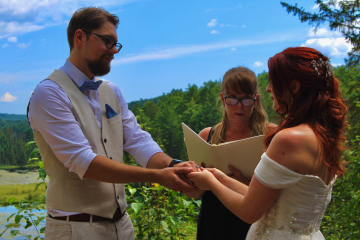 Barry & Garry
Morwen Galway was wonderful. She just what we expected and more .She conducted the ceremony in a calm and compassionate manner and I wouldn't hesitate to recommend her. Our witnesses thought that she was terrific. Barry & Garry August 2020
Robert & Diane
Morwen Galway was an absolute pleasure, she performed our ceremony perfectly . Morwen made it so special, it felt like a friend was part of our special day. She preformed beyond our expectations. We had an instant connection from the first meeting. We would recommend her without any hesitations. Thank you Morwen! Robert & Diane September 2019
Alexander & Brooke
Morwen Galway was such a pleasure, so kind and thoughtful. We were an hour behind (which I can't apologize enough for) and she was so understanding, I really appreciate it as it put me at ease. She helped us create a ceremony "speech" together as well, we were very happy with our decision and can not recommend her enough! Alexander & Brooke August 2019
Laura and Lucas
Morwen was our officiant for our August 2016 Wedding. She was creative, flexible and very accommodating. We met with her and she was able to answer all of our questions and offer us with many ideas and suggestions. We were very happy to have her perform our wedding ceremony!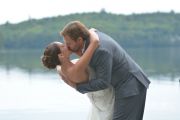 Chantal & David
Morwen Galway did a wonderful job conducting our ceremony. She was professional, thoughtful and caring. She made herself available for questions and addressed any concerns during our planning process. We are very pleased that we chose All Seasons Weddings for our Muskoka wedding. Thank you!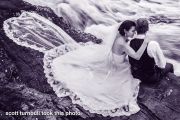 Cathy & Glen
Morwen Galway was awesome. So kind and helpful.
Nikki & Mike
Morwen Galway eally helped us personalize the ceremony, and was really up for anything! We were really happy with Morwen.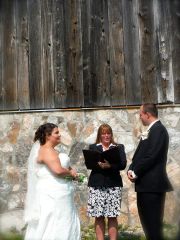 Sarah & Kenny
Morwen Galway was lovely! When we met a few weeks before the wedding she was kind, helpful and very easy to get along with. She was in touch via email and texting prior and we always got a speedy reply. She readily answered all our questions and helped us by giving us feedback on our ceremony. She led a beautiful ceremony and we are so glad that she was our officiant.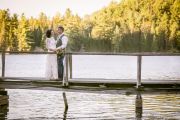 Brooke & Barrett
Morwen Galway was amazing! She was exactly what we were looking for and more! We were extremely happy with Morwen! She was so helpful and pleasant! Can't thank her enough :)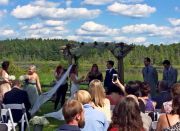 Josh & Kayla
Morwen Galway was warm, friendly and very easy to work with! She was the perfect officiant for the wedding and we would highly recommend her. She took the time to get to know the bride and groom, was very organized and had a wonderful calming influence during the pre-wedding preparations!