Michel Dault
Michel lives in Burlington. Michel can conduct English,French and bilingual ceremonies. He is compassionate, outgoing and approachable, with a gentle sense of humour and a love for life. He celebrates diversity and respects the personal freedom to choose one's own path. He will work with you to help you personalize your wedding ceremony, and make it a very special one. If you are looking for a wedding officiant who is caring, open and flexible, look no more - he is the one for you.
Request Michel Dault
Areas Served
Burlington, Hamilton, Stoney Creek, Ancaster, Brantford, Waterdown, Dundas, Grimsby, Oakville
Reviews
Jules & Adam
Michel Dault performed an incredible ceremony that my husband and I will always remember. It came from the heart and was incredibly impactful. Sept 2022
Justin & Farhana
Michel Dault was responsive and encouraging. He spoke eloquently and commanded ceremony with ease. He was at the venue early and made sure to meet the different parties. He met with us in advance and shared the script ahead of time. Wonderful experience! July 2022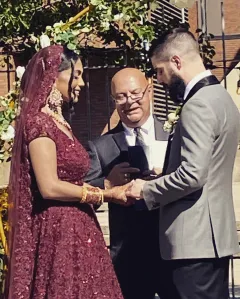 Julie & Pat
We had the most beautiful wedding ceremony on Saturday, July 21,2018. Michel Dault was superb. We keep getting compliments on how beautiful and perfect our reception and officiant were. We will definitely recommend your website and especially Michel. Thank you! Julie & Pat
Caroline & Donald
Michel Dault was the consummate professional we had been hoping for. He excels at his "job", while remaining calm and down to earth, soothing to those around him. Also very personable with a sense of humour.