Michel Dault
Michel est né et a grandi dans le nord de l'Ontario. Il est généreux, ouvert et accessible, dote d'un sens de l'humour et d'un amour de la vie. Il célèbre la diversité et respecte la liberté de chacun de choisir sa propre voie. Il vous aidera à personnaliser votre cérémonie de mariage et il en fera une journée bien spéciale. Michel peut célébrer des mariages en anglais ou bilingues. Il s'est porté bénévole auprès de nombreuses organisations. Si vous cherchez un célébrant de mariage qui est attentif à vos besoins, ouvert et qui peut s'adapter, ne regardez pas plus loin – vous l'avez trouvé.
Request Michel Dault
Secteurs desservis
Burlington, Hamilton, Stoney Creek, Ancaster, Brantford, Waterdown, Dundas, Grimsby, Oakville
Commentaires
Jules & Adam
Michel Dault performed an incredible ceremony that my husband and I will always remember. It came from the heart and was incredibly impactful. Sept 2022
Justin & Farhana
Michel Dault was responsive and encouraging. He spoke eloquently and commanded ceremony with ease. He was at the venue early and made sure to meet the different parties. He met with us in advance and shared the script ahead of time. Wonderful experience! July 2022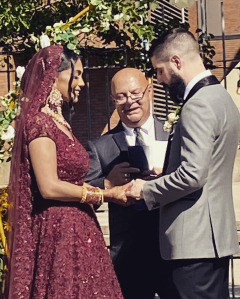 Julie & Pat
We had the most beautiful wedding ceremony on Saturday, July 21,2018. Michel Dault was superb. We keep getting compliments on how beautiful and perfect our reception and officiant were. We will definitely recommend your website and especially Michel. Thank you! Julie & Pat
Caroline & Donald
Michel Dault was the consummate professional we had been hoping for. He excels at his "job", while remaining calm and down to earth, soothing to those around him. Also very personable with a sense of humour.