Lesli Savelli
Lesli who lives in Ancaster that believes Marriage is a celebration of your love and vow of commitment to each other. Lesli would be honoured to partner with you to create a wedding day that is both joyful and memorable. She honours all paths, and she brings a great deal of experience in dealing with people and has a very diplomatic and inclusive approach. She enjoys spending time with family and friends, travelling, gardening and quilting. She will ensure that your wedding day will go exactly as you want it.
Request Lesli Savelli
Areas Served
Ancaster, Burlington, Dundas, Hamilton, Oakville, Stoney Creek
Reviews
Gareth & Fiona
It was wonderful. Very friendly and helpful staff. The beautiful setting and the calming surrounding of the venue. Leslie's delivery of a lovely ceremony that fit both of us. Yes, I would recommend and refer to anyone that asked me.
Dev & Melissa
Lesli was amazing! So friendly and easy to work with. She did a wonderful job of our ceremony and including all of our bridal party in the moment! Lesli was an incredible officiant I would recommend her to everyone looking for someone who will make the process easy while still making it a beautiful memory! During the chaos of wedding planning Lesli ensured we were on track and on time for everything! Thank you Lesli!!
Erin & Logan
Lesli Savelli absolutely exceeded our expectations throughout the entire process. She went above and beyond to help us each step of the way and accommodated meeting with us in person so that we could go over the ceremony. She provided us with valuable advice on details for the day-of (as two people who have never been married before, nor attended many weddings, this was really appreciated!). September 2022
Emma & Liam
We were so happy to have Lesli Savelli officiate our wedding. Meeting her prior to our wedding, she was personable, kind, and showed attention to detail. She worked with us and was flexible to ensure the ceremony was tailored to our vision. On our wedding day, she was so helpful in calming our nerves and making us feel comfortable. Our ceremony felt direct and sincere - which is exactly what we were hoping for! We couldn't have asked for a better day. Thank you Lesli! We highly recommend having Lesli be a part of your wedding day. July 2022
Joe & Michelle
Lesli Savelli was a wonderful officiant for our wedding. She was warm, communicative, friendly and worked closely with us to personalize our special day. Quite frankly it would not have been the same without her. I highly recommend using Leslie or one of the other officiants. It was a smooth and seamless process. We are so happy we chose All Seasons. June 2022
James & Victoria
Lesli Savelli was amazing. She was so helpful and easy to work with. My husband and I didn't have our hearts set on any particular schedule or style of wedding - we wanted it to be very relaxed and flexible. Lesli went with the flow and guided us through our special day with such professionalism and kindness. I would recommend her to anyone in a heartbeat! Thank you so much Lesli for everything - you are a rockstar! And thank you to All Seasons Weddings for providing such an easy-to-use service! June 2022
Alexander & Mariana
Lesli Savelli was a wonderful and attentive officiant. She really went above and beyond in meeting with us leading up to the ceremony to make us feel comfortable and sort out all the details. Thank you Lesli for a wonderful experience! April 2022
Mitch & Nicole
Lesli Savelli was a complete pleasure with an amazing personality!! So happy she was able to officiate! Would highly recommend her! May 2022
Corrie & Tad
From the moment we saw Lesli's profile we felt a connection. We knew she was the perfect person to be part of our day. Lesli was kind and friendly, organized and knowledgeable. She made us feel like old friends. Through Lesli's diligence and experience she made the "getting married" part the easiest and most stress free, enjoyable part of our day! We can never thank her enough for making sure we stopped and took in the magic of our wedding. I can't say enough good things, we highly recommend Lesli Savelli as your officiant. June 2022
Jordan & Libby
From the first moment that we connected with Lesli we knew she would be the one to officiate our wedding. Her sweet soul, kind humour and warmth are abundant and she brought all of it when she performed our wedding ceremony in May of 2022. The ceremony that she wrote for us was thoughtful and something we will cherish for the rest of our lives. She really took the time to get to know us and collaborate with us to make the ceremony better than we could have ever imagined. Lesli is down to earth, she has a true beautiful spirit and she made the whole process from creating to officiating our wedding ceremony accessible and fun! She was a joy to get to know and to work with - we feel so honoured to have had her as our officiant! Thank you Lesli! XO ~ May 2022
Shannon & Kristofer
Lesli Savelli was amazing! While the thought of putting together a ceremony can be overwhelming to the bride and groom, Lesli made every step of the way so easy to navigate through! Lesli really helped us make our ceremony fun and full of love, exactly how we wanted it! Lesli has such a kind soul, which makes all the nerves just disappear when you are standing at the front of the alter ready to say your vows to the love of your life! I would recommend Lesli a million times over, as she was just absolutely amazing to work with! Thank you Lesli for making our dream wedding ceremony come true! You truly are the best and everyone should be asking for you when they are searching for their officiant! Nov 2021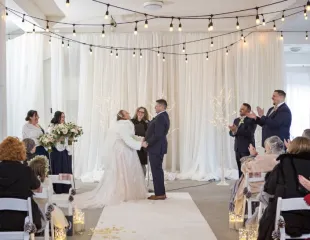 Ginny & Zachary
Lesli Savelli was amazing. So calm and so comfortable to be around, she definitely took a lot of our nerves away. Thank you Lesli! September 2021
Amie & Eric
Lesli Savelli officiated our wedding ceremony and was amazing! She was very professional and so nice! She went above and beyond for us. We didn't have to worry about a thing! She walked us through everything and took care of everything for us! We would recommend Lesli to anyone looking for someone to officiate their wedding! Amie & Eric August 2021
Michelle & Cedric
Lesli Savelli was amazing! Her professional and kind demeanor made this part of the wedding process enjoyable and stress-free! Lesli met us for coffee to discuss the type of service we wanted. She really listened to our thoughts and offered suggestions when we weren't sure. Her passion for officiating weddings shines through in every part of her role. So many of our guests came up to my partner and I to compliment Lesli and our ceremony. The week after our wedding, we gave Lesli's contact information to three of our friends who plan to use Lesli as their officiant. Beyond happy with having Lesli as a part of our day!
Wayne & Sieske
Lesli Savelli was absolutely amazing! Lesli was so warm and personable, she made our special day even more special. We appreciated her so much. She is a genuine person who truly want to bring people who love each other together and she did just that for us. We wanted a simple and intimate service. From the moment connected with your services we knew we were on the right path. However after our first conversation with Leslie we were like this is going to be great and your team didn't disappoint. Thank you and thank you Leslie. July, 2021
Sean & Melissa
Lesli Savelli was amazing from start to finish. She was very heartfelt, sincere and has a warm, calming and supportive nature. We held our wedding during Covid and had to make several changes on the fly, including time if wedding and location, Lesli made all the changes easily. She was a wonderful addition to our beatiful wedding! We could not imagine a more perfect officiant! Sean & Melissa July 2020
Nancy & Tony
Lesli Savelli was an amazing officiant. She made us feel very comfortable from our first meeting with her. We clicked right away with her & knew she was the one. We told Lesli what kind of wedding we were having & she was in from the get-go. She was willing to participate & had dressed up for our themed wedding. Ther ceremony was beautiful. We couldn't have asked for a better match. Nancy & Tony October 2019
Kathy & Tim
Lesli (Smith) was great. We had a rather unconventional idea for our ceremony, and she was happy to accommodate us. The ceremony was casual, and short and sweet, just as we requested. We were very happy with Lesli's demeanor and friendliness and her willingness to do exactly as we requested. Even outside with the cool weather and the rain, our ceremony was perfect and Lesli was a big part of that. I highly recommend Lesli as a wedding officiant.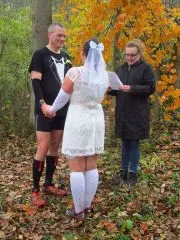 Jeff & Christiana
Lesli Smith made this process so easy and stress free. She was organized and available whenever we needed to chat. Thanks so much for making our day!