Kevin Tay
With his public speaking and volunteer experience, Kevin is familiar with diverse cultures and lifestyles. He lives in Burnaby and when not at work or volunteering, he enjoys performing as a Lion Dancer and guitarist in a 90's pop band. His favourite saying is "I don't care who you are, where you are from, or what you did, as long as you love me." There is no greater joy than to celebrate life's greatest moments and no greater honour than to help make your wishes come true. Although Kevin's first language is English, he can speak some Cantonese and would be happy to work with you if you wish to include some Cantonese in your ceremony. Kevin is credentialed as an Appointed designated minister with Clergy Support Memorial Church. He is designated to the ministry of outreach through Life Celebrations.
Request Kevin Tay
Areas Served
Burnaby, New Westminster, Coquitlam, Richmond, Vancouver
Reviews
James and Loida Aug 2021
Kevin Tay did an amazing job at our wedding. He was very kind and patient I would recommend him to anyone getting married.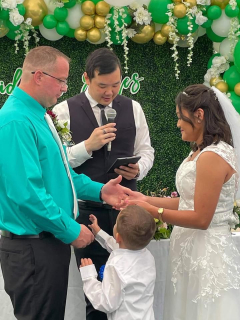 Thi & Jeffrey
Kevin Tay was very pleasant and friendly, he kept it short and sweet exactly how we wanted. We would highly recommend Kevin. Thi & Jeffrey August 2021
Kerry & Virginia
Kevin Tay was simply amazing. He was very professional, humorous and made the experience as seamless as possible! Highly recommend Kevin 100%. Kerry and Virginia - September 2021
Rob & Krista
Kevin Tay was amazing, I would recommend him to anybody who is looking to get married. He always had a smile on his face and was available when we had any questions. Rob & Krista July 2021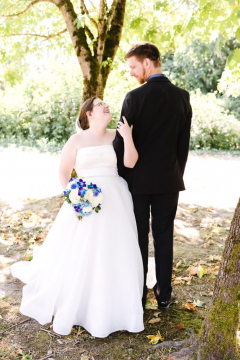 Graeme & Jordana
Kevin Tay was amazing! He preformed a beautiful ceremony for us. Was very personable and came prepared (arrived slightly early, had a table for us to sign the wedding licence out in the field where the ceremony was being preformed) He was awesome beforehand also , great communication to make sure we were all ready for our big day! I would highly recommend All seasons wedding service to anyone looking and would definitely encourage them to try and get Kevin! Graeme & Jordana July 2021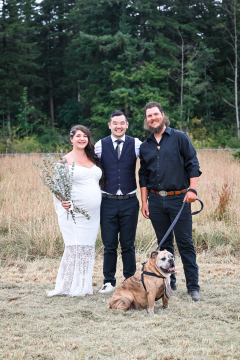 Russel & Jennifer
All Seasons Weddings feedback Pertaining to: Specific Officiant Officiant: Kevin Tay Date of Ceremony: July 7, 2021 Name: Jennifer Roper Email: Jroper44@hotmail.com Comment: Kevin Tay was amazing! Very communicative via email (as we went with the make it legal package) and answered all of our questions. He made it so easy for us to just enjoy the moment. On the day of he was prompt and so friendly and easy going, especially with our toddler running around. We couldn't have been happier with him and the day. Russel & Jennifer July 2021
Jannie & Jacson
If you need an officiant for your wedding, Kevin Tay must be on the top of your list. Throughout the pandemic, Kevin has been very informative and supportive every step of the way from the day we met him to our wedding day. On top of that, Kevin's genuine kindness goes above and beyond the usual duties as an officiant - something we deeply value and were very lucky to have. We were running a bit behind schedule due to traffic and arrived at our venue later than planned since we still needed to setup the tables and chairs. When we arrived at the venue, Kevin gave us a warm greeting and told us everything is ready to go. That was when we have realized he had set up all the tables, chairs, cake placement and even the microphone system for us! All of our stress literally just disappeared and we were able to have a smooth and lovely wedding. Thanks Kevin! Jannie & Jacson May 2021
Ryan & Ragielyn
Kevin Tay was wonderful to work with - we recommend him 100%! He went above and beyond and we are so lucky to have had him be our officiant! He is definitely someone that you can trust, easy to talk to, and very understanding of the changes we've made for our elopement. We cannot thank him enough for making our wedding day more joyful! Ryan & Ragielyn March 2021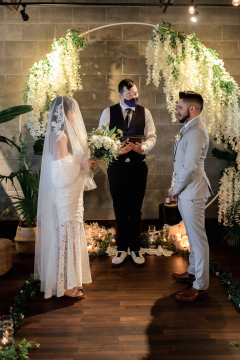 Omar & Adriana
Kevin Tay was the officiant who came to do our wedding He did amazing he was super friendly and so professional. the wedding ceremony was awesome wouldn't have asked for anything else! I would definitely recommend him if you ever need anyone to marry you, he is awesome! Omar & Adriana March 2021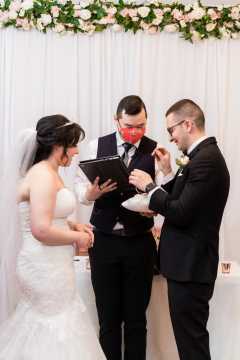 Elijah & Katelyn
Kevin Tay was amazingly enthusiastic and professional. Elijah & Katelyn January 2021
Joyce & Tae
I would like to express our gratitude to Kevin Tay, as he has been highly accommodating, especially during this pandemic time. We downsized our wedding to elopement due to large gathering restrictions. He made us felt so relaxed all throughout. We were glad he pushed us to go for our personal impromptu vows, as we did not prepare our written vows. I highly recommend Kevin to everyone!. Thanks Kevin! Joyce & Tae May 2020
Janice & David
"It was a real pleasure to have Kevin perform our wedding ceremony. He was warm, kind, friendly and patient throughout all our interactions before and during the big day. We just wanted to express our appreciation once again for your help in making our wedding a stress-free and happy occasion. Thank you again for performing such a lovely ceremony! Janice & David July 2019
Daniel & Debby
Kevin Tay is a great officiant!! Highly recommended :) Daniel & Debby October 2020
Momoko and Bernard
Kevin Tay was great! He made sure our wedding ceremony went as smoothly as possible and accommodated to our needs very well. He met with us beforehand to make sure we knew what to expect at the wedding and to answer any questions we had. This time was so valuable to us since we were clueless as to how the ceremony was to proceed. At the wedding we decided to step outdoors for the ceremony, and Kevin helped us out by suggesting the location best suited for us and our guests. We were very pleased with the service and would definitely recommend him! Thanks again Kevin! Momoko & Bernard December 2019
Fabien & Patricia
Our experience with Kevin Tay as our officiant could not have been any better. He immediately made us feel at ease, offering advice and options where needed - resulting in a ceremony we felt reflected our beliefs and was unique to us. He was professional, thoughtful, and genuine. We would happily recommend him to any of our family and friends. Thank you, Kevin, for helping make our day perfect! Fabien & Patricia Sept 2019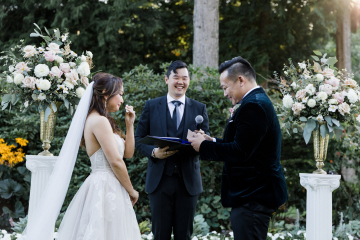 Sebastian & Amy
My husband and I had the honour to have Kevin Tay as our officiant at our wedding. Kevin is very professional, humorous, organized, and charismatic. He is passionate and extremely accommodating. Our guests love him! We had great communication throughout the process, making it extremely stress-free. Thank you Kevin for making our day so memorable! Sebastian & Amy June 2019