Kelly Keating
Originally from Newfoundland, Kelly moved to Ottawa to pursue her university education. She is a certified counsellor with a Masters in Counselling. She is a friendly, warm, outgoing and highly professional individual. She has a zest for life and finds great satisfaction in bearing witness to those special moments that are created in celebrating love and happiness between two individuals. Kelly is comfortable performing modern to traditional, formal to relaxed ceremonies. In addition, she is available for naming and baptismal ceremonies. Kelly will perform your ceremony according to your expectations. She looks forward to making your day special and unique.
Request Kelly Keating
Areas Served
Orleans, Kanata, Manor Park, Downtown Ottawa, Barrhaven, Stittsville, Nepean, Ottawa Central, Ottawa East, Ottawa South, Manotick, Metcalfe, Gloucester, Cumberland, Bells Corners, Blackburn Hamlet, Morgan's Grant, Riverside, Riverside South.
Reviews
Christopher & Ghada
All Seasons was very easy to deal with and very accommodating. Our Officiant Kelly Keating was great. Everything was simple and elegant. Thank you. September 2023
Phill & Andrea
The process of booking our Officiant with All Seasons was very fast and easy. The best part of our day was the people that had gathered for our day. Our officiant Kelly Keating was great! July 2023

Credit: No
Jason & Ceilidh
Kelly Keating was the best and we were so happy to have her part of our day. I would highly recommend her! December 2022
Andrew & Laura
Kelly Keating was easy to deal with and clearly explained what to expect as well as our responsibilities. Thanks for marrying us, Kelly! October 2021
Kyle & Marlee
Kelly Keating was amazing, exceeding our expectations. The way she delivered the ceremony made us feel like she had known us for years. Kind, warm and loved is the way we felt when Kelly spoke. September 2021
Brandon & Jessica
Kelly Keating was wonderful! She is so kind and so helpful. Throughout the planning process she was clear in what we needed to do, helped me with the wedding script by providing plenty of examples and allowed us to tailor the ceremony to us as a couple. She is a great speaker. We got so many compliments on her and our ceremony, she did a fantastic job! It was also very windy on our wedding day, and we had fabric on the arch that kept blowing into her. Kelly was a great sport about it and we were able to all laugh about it and tried to shuffle away from it without missing a beat in the ceremony. Kelly we so appreciate you and are so thankful we had you for our day! September 2021
Antonella & Patrick
Kelly Keating was wonderful, professional, and able to make our day extremely special. Especially during these uncertain times she was able to accommodate our requests with ease. Antonella & Patrick July 2021
Lee & Donna
Kelly Keating was absolutely wonderful and patient with us. Our wedding changed several times due to the Pandemic and she was extremely supportive with the continuous changes during these strange times. She officiated our wedding so beautifully and fun. We ended up making our wedding a more fun ceremony rather than the traditional, as we went from 90 people to 10. We figured within 2020, let's have some laughs and not be so serious. She was really great about it and enjoyed our vows. I look forward to her renewing our vows with our friends and family when this pandemic is over. Lee & Donna October 2020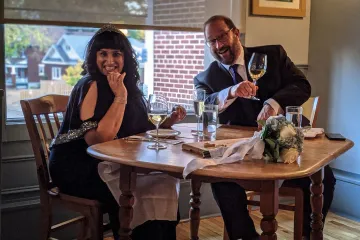 Deirdre & Ashleigh
Kelly Keating was absolutely fabulous! As soon as we met her, we felt totally comfortable and we knew she would provide the perfect tone for our wedding. She is so warm and sweet! Our wedding was outside, next to the Ottawa River on a windy day, and our guests could hear everything she said. We included land and queer ancestral acknowledgements in our script, and she made sure that she had all the pronunciations correct. Kelly helped make our pandemic wedding a beautiful success and we are so grateful. Deirdre & Ashleigh September 2020
Nathan & Christina
Kelly was beyond amazing! Kudos to Kelly for making our COVID wedding magical! Nathan & Christina September 2020
Jenna & Ciaran
Kelly Keating was absolutely lovely ,from start to finish during the planning process. Kelly did a wonderful job officiating on our wedding day. She was warm and made us both feel at ease. We wouldn't hesitate to recommend her to friends getting married in the city! Thanks so much Kelly! Jenna & Ciaran November 2019
Joseph & Rhian
Kelly Keating was great! She is very well spoken and her positive energy was much appreciated in the rain. Thank you Kelly for making the day the best it could. Joseph & Rhian October 2019
Eric & Nicole
Kelly Keating was very nice, professional and kept in good contact with us during this process. I would highly recommend this service to anyone. Thank you for making our ceremony perfect! Eric & Nicole September 2019
Michael & Lorrie
Kelly Keating was great, she gave us some guidance on the whole process and gave us feedback when we needed it! It was such a smooth process, it really helped us have a nice, stress free experience. Thank you Kelly our day was perfect! Michael & Lorrie August 2019
Bob & Sally
Kelly Keating was wonderful. It was an outdoor wedding and she spoke slow and loud and clear. We were both very impressed with her.I would definitely recommend Kelly to others. Thank you Kelly! Bob & Sally July 2019
Jason & Samantha
Kelly Keating was excellent! Such a sweetheart, made us so comfortable and was so understanding and accommodating! We are so thankful we had her there to officiate our incredible day and for all the help leading up to the day. Kelly brought a sense of comfort and home to what was a brand new and sometimes nerve wracking experience. Jason & Samantha July 2019
John & Evelynn
Kelly Keating was amazing! Thank you for everything. John & Evelynn June 2019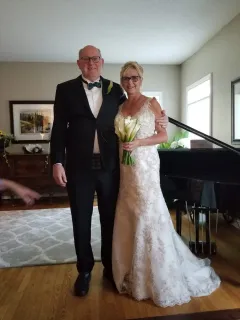 Lisa & Mark
Kelly Keating was warm and gracious and she was a wonderful officiant despite our wedding being on one of the warmest days of the year and in a greenhouse! :) Thank you, Kelly!
Brittany & Ken
Kelly Keating was great, she exceeded out expectations!
Darren & Morgan
Kelly Keating was absolutely wonderful, and we would recommend her officiating services to any couple looking for that natural, heartwarming, and intimate ceremony. Kelly was very accommodating and understanding of our wants and needs for our day. She is a lovely individual who my husband and I instantly felt comfortable with. We are very happy that Kelly was our officiant. Thank you to Kelly and All Seasons Weddings for your professional and personalized services. March, 2019
Brecken & Andrew
Kelly Keating was truly amazing. She was open, generous, wonderful. She exceeded our expectations. We were humbled by how respectful she was of our ceremony choices and how gracious she was with our guests. We had exactly the ceremony we wanted--it was a dream. Kelly was perfect and the service both from All Seasons meant that we didn't have to worry at all that things would go off without a hitch on the day.