Kelly Keating
Request Kelly Keating
Secteurs desservis
Orleans, Kanata, Winchester, Chesterville, Manor Park, Downtown Ottawa, Barrhaven, Stittsville, Casselman, Nepean, Ottawa Central, Ottawa East, Ottawa South, Manotick, Metcalfe, Gloucester, Cumberland, Osgoode, Marlborough, North Gower, Huntley, Bells Corners, Blackburn Hamlet, Morgan's Grant, Riverside, Riverside South, Greely, Osgoode.
Commentaires
Nathan & Christina
Kelly was beyond amazing! Kudos to Kelly for making our COVID wedding magical! Nathan & Christina September 2020
Jenna & Ciaran
Kelly Keating was absolutely lovely ,from start to finish during the planning process. Kelly did a wonderful job officiating on our wedding day. She was warm and made us both feel at ease. We wouldn't hesitate to recommend her to friends getting married in the city! Thanks so much Kelly! Jenna & Ciaran November 2019
Joseph & Rhian
Kelly Keating was great! She is very well spoken and her positive energy was much appreciated in the rain. Thank you Kelly for making the day the best it could. Joseph & Rhian October 2019
Eric & Nicole
Kelly Keating was very nice, professional and kept in good contact with us during this process. I would highly recommend this service to anyone. Thank you for making our ceremony perfect! Eric & Nicole September 2019
Michael & Lorrie
Kelly Keating was great, she gave us some guidance on the whole process and gave us feedback when we needed it! It was such a smooth process, it really helped us have a nice, stress free experience. Thank you Kelly our day was perfect! Michael & Lorrie August 2019
Bob & Sally
Kelly Keating was wonderful. It was an outdoor wedding and she spoke slow and loud and clear. We were both very impressed with her.I would definitely recommend Kelly to others. Thank you Kelly! Bob & Sally July 2019
Jason & Samantha
Kelly Keating was excellent! Such a sweetheart, made us so comfortable and was so understanding and accommodating! We are so thankful we had her there to officiate our incredible day and for all the help leading up to the day. Kelly brought a sense of comfort and home to what was a brand new and sometimes nerve wracking experience. Jason & Samantha July 2019
John & Evelynn
Kelly Keating was amazing! Thank you for everything. John & Evelynn June 2019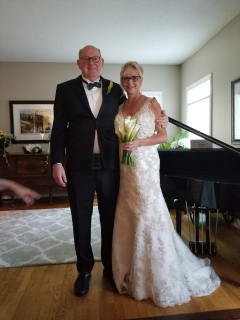 Lisa & Mark
Kelly Keating was warm and gracious and she was a wonderful officiant despite our wedding being on one of the warmest days of the year and in a greenhouse! :) Thank you, Kelly!
Brittany & Ken
Kelly Keating was great, she exceeded out expectations!
Darren & Morgan
Kelly Keating was absolutely wonderful, and we would recommend her officiating services to any couple looking for that natural, heartwarming, and intimate ceremony. Kelly was very accommodating and understanding of our wants and needs for our day. She is a lovely individual who my husband and I instantly felt comfortable with. We are very happy that Kelly was our officiant. Thank you to Kelly and All Seasons Weddings for your professional and personalized services. March, 2019
Brecken & Andrew
Kelly Keating was truly amazing. She was open, generous, wonderful. She exceeded our expectations. We were humbled by how respectful she was of our ceremony choices and how gracious she was with our guests. We had exactly the ceremony we wanted--it was a dream. Kelly was perfect and the service both from All Seasons meant that we didn't have to worry at all that things would go off without a hitch on the day.