Jude McKeown
Judy (Jude) is the mother of three grown children and four fur babies and lives in the Ottawa West community of Trend Arlington. She grew up in Kenmore and Jude is very active in her community, continuing her work raising money for charitable organizations, fostering two children with Plan International and spending time singing in Senior's residences and local care facilities as a member of the Shout Sister Choir. She still finds time for her gardening or walking her furry friends and being Grammala and Mommala. She is an experienced public speaker, is both loving and fun-loving, and she will imbue your event with those qualities and assist each couple in experiencing the wedding they want in the good company of their guests. Judy is a Designated Minister with Clergy Support Church.
Request Jude McKeown
Areas Served
Gloucester, Kanata, Nepean, Orleans, Rockliffe, Vanier, Carp, Cumberland, Greely, Manotick, Manotick Station, Spring Hill, Stittsville, Kemptville, Marvelville, Embrun, Kenmore, Russell, Osgoode, Metcalfe, Vernon, Winchester, Dalmeny, Vars, Hammond, Dunrobin, Constance Bay, Edwards, Carlsbad Springs, Limoges, Ottawa, North Gower, Inniskerry, Blackburn Hamlet, Fitzroy Harbour, Huntley, Woodlawn, Mississippi Mills, North Grenville, Beckett's Landing, Ramsayville, Inkerman, Navan, Marionville, Carleton Place, Richmond, Franktown
Reviews
Michael & Taylo
Jude (McKeown) was our wonderful wedding officiant on September 18, 2021. We are so pleased with her services; she was so friendly and comforting and carried out our ceremony beautifully. Thank you, Jude, for being a part of our special day – we could not have done it without you! We will definitely pass on her name as well as our appreciation for ASW. Michael & Taylor, September 2021.
Peter & Susan
Jude McKeown was fantastic!! She was very kind and flexible. My mom and step-dad thought she was great as well. Would highly recommend her to others. She performed the ceremony very well and made it a memorable occasion. Peter & Susan October 2020
Terry & Hélène
Jude McKeown was absolutely wonderful to deal with and very professional. We were so pleased with our officiant and will refer her with glowing reviews! Terry & Hélène September 2020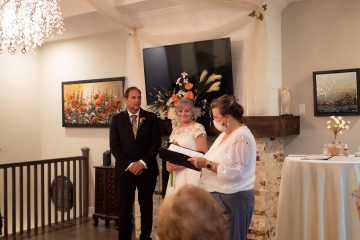 Nikolas & Ashley
Jude McKeown was so amazing! She was on time, cheerful and willing to work with us. Even during covid she kept a positive attitude and respected us with distance. Jude managed to make us feel special. I was a little upset since I couldn't have my family and friends there (the borders were closed). But Jude really made me feel special and just reminded me what the point of the wedding was for. Ill keep saying it over and over again, she was truly amazing. Nikolas & Ashley August 2020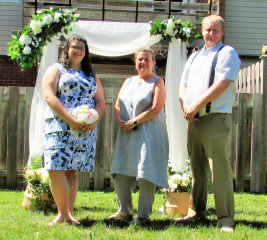 Guy & Nadine
Jude McKeown was great and went above and beyond to make us feel special on our wedding day. Covid made it impossible to have the wedding we were planning for but Jude made it the best it could be! Thanks Jude! Guy & Nadine May 2020
Douglas & Lee
Jude McKeown was awesome. We were so pleased that she was willing to do our ceremony during these trying times. Douglas & Lee April 2020
Byron & Brianna
Jude McKeown exceeded expectations. She never had done a hand fasting ceremony but you couldn't tell, she was very prepared and caring, everything was perfect. Jude was amazing. She was very respectful and made sure we had everything we needed/wanted. She made our day very special. Thank you. Byron & Brianna August 2019
Elliott & Alli
Jude McKeown was the perfect person to officiate our wedding. She brought such loving and positive energy to the moments we spoke our vows and said i do. She made us feel comfortable and so peaceful! I will be telling anyone i know to use your service, especially if they can request Jude. Thank you so much All Seasons Weddings! Elliott & Alli June 2019