Jon Van Den Berg
Jon lives in Wallacetown, Ontario and is active in many community events and his faith community. An enthusiastic, humorous and caring personality, he will set you at ease as you create and plan your special day. Having experienced a varied and well-traveled life, Jon brings a unique worldview, an attentive ear, a caring heart, and cultural sensitivity. He enjoys everyone and loves to hear their story. Jon's teaching and musical background make will him the officiant to make your day one to remember and cherish.
Request Jon Van Den Berg
Areas Served
London, Dorchester, Ingersoll, Innerkip, New Hamburg, Plattsville, Thamesford, Thorndale, Tillsonburg, Watford, Woodstock, Bothwell, Delaware, Dutton, Fingal, Glencoe, Melbourne, Mt. Brydges, Rodney, Strathroy, West Lorne, Ailsa Craig, Arkona, Exeter, Ilderton, Lucan, Parkhill, Pinery, Shakespeare, South Huron, St. Mary's, Aylmer, Belmont, Langton, Norwich, Norwich, Port Stanley, St. Thomas, Port Bruce, Aylmer, Wallaceburg
Reviews
Jeffrey & Melissa
Jon Van Den Berg was great! He was super helpful with letting us know what would happen with our marriage certificate (he mailed it for us) and told us what next steps would be if a name change was happening. The ceremony was quick and went smoothly, and Jon had the whole ceremony printed in a little booklet which he gave us after. He was on time, had everything organized and was professional., what more could we ask for! Jeffrey & Melissa October 2020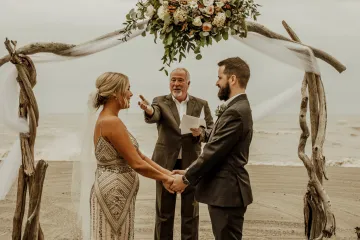 Monica & Matthew
John Van Den Berg was so wonderful and made us feel very comfortable when meeting him. He made it a stress free ceremony. It was beautifully done! Monica & Matthew, July 2018
Kristine & Dustin
John (Van Den Berg) officiated our wedding last October at the Bellamere Winery in London. He did an incredible job - he is warm, welcoming, and everything we could have hoped for in an officiant. He gave us great advice and tips at our planning meeting and did a fantastic job during our ceremony. He took the time to get to know us and was a great listener throughout the process. During the ceremony he was very engaging and easy to understand. Thank you John for all of your help and support!!! Kristine & Dustin Oct 8th, 2017
Adrienne & Marty
Jon Van Den Berg was awesome!!! Helpful, and put us at ease that everything would run smoothly. He was fantastic at delivering our ceremony and it was so nice to have him apart of our special day! Thanks John!!!
Tyler & Amanda
Jon Van Den Berg was very courteous and helpful with everything and was a pleasure to work with.
Megan & Kyle
Jon Van Den Berg was great! he walked us through everything, helped calm all my fears and was available any time to offer suggestions and help. He created a beautiful ceremony that was perfect for us!
Meredith & Gresham
Jon Van Den Berg was incredibly professional, reliable and incredibly personable. I enjoyed working with him - and felt in great hands when it came to the day of ceremony. He was very helpful in guiding decisions for that day - as well as setting such a relaxed and joyous tone! I would recommend both Jon, and All Seasons any day!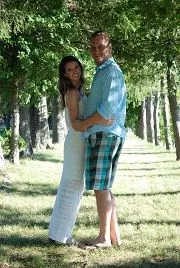 Melissa & Jeff
Jon Van Den Berg was great!! From the very first conversation on the phone to our wedding day. He was kind, very thorough and extremely friendly. He answered all of out questions and set out mind at ease. We were so happy with his work at out ceremony. In fact, many people commented and said what a great officiant he was. His voice carried our message and his tonation and speed were great. Very easy to understand. We will certainly recommend him to anyone getting married.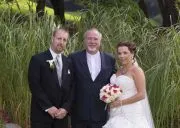 Jennifer & Leslie
Jon Van Den Berg more than met our expectations. He gave us sudgestions that we hadn't even thought of. Everyone in the reservations office that we had contact with were all WONDERFUL. We have already told a few of our unmarried friends about your service. I keep telling my husband, I would like to redo our wedding day. Jon was AMAZING. We couldn't have asked for anyone better... He's PERFECT!!!! Thank you SO VERY MUCH Jon for all the hard work you put into our service... for making sudgestions we never thought of...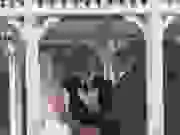 Claire & William
My new husband and I are so grateful that we chose Jon Van Den Berg to officiate our wedding! I was an anxious bride and Jon eased all of my worries. He was always patient and open to offering helpful advice. Jon was extremely professional, yet friendly, quick to reply to emails, and led our large (14 person) wedding party through a much needed rehearsal. He helped us craft a personalized ceremony script which gave the day that extra special touch. Thank you so much Jon for helping the day run so smoothly! We would definitely recommend Jon and All Seasons to any couples looking for an officiant in the future.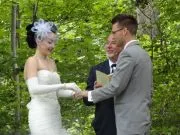 Kristina & Jesse
Jon Van Den Berg was wonderful, he did a amazing job, and I really couldnt have asked for more. I recommand him to everyone, his voice i swonderful and clear, he did exactly as we asked and we really enjoyed him. When we first met with him he was great too. Two Thumbs Up!!!!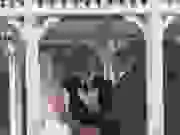 Lin & Hai
We met Jon from another wedding we attended one year ago. He is very professional and he gave us great suggestions. Very helpful. The ceremony was so beautiful and romantic. He shared few readings at our wedding, and they are all very much fitting who we are. We were very touched. It was a great pleasure having Jon to be our officiant. We couldn't imagine anybody else for our wedding.
Tracy & Arthur
Jon Van Den Berg was fabulous. Short and sweet and helped us with whatever necessary. Everyone commented on how fabulous the ceremony was. Many people asked where we found Jon and that the ceremony was one of the best they had ever seen. I have recommended Jon to anyone as he definitely added to how well our day went.
Maggie & Jeff
Jon Van Den Berg was incredibly flexible and understanding, and we thoroughly enjoyed working with him. The ceremony was perfect!