Joeanne Comisso
I live in Newmarket and have two grown, beautiful children and five amazing grandchildren who bring me joy each and every day. I was born and raised in the small town of Timmins. Whether your wedding ceremony is traditional or modern, causal or formal, it would be my pleasure to reflect your vision on your special day. I have been conducting weddings since May 2018. I'm personable, always a professional, an experienced public speaker and dedicated to you and your celebration. I'm also passionate about working out at the gym, golfing and cycling. I believe in love and marriage and I'm excited to make this event happy and memorable for you, your family and guests.
Request Joeanne Comisso
Areas Served
Newmarket, Aurora, Holland Landing, Bradford, Queensville, Keswick, Mt. Albert, Sharon, Stouffville, Markham, Cookstown, Alliston, Innisfil, Barrie, Scarborough, Pickering, Toronto
Reviews
Corey & Kaitlyn
Joeanne Comisso was wonderful and helpful. Would definitely recommend All Seasons and Joeanne for anyone we know who is getting married!!! October 2022
Argin & Kelsey
Joeanne Comisso was incredible - she listened to all of our thoughts/wishes and drafted a perfect ceremony for us! I couldn't recommend her highly enough. October 2022
David & Shara
Joeanne Comisso was amazing! She was very helpful, passionate about the job and guided us through the entire process. On the wedding day, she was perfectly prepared and gave us the ceremony of our dreams. September 2022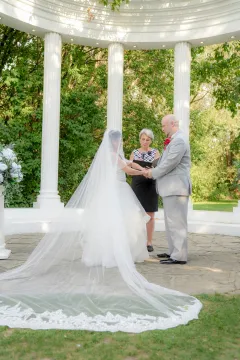 Lauren & Alex
Joeanne Comisso did a wonderful job officiating our wedding. She speaks so wonderfully, her calmness brought us comfort as two people who were nervous to stand in front of guests. She made our wedding ceremony perfect. Thank you again! Aug 2022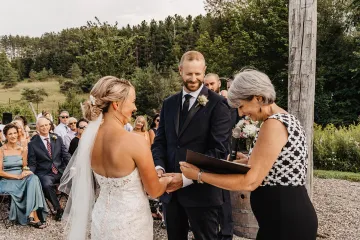 Danielle & Andrew
Joeanne Comisso was absolutely lovely! She was so kind and personable, and made sure we felt comfortable at every step of the process. I'm so glad we chose Joeanne to officiate our wedding and to share in our special day. I would highly recommend her to everyone, she was very professional and at the same time still felt like family to us. Thank you Joeanne, you're the best!! Aug 2022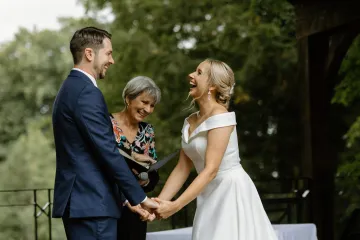 Matt & Jenn
Joeanne Comisso was amazing and very kind! Made our day very special and felt like we knew her for a very long time! 10/10 recommend! Oct 2022
Carling & Juke
Joeanne Comisso was great, we felt completely comfortable with her! June 2022
Angela & Mike
Joeanne Comisso was amazing! She walked us through every step of the process. She worked with us to include all the little details that meant so much to us into the ceremony. Would 100% recommend! Angela & Mike August 2021
Chris & Shelley
Joeanne Comisso was wonderful - she was helpful, easy to talk to and exactly what we were hoping for. She made the planning process easy and took the time to talk to us about our day. Although plans changed many times (covid) and the ceremony structure changed too, she was flexible and helped us have a beautiful and intimate ceremony with a small group. Will recommend for sure. Chris & Shelley June 2021
Alexandre & Elena
Joeanne Comisso exceeded our expectations! She is a wonderful lady!!! Alexandre & Elena January 2021
Ryan & Alex
Joeanne Comisso was an amazing officiant. She was so friendly, easy to work with, kind, and helped answer any questions we had leading up to the wedding day. On our day, Joeanne was very professional and made our wedding ceremony so special. Thank you Joeanne for being part of our special day! Ryan & Alex September 2020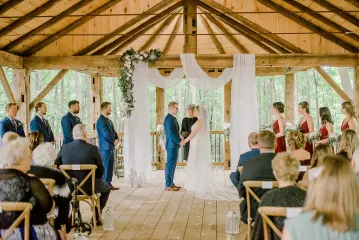 Teri and Paul
We could not have been happier with Joeanne Comisso. She made us relaxed and made our special day just THAT much better!! She was professional and at the same time has a lovely sense of humour. She met with us prior to our wedding day and explained the entire process to us. A very warm and inviting person who is guaranteed to meet all your needs. Thank you Joeanne for making our day so much more special! Teri & Paul February 2020
Nicholas & Melissa
Joeanne Comisso was amazing and was willing to do anything Nick and I wanted. She was responsive, friendly, and you can tell she has a passion for this. We were very happy! Nicholas & Melissa October 2019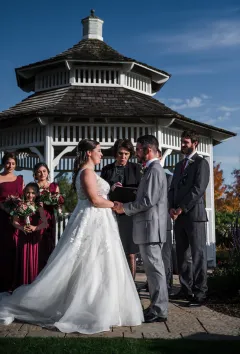 Anthony & Jennifer
Joeanne Comisso was very helpful throughout the entire process. She was very professional and sincere ,we enjoyed having her be our officiant and wouldn't have had it any other way. Thank you for everything! Anthony & Jennifer August 2019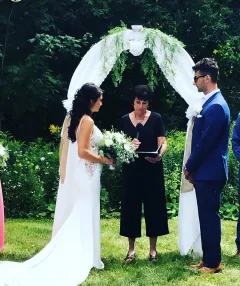 Megan & Illya
Joeanne Comisso was extremely friendly, organized, and professional! She went out of her way to make sure everything went exactly as we wanted and created our dream ceremony. Thank you Joeanne!