Ingrid Desroches
Ingrid, who lives in Scarborough, thoroughly enjoys helping couples have a wedding ceremony that is both meaningful and memorable to them. She is a caring person, sensitive to individual needs, and can be trusted to conduct ceremonies in a manner that is both professional and friendly. Ingrid is comfortable with couples of all backgrounds, including mixed-culture and same-sex. She celebrates diversity and respects the personal freedom to choose one's own path to happiness. Sensitive, compassionate, flexible, knowledgeable... Ingrid will work with you to make your wedding ceremony a very special one.
Request Ingrid Desroches
Areas Served
Scarborough, Markham, Pickering, Ajax, Whitby, Oshawa, Don Mills and North York, Toronto East
Reviews
Daniel & Alison
Ingrid Desroches was pleasant, well spoken, fun and helped to make our day incredibly special. We really appreciate her presence and guidance on the day. Daniel & Alison August 2020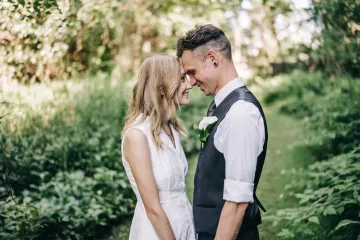 Elizabeth & Jessica
Ingrid Desroches was very professional but friendly at the same time. She was able to get the exact changes in the ceremony that we would like to incorporate. She made us feel at ease in the preparation and in the actual ceremony. Natasha (All Seasons' Reservations Manager) was very knowledgeable, friendly and helpful from our initial inquiry and exceeded our expectations.
Lin & Qigong
Ingrid Desroches is so nice and kind! All of us enjoyed the ceremony! We are so grateful to what Ingrid did for us and we deeply appreciate her kindness! She is extremely friendly! Ingrid is a very nice and great officiant! She is so kind and humorous! Just because of her outstanding work, the ceremony has left us with many beautiful memories!
Maria & Teresa
We had a perfect day! We got so many compliments about the ceremony. Your calm and confident delivery was such a great balance to our nervous excitement. You made us both feel so comfortable and grounded in the moment. After a rocky start trying to find an officiant that was right for us, we were so lucky to have found you! We knew from the first meeting that you would be great and we were right. Thanks so much for making the most important part of the day go smoothly and for doing such a great job engaging our guests in everything that was being said. It was perfect! We would gladly recommend you! Maria & Teresa
Just want to send a note of thanks for sending us Ingrid Desroches to do our wedding. She was absolutely perfect. Exactly what we were hoping for. Your service really came through for us, especially considering the incredibly short notice. I will recommend you to any of my friends that might plan a wedding in the future. Janey and Richard
Ashley & Maxine
Ingrid Desroches was wonderful. She made us feel special and cared for. We even had to change our time and location last minute and she was still able to accomodate us. We will be recommending her to all our newly engaged friends. She is a wonderful, warm person. It's always a challenge to find a service willing to treat all engaged couples equally. Thank you!