Gail Malcolm
Gail was recently voted by her peers as the 'Most Popular Wedding Officiant in Woodstock' at the prestigious international Wedding Industry Experts 2016 Awards. Gail is an outgoing, positive person who enjoys all people. She has recently retired from working with social services for over thirty years, working with and for people from all walks of life and in many different circumstances. With a sincere openness to people and their personal beliefs and values, Gail sincerely hopes to facilitate a wedding that will meet all of your hopes and expectations. A great believer in family and friendship as essentials on life's sacred path, Gail will endevour to respond to cultural, personal, and physical needs. With humour, reverence and participation, Gail will strive to make your day a wonderful lasting memory. As a resident of Woodstock she also serves London, St. Thomas, Brantford, Dorchester, Ingersoll and St Marys.
Request Gail Malcolm
Areas Served
Woodstock, Ingersoll, Tillsonburg, Tavistock, Ayr, Plattsville, Princeton, Brantford, Burford, Embro, Stratford, St. Mary's, London, St. Thomas, Aylmer, Talbotville, Thamesford, Wardsville, West Lorne, Rodney, Shedden, Mount Elgin, Sweaburg, Springlake Conservation Area, Belmont, Dorchester, Delhi, Lyndoch, Simcoe, Otterville, Norwich, Cambridge, Kitchener - Waterloo, Sebringville, Harrington, Springford
Reviews
Dennis & Beverley
It was quite easy booking our Officiant Gail Malcolm through All Seasons. Everything went smoothly. We loved being able to have it in our home. September 2023
Caroline & Dan
Gail Malcolm was absolutely wonderful to work with! She was so kind and thoughtful, keeping us up to date and informed about the entire process. She brought so much warmth to our ceremony, and gave us the creative freedom to ensure that the ceremony reflected our love the way we wanted. Such a fun and beautiful personality, we highly recommend her! Thank you, Gail, for making our day truly special! September 2023
Christopher & Rebecca
Gail [Malcolm] was perfect! I will be suggesting her services if anyone ever. Jul 2023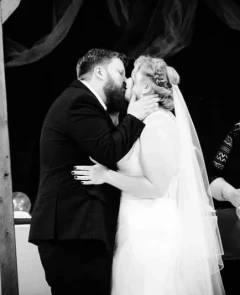 Credit: Mandy Woods
Katie & Diandra
Finding Gail was very easy and she came recommended by so many friends and family. Marrying each other and being in that moment together. Absolutely. Gail was incredible to say the least, she helped keep us calm, rational and she was so personal. Everyone , family and friends loved her
Mark & Jillian
Gail Malcolm is so wonderful, and kind. She worked my husband and I on our perfect ceremony that was very personalized to us. It was so perfect, thank you. March 2023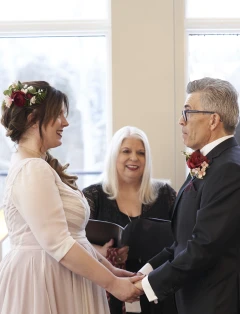 Mark & Jillian
Gail Malcolm is so wonderful, and kind. She worked my husband and I on our perfect ceremony that was very personalized to us. It was so perfect, thank you. March 2023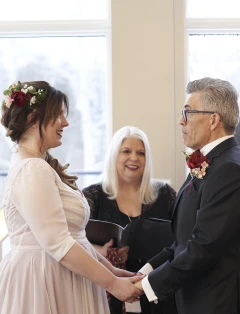 Grant & Kelsey
Gail Malcolm was amazing! She exceeded our expectations!! Gail was so kind and very helpful in getting us the ceremony that we wanted, she truly made our ceremony special. The Ceremony was very smooth and we did not miss a beat. Loved Gail and would recommend to anyone! November 2022
Alex & Elisa
Gail Malcolm is amazing!! Glad exceeded out expectation, we would highly recommend her to anybody! Thank you so much :) October 2022
Sophia & Allen
Gail Malcolm was everything we had hoped for and more, she made sure the ceremony was all about us of course, made sure went felt comfortable and checked in periodically to make sure we were doing okay. She always answered any questions that we had for her and always got back to us in a timely manner. We couldn't have asked or wanted anyone else for our special day. September 2022
Ryan & Kathleen
Gail Malcolm went above and beyond to make our day amazing!! August 2022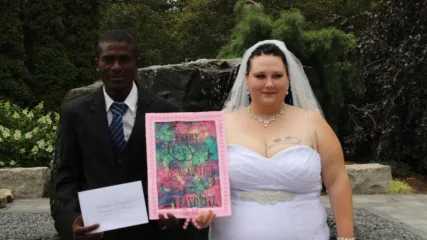 Nahom & Nicole
Gail Malcolm was absolutely fabulous! Our ceremony was even better than what we imagined- it was intimate, personal and everything we dreamt of. We highly recommend Gail Malcolm! August 2022
Jack & Tanya
Gail Malcolm was amazing! When we met, she took the time to understand our non-conventional needs without rushing or judging us. She embedded every aspect we wanted into our ceremony, even last minute. She is a kind and beautiful soul who captured and entertained our guests. We had positive feedback from our friends of what an incredible job she did!!! We are eternally grateful and happy with the union she provided for us and our guests. July 2022
Mary & Roy
I had to let you know what a beautiful service Gail Malcolm performed for us yesterday. Tt was very, very special and you would of thought that she knew us her whole life. August 2022
Amy & David
Thank you Gail Malcolm for officiating our wedding you did an amazing job! June 2022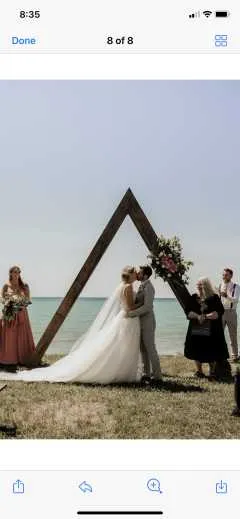 Larry & Maisie
Gail Malcolm exceeded our expectations. She took time to get to know us a bit before the service in order to understand our love story. She also was really flexible in our date changes (yes more than one!) due to complications about location and timing. She was outstanding, professional, witty and kind. She brought ideas in ways we could include various family members, which meant a lot to us. Thank you to All Season's Weddings - This was a high value, eloquent, convenient and professionally executed experience, that offered a lot of choice and flexibility! In particular we would like to thank Gail Malcolm who was wonderful to work with and extremely passionate about our service and our personal unique needs. May 2022
Khaleel & Melissa
Ms Gail was very professional and patient with us as my wife is a high anxiety person not used to being standing out among people but Ms Gail did an amazing job. We will recommend her to anyone getting married in the coming future. Thank-you Ms Gail Malcolm for making our day a memorable one.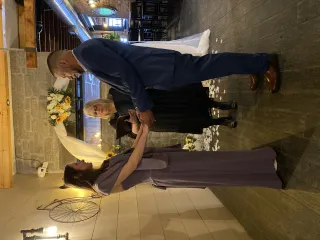 Kyle & Sierra
Gail Malcolm was absolutely amazing! She was very helpful and understanding. We loved her! It was quick and easy to book Gail Malcolm through All Seasons Weddings - and we booked last minute. Affordable rates. Very flexible and appreciated that changes could be made after initial booking. March 2022
Ian & Lisa
Gail Malcolm was lovely . Highly recommend this wonderful kind lady to marry or to present any kind of celebratory service. February 2022
Pierre & Julie
We were so lucky to have Gail as our officiant! She went above and beyond to make sure we were comfortable during the entire process. She was very prompt when communicating with us. She gave us so many options for customizing our ceremony. She was so nice and explained everything thoroughly during our meetings. I didn't have any doubts about her being our officiant once it came to our rehearsal and wedding day! During the rehearsal she was patient and explained the process to the entire wedding party. On the wedding day, she was the perfect combination of warm, caring and funny! We highly recommend Gail to anyone getting married in the future. October 2021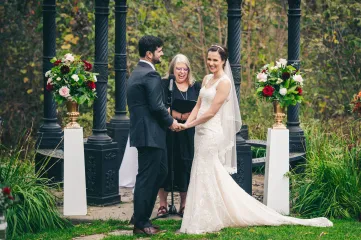 Patrick & Taylor
Gail Malcolm was amazing and went above and beyond our expectations. Thank you Gail for everything . October 2021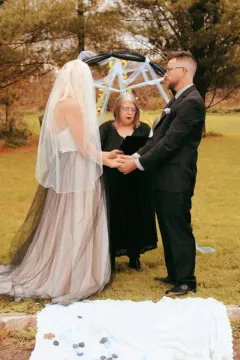 Cody & Rebecca
We knew from the start that we wanted Gail [Malcolm] as the officiant for our wedding. You will never meet such a kind hearted and warm person. She made our ceremony absolutely everything we wanted. We highly recommend Gail. You will not be disappointed. We will always be thankful! September 2021
Nick & Michelle
We were so happy that we had Gail Malcolm as our officiant. Her presence and words are so calming and reassuring, and she always made sure to bring us back to remember that the wedding is about the marriage and our love for each other. She performed the ceremony beautifully! We are so thankful she was our officiant and thank her for all her kind words during the process! June 2021
Emal & Elizabeth
Gail Malcolm was amazing! She knew what we wanted out of the ceremony and used her expertise to create a very special personal intimate experience. June 2021
Adam & Brandi
Gail Malcolm was absolutely amazing. She made our day absolutely perfect and went above and beyond for us. We would highly recommend her to anyone looking for an officiant. She is a beautiful soul and that radiates through her amazing personality. We thank her so much for making our day exactly how we pictured it. March 2021
Paul & Mary
Gail was wonderful! And that does not even begin to express how we felt about her. She was very easy to talk to and made us feel as if we had know her forever. September 2020
Rob & Melanie
Gail Malcolm was absolutely phenomenal and helped make our wedding absolutely perfect. I struggle to find the proper words to properly convey our gratitude. She brought so much joy, warmth, love and meaning to our day. It was so very very perfect. It was such a blessing and honor to have her bring us together. We are so so pleased and will forever hold so much gratitude. October 2020
Mike & Tracey
Gail Malcolm definitely met our expectations. Gail took the time to get to know us and our journey to our wedding day. She sent us several examples of ceremonies and readings. When we couldn't identify with any of the examples for a reading, Gail went out of her way to find us the perfect reading for our story, different than anything she had done before. Gail allowed us the freedom to write our own vows, and made mention of how special they were during our ceremony. It was a very special day, and Gail was a perfect fit for us. August 2020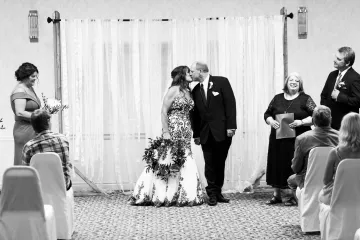 Selena & Clayton
Gail Malcolm was very helpful throughout the entire process. She explained everything thoroughly and broke things down into simple steps. Gail was extremely welcoming and accommodating. The ceremony was our favorite part of the whole day :). Selena & Clayton June 2019
Mark & Diane
Gail Malcolm is a wonderful lovely person who took the time to meet with us prior to our ceremony. We told Gail our love story and she worked it into our ceremony and made our day so special. She also married my daughter a year ago , and we knew then how special she was . Mark & Diane June 2019
Steve & Samantha
Gail has an amazing personality and a calming presence that made our wedding ceremony so memorable. The first time we met with her we knew she was the perfect fit! Gail goes above and beyond to make sure your ceremony is what you want and truly personal. I cannot say enough positive things about Gail and would highly recommended her to anyone that is looking for the perfect officiant! Thanks for everything Gail! Steve & Samantha
Alycen and Dave
I will HIGHLY recommend your company to everyone I know. Gail Malcolm was the perfect person to marry Dave and I yesterday. The ceremony was beautiful and Gail was wonderful she was my rock while I was stumbling nervously through my vows. Thank you so much and thank you for Gail
Jennifer & David
Gail Malcolm was amazing. It's like she has known us for years and she was a close friend. Everyone said she made the ceremony so special. We would highly recommend Gail, for anyone's ceremony, she was caring, thoughtful and just the perfect fit for our wedding. I know she would make other couples feel the same way. Thanks to you Gail, our wedding ceremony was perfect!!
Pamela & Brian
Gail Malcolm was the best ever. She gave us great ideas and was absolutely professional and personal. We were so pleased with the whole ceremony as we could make it exactly the way we wanted. It was easy to communicate and create what we wanted. She dressed and conducted herself very professionally and is very genuine with the sweetest personality. It was the best decision we could have made. Thank you
Sarah & Kyle
Gail Malcolm was warm, funny and kind. She totally made us comfortable and well prepared for our big day Our guests loved our ceremony. Many people told us it was a complete reflection of who we are individually and as a couple. Gail completely "got us" and many of our guests thought she was an old friend of the family! We loved our experience - and I was in no way prepared for how much fun the ceremony would be (in fact it was my favourite part). Thank you for making our day so special!!!!
Carrie & Kevin
Gail Malcolm was friendly and helpful. Very accommodating and put us at ease. And she was great at reminding us about the most important piece of our wedding day.
Sophie & John
Dear Gail, Wishing you and your family a fantastic holiday season! May it be filled with as much joy as you spread on our wedding day! We can't believe how fast time flew and we've been so wrapped up in nuptial bliss we forgot to send news! Guess the vows were worth it! We're on our way to the UK for our honeymoon and we wanted to take the opportunity before the Xmas holiday to tell you how grateful were to you for making our wedding ceremony such a glorious one. It will be etched in our memory as one of the most beautiful days of our lives. We hope this finds you well. Much health and happiness to you. Sincerely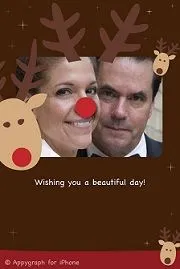 Shaun and Lindsey
Gail Malcolm is a genius when it comes to weddings, and you know that this brilliance comes from her love for love. We first met Gail at my cousin's wedding as she performed their ceremony. It was one of the most beautiful, and touching ceremonies we had ever been to. To see the way she connected with the bride and groom and told their story made you really feel honoured to be in attendance of such a touching moment in their lives. When my husband and I got engaged a year later, it was an easy decision. What was already sure to be the best day of our lives, Gail ensured was unforgettable." –
Chris & Sonya
Hiring Gail as our Officiant is a choice we will never regret! She was recommended to us by a dear and trusted friend and we were so very pleased to have her be part of our special day. Not only is Gail kind and warm and considerate, but she also went out of her way to meet with us, reassure us and offer any insight she could that would help our day go as smoothly as possible. Our wedding was far from typical and Gail embraced our individuality without judgement and had a wonderful sense of humour that eased any tension or worries and made our wedding fun and enjoyable and everything we had hoped it would be. We would recommend her in a heartbeat! Happily Married since November 2010,
Laura and Jayson
Gail did an absolutely beautiful job officiating our outdoor wedding. We were so impressed from the moment we met her. She really took the time to get to know and understand both my Husband and I as we planned our service together. She had great suggestions and was very open-minded and more than willing to incorporate some of the quirky things we really wanted to help make our day feel very personalized and unique. Gail also did a great job at "going with the flow" when we were faced with the worst rainstorm of the year! We turned up her microphone so we could hear over the huge cracks of thunder and downpours as she helped everyone to laugh it off. In spite of the rain and thanks to Gail, our wedding was the most perfect day we could have ever asked for! Thanks for making our day the most memorable day of our lives Gail!
April & Tyler
Gail Malcolm was amazing!! From the moment we met her, to the ceremony. Many comments made to us about how good she was.... Your amazing at what you do Gail xxoo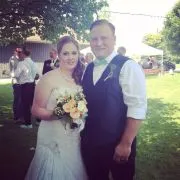 Beverly
Wedding and a Funeral On July 3, 2009, Gail was the Officiant at my wedding. My husband was very ill, and Gail did everything she could to accommodate that situation. She offered us many types of services to choose from, knowing we needed something short, but meaningful. She found one, and it suited us perfectly. She also suggested, due to my husband's health that we be seated for the ceremony, which helped considerably. Also, I would like to add, that on my special day, Gail was suffering extreme tragedy and grief in her own life, and yet stayed committed to performing our wedding ceremony. To us, that showed complete selflessness, and I am forever grateful. Two and a half months later, my husband passed away, and my heart was broken, and once again I needed to call upon Gail. In an instant, she was there for me, and offered a tremendous amount of support and caring. Her kindness, thoughtfulness and ability to know exactly how you're feeling, and what your heart needs, is something that clearly comes to her naturally. She instinctively knew just the words to say, and had such a comforting way of saying them. Her ability to care about you and how you're feeling at your time of grief comes from deep in her heart. She is genuinely sincere in everything she says, and you can feel her unwavering compassion for you. She offers her time, love, and caring heart for as long as you need her. I would also like to add, that my husband had two grown sons that had come from Halifax, and could not stay until the actual day of the funeral. From the kindness of her heart, Gail did a separate ceremony for them, which was certainly going beyond anything she had to do, and once again, I was so tremendously grateful. To anyone who might be planning a wedding, or sadly having to arrange a funeral, Gail, to me is the person to contact. You will never find anyone with more of a loving, caring, and compassionate heart and soul. Beverly
Tonya and Joe
I just want to thank you profusely for making our wedding day so memorable and meaningful and putting Joe so at ease. Joe and I were both so relaxed, almost serene, saying our vows, and considering we hadn't had any practice we both agree it was the nicest and easiest part of our big day. Obviously, you had almost everything to do with that. Even our guests commented on how natural we both seemed during the ceremony. I guess truly loving one another helped, but knowing you were there, gently leading us through it, really helped. Gail, I will recommend All Seasons Weddings to my brides and friends. You absolutely surpassed my expectations and my expectations were pretty high!
Julia and Rich
I would just like to extend my sincere thanks to you for our beautiful ceremony. We both couldn't be happier with the elegant simplicity of our union. Our honeymoon was great and now we are both back to the realities of everyday life. I wish you and your family only the best for the future and once again, thank you for helping us to create such a perfect, and memorable day.