Duane MacTavish
Duane who lives in Peachland is an Appointed Designated Minister with Clergy Support Church. (2017). Duane is professional, articulate, and enjoys kayaking, swimming and boxing. He and his wife, Lorraine, are passionate about love, life, and their English Bulldog. They are big supporters of the Central Okanagan Hospice House, The Heart & Stroke Foundation and the S.P.C.A. He has great public speaking skills and training with Toastmasters. Duane knows couples want their wedding to be memorable in their own way, and thinks it would be an honor and privilege to assist in your wedding ceremony. Duane looks forward to meeting both of you.
Request Duane MacTavish
Areas Served
Kelowna, West Kelowna, Peachland, Summerland, Lake Country
Reviews
Patrick & Jennifer
Duane allowed us to incorporate a small humorous addition to our vows to make them perfect and so much more meaningful to us! Plus the added bonus of entertaining all our guests with a bit of laughter. Everything was pretty straight forward. I was a little nervous about booking online without actually meeting anyone but I was contacted right away and was able to reach out to Duane quickly as well. Duane was amazing, he explained so much to us before hand so that we knew what to expect. September 2023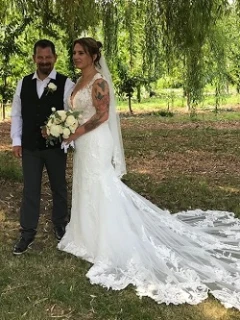 Credit: photosbytaylorlynn
Jake & Danielle
Our officiant, Duane MacTavish, was an exceptional officiant. He was always professional, kind, and responsive. We had a wonderful experience with him from start to finish. Thank you Duane and All Seasons Weddings! Jul 2023
Joshua & Tanika
Everything was wonderful. Duane MacTavish made the whole ceremony seamless and easy. He allowed time for photos and we did not feel pressured in any way. It was great! June 2023
Rick & Judy
Easy Was exactly what I asked for. June 2023
James & Kailey
Duane MacTavish went above and beyond our expectations! He honestly felt like family! He took the time to get to know us and provided us all the information we needed for a seamless ceremony! 15/10 would recommend! September 2022
Nicole & Alistair
Duane was wonderful. Thank you. July 2022
Michael & Kristin
Duane MacTavish was great the moment I met him. Many compliments on the ceremony and my husband even told me how much he enjoyed his words. Thank you so much !! March 2022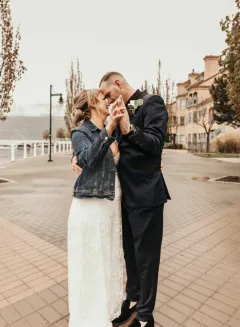 Sarah & Andrew
Duane MacTavish went over and above our expectations! He was kind and professional and above all made our ceremony memorable. We would highly recommend Duane for anyone's wedding ceremony. Nov 2021
Joshua & Caitlin
Duane MacTavish was wonderful! He was professional & prepared and did a great job with our ceremony! Duane made the process very easy and we highly recommend him to officiate any other weddings in the Kelowna area. October 2021
Kristin & Dalton
We truly recommend Duane MacTavish. He is professional, courteous, genuine, and very kind. He made the process easy for us. We appreciated his calm demeanor. Our ceremony was seamless and truly could not have gone any better. Kristin & Dalton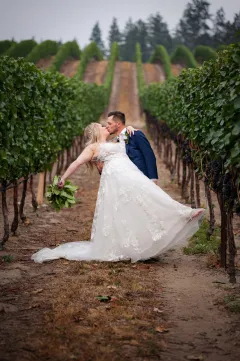 Brienne & Brock
Thank you again for being a part of our ceremony, Duane. You were fantastic and we can't thank you enough. Sept. 2021
Ryan and Sarah July 2021
Duane MacTavish exceed our expectations on our wedding day. He was very prompt with replying to inquiries before the wedding, was very professional, and created a lovely ceremony for us.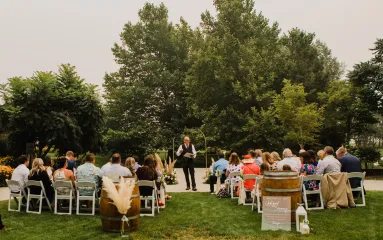 Vivian & Carlton
Hi Duane, I just wanted to reach out and thank you again for officiating our wedding ceremony this past Saturday. You made the day so special, and we were so happy with everything you said and did! What a great way to start our married life! Thank you again! We could not have been happier!
Frederic & Corey
Duane MacTavish did such a fantastic job, and his wife was so sweet and helpful as well. They were fantastic for coordinating and being a bit flexible with our chosen place and time, especially considering how short-notice it was. All the paperwork came back exactly in order and we got everything we wanted. 10/10 would recommend Duane again. Frederic & Corey October 2020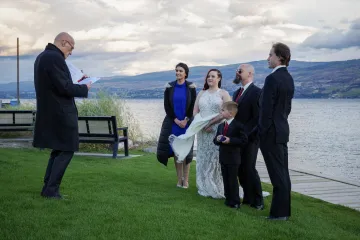 Travis & Danielle
Duane MacTavish was very thoughtful and great to work with through out our whole planning experience. He put our minds at ease when he needed to and helped us to navigate some of the challenges that came our way between COVID and missing information from deceased parents. He made our day perfect! Travis & Danielle October 2020
Mil & Jennifer
Duane MacTavish was so amazing for our wedding. He put us right at ease during our meeting and made us feel confident that our ceremony would flow smoothly. And it did. My husband and I were really nervous but he lead the way beautifully. I loved everything about my wedding and Duane played an essential part in that. Mil & Jennifer August 2020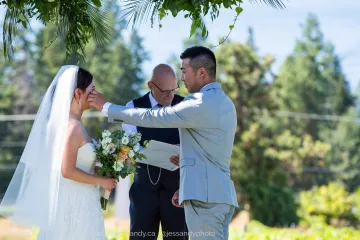 Kyle & Irelyn
Duane MacTavish was amazing! He helped create our perfect day and both he and his wife were so helpful and thoughtful throughout the entire process. I will definitely be recommending him to everybody I come across! Kyle & Irelyn June 2020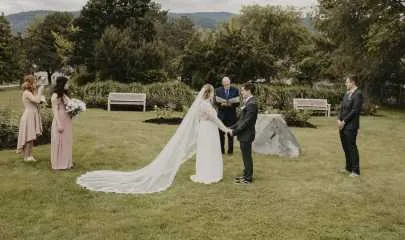 Matthew & Michelle
Duane MacTavish was incredible! He tweaked the ceremony speech to suit our personalities which contributed to a more light-hearted and warm ceremony. With Duane, it didn't feel as though a stranger was up there with us but a friend which made for a very intimate and personable experience. We could not have asked for a better officiant or a better ceremony. Matthew & Michelle August 2019
Bryana & Nigel
Duane MacTavish was incredible! Our guests gave feedback that his ceremony was authentic.
James & Darcy Ann
Duane MacTavish was extremely professional in the way he handled our service. He performed every task that we asked of him. I would recommend him to anybody.
Anonymous
Duane MacTavish did such an amazing job as officiant at our wedding. From the first meeting we both knew he would be great, he was so organized, easy to talk to and took the time to get to know how we envisioned our day. Thanks to Duane, our ceremony was perfect. He helped keep us both at ease and delivered a beautiful and engaging ceremony that was suited to us. We would highly recommend Duane's services!!