Dr. Deborah Parr
Dr. Deb Parr is an Ordained Minister and award-winning officiant who lives in Sherwood Park, but serves Edmonton and many surrounding communities. She has held credentials with Clergy Support Memorial Church since early 2010.She feels that providing couples with an opportunity to create a memorable wedding ceremony -- one that reflects their unique personalities, commitment and embodies the beliefs that are important to them -- is a natural extension of who she is. Known for her creativity, sense of humor, compassion, calming voice and her ability to put people at ease, Deb would be honored to help you and your special someone create beautiful memories (in English or Ukrainian) that will last a lifetime. Caution: As one of the most requested officiants on our Alberta team she books up very early.
Request Deborah Parr
Areas Served
Edmonton, Sherwood Park, Ardrossan, Fort Saskatchewan, St. Albert, Nameo, Leduc, Beaumont
Reviews
Ryan & Carol
Deborah Parr was amazing doing her job. Thank you for the wonderful ceremony . March 2023
David & Juan
Deborah Parr was warm a gracious! She exceeded all our expectations. Having Deborah at our ceremony was like having a friend there. She put us at ease. November 2022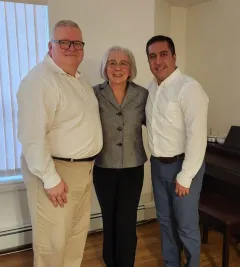 Grace & Kevin
Deborah Parr was great to work with. She was very supportive and experienced. She gave us lots of tips. I would totally recommend a rehearsal with Deborah as I found it so helpful in preparing for the day. Deborah was amazing and kind and we loved having her as our officiant. September 2022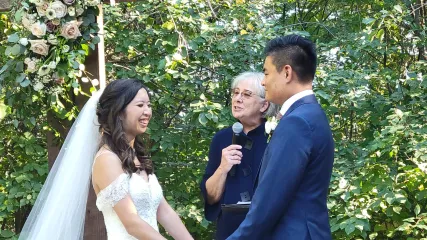 Kristen & Cooper
Deborah Parr was amazing. She went above and beyond expectations. We began planning our wedding with her in 2019. Due to COVID, we had to postpone until 2022. She remembered everything! She walked us through the whole process step by step. We never felt lost or confused. Thank you Deborah. You were fantastic and went above and beyond. You helped fix my train before I walked down the aisle, you aligned the bridal party for photos and remembered details from conversations 3 years ago. You made our big day even more special with your professionalism and kindness. Thank you! July 2022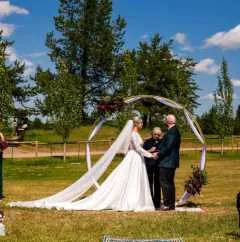 Jesseca & Linden
Deborah Parr was an absolutely amazing human being. ❤️ July 2022
Keith & Pierrette
Deborah Parr was wonderful. It was as perfect as it could have been. February 2022
Michael & Lizanne
Deborah Parr was so lovely, easy to get a hold of, on time and friendly. Thank you for a beautiful ceremony . November 2021
Aiko & John
Deborah Parr was absolutely amazing. Thank you for being a part of our wedding day . We are so thankful for your wonderful presence. August 2021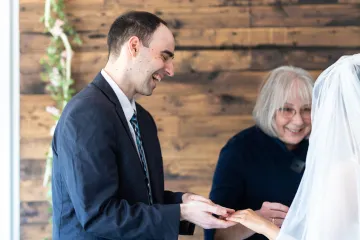 Donald & Kathryn
Deborah Parr exceeded our expectations We thought she was very professional but yet personable and in tune with our day! We can not express our gratitude enough for her, she was well prepared with tissue and the odd joke to lighten the mood. October 2021
James and Eileen Aug 2021
I was so impressed with Deborah's company All Seasons Weddings, that I would recommend you to everyone getting married. The office staff were all very nice. The whole process of securing an officiant for that day was seamless. Deborah Parr was our officiant, and we couldn't have been happier. We had only phone and text correspondence up until our wedding day. I had so many questions, and she was so patient with me. This is crazy wonderful. We hadn't met Deborah until our wedding day. We had a backyard wedding, so my husband was getting ready in one bedroom, and I was getting ready in another. My daughter came in to say Deborah had arrived....and she was ironing my husband's shirt on the dining room table. Now that is going above and beyond.!! She brought up that fact during the ceremony which received a round of laughter. We had 3 little boys as ring bearers, and she made them feel so good. I cannot sing her praises enough. Thank you so much Deborah We loved having you be part of our special day. Your friendliness and humor added another dimension to our wedding. XXX
Marili & Jesse
Thank you so much for your amazing and awesome service! You made our wedding ceremony so beautiful. You really are wonderful! Have a great day! God bless! Marili & Jesse August 2021
Stuart & Kaylee
I cannot say enough good things about Deborah Parr! She was so kind and took away so much stress from our ceremony! She knew our dogs were part of our ceremony, so the first thing she did upon arrival was greet the dogs and give them treats! I was SO impressed. She was a perfect fit for us and for our day! I would highly highly recommend her! Stuart & Kaylee July 2021
William & Katirena
Deborah Parr was so kind and helpful. She was with us every step of the way and was so lovely. The ceremony was perfect. Deborah made our start of this marriage a happy, friendly, beautiful one. Her sense of humour was also amazing. Exactly what we were looking for. Five stars all around to Deborah and All Seasons Weddings. William & Katirena June 2021
Glendon & Jenny
We highly recommend Deborah Parr to be your wedding Officiant. She exceeded our expectations and she made our wedding extra special. She's a blessing to us and we are truly honored and blessed having her. Glendon & Jenny June 2020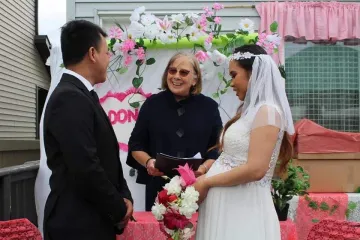 Nicole & Steve
Thank you Deborah Parr for officiating our wedding July 11! It was all such a whirlwind to me with a touch of chaos, but you were so calm and relaxed and patient that it helped relax us too. You made both Steve and I feel comfortable and like ourselves. You even brought treats and water for our fur babies which is just absolutely above and beyond and was so appreciated! Koda and Bentley just loved you, and so did all of our family! A number of our family members commented on how you were the perfect person to marry us and did a phenomenal job of the ceremony. They all loved the bits of humor and how you kept things fun and interesting. Everything was absolutely perfect, and we can't thank you enough for being a big part of it! Nicole & Steve July 2020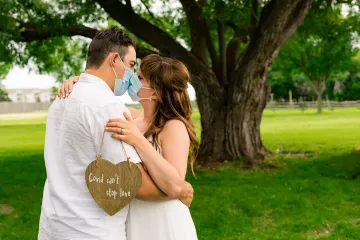 Cian & Julia
Thank you, Deborah, for officiating our ceremony on Saturday! We feel so lucky that you were there to act as our officiant, our families spoke highly of you after and just thank you for being part of our special day! 07/18/20
Cole and Kaitlyn
Deborah Parr was wonderful. We would recommend her to anyone! Cole and Kaitlyn February 2020
Fay & Rene
Deborah Parr was amazing ! Thank you for making us laugh during the serious moments, for remaining composed when we felt emotional and for delivering a service that we will recommend to anyone who wants a beautiful ceremony tailor-made that suits our needs. Thank you for making our marriage ceremony unforgettable and special. Fay & Rene December 2019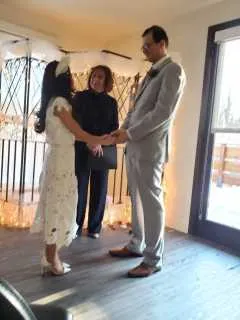 Jared & Brittni
Deborah Parr was amazing! absolutely surpassed any expectations. She really kept to what we asked while still providing some beautiful personalized pieces. She had an amazing calmness and friendliness to her and fit in with my crazy family right away! Jared & Brittni October 2019
Brett & Chelsey
Deborah Parr was absolutely amazing, and we felt so lucky to have her as our officiant. She always made sure we felt comfortable, and took away any nervousness we had. She brought a little humour into our ceremony, and we really appreciated that comedic relief ! She was also very cognizant of the photo angles, and when she should or shouldn't be standing in the middle. We are so appreciative for her and everything she did for us! Brett & Chelsey September 2019
Zach & Sara
Deborah Parr was absolutely fantastic! She exceeded our expectations. she is so friendly and kept the ceremony light which was exactly what we needed! I would refer all my friends to have Deborah be their officiant. She was phenomenal. Such a fantastic and professional woman. Zach & Sara August 2019
Andrew & Heidi-Ann
Deborah Parr went above and beyond our expectations for a wedding officiant. Aside from providing us with useful suggestions, information and advice to help us prepare, she gave generously of her time to support us through the emotional process as well. I have never had that quality and depth of service anywhere. With Deborah, I felt genuinely cared for at a time in our lives when it mattered most. As an officiant, she is warm, funny and grounded. And even standing outside beside a water fountain with no microphone, everyone could hear her speak throughout the ceremony - even my 85 year old grandfather. I highly recommend Deborah. Working with her will always be a highlight for me when I think of our ceremony. Andrew & Heidi-Ann June 2019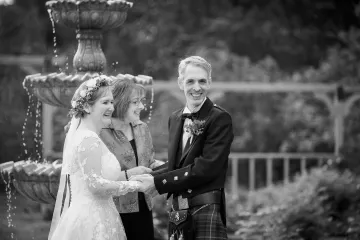 Adin & Marcy
Deborah Parr was absolutely amazing. Thank you for everything , the day was perfect! Adin & Marcy July 2019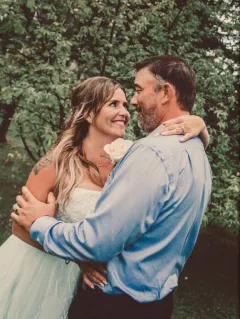 Justine & Lindsay
Deborah Parr was amazing, and we were so happy to have her as our officiant. She made us feel confident and stress-free, and she was very supportive. Thank you Deborah! Justine & Lindsay June 2019
Jazmine & Colton
Thank you again Deborah Parr for doing the baptism for our children. Everyone said it was wonderful and you did an amazing job. It was exactly as we envisioned it to be. We hope you had a safe drive home and hope to see you again the future. Thank you, Jazmine & Colton June 2019
Ambroise & Dayna
We used Deborah Parr as our officiant and couldn't be happier. She was professional and fun and made everyone comfortable. Most of our guests thought she was a relative or family friend because she fit in so well. She put myself and my husband at ease through the pre-wedding jitters, and helped our bridal party with there flowers and outfits. She really went above and beyond our expectations of her. We can not say enough wonderful things about Rev Deborah, our wedding would not have been the same without her.
Miranda & Brandon
Hi Deborah, this is Miranda and Brandon here, We wanted to thank you so much for being our Wedding Officiant at our wedding. You did such an amazing job and the way you supported us was just incredible. We both felt like you calmed us down and made us feel so comfortable before the wedding started. We couldn't have done it with out you. We both really appreciate you being there with us on our special day. We thank you very much,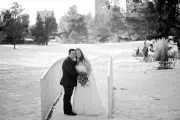 Emma & Chris
Rev Deborah Parr made us feel like we had known her for a very long time. She is very friendly and definitely calmed our nerves. Everything went very smoothly with her around! She even brought us cookies at our rehearsal. She worked with us to make our ceremony exactly what we wanted and even when we said we wanted to do a sand ceremony she had exactly what she would say. It was such a relief because I had no idea what we were suppose to do. Deborah was amazing!
Jenna & Jason
Deborah Parr was incredible!!! We had her as a replacement for our original officiant's unfortunate circumstances and I could not have asked for anyone better. She was extremely helpful and kind. I would always recommend All Seasons Weddings. I couldn't imagine how bad it would have been if I hired an officiant who wasn't with a company and had to replace last minute. The price was reasonable and everyone was great to work with.
Sara & Kris
Rev. Deborah Parr exceeded any expectations! She is such a wonderful and calming person and her guidance and support made our wedding day perfect. She was very well prepared, including treats for our dog Snoop, and even made sure to dress with our wedding colours. She went above and beyond what we thought an officiant would do, we are incredibly grateful for her being a part of our wedding day. Will highly recommend Deborah to anyone. God bless her.
Linda & James
Deborah; Thank you so so so so very much for being a part of our special day; you made it extra special!! You had people laughing, crying, thinking and enjoying every minute of our ceremony. Thank you for not only being an amazing Officiant but being an amazing person, we could not have had a better person than yourself. Our guests loved how personable you made our vows and having fun with it all. You are truly a wonderful woman!! Thank you!! We will send you pictures as soon as we can!! Thank you again!!! Sincerely,
Liezel & Zellah
First, All Season's Wedding Service is fast and efficient, and customer service is very friendly. Having Deborah Parr as our wedding officiant made us feel that life surely will give us signs that what we are doing is right. She is one of the warmest people we've met and very generous of her time, considering our wedding was on Easter Sunday. Thank you Deborah!! Liezel&Zellah
Sarah & Kristofor
It's hard to believe it's coming up to a year now since you married Kristofor and I (well... in another 7 weeks). Whenever I look back on it, I always think of you and how much you added to our special day. There are a few moments in particular that stand out to me: 1. When Kris and I first met with you to plan the ceremony. We ended up spending the majority of the meeting talking about an ill family member and you offered us advice and comfort about the situation. You were in no rush to speed through the "planning" and get on with your day. Instead you gave us guidance, you offered us tissues when we got emotional, and you listened wholeheartedly. You probably didn't realize at the time how much that meant to us, especially to Kris. 2. Right before the ceremony, you came up to the hotel room I was in, gave me a big hug, and told me "there is no rush, we will go downstairs whenever YOU are ready." That small moment really helped me center myself and put me at ease. I've never been overly comfortable in public and emotional settings but you made me stop and think "She's right... I'm not going downstairs because I have to or because it's 4pm and that's what the invitation said. I'm going downstairs because I want to marry Kristofor and I want to do it right now." Anyway, I'm not sure if you remember these moments, but we definitely do. We are so happy we chose you to share our wedding day with. From the bottom of our hearts, thank you.
Andy & Sayward
Hi Deborah, Thank you so much for officiating our ceremony, you were so great and we have heard from so many of our guests how much they enjoyed you. They even asked if you were a family friend or someone we knew! You definitely helped make our day and we are both grateful and thankful! Sincerely,
Nikki
I had Deborah Parr as my officiant and she was simply amazing! Detailed, sweet and has a wonderful smile. She is experienced and does not drag on and on.
Danielle & Jordan
Deborah Parr was wonderful! We were trying to plan our wedding from out of town, and she was always helpful whenever we talked to her. When we arrived in town, we set up a meeting to meet her face to face and were happy with our choice in officiant. She was great and touching base with us before the ceremony, and the ceremony itself went well. Thank you Deborah!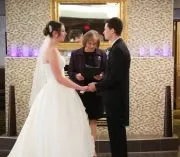 Courtney & Steve
Rev. Deborah Parr was so amazing!! She made us feel so comfortable and at ease! She made our day! Deborah was very friendly and extremely helpful. She brought us a copy of our vows on the big day so we didn't have to worry about losing them amongst our busy day! Our guests loved her! I would recommend Deborah to any friends or family getting married! We feel so lucky to of met her!
Carys & Chris
Deborah Parr was so wonderful! She exceeded our expectations by being warm, funny and professional. Many of our wedding guests complimented the ceremony and her as well.
Holly & Mark
Deborah Parr was awesome!! She went above and beyond, really felt close to her she was so sincere and made the ceremony perfect. Especially loved how she stopped by while I was getting ready to check-in, so great. And she kept the ceremony light and we loved having her as our officiant. We received many comments from guests how great she was;) My mom said she fit in like an auntie;) And one of my bridesmaids said she wanted to have Deb for her wedding some day. We were very happy with Deb, so glad we chose her to officate our specialy day. But it really felt like she did more than that. Thank you!!
Amy & Hector
Deborah Parr was absolutely wonderful! She performed the perfect ceremony and gave us lots of advice beforehand. She kept her meeting with us on a very difficult and sad day for her family, and we greatly appreciate that. Thank you so much for being involved in our special day and making the ceremony so memorable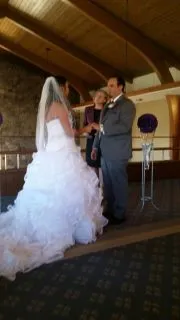 Donna & Bill
Deborah Parr was very friendly and easy-going. She put us at ease and added her own special touches that fit us (and our sense of humor!)
Brandon, Lisa and Brooke
Hi Deborah, We just wanted to thank you so much for being a part of our special day. You were amazing and we couldn't have asked for a better officiant. Everyone commented on how great you were. Good suggestion to take a group picture with all our family and guests and then you go and take the pictures! Thanks once again!!!
Paul and Bronwyn
Deborah, I just wanted to send you a quick note thanking you very much for everything you did for Paul and I. Outside unifying us, we couldn't thank you enough for all your help, guidance and assistance over the last couple months. You made our day extremely magical and our guests absolutely loved your style and thought it was very fitting for us. Thank you so much Deborah!
Brianna and Jeff
Rev. Deborah Parr was absolutely amazing. She was soooo sincerely genuine and caring. She really made our ceremony memorable. Truly a wonderful person,it felt like a family member standing with us talking to our friends and family. I have even recommended her to a few of our friends getting married in the next year. Thank you for your service!
Corey & Camera
Rev., Deborah, How do you say thank you to some one who did something so special for our family? You were so wonderful, real and professional. You made us laugh and cry, and Cami and Corey adored and felt so comfortable with you. We all felt as if you should have stayed as part of our family! We appreciate you tremendously and we will never be able to thank you enough. Thank you, thank you, thank you!!!
Victoria & Curtis
Deborah Parr was excellent. We had so many great comments about her after the wedding. The guests were very impressed. She was great before the ceremony, making sure everything with the guys was perfect and once the ceremony started, she did a great job at keeping the ceremony light, personal and fun. I would recommend her to anyone.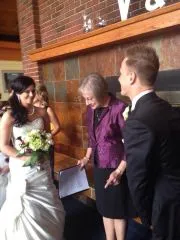 Michelle & Frankie
I want to say thank you to Deborah Parr. It was such a pleasure to have her officiate our wedding. I could have not wished to change anything. Her personality was awesome a great fit for the wedding style we were going for. She was just delightful it was a pleasure. Thank you again so much it made the wedding enjoyable!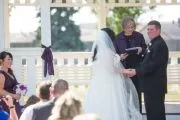 Sjolin and Christopher
Everything was fabulous and our guests loved the ceremony, we are all very happy and the kids loved being a part of it. Thank you so much for making it an amazing an memorable experience, it was truly a pleasure.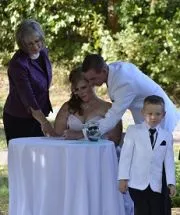 Lesley & Travis
We saw Deborah Parr officiate at a friend's wedding and immediately knew we wanted her to do our wedding. She officiated with warmth and humour and several people assumed she was a friend of ours. Many guests commented on the very personal and meaningful ceremony which Deborah had a very large part in scripting and, of course, in delivering.
Chantal & Christopher
Deborah Parr was great! No complaints here :) On the day of our wedding, she was punctual and dressed very well, also helped with posing us for pictures and assisted my husband with pinning his corsage.
Angeline & Kevin
Debroah Parr was helpful and professional, with a sense of humour and personality. She was calming and friendly on the wedding day and gave us a peace of mind in knowing that the ceremony was all taken care of. Thanks Deb!