Charles Bolduc, BA (St Pauls)
Charles is an award winning wedding officiant. He is confident, compassionate and sensitive to the individuals he meets. He believes a couple's day should be the most important highlight of their lives. Charles is open to receiving all phone calls, emails and face-to-face meetings. In addition to the district of Sudbury, he has officiated at weddings from Key River to Elliot Lake and Manitoulin Island. As well as traditional weddings, he has celebrated same-gender weddings and welcomes all cultures and traditions. Charles will meet with you and provide options of wedding vows, wedding poetry, and suggestions on how to personalize your wedding style. It's your big day and it should be your wedding your way. He is a minister with Clergy Support Memorial Church.
Request Charles Bolduc
Areas Served
Sudbury, Garson, Falconbridge, Skead, Hanmer, Val Caron, Blezard Valley, Capreol, Val Therese, Azilda, Chelmsford, Dowling, Wanup, Coniston, Wahnapitae, Copper Cliff, Lively
Reviews
Max & Mikaela
Charles Bolduc was absolutely wonderful! He met with us a few times to discuss our wedding ceremony and kept in touch throughout the planning process. He was professional and personal. Working with Charles was like working with an old friend, comfortable and endearing. January 2023
Dalton & Estephanie
Charles Bolduc was amazing and did exactly what we wanted (hike to our destination) and need for our elopement. High recommend! Thanks Charles for officiating our marriage in a place my husband and I both love to be! September 2022
Norm & Christine
Our original officiant had to cancel due to health issues and All Seasons promptly found a replacement. Charles [Bolduc] met all our expectations and was able to integrate all of our special requests in no time! Thank you everyone! October 2022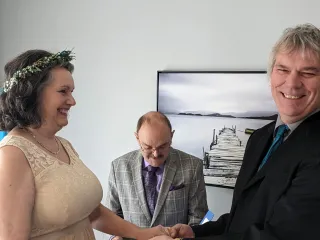 Katrine & Shayne
Charles Bolduc was absolutely perfect as our wedding officiant. He was so friendly and easy to work with. He was welcoming and made us feel relaxed during the ceremony. He kept a nice flow even when we forgot the wedding rings inside the house. We couldn't be more happy that Charles was the one to marry us! September 2022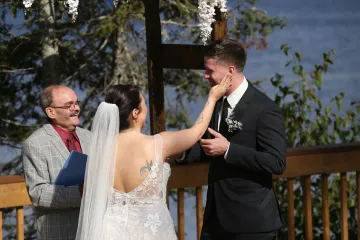 Lori & Jimmy
It was a true pleasure to work with Charles [Bolduc]. I have already been recommending your service to friends and family. August 2022
Erika & Cody
Charles Bolduc is incredibly kind, compassionate, and accommodating. He truly did go above and beyond to make our special day run smoothly. I would highly recommend him to anyone as his grace shines through in each moment. Thank you, Charles! Feb 2022
Jean & Dominik
Charles Bolduc was absolutely outstanding. I was acquainted with him early on in our wedding planning process as he reached out to me by phone, and we had quite a warm and pleasant conversation. He made a visit to my home in order to familiarize himself with the logistics of our ceremony, and made a call to me again shortly before the wedding date as to make sure my needs were met. Through the process, he was able to get acquainted with my husband & I's special love story. With that, he was able to really incorporate some personal touches in the delivery of his segment the day of the wedding. He was caring and kind, and was very mindful of our wishes for our special day. He went above and beyond to make our ceremony very special and I am endlessly thankful for his services. He was able to deliver a day that my daughter will never forget. Nov 2021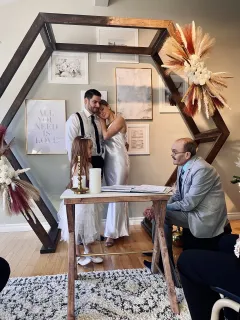 Nelson & Deanne
Charles Bolduc was very nice, so many compliments on a lovely ceremony. Helped us with our modified ceremony. Welcomed us into his home for the planning meeting. Very efficient and good to work with! October 2021
Darryl & Melissa
Charles Bolduc did an amazing job for our wedding. The ceremony was great and he also helped us with the paperwork and technical stuff to make sure everything is processed properly. Thanks Charles! Darryl & Melissa September 2021
Allyson & Alex
Charles Bolduc was absolutely amazing! He was so clear and helpful as far as pre wedding planning, and when came time for the big day he did a wonderful job and remembered each and every small detail that was mentioned. I would absolutely recommend Charles to anyone looking for that extra added touch to make their special day that much more special!:) We thank you! Allyson & Alex August 2021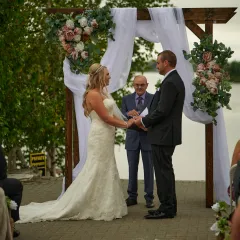 Courtney & Mike
My husband and I want to extend our gratitude and thanks to all seasons weddings for all their help and ensuring we had everything we needed. We want to send a special thank you to Charles Bolduc who not only was our officiant but he took the time to ensure our ceremony was exactly what we wanted and reflected us. My husband loves to crack jokes and his sense of humor definitely came out during the ceremony. We could not have asked for a more personal and intimate ceremony and will look back on our wedding day with so much love and happiness. Thank you! Courtney & Mike August 2021
Natalie & Brandon
Charles Bolduc was very kind and down to earth. Very easy going and we loved how we could choose exactly how we wanted the ceremony to be and he was open to it all. Natalie & Brandon July 2021
Brandon & Natalie
Charles Bolduc was a good officiant. Kind and down to earth. We had a very beautiful ceremony. Thank you!! Brandon & Natalie July 2021
Michael & Jazmin
Charles Bolduc was a wonderful addition to our wedding day. Friendly and professional, Charles helped put our minds at ease with his experience and suggestions. I would recommend All Season Weddings and specifically Charles Bolduc if you are looking for a wedding officiant! Thank you Charles! :) Michael & Jazmin October 2019
Miguel & Sachini
Charles Bolduc was punctual, professional, and officiated a great ceremony. We highly recommend him to anyone looking for an officiant! Thank you for everything. Miguel & Sachini July 2019
Courtney & Nathan
It was truly an honour to have Charles Bolduc officiate our wedding. He provided us with insight and support throughout planning our ceremony and vows. Charles was a special person to have in our wedding as he also performed our first born sons funeral as he is a family friend. He went above and beyond and we are forever grateful. March, 2019.
Meghan & Justin
Charles Bolduc was very kind and seems to really enjoy what he does. Our meeting with him was very relaxed and he was very clear on his expectations and we felt confident that he would deliver what we wanted, and offered some very helpful advice as well regarding the ceremony. I was very pleased with the quick response time when we had questions and even when I misplaced an email with important information, it was sent back efficiently. The payment process was very easy and straightforward as well. Thank you so much for a lovely experience!
Stephanie & Kevin
Charles Bolduc was fantastic and very easy going. Our ceremony was very fast, I'd say 15 minutes, which is exactly what we wanted. He was very easy going with photography being taken whenever. Very sweet man. Came very well dressed as well. 10/10 I would recommend him to anyone. Thank you so much. Stephanie & Kevin Aug 11th, 2018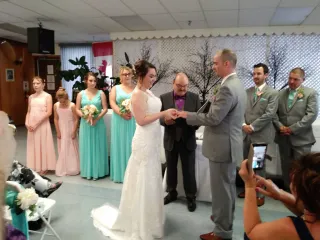 The Junor's
Charles Bolduc was amazing to work with, and exceeded our expectations before and during our wedding! Charles was happy to answer all of our questions leading up to the day of our wedding through email, and phone calls. The whole process was comfortable and worry free. Charles helped us personalize our special day, and made numerous helpful suggestions. The ceremony was beautiful, and went exactly like planned. Countless compliments on the ceremony. Thank you Charles for everything!
Julien & Alana
Charles (Bolduc) is an excellent wedding officiant and a pleasure to work with. During our first meeting it felt as though we were having coffee with an old friend. He is very professional and really put my wife and I at ease. We really enjoyed having him as part of our ceremony. Julien & Alana 08/15/2015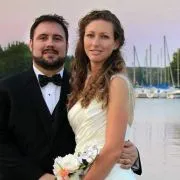 John & Colette
we would like to thank All Season's Wedding Service and Charles Bolduc for all you have done for us. Our wedding day was perfect, we had a beautiful ceremony, and the whole day was perfect, We were honored, overjoyed & extremely proud to have Charles Bolduc as our officiant for our ceremony. Charles is an awesome man that is very caring,kind, patient , professional, responsible and knowledgeable. I'm proud to call him my friend. I was on cloud 9, as Charles has made our wedding day extremely special and perfect. You are all angels in our eyes, thank you all again for making our special day, a day to remember for years to come :) God Bless each & everyone of you :)
Andrea & James
Charles Bolduc was extremely accommodating in terms of meeting with us at the last minute (we planned our wedding in 6 weeks) and in officiating a great ceremony. He was very relaxed with the island venue and the slight threat of rain! It was really special to have the opportunity to incorporate James' children in our vows and the rest of the ceremony. Charles was quite helpful in this regard as well.
Melinda & Matthew
Charles Bolduc was amazing! It was easy for us to get together to meet prior to the wedding, he helped us form our ceremony by giving us examples of vows, and readings. He was very open and honest. Did exactly what we wanted and what we planned ahead of time. He was very efficient and he did not throw any surprises our way. We did not have a rehearsal and everything went perfect for our big day! E-mails were returned quickly and any changes we made to our wedding venue and time were addressed in a very timely manner. It was one of our easiest things to book. All online, we had no issues in terms of getting our ceremony together and Charles was very helpful. Very affordable!
Sara & Vincent
Charles Bolduc not only met our expectations, he exceeded them! His kindness and professionalism was exceptional. Everyone loved the ceremony. Charles was always available to us to answer questions and review the ceremony if needed. He settled our nerves and made everything run so smoothly. Fantastic job. We couldn't be happier. Thank you Charles!!
Megan & Phillip
Charles Bolduc was a great officiant. He offered advice and answered all questions we had on the marriage process. I would definitely recommend Charles to anyone looking for a officiant and thank him for helping to make our day perfect!
Francine & Michael
Charles Bolduc was excellent, courteous, warm and totally made sure that "our" day was exactly that..."our day!"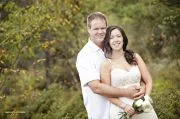 Maija and Ken
Hello Charles (Bolduc), Ken and I want to thank you for all of your help in making the wedding ceremony a success. We loved that we were able to write the ceremony ourselves and make it a little more personal. Your input and support by email and the planning session that we had in person helped us to iron out all of the little details and feel very confident that everything would go smoothly. And sure enough, the ceremony was beautiful. We have received many compliments on the ceremony from friends and family, and we were very happy with it as well. Thanks again!