Barbara O'Dell
I would be thrilled to be your Officiant and participate in your journey to unite love, lives and families. My husband Ric and our two children live in Ottawa West. After several successful years in high tech customer service, I am now a proud small business owner and minister focusing on mental and spiritual wellness in the community. One of my passions is to play a part in the happiest moments of peoples' lives and to conduct your wedding ceremony. I would love to hear all about your plans and work with you to make it the most special day of your life.
Request Barbara O'Dell
Areas Served
Carp, Dunrobin, Gloucester, Greeley, Kinburn, Manotick, Nepean, Ottawa, Ottawa East, Ottawa South, Ottawa West, Richmond, Stittsville, Woodlawn
Reviews
Deven & Emma
Barbara O'Dell was amazing! She was so kind during our planning and made us both feel so comfortable during our ceremony. We would recommend her to anyone! October 2022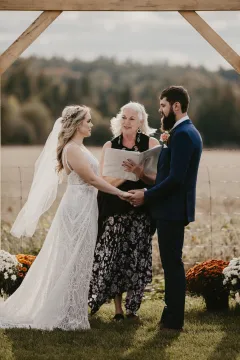 Stewart & Tara
Barbara O'Dell was excellent! She gave us exactly what we wanted and she has a lovely energy. October 2022
Chelsea & Matthew
Barbara [O'Dell] was fantastic! She went above and beyond to make our special moment memorable. Barb was welcoming, kind, funny, and we could tell she truly cared about making our moment so special. As soon as we met Barb, we knew we picked the right person to marry us. I recommend choosing Barb as your officiant, you will not be disappointed!! Thank you so much Barb. ? September 2022
Robert & Zoey
Barbara O'Dell was just wonderful!! She was so patient with us and was willing and able to help us put our feelings to words! She always had a smile on her face even with the chaos of our non-traditional wedding. She was always available to put my stress at ease! Just fantastic! October 2021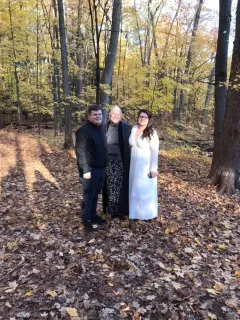 Cecelia & Jeremy
Barbara is kind, thoughtful, and a true professional. We arranged our ceremony last minute, and she made sure to call us ahead of the event and arrive early. She's a great speaker, and you can tell she is passionate about her work. I would highly recommend Barbara-- she made our day feel extra special. Thanks for all your help! Cecelia & Jeremy February 2021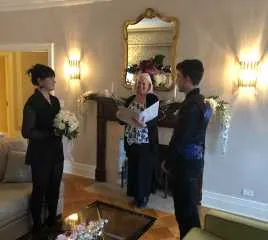 Aart & Julie
Barbara O'Dell exceeded our expectations, she was very thoughtful and genuine. It was easy to tell that she was very happy for us, she is a very kind and warm person. She made our day very special despite all of our restrictions due to COVID-19. We would recommend her to anyone wanting to get married. She was absolutely wonderful and I couldn't imagine anyone else performing our ceremony. Aart & Julie April 2020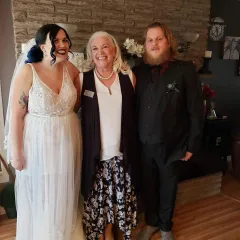 John & Veronica
Barbara O'Dell arrived early the day off and was flexible. Barbara made the best out of the situation when our daughter wanted to join us at the aisle. Thank you for helping make our day perfect. John & Veronica October 2019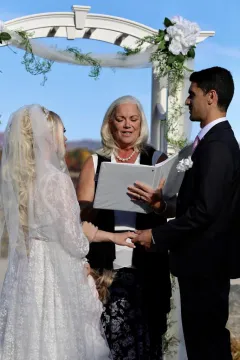 Sarah & Kyle
Barbara O'Dell was amazing! She was extremely professional. She has a genuine love for her job and I could not have imagined my day officiated by anyone else.