Aestus Rogers
Aestus (Ace for short) was born and raised in Newfoundland and has lived more than 20 years in downtown Toronto. Aestus has a positive outlook on life with a slightly offbeat sense of humor to balance it out. He has been a Registered Nurse for 20 years after training at George Brown College, and worked for a decade at Casey House in HIV/AIDS care, and more recently moved into the fast-paced environment of an operating room. Aestus' experience makes him comfortable with very emotional people and groups, and very competent in handling stressful situations. He has performed hundreds of ceremonies over the past few years and is an expert in making you and your family comfortable, relaxed, and happy. He is comfortable working in all situations and looks forward to helping tailor a ceremony that reflects your unique needs. He believes in and supports inclusivity and diversity, and some of his favorite wedding memories are from non-traditional families and venues. Aestus has discovered that performing wedding ceremonies leaves him with a sense of joy and excitement that he is thrilled to share with you in order to add that energy to the start of your married life together.
Request Aestus Rogers
Areas Served
Yorkville, Rosedale, The Annex, Forest Hill, Moore Park, Casa Loma, Garden District, St. Lawrence, Corktown,Wychwood Park , East York, Old Toronto, York, St. James Town, Regent Park, Moss Park, Alexandra Park, Parkdale,Kensington Market, Chinatown, Leslieville, Cabbagetown, Riverdale, Chinatown, Greektown, Little Italy, Portugal Village, Little India, Thorncliffe Park, Toronto Harbour, Don River, Distillery District
Reviews
Raymond Reinaldo & Alexander Jr
It was quick and easy to book our Officiant Aestus Rogers. He was very responsive in replying to all of our messages. He was friendly and able to facilitate the ceremony. He was very professional and was able to include people who attended the ceremony. Thank you Aestus for being a part of our day! July 2023
Colin & Lydia
Aestus Rogers exceeded our expectations. He has a good sense of humour and can go with the flow. He is obviously very experienced and was able to bring the right tone to the ceremony. Many of our attendees commented on how much they enjoyed meeting Aestus. Aestus did a wonderful job. I would highly recommend him. May 2023
Nathan & Jade
We decided to do a "first look" during our wedding day and since we were in the distillery district we ran into Aestus during this time as he was their early to visit one of the art exhibits. He introduced himself quickly and told us he was looking forward to working with us later in the day. He was very kind to both of us and was very flattery towards the bride. He also was at the venue a tad bit earlier than expected which was perfect as the bride and I decided to forgo using our own vows and Aestus was able to promptly prepare for the sudden change. One moment that really stuck out and made our (small) wedding even more intimate was after the bride and I did our vows and said our "I do's," he then talked to our guests and confirmed with them if they say "I do" to the Bride and I's vows. Not only did this make our ceremony that much more intimate but it was nice to get that finally confirmation (In a wild round of applause and cheering) from our closest friends and family. September 2022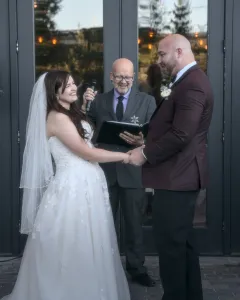 Chris & David
Aestus Rogers was friendly and professional, came fully prepared, listened to our needs, and conducted a wonderfully warm ceremony that fulfilled our wishes in every way. Thank you very much for all your help! Nov 2021
Randy & Rod
Working with All Seasons Weddings and Aestus in particular was an absolute pleasure. There were many officiants to choose from on the site, but for some reason Aestus just 'jumped off the page' for us. We met Aestus for a patio lunch in the summer to discuss the arrangements and very quickly discovered we had made the right decision. On the day of wedding, Aestus arrived on time, looking very dapper, and delivered a ceremony with laughs and tears that was perfect. Highly recommend!!! October 2021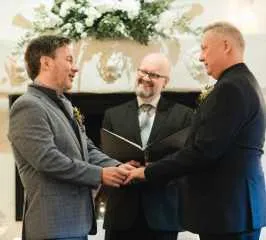 John & Stephanie
Aestus Rogers is the best. He made our wedding fun and beautiful. Our plans were drastically changed due to covid. He managed to help us all throughout the changing situation. He went above and beyond to give us what we wanted. He was so very helpful and accommodating. Thank you Ace! John & Stephanie October 2020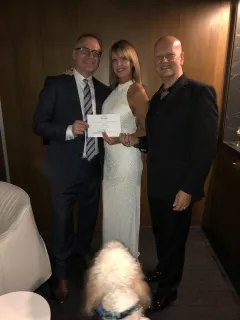 Matthias & Laura
Everything was perfect, Aestus Rogers helped make our special day even better with a short and sweet ceremony. We are very pleased with the service. Matthias & Laura October 2020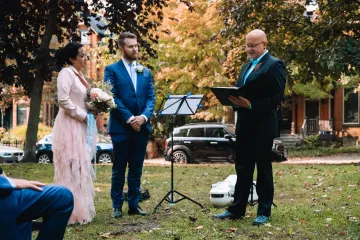 Lindsay and Doug
We would highly recommend Aestus Rogers as a wedding officiant. We recently got married on the winter solstice December 21, 2019. Aestus was so comforting and lovely every step of the way. The ceremony was our favourite part of the wedding and was a large part due to Aestus. Thank you Aestus for making our day so memorable! Lindsay and Doug December 2019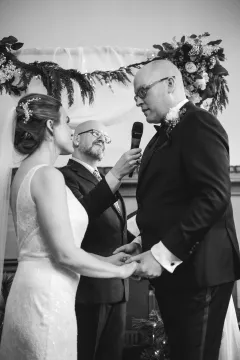 Timofei & Timea
Aestus Rogers was a wonderful officiant on our special day! The ceremony was filled with touching moments and he made sure to address all of our concerns and questions prior to the wedding day. Thank you once again! Timofei & Timea September 2019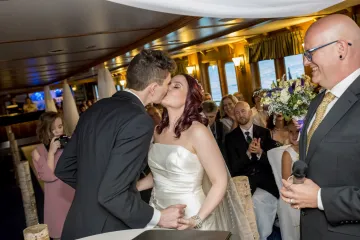 Eugene & Michelle
Aestus Rogers was amazing. He came in early and made sure to stay for the full ceremony. Even though we didn't plan most of the ceremony in advance, he accommodated it us perfectly and even gave great suggestions. Would 100% recommend him. Eugene & Michelle August 2019
Sebasteann & Christina
Aestus Rogers did a phenomenal job with the ceremony. We only required some minor adjustments to his pre-constructed ceremony and he was incredibly accommodating. The wedding was beautiful, simple, and precise. Our guests were very impressed and many had asked if we knew Aestus for a long time based on his warm presence. Highly recommend using Aestus for your wedding ceremony! Sebasteann & Christina August 2019
Kate & Shane
Aestus was so kind and funny and put us at ease. Without any rehearsal he performed our ceremony beautifully and kept us calm and smiling. Our friends and family commented on how great he was. Most importantly for us, he was open to doing whatever we wanted, which for us was to make things short and sweet. Thank you Aestus.
Erin & Mark
Aestus Rogers was warm, clever, lively and really understood our quirkymess, sensibilities and humor. We really could not have had a more perfect officiant for us. All Seasons was easy, prompt and very easy to work with.
Jocelyn & Tom
Aestus Rogers was wonderful, we are extremely happy with his service and would nit hesitate to recommend him. He is well spoken, methodic, has a great sense of humor and the appropriate amount of reverence was shown for the occasion. He balanced it with fun and managed the crowd to get the job done We loved him!
Gregory & Patrick
Aestus Rogers was great! Great, short, sweet, legal ceremony, which is what was requested. It was exactly what I was after. You made it so easy. On such short notice too!!!
Jocelyn and Tom
Hi Aestus, just saw your name in my emails and thought to send you a big thank you for our ceremony Saturday, you were perfect and did a perfect job of it and I can't think of anything better to say to you than that! Tom and I are at the cottage for two weeks and winding down after the craziness. If you ever need a referral, please be sure to send them to us as I will not hesitate to shout your praises from the highest tree! Yours very gratefully!!!!!
Shawn and Stephen
Thanks Aestus Rogers you met all our expectations and more.The simplicity and straightforwardness of the ceremony was, we believe, a big part of its power. Your calm demeanour, presence, and poise created a lightness and levity to what was nonetheless a solemn and weighty moment. We know that's kind of a contradiction but looking back on the ceremony we can identify in ourselves feelings both fuzzy and granite-like, formal and relaxed, noble and yet down-to-earthy. Yeah we're waxing a little poetic here, but doing so only to express our gratitude at how perfectly suited the ceremony was to who we are and what we wanted for it.
Rudy and Peter
OUTSTANDING!!! Rudy and I are so happy that you were able to perform the ceremony....it was (obviously) very moving, very spiritual, and very beautiful. Thank you, Aestus Rogers for the most memorable day in both of our lives. We will send along some pics soon. You are awesome!!!
Paul and Krissy
Aestus Rogers, thank you so much as well for helping us tie the knot, the atmosphere was exactly what we wanted, loving and fun! Everyone commented on how great the ceremony was, they thought the wording was so beautiful, and most people thought we knew you as a friend since it seemed so relaxed. take care, and we'll definitely be in touch!