Tess Porter
Tess has all the qualities one wants in a Wedding Officiant. She's a life coach, a engaging public speaker, dynamic, and a genuine person. After retirement from teaching at Algonquin College, she's redirected her passion and enthusiasm to providing couples with the personalized wedding ceremony of their choice. Located in Nepean (West Ottawa), she has given back to her community by volunteering for many philanthropic organizations such as Immigrant Women Services Ottawa. Her number one priority is to conduct a ceremony that is not only memorable, but one that truly honours the spirit of love shared between each couple.
Request Tess Porter
Areas served
Gloucester, Greely, Kanata, Almonte, Carleton Place, Carp, Kars, Kemptville, Manotick, Metcalfe, Munster, Nepean, North Gower, Ottawa, Ottawa West, Richmond, Stittsville
Reviews
Anonymous
My wife and I had the honour of having Tess Porter marry us and we are so beyond thankful and happy she did. Not only was she outstanding at making the entire ceremony so romantic, she brought laughter and tears, and our guests were so impressed with her professionalism, her clarity and her overall presence. Our day wouldn't of been the same without Tess, and we are so genuinely happy she made our day SO perfect. An amazing experience, an amazing person, anyone getting married would be lucky to have Tess officiate.
Sheldon & Katie
Tess Porter made the whole experience so smooth and worry-free. We did not have a rehearsal but we felt confident we knew what to expect from our meeting with Tess. Tess made everyone involved in the ceremony comfortable and relaxed. She told us exactly what to expect and was a huge hit with our guests. I would recommend Tess to anyone who asked! [August, 2018]
John & Krista
Tess Porter was wonderful. Exactly what we had hoped for.
Alexis & Erica
Tess Porter was an amazing wedding officiant. She exceeded all of our expectations. She blew the guests away with her beautiful words and everyone commented about how clear and easy it was to hear her speak! She made the day that much more special and we will be recommending her to future couples getting married.
Martin & Jillian
Tess Porter is absolutely wonderful and so positive. We were thrilled she could be our officiant. [July, 2018]
Alek & Sara
As we approached our wedding date, Tess (Porter) exuded confidence and extended her support and experience to better prepare us for what became the most memorable day of our lives. Tess is responsive and professional, and was able to capture our guests' full attention throughout the ceremony. I have since recommended Tess to another lucky couple whom I feel will be in great hands. Thank you, Tess and to the members of All Seasons Weddings. Alek & Sara, August 2018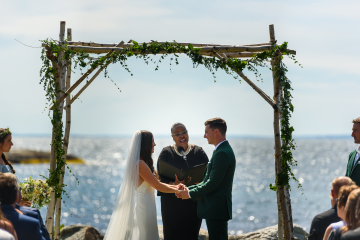 Larissa & Kirk
Tess Porter was wonderful! She was amazing she did an awesome job with our ceremony. Kept everyone involved awake and intrigued. We loves the ceremony she put together for us it got us both. Many of our family and friends have already requested her services as she is well spoken and organized. We would highly recommend her to others. We love you Tess and thank you so much for everything you have done for us leading up to and our special day. Love you lots Mr. and Mrs. Douglas xo Larissa & Kirk Sept 2nd, 2018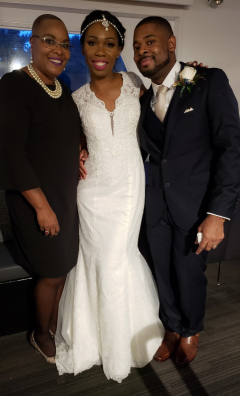 Brett & Kayla
Tess Porter was amazing. She made the ceremony beautiful with her words and her charisma. Thanks for everything! Brett & Kayla Aug 2018