Tess Porter
Request Tess Porter
Secteurs desservis
Gloucester, Greely, Kanata, Almonte, Carleton Place, Carp, Kars, Kemptville, Manotick, Metcalfe, Munster, Nepean, North Gower, Ottawa, Ottawa West, Richmond, Stittsville
Commentaires
Andrew & Victoria
Tess Porter did a wonderful job performing as our officiant. She took the time to meet with me beforehand, was prompt in her email replies, and is an excellent speaker. Her playful approach to the ceremony allowed us to laugh off any anxious feelings and to enjoy ourselves fully in the experience. Thank you Tess, we were so happy to share the day with you! Andrew & Victoria September 2020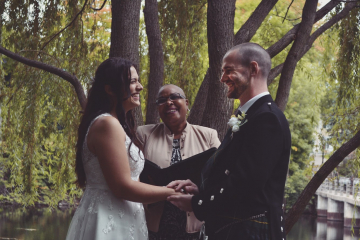 Mackenzie & Alyxia
Working with Tess Porter was nothing short of amazing, she captured perfectly what my wife and I wanted for our wedding. She worked with us and was in constant communication with us during the entire process. She applied our feedback to ensure our ceremony was OUR ceremony. We would 100% recommend Tess for anyone who wants such a positive energy to be the officiant to their special day. Thank you All Seasons for being so great to work with and making our special day truly a day we will never forget. August 2020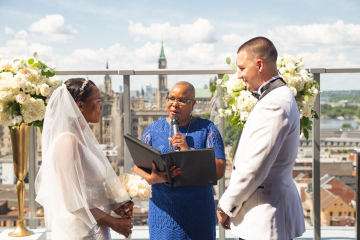 Kaitlyn and Alex
Tess Porter is an awesome officiant! Her experience with and knowledge of wedding ceremonies was very helpful, and we really appreciated her openness to our developing a ceremony that reflected our values and relationship. Our wedding venue and process was a bit unconventional and she rolled with it beautifully. Thank you Tess! Kaitlyn & Alex February 2020
Jill and Konstantine
Tess Porter is amazing! I knew from the moment we met, that she would be the perfect person to marry us. She has a friendly smile and super positive energy. During the planning, she answered my countless questions and provided us with lots of samples of ceremonies and allowed us to incorporate different elements/readings into ours. On the wedding day, she had a calming presence and reminded us to enjoy the ceremony & take everything in. Thank you Tess for being such a big part of our day! Jill & Konstantine February 2020
Andy & Katherine
Tess Porter was fantastic! She made our day special and everyone commented on how beautifully she spoke and what a lovely voice she has. Our wedding ceremony was fun, had our personal touches and we loved it. Andy & Katherine October 2019
Alain & Aubrey
Tess Porter was absolutely incredible from start to finish. She allowed us to make the ceremony our own but also helped guide us when needed. She had many great ideas when we had to make decisions about areas that were so new to us which helped put our minds at ease. We had never heard of a wine box ceremony prior to meeting with her and I am so glad we added that as part of our day. We wanted a ceremony and celebration that was light hearted, full of love and laughter which is exactly what she helped to ensure we had. All of our guests were very impressed with the ceremony also, we had nothing but great feedback. It was very evident that she has a true passion for what she does and I am so grateful that she was part of our special day! Alain & Aubrey September 2019
Chris & Melissa
Tess Porter far exceeded our expectations; both in our communication leading up to the wedding and while leading our ceremony. Overall, she was incredibly warm, friendly, organized and communicative. Her examples were beautifully written and we found we actually didn't find ourselves wanting to make many changes. Tess was an attentive listener, she understood and responded to our needs, and she made an effort to go out of her way and make us feel comfortable before and during our wedding. We are SO happy Tess stood with us. Chris & Melissa November 2019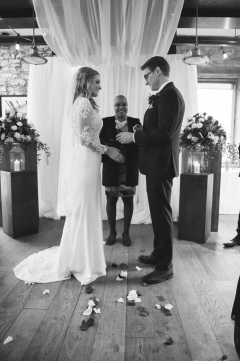 Benny & Sarah
Tess Porter was the perfect person to have present for our special day. I cannot have imagined anyone else officiating for us. Tess was extremely professional and so helpful in getting us ready. She was so thoughtful, loving and genuinely caring in her approach. She was amazing! Benny & Sarah October 2019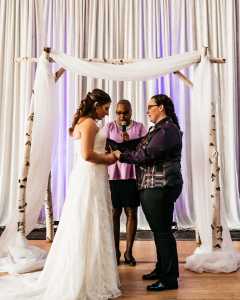 Craig & Kacie
Tess Porter was awesome , she is super friendly, outgoing and really easy to communicate with...not to mention extremely helpful! Thank you for everything Tess! Craig & Kacie October 2019
Shannon & Gustavo
My husband and I had the honour of having the very lovely Tess Porter marry us and we are so beyond thankful and fortunate she did. She was flawless at making the entire ceremony so intimate, personal, romantic, and all the right amounts of funny and serious. Our guests were very impressed with her presence and her charisma. Our day wouldn't of been as meaningful without Tess, and we are so happy that she is such an outstanding memory on the most important day of our lives. Tess was so organized and kept the both of us so calm and at ease the entire process. The best experience, the most amazing person, she made our wedding day so special. We would highly recommend Tess as an officiant to anyone getting married. Tess, we love you and we thank you from the bottom of our hearts for being such an important part of our special day. Shannon & Gustavo October 2019 xo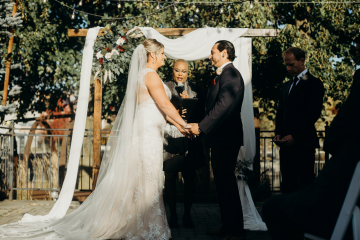 Andy & Katherine
Tess Porter did an absolutely amazing job at our wedding - she struck just the right tone, kept things fun and moving along, and *so* many people were commenting on her amazing speaking voice. She was also excellent at helping us plan what we wanted and making sure that we stuck to timelines. We were very happy with everything. Andy & Katherine October 2019
Andrew & Natalie
We are simply thrilled with the services of wedding officiant Tess Porter. Having planned a last minute, pop-up style wedding, Tess's professionalism, expertise and thoroughness has been so appreciated! Tess is the most warm and outgoing, kind and friendly person. It was a joy to work with her and have her officiate our wedding. Thank you Tess! Andrew & Natalie October 2019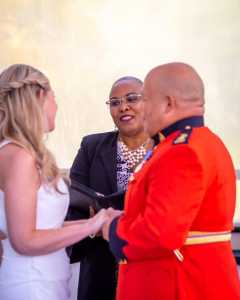 Mike & Allison
Tess Porter was an exceptional officiant. The number one trait that stands out with her is her professionalism. She was early to every meeting, was always dressed sharply and fully prepared with documentation and information. She coached us through the process of selecting/ creating a ceremony and the legal framework and deadlines around it. On the wedding day, she looked fantastic and were felt proud to have her stand at the altar with us and be in all of our ceremony photos. She preformed a beautiful and engaging ceremony. Our guests and family really liked her. I would one million percent recommend Tess. Mike & Allison August 2019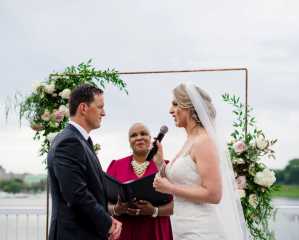 Jesse & Courtney
Where to begin! Tess Porter was the most amazing officiant we could have asked for. Her enthusiasm and energy were like nothing else! She was so supportive and with her vast knowledge and experience, guided us in our final ceremony decisions. She was such a delight to work with and would highly recommend her to everyone. Thank you Tess Porter! Jesse & Courtney September 2019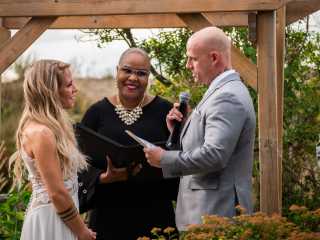 Justin & Katie
Tess Porter is truly an amazing individual and is perfect as a wedding officiant. Tess took the time to meet with us a few weeks before hand and walked us through everything. She painted a perfect picture of what to expect, provided some great ideas, and listened to the ideas we had. Tess is passionate about making people happy and about making your wedding day special. Everyone I spoke to told me that the ceremony was the best they had ever seen and I believe Tess is largely responsible for that! Tess put my wife and I at ease and walked us right through everything. She is a very confident yet passionate individual and these traits serve her well. Thank you for everything. *Photograph By Nicole Amanda Photography., Justin & Katie August 2019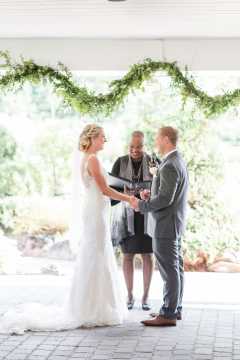 Agy & Nicole
Tess Porter was absolutely amazing officiating our wedding. I was so nervous right up until I met eyes with Tess walking towards my soon to be husband. She has a very calming presence and that's exactly what My husband and I needed. Thank you so much Tess! You are a beautiful soul inside and out. Agy & Nicole August 2019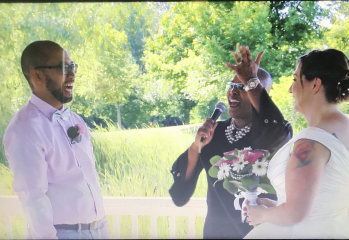 Chris & Melissa
Tess Porter was an incredible officiant for our beautiful wedding! She was very professional, punctual and diligent about everything ensuring our day went smoothly. She is a very kind and energetic person and it showed immensely with how beautiful and involving her ceremony was. We heard nothing but excellent praise from our guests about the ceremony. We would highly recommend her for anyone's wedding. Chris & Melissa July 2019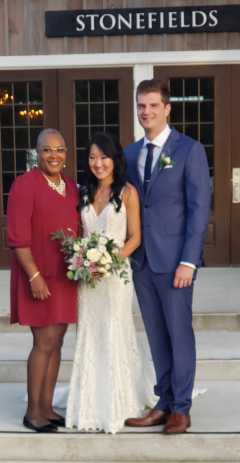 Harley & Keisha
Tess Porter was the perfect person, soul, and energy for our love. We couldn't have been more blessed to have her to celebrate this very important moment in our lives. From the first meeting to the weekend before, to the day of - Tess gave us more than enough support to plan the perfect day. Our guests had nothing but great things to say about her especially given the emotions of our special day (pop up surprise wedding). We are so lucky to have met her and shared this moment with her. Harley & Keisha March 2019
Anonymous
Tess Porter was an excellent officiant and we enjoyed working with her throughout the whole process - we received many compliments from wedding guests on her officiating! She was flexible and understandable with us, encouraged us to craft a ceremony that was not too standard and very tailored to who we are and to what we wanted our wedding to represent. She was also very easy to work with, even from overseas - we didn't arrive into Ottawa until 6 days before our wedding, but we never felt like the distance hindered us working with her in any way. We would wholeheartedly recommend Tess to anyone looking for a kind, flexible and caring officiant.
Brett & Kayla
Tess Porter was amazing. She made the ceremony beautiful with her words and her charisma. Thanks for everything! Brett & Kayla Aug 2018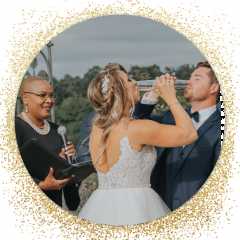 Larissa & Kirk
Tess Porter was wonderful! She was amazing she did an awesome job with our ceremony. Kept everyone involved awake and intrigued. We loves the ceremony she put together for us it got us both. Many of our family and friends have already requested her services as she is well spoken and organized. We would highly recommend her to others. We love you Tess and thank you so much for everything you have done for us leading up to and our special day. Love you lots Mr. and Mrs. Douglas xo Larissa & Kirk Sept 2nd, 2018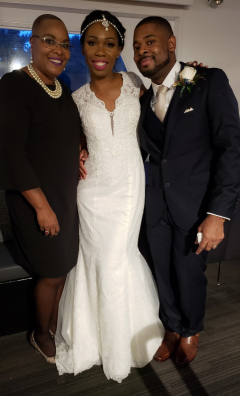 Alek & Sara
As we approached our wedding date, Tess (Porter) exuded confidence and extended her support and experience to better prepare us for what became the most memorable day of our lives. Tess is responsive and professional, and was able to capture our guests' full attention throughout the ceremony. I have since recommended Tess to another lucky couple whom I feel will be in great hands. Thank you, Tess and to the members of All Seasons Weddings. Alek & Sara, August 2018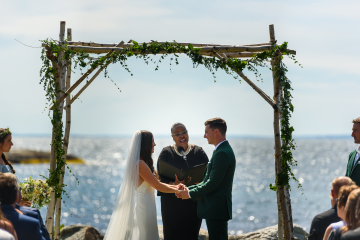 Martin & Jillian
Tess Porter is absolutely wonderful and so positive. We were thrilled she could be our officiant. [July, 2018]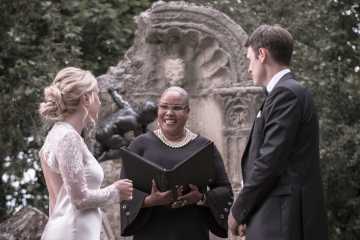 Alexis & Erica
Tess Porter was an amazing wedding officiant. She exceeded all of our expectations. She blew the guests away with her beautiful words and everyone commented about how clear and easy it was to hear her speak! She made the day that much more special and we will be recommending her to future couples getting married.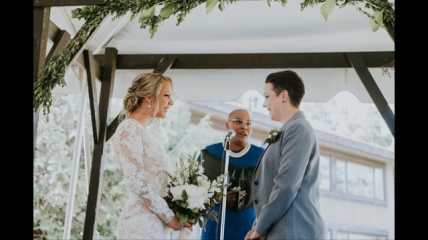 John & Krista
Tess Porter was wonderful. Exactly what we had hoped for.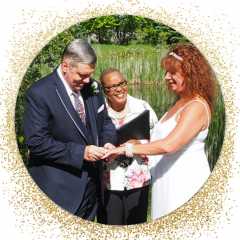 Sheldon & Katie
Tess Porter made the whole experience so smooth and worry-free. We did not have a rehearsal but we felt confident we knew what to expect from our meeting with Tess. Tess made everyone involved in the ceremony comfortable and relaxed. She told us exactly what to expect and was a huge hit with our guests. I would recommend Tess to anyone who asked! [August, 2018]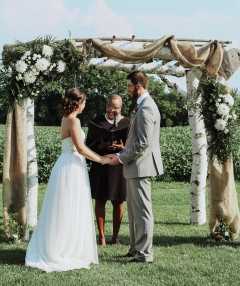 Anonymous
My wife and I had the honour of having Tess Porter marry us and we are so beyond thankful and happy she did. Not only was she outstanding at making the entire ceremony so romantic, she brought laughter and tears, and our guests were so impressed with her professionalism, her clarity and her overall presence. Our day wouldn't of been the same without Tess, and we are so genuinely happy she made our day SO perfect. An amazing experience, an amazing person, anyone getting married would be lucky to have Tess officiate.