Shell Madden
Shell lives in Camden East in the Napanee area. You will find her an open and inclusive person with a warm smile and easy comforting ways. She strongly believes that everyone should have the wedding ceremony of their dreams; be it a grand and formal affair or a fantasy come true, a service personal and dear to the heart or something casual and laid back. Shell enjoys performing any type of ceremony, and loves those that are designed to include children and other family members.
Request Shell Madden
Areas served
Adolphustown, Amherst Island, Amherstview, Bath, Battersea, Bellrock, Belleville, Camden East, Centerville, Croyden, Desseronto, Elginburg, Enterprise, Gananoque, Godfrey, Harrowsmith, Hay Bay, Inverary, Kaladar, Kingston, Landsdown, Marlbank, Marysville (Wolf Island), Moscow, Morven, Murvale, Napanee, Newberg, Odessa, Parham, Picton, Portland, Roblin, Selby, Seeley's Bay, Shannonville, Sharbot Lake, Stella (Amherst Island), Stone Mills Township, Strathcona, Sunbury, Switzerville, Sydenham, Tamworth, Trenton,Tweed, Verona, Violet, Westbrook, Wilton, Wolf Island, Yarker
Reviews
Tim and Gail
Gail and I were so pleased with the professional yet easy going way Shell Madden handled all our requests and details of the ceremony. She handled our quirks with ease and made the official part of our day beautiful. Thank you so very much Shell and I would recommend your services to anyone!! Tim and Gail Feb 11th, 2017
Alyshia & Gray
Shell Madden was absolutely amazing. She helped us every step of the way and went above and beyond! Shell went out of her way to ensure we were both happy. We had horrible luck all along the way and when we had to change venues she didn't even skip a beat. She took time to have a private conversation with both of us before the ceremony and made everything flow smoothly. There is no one I would have rather had on our special day!!! Shell was outstanding. She is so warm and caring.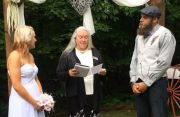 Sam & Thomas
Shell Madden was lovely and provided support and feedback through every step.
Melissa and Steve
Shell Madden was a perfect match for us. She is such a kind soul and she worked with us to make sure everything was exactly what we wanted. We had several meetings with her and she was very accommodating. I highly recommend her!
Michelle & Jesse
Shell Madden was amazing! Had no complaints about marrying us on a boat, went out of her way to meet us pre-wedding. Was great at correspondence which was extremely appreciated. Paid attention to detail so we were happy with everything. Knew the process like a pro, making it very easy on us. Loved her!
Jaimie-Lyn & Kevin
Shell Madden was wonderful and went above and beyond what is/was expected of her. She helped out in several different ways, tying up lose ends and making sure everything was operating smoothly. I will be raving on about Shell Madden to any and all friends looking for someone to officiate their wedding (especially if it is non-traditional).
Leanne & Erik
Shell Madden was absolutely amazing to work with, I would recommend her for anyone. It was quite clear in our initial meeting that Shell loves officiating weddings. During the meeting, she made sure that we knew everything that was going to happen, what we needed to do. She made suggestions for ceremony readings, but most importantly she listened, and took the time to get to know us. Right before the ceremony began she took a quick second just to ask me if I was okay, which is something I appreciated. Shell was definitely the perfect addition to our ceremony and I am thankful she was there to guide us through it. [September, 2018]
Rick & Nancy
Shell Madden was WONDERFUL!!!. She was so kind and funny and make the experience even more lovely then it would have been. Rick and I were very happy with the ceremony and the laughs and kind words Shell had for us. We would recommend her to everyone. thank you again Shell! Rick & Nancy June 2019
Alison & Brandon
Shell Madden was absolutely wonderful! Our family's and friend's loved her. Shell was more than helpful; she was there for us whenever we needed her. She shared her profitable advice with us ,she also helped us with our ceremony , vows and with our special 'one of a kind' moments that we will never forget. Shell is always smiling with a positive attitude, she is so kind and sweet . We are so grateful that we chose her to be our officiant, she was amazing in every way possible. Thank you for everything Shell ! Alison & Brandon July 2019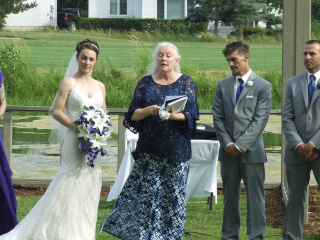 Stewart & Mandi
Shell Madden exceeded our expectations by adding personalized touches and ensuring our ceremony was exactly the way we wanted it. She actively involved our children in the ceremony and created a warm, inclusive environment. Thank you Shell for everything. Stewart & Mandi August 2019
Aaron & Samantha
Shell Madden was great and exceeded our expectations. We were looking for a simple, kind of quick ceremony and Shell completely fulfilled our request. She was personable and fit in with our families so well. We would recommend shell in a heart beat. Aaron & Samantha September 2019