Scott Warnock
Scott is a retired Radio Broadcaster and lives in Victoria Harbour on the shores of Georgian Bay. As the Mayor of the Township of Tay, he can lend his abilities to perform your traditional, non-denominational, spiritual, same sex or inter-faith wedding ceremony or renewal of vows. Over the years, Scott has been a minor Baseball Coach, Volunteer Driver for the Canadian Cancer Society and along with his wife, has raised thousands of dollars for the Alzheimer's Society of Simcoe County. We know you will find Scott an outgoing and compassionate individual who is willing to go the "extra mile' to make your wedding day "truly special".
Request Scott Warnock
Areas served
Midland, Penetanguishene, Victoria Harbour, Port McNicoll, Waubaushene, Port Severn, Honey Harbour, Orillia, Elmvale, Tiny, Wasaga Beach
Reviews
Judy & Steven
Scott Warnock was easy to work with and accommodating to our needs . He offered us the time that we neede to make our introduction and vows and offered his guidance when necessary. We asked him if he had a captain's outfit , as we originally were getting married on a Tall Ship. He didn't but sent an email to me a few days prior to the wedding to announce that he found a captain's hat and asked permission to wear it. We agreed!! He dressed in uniform and looked great!!!!! Booking Scott was a very simple and fast process. The reservations staff told me what to expect and timelines.We have recommended your services to others. Definitely suited our preferences. Thank you!!! We had a fabulous day with lots of beautiful memories!!!
Christine & Keith
Scott Warnock was so great! He really made up feel special. I would recommend him to anyone. He was fantastic!
Angela & Julian
Scott Warnock was amazing! So kind and patient. I would definitely recommend him to others!
Shannon & Matt
Scott Warnock was an excellent fit for our wedding! He related to us on a personal level and understood completely the path that we took to get to our day which made it that much more special! He was funny, professional, and personable. So glad he was part of our special day! Thank you Scott!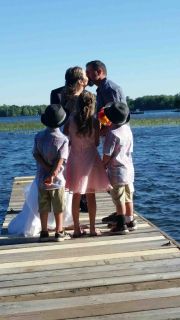 Chris and Debbie
We were married at the end of July and wanted to let everyone know how happy we were to have Scott (Warnock) as our wedding officiant. He helped us so much, helped us figure out what we wanted in our ceremony and made sure that the everything was wonderful. Thanks so much Scott! We are so lucky to have met you! Chris and Debbie July 30th, 2016
Elyse and Lisette
Scott (Warnock) married us this past Sunday and he did an amazing job! He was a pleasure to work with, easy to get to know and was available to us whenever we needed when preparing for the big day. He was professional, friendly and our guests loved our ceremony. I would highly recommend Scott to anyone looking for a professional, easy-going officiant with a contagious laugh! Thank you so much Scott! Elyse and Lisette
Robin & Jeff
We are so happy to have chosen Scott (Warnock) to be the officiant for our wedding on Six Mile Lake. Planning a wedding from across the country isn't always easy, but Scott was always helpful and quick to reply to our emails, so we knew we could count on him. We were able to customize our ceremony just how we wanted it, and we had great comments from our friends and family about Scott and the ceremony.
Debbie & Chris
Scott Warnock was very patient answering all our questions. We both had lots of concerns and questions. Scott helped us through them. Our theme was Red And White and FISHING! Scott accommodated us by wearing a RED FISHING hat with lures. It fit in perfect. He mingled with our guests and they thought he was awesome. Our guests were thrilled. Again Scott thank you.
Samantha & Bradley
Scott Warnock was outstanding in creating a gorgeous wedding ceremony for my husband and I. He took into account our requests, created a beautiful ceremony that was exactly what we asked for. He was very kind, friendly and so extraordinarily helpful in making our dream ceremony come true! We would absolutely with the highest regard recommend Scott to officiate any ceremony. He is a true gem and we cannot say enough kind words about him! :)
Julia & Ryan
Scott Warnock was the most amazing officiant and we are so happy to have had him as a part of our wedding. He was very professional and kind and helped us pick vows that were meaningful to us. He was there early to help us with anything that we needed and he made us feel comfortable. He exceeded our expectations. Scott was the perfect person to marry us! I would recommend Scott with flying colours to anyone that is looking for a down to earth, kind, and amazing officiant. He made the wedding seamless and we are very happy with our experience with Scott. Thank you Scott!
Christie & George
My wife & I were honoured that Scott Warnock was available to marry us! Right from the start he listened to us & worked with our schedule to meet & sit down and help us with any questions or concerns. Given his background in radio & DJ'ing, he had THE perfect voice for bonding us together. We HIGHLY recommend Scott Warnock! Rock on Scott! Christie & George September 1st, 2018