Scott Warnock
Completed Funeral training Sept 25/22.
Request Scott Warnock
Secteurs desservis
Midland, Penetanguishene, Victoria Harbour, Port McNicoll, Waubaushene, Port Severn, Honey Harbour, Orillia, Elmvale, Tiny, Wasaga Beach
Commentaires
Kyle & Amanda
Scott Warnock exceeded all expectations and helped make our ceremony go smooth! Scott is very easy to work with and knows exactly what he is doing. There is nothing to worry about when you have Scott as your officiant! October 2022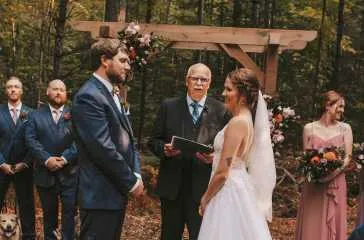 Ben & Allie
Scott Warnock was a spectacular officiant for our small and intimate wedding, which we held on an island in Georgian Bay. We had the opportunity to meet Scott on a couple of separate occasions prior to the wedding over Microsoft teams, where he was able to share his experience and wisdom with planning and executing a wedding ceremony. With his guidance, we were able to create a very personalized ceremony that was more meaningful to us and our family. Scott was timely, organized, and spoke very well. He also had a great sense of humour and helped us feel at ease before and during the ceremony! Overall, the ceremony was a huge success thanks to Scott! Sept 2022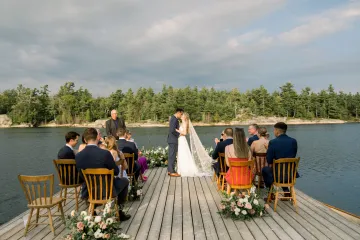 Kevin & Kristina
Scott Warnock was such a pleasure to work with. He assisted us in creating a personalized wedding ceremony, one our guests say they will not forget! We thank him for guiding us through our wedding planning process. 5 Stars all around! September 2022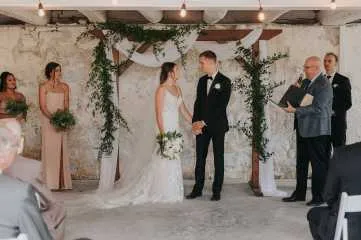 Jordan & Matthew
Scott Warnock was perfect for our perfect day! He's a calming, take charge person who ensures everything works as planned. He was simply great! September 2022
Paul & Vanessa
When selecting an officiant, we only had one request, "someone with a sense of humour." Our wedding guests & party included a rowdy bunch and we needed an officiant that would reciprocate and boy did Scott deliver! Scott was hands down the best choice for our wedding. While keeping the mood high with jokes and laughs, he also was very friendly, professional and ensured everyone was comfortable during the entire ceremony. Scott read through our vows and ceremony notes without a hiccup. All of our guests commented on how well they could hear him speaking, and how clearly his words were articulated. We would Scott recommend to everyone! Thank you again! August 2022
Charles & Jennifer
Scott Warnock was the perfect fit for Chuck and I at our cottage wedding. He was extremely friendly and personable and contacted us very shortly after requesting him. Scott was flexible in meeting with us and was willing to be picked up by boat to marry us on our island location. During the wedding Scott was excellent at encouraging us and helping us to get through the nerves of the ceremony. He has a warm smile and made us both feel very comfortable. We enjoyed his chatty personality and were very happy with our choice of having Scott as our officiant. Thank-you Scott! July 2022
Andrea & Brandon
Scott Warnock was amazing. He went above and beyond to ensure everything was exactly how we wanted it to be. July 2022
Andrew & Chelsea
Scott Warnock was exactly what Andrew and were looking for. He is personable and funny. He responds to emails in a timely manner and is very knowledgeable. We appreciate everything that you've done for us. June 2022
Kristine & Ryan
Scott Warnock was amazing! Very easy to work with and very open to how you want your ceremony to be. Scott will help you through the process and follow up with you after your wedding to make sure you understand the licensing process. I would definitely recommend him! 5 stars all the way! :) June 2022
Colin & Kristina
Scott Warnock did a great job during our ceremony! He put us at ease and made everyone feel comfortable...and made it fun! We'd highly recommend Scott for officiant services. January 2022
David & Brittany
We couldn't have had a better officiant! I am now encouraged to be a better wedding officiant myself. Scott arrived early for the ceremony and put us at ease. He added his own style and flair. He reads and speaks eloquently. His sense of inclusivity and charity are what drew us to him. His passion for meeting people, and officiating weddings are very evident. He went the extra mile to help make our special event run smoothly. He is very professional and organized. He is kind, humble, and calm. He has a great sense of humour. We were happy with the whole ceremony! October 2021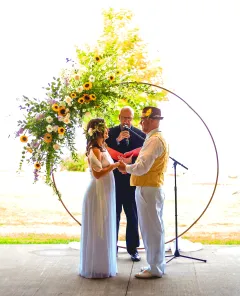 Scott & Kaycee
Scott Warnock was a great choice for a wedding officiant. Scott was wonderfully supportive throughout the entire process and was very helpful in guiding us throughout the journey. His warm and comforting demeanor was a perfect fit for our intimate wedding. He was responsive and flexible, which helped take away a lot of potential wedding stress. Highly recommend! August 2021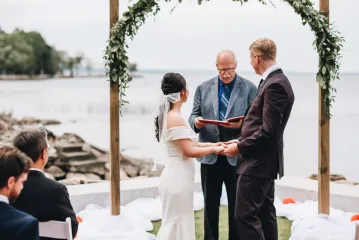 Ziad & Lisa
Scott Warnock was warm, welcoming and full of laughter. Thank you for accommodating both of our languages so everyone could understand. October 2021
Mike and Laura Aug 2021
Scott was wonderful! He was clear when he spoke and very friendly. We know him personally and he added an awesome little personal introduction that left everyone smiling. 10/10 would recommend!
Nichole & Brandon
Beyond our expectations. Scott Warnock was very laid back and was supportive when we it became a rainy day. He was very warm and friendly and a great sport performing our ceremony in the rain. Nichole & Brandon July 2021
Shawn & Christi
It was definitely a pleasure having Scott [Warnock] on our special day!! He was on time, very professional and very organized. Definitely has a great sense of humour and made things very easy! Scott answered all the questions we had for him. He is definitely the best you could ask for! Thanks again Scott! Shawn & Christi, August 2021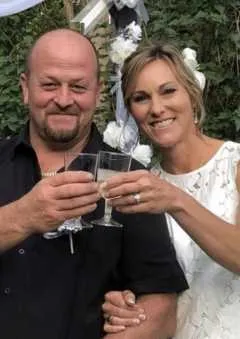 Robin & Rob
Scott Warnock was very professional, friendly, flexible and great to work worth. He communicates clearly and is well organized. He reached out and kept us on schedule and well briefed. We added a Land Acknowledgement for First Nations and has a deep understanding of this and many other Community and Social issues. He lead our ceremony and kept it light and personal. We would highly recommend Scott. Robin & Rob July 2021
Mitchell & Katalin
It was an absolute pleasure to have Scott Warnock marry my husband and I. He was more than accommodating before and after the ceremony as our dysfunctional family tried to get ourselves ready. Scott's beautiful words touched all who attended the ceremony and will be forever in our memories. Thank you Scott! Mitchell & Katalin July 2021
Cory & Emilie
Scott Warnock was absolutely great. Talking with him before the wedding made me very comfortable. Even when we had a surprise during our ceremony Scott didn't miss a beat and just rolled with it. Our wedding day was full of rain and he kept on smiling the whole time. Scott is from my home town, he knows my family and this made our very small wedding feel very personal and beautiful. Thank you Scott for making our special day extra special. Cory & Emilie June 2021
Chris & Alicia
As our wedding date approached, Scott was very helpful in sending us updates and emails about the ceremony. Which eased our minds considering we were getting married during COVID. He presented a lovely ceremony, which even included some well-timed laughs. We would highly recommend Scott and All Seasons Weddings to anyone looking for an officiant!! Chris & Alicia Oct 2020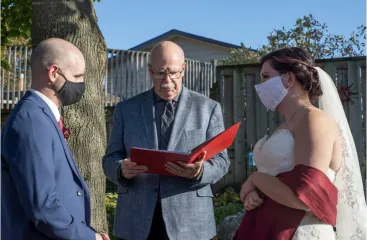 Scott & Rainbow
Scott Warnock was amazing. The time Mr.Warnock spent communicating with us weeks before our special day really put us at ease. His professionalism and his genuine warmth are to be commended. Thank you. Scott & Rainbow August 2020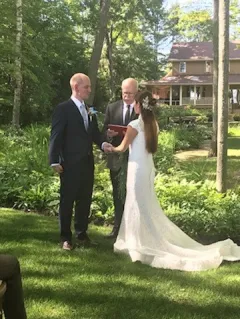 Meghan & Brad
We hijacked our engagement party and turned it into a surprise wedding! Scott (Warnock) showed up played the role of a cousin. He loved the idea of the surprise and made the day so much easier by playing along. He spoke very well and was excellent as the officiant. Would highly recommend him. He was very accommodating with our vows. We also had a medical emergency (turned out to be an allergic reaction), which he stuck around for and did not complain once, but offered to help in any way he could. Scott was excellent. Meghan & Brad, August 2020
Danielle & Luc
Exceeded expectations! Scott (Warnock) was an absolute pleasure to deal with and added to our special day with his glowing smile and excellent people skills. Danielle & Luc, August 2020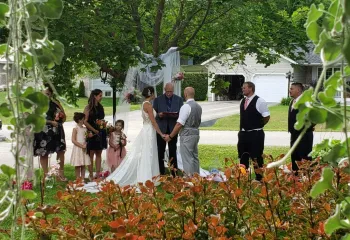 Joshua & Kimberly
Scott Warnock was even better than you could have imagined! He stayed in contact with us the whole time, if the province changed the limit on people he would let us know. Very patient and even when we had to change our location was amazing. Joshua & Kimberly July 2020
Paul & Carol Anne
As older, second marriage customers, Scott Warnock understood we wanted a simple but tasteful ceremony. He really contributed to our perfect day by communicating well leading up to the event, by allowing us to re-write a sample ceremony to better suit our circumstances, and also through his very warm, relaxed demeanor on our wedding day. Thank you Steve, it was a real pleasure. Paul & Carol Anne March 2020
Emily and Alex
Scott Warnock was the perfect officiant for our wedding. He was well prepared, walked us through the administrative details of the process clearly and calmly, and performed the exact type of ceremony we were looking for. He's warm and genuine, and feels like part of the family during the ceremony. Not to mention, he really saved our day when the weather tried to ruin it!! We would highly recommend Scott for any wedding! Emily & Alex January 2020
Benjamin and Michelle
Scott was amazing! He was quick to answer our questions and allowed us to customize our ceremony which made the entire experience feel personal. He was patient and enjoyed mingling with our families. He even asked what the boys were wearing so he could coordinate! Thanks for everything Scott, you were wonderful to work with! Michelle & Ben September 2019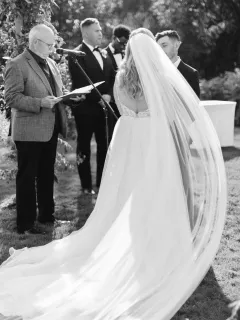 Rita & Martin
Scott was absolutely fantastic. My bridal party and I played a prank on my husband and Scott was so helpful with it. He is a great person and was very welcoming and friendly. We would recommend him to anyone. Thank you so much, Scott, for everything!! Rita & Martin Oct 2019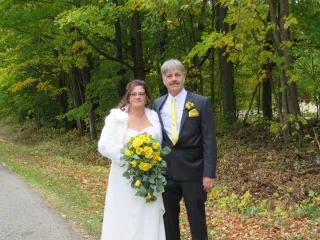 Mike & Tami
We hired Scott Warnock as our officiant and were over the moon happy that we did. He was amazing from the very first meeting we had with him. He was so friendly and helpful and made my husband and I very comfortable and happy as the two of us had never been married before so this was all new to us. Scott went above and beyond to make our special day just that, special. I thought I was organized and had thought of everything but thank goodness for Scott who reminded me of little yet important details I hadn't thought about. We would highly recommend Scott to anyone who asks...he was amazing. In fact, friends of ours specifically asked us who he was and where we found him as they are getting engaged and will be requesting Scott for their vows as well. Well done, All Seasons and Scott. We will forever be indebted. Mike and Tami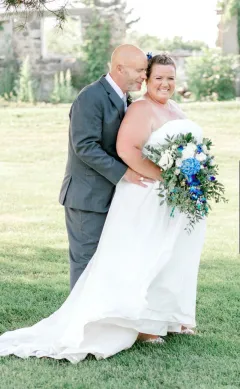 Jorden & Ryan
I can't begin to express how amazing Scott Warnock did officiating our wedding. He was professional but funny, diligent, reliable and so well spoken! Scott took the time for us which gave us such a peace of mind for a day that's already hectic. Thank you for making our wedding experience so memorable Scott. Jorden & Ryan September 2019
Jarron & Adara
Scott Warnock was absolutely fabulous! He went above and beyond and was so easy to talk with! We are so happy we got Scott to officiate our wedding! He made the ceremony intimate but also light and we were able to laugh through parts of it which was exactly what we wanted! He was so professional and couldn't have asked for a better day!! Jarron & Adara August 2019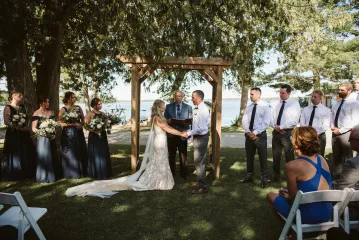 Robert & Tracy
Scott Warnock made us feel like we had known him for along time. He made us feel very comfortable. Scott did a wonderful job and made our day very special. Thank you for everything , it was perfect! Robert & Tracy August 2019
Briar & Gabriel
Scott Warnock officiated our wedding and did an absolutely wonderful job! It was a real pleasure meeting with him, planning our ceremony, and we were so happy to have him up there with us on our big day. We asked him to include our daughter in our ceremony and he did and it was perfect. He gave us the exact ceremony we wanted and had great ideas for how to accomplish that before we even knew exactly what we were looking for. He is extremely down to earth and was the perfect calming presence to have up there with us. . Thank you Scott for making us feel so special and contributing greatly to what turned out to be a fantastic day! Briar & Gabriel September 2019
Jarron & Adara
Scott (Warnock) was absolutely fabulous! He was so laid back and professional and made us both feel at ease throughout the whole ceremony! He was so easy to talk to and prompt in his responses! He did an amazing job and we cant thank him enough for being a part of our special day!! 10/10 Jarron & Adara, August 2019
Andrew & Pam
2 days before our wedding we found out we couldn't get a marriage license. We met with our Officiant, Scott Warnock and he assured us we were fine (and he was right). We also mentioned that our initial wedding was supposed to be in Vegas and we were to get married by Elvis but everything fell apart so we were having it at my parents beautiful home with a Hawaiian theme instead (which couldn't have been more perfect). Without us knowing everyone teamed up to pull this off, Hawaiian Elvis! They found a small costume last minute, cut a wig to look like Elvis and then stuffed Scott into it. Not only was my husband waiting for me at the end of the isle, but so was this amazing surprise! ?❤ Scott you were such a trooper and you saved our day. Thank you thank you thank you! #notyouraveragetinywedding Andrew & Pam July 2019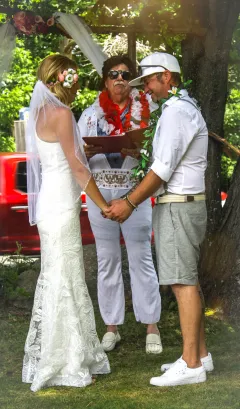 Taylor & Nick
Scott Warnock was our officiant in June,2019. From the first meeting with Scott we knew we wanted him at our wedding. We was humble, kind, fun to talk to & knowledgeable. During our wedding he engaged the audience & spoke very clearly. We weren't as nervous with him guiding us through. Thank you Scott for being there for us on our special day. We were so grateful to have you. Taylor & Nick June 2019
Anthony & Marla
From the moment Scott Warnock came to our home to go over details and to give advice we knew we picked the right Officiant. From answering our emails right away, to making changes to our vows and of course on the day of our wedding (June 22, 2019) he was very professional, warm and kind. He also guided us through all the next steps including to remind us to get our licence application done. We almost forgot! I highly recommend Scott Warnock as your officiant. You will be glad you did. Thank you for everything. Anthony & Marla June 2019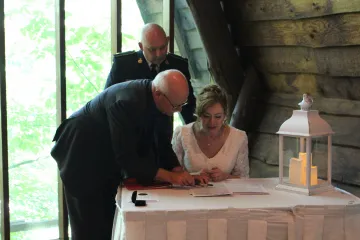 JP & Dawn
Scott Warnock was amazing! He provided such great attention and dedication to help our day become the best day of our lives. He kept in touch, provided all the information we needed to ensure the day went smoothly and was punctual. Not only was he great as an Officiant, but honestly Scott was so kind, thoughtful, funny and caring to our needs. You can easily tell that everything he said & did was truly heartfelt. Scott is a blessing, and if you need someone who can joke, laugh, be honest & sincere -but serious when needed - he is the one for you. We will never forget him. JP & Dawn June 2019
Wendy & Matt
We chose Scott Warnock to officiate our wedding purely from gut feeling - and that gut feeling was spot on. Scott was professional and well spoken; he answered my emails quickly and helped us tweak our ceremony as we wished. He was super accommodating, ready to have our ceremony outside despite the possibility of rain! In the midst of a big, stressful weekend, he was the organized, calm & collected. He was professional, accommodating, very personable, and an all-around cool guy! Thank you so much, Scott! Wendy & Matt April 2019
Dylan & Paige
My wife & I were extremely satisfied with Scott Warnock. Perfect loud clear articulate voice! We picked Scott because of his background in radio/DJ'ing & all around just so easy to work with & straight to the point. We very highly recommend Scott! Dylan & Paige July 2018
Tammy and Victor
Testimonial We got married Labour Day weekend, on a very hot and humid day. The chance of rain was 70%! And we had secretly planned our wedding for an annual family get-together, in order to surprise our family. Needless to say, there was a bit of stress involved. Scott Warnock was very calm and reassuring, showed up early, told jokes and stories, kept saying, "I've never lost a bride" and VOILA! Everything went so well. Thanks to Scott's help, both in the planning stage and on that day, the ceremony went exactly as planned. It didn't even rain! We had a wonderful day! Thanks, Scott, for your openness, flexibility, humour and kindness. Tammy and Victor Sept 2018
Casey and Alexandra
Scott was nothing short of professional from the beginning when picking our wedding officiant. We were able to talk with him on the phone as well as having a face to face meeting to discuss our wishes for the ceremony. I have grown up in the church and wanted to add certain readings, references, along with adding holy water to bless our rings which Scott was fully accepting of and willing to do for us. He was in constant contact with us leading up to the wedding day and we are both extremely grateful for his services. Thank you Scott!
Christie & George
My wife & I were honoured that Scott Warnock was available to marry us! Right from the start he listened to us & worked with our schedule to meet & sit down and help us with any questions or concerns. Given his background in radio & DJ'ing, he had THE perfect voice for bonding us together. We HIGHLY recommend Scott Warnock! Rock on Scott! Christie & George September 1st, 2018
Debbie & Chris
Scott Warnock was very patient answering all our questions. We both had lots of concerns and questions. Scott helped us through them. Our theme was Red And White and FISHING! Scott accommodated us by wearing a RED FISHING hat with lures. It fit in perfect. He mingled with our guests and they thought he was awesome. Our guests were thrilled. Again Scott thank you.
Samantha & Bradley
Scott Warnock was outstanding in creating a gorgeous wedding ceremony for my husband and I. He took into account our requests, created a beautiful ceremony that was exactly what we asked for. He was very kind, friendly and so extraordinarily helpful in making our dream ceremony come true! We would absolutely with the highest regard recommend Scott to officiate any ceremony. He is a true gem and we cannot say enough kind words about him! :)
Julia & Ryan
Scott Warnock was the most amazing officiant and we are so happy to have had him as a part of our wedding. He was very professional and kind and helped us pick vows that were meaningful to us. He was there early to help us with anything that we needed and he made us feel comfortable. He exceeded our expectations. Scott was the perfect person to marry us! I would recommend Scott with flying colours to anyone that is looking for a down to earth, kind, and amazing officiant. He made the wedding seamless and we are very happy with our experience with Scott. Thank you Scott!
Robin & Jeff
We are so happy to have chosen Scott (Warnock) to be the officiant for our wedding on Six Mile Lake. Planning a wedding from across the country isn't always easy, but Scott was always helpful and quick to reply to our emails, so we knew we could count on him. We were able to customize our ceremony just how we wanted it, and we had great comments from our friends and family about Scott and the ceremony.
Chris and Debbie
We were married at the end of July and wanted to let everyone know how happy we were to have Scott (Warnock) as our wedding officiant. He helped us so much, helped us figure out what we wanted in our ceremony and made sure that the everything was wonderful. Thanks so much Scott! We are so lucky to have met you! Chris and Debbie July 30th, 2016
Elyse and Lisette
Scott (Warnock) married us this past Sunday and he did an amazing job! He was a pleasure to work with, easy to get to know and was available to us whenever we needed when preparing for the big day. He was professional, friendly and our guests loved our ceremony. I would highly recommend Scott to anyone looking for a professional, easy-going officiant with a contagious laugh! Thank you so much Scott! Elyse and Lisette
Judy & Steven
Scott Warnock was easy to work with and accommodating to our needs . He offered us the time that we neede to make our introduction and vows and offered his guidance when necessary. We asked him if he had a captain's outfit , as we originally were getting married on a Tall Ship. He didn't but sent an email to me a few days prior to the wedding to announce that he found a captain's hat and asked permission to wear it. We agreed!! He dressed in uniform and looked great!!!!! Booking Scott was a very simple and fast process. The reservations staff told me what to expect and timelines.We have recommended your services to others. Definitely suited our preferences. Thank you!!! We had a fabulous day with lots of beautiful memories!!!
Christine & Keith
Scott Warnock was so great! He really made up feel special. I would recommend him to anyone. He was fantastic!
Angela & Julian
Scott Warnock was amazing! So kind and patient. I would definitely recommend him to others!
Shannon & Matt
Scott Warnock was an excellent fit for our wedding! He related to us on a personal level and understood completely the path that we took to get to our day which made it that much more special! He was funny, professional, and personable. So glad he was part of our special day! Thank you Scott!