Mary Collinson
Mary resides in London and we know you'll find her a genuine, caring, enthusiastic person. She would love the opportunity to participate in your wonderful and unique wedding ceremony. A retired high school Teacher, Counsellor and Coach (35yrs), Mary has Bachelor degrees from Lakehead (PhysEd) and Western (Education). A gifted athlete herself, she's had the privilege of teaching and coaching an impressive number of Canadian youth in Basketball, nurturing them into champions and medal winners. She always enjoys celebrating peoples' successes, especially her two children, and views life as a "great adventure."
Request Mary Collinson
Areas served
London, Port Stanley, St. Thomas, Strathroy, Tilsonburg
Reviews
Annie & Greg
Mary Collinson did a great job!
Rick & Balqeis
Mary Collinson was amazing! From the time we first contacted her she was so helpful and accommodating and made the whole process go smoothly. Many of the guests came up to us after the ceremony and for several days after the wedding and said what a lovely job she did! Thanks Mary for doing an amazing job! Rick & Balqeis Sept 2018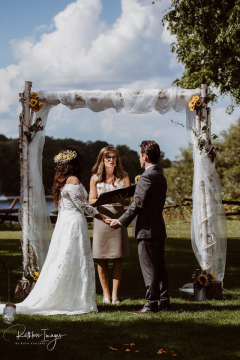 Jessica & Crystal
Mary Collinson far exceeded our expectations! She was warm, kind, friendly and professional! She knew exactly what we needed/wanted and answered all of our questions before we even asked. Just after one phone call I felt like I had known her for years and after meeting her she felt like family. We were very nervous and had no idea what to do or expect and Mary quickly put all our concerns to ease. I am so grateful that she was our Officiant and would highly recommend her to anyone! Jessica & Crystal June 2019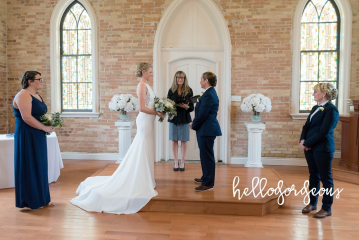 Jacob & Rebecca
Mary Collinson was absolutely amazing! From the very first call we knew that we made the right decision with our officiant. Her professionalism and knowledge eased our minds. To be honest, we really had no idea what we were doing and Mary helped us with planning out the ceremony and how it would flow. During the rehearsal she was well prepared and had knew exactly what we wanted. Parents and wedding party were included in the rehearsal and she was able to go over every detail for each individual thoroughly. This was a tremendous help and it made the ceremony run smoothly. We could not have had a better ceremony and are so thankful that Mary was apart of it! Jacob & Rebecca August 2019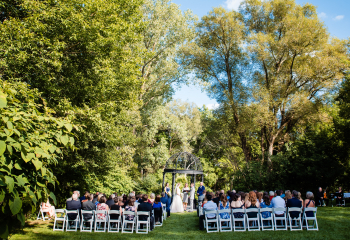 Ryan & Sara
Mary Collinson was the utmost professional, always punctual, willing to accommodate by working with us when schedules needed to change and patient while explaining the process for our big day. Mary brought calm into a day that, at least for the couple; inherently comes with some stress and a little chaos. Mary's previous carrier as a teacher and experience as an athletics coach shows through and makes her well suited for directing such an important event. Mary's attention to detail was impeccable, she even considering wedding colour scheme so as not to wear an outfit which may standout or clash with the wedding party. It was obvious that Mary does not simply want to marry the couple but rather help provide them with the best memories possible. Ryan & Sara September 2019