Mary Collinson
Mary resides in Sarnia and we know you'll find her a genuine, caring, enthusiastic person. She would love the opportunity to participate in your wonderful and unique wedding ceremony. A retired high school Teacher, Counsellor and Coach (35yrs), Mary has Bachelor degrees from Lakehead (PhysEd) and Western (Education). A gifted athlete herself, she's had the privilege of teaching and coaching an impressive number of Canadian youth in Basketball, nurturing them into champions and medal winners. She always enjoys celebrating peoples' successes, especially her two children, and views life as a "great adventure."
Request Mary Collinson
Areas Served
Sarnia, Wallaceburg, Petrolia, Wyoming, Port Franks, Marysville, Camlachie,
Reviews
Hillary & Darren
Mary Collinson was such a wonderful addition to our wedding! Darren and I were clueless to the ceremony process, but Mary confidently walked us through the process a month before hand over a video call and attended and led our rehearsal. Her professionalism shone through during all of our interactions with her and you can tell she takes great pride in doing what she does and doing it well. Her personality is so bright and calming at the same time, that we were grateful to have her part of our day! She also knew the exact moments when she needed to be seen and heard and which moments were meant to highlight us as a couple and took a step back for photography purposes. Mary, you were a JOY to work with and it was an absolute pleasure to have you, a family friend, perform our ceremony. Thank you for everything you do! We can't recommend Mary enough! September 2023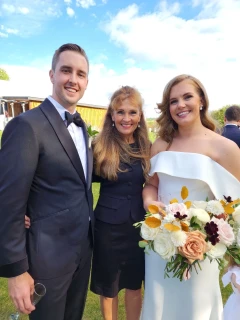 Stacey & Leslie
Mary Collinson made our day flow so beautifully! We had a rather large wedding party, 20 in total including big and little kids. We could not have made it through our day without her. Thank you so much Mary, from the bottom of our hearts. ❤️ August 2023
Trish & Kevin
Words cannot adequately express the gratitude we feel for Mary Collinson, our incredible wedding officiant. Mary's warm and inviting personality immediately made us feel comfortable and at ease during the planning process. She took the time to genuinely get to know us as a couple, listening attentively to our love story, and understanding our vision for the ceremony. It was evident that she was genuinely invested in creating a personalized and heartfelt experience for us and our loved ones. Mary guided us every step of the way, offering valuable suggestions while respecting our unique preferences. On our wedding day, Mary was an oasis of tranquility amidst the whirlwind of emotions. Her words were eloquent and her delivery heartfelt, resonating deeply with our guests, who were moved to tears and laughter throughout the ceremony. We wholeheartedly recommend Mary as a wedding officiant to anyone seeking a truly enchanting ceremony that captures the essence of their love story. We will forever cherish the memories created under her guidance, and we can confidently say that our wedding ceremony was a dream come true, all thanks to the incredible Mary. February 2023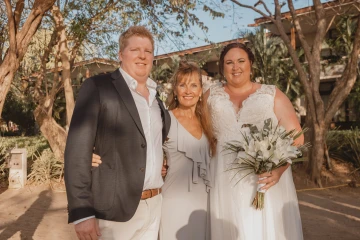 Jordan & Michelle
Booking an Officiant through All Seasons was very easy. It was very special to have Mary Collinson officiate for us! I have known her for many years, and it made our day that much more special that she got to be apart of our big day! June 2023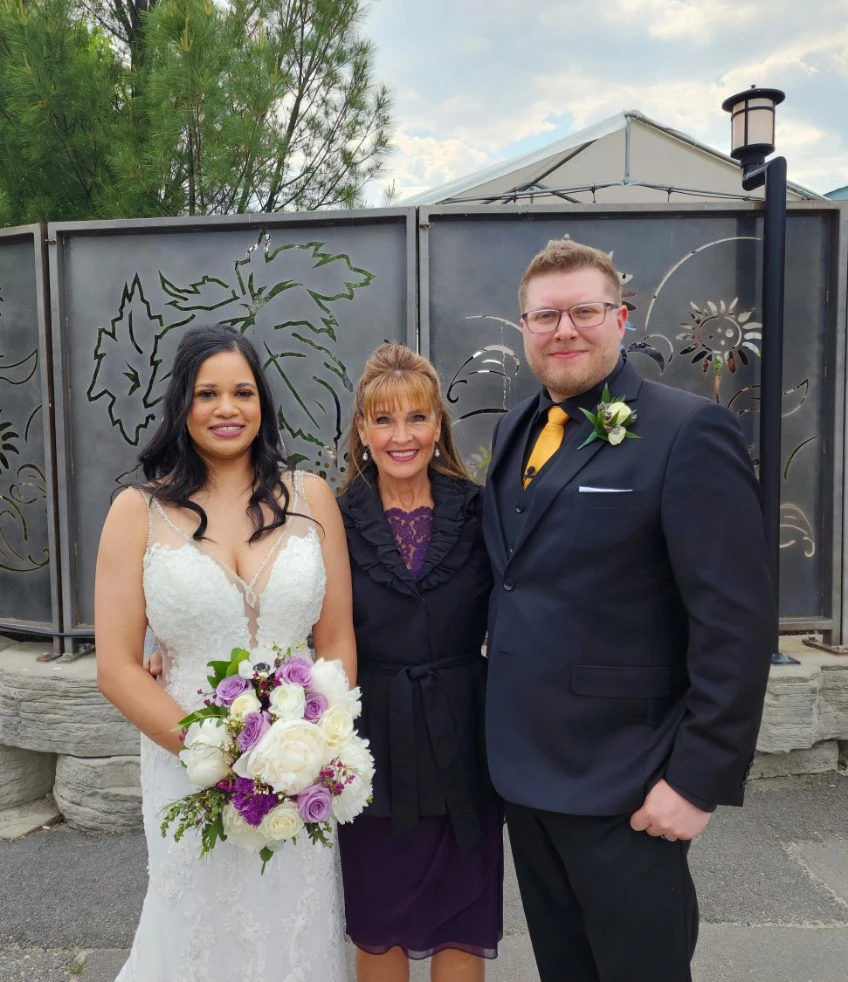 Alex & Jeda
Mary is wonderful, she spend more time to make sure we understand and make the process much smoother in our big days, she is patient and very supportive. We so lucky to have her as our officiant, it's a signal for my our life ahead. She also very quickly mail the application so we can apply marriages certificate. Whoever have her as officiant, you have gift from God. May 2023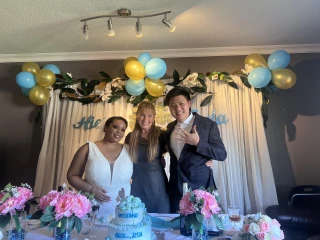 Shawn & Serena
Mary Collinson was wonderful to work with. She was enthusiastic, warm, and welcoming. She was very accommodating with my our hectic schedule. She was very friendly, and answered all our questions. We cannot express the happiness she brought to us. She helped create a ceremony that we will always remember. Thank you for officiating our wedding! October 2022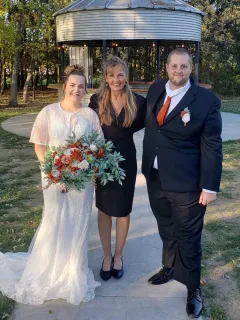 Niesha & Phillip
We absolutely loved Mary Collinson! She is such a jovial person. She made us feel comfortable by walking us through the event and her jokes was just a tip of the iceberg! At the end of the ceremony our guests asked us if we knew Mary before the ceremony, as she just fit right in and made everyone felt so welcomed! She's just a good human being overall :) Oct 2022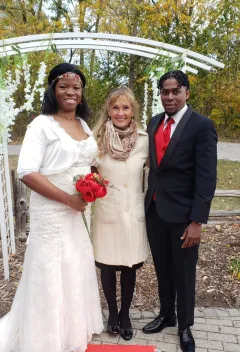 Samantha & Dean
Mary was amazing and we could not be happier with our decision for an officiant. She was warm, positive and very enthusiastic. We had plenty of questions and she was able to answer all of them and ensured we felt comfortable and ready for our big day! Mary was also very personable, and we loved that about her, as it made it feel like we had known her much longer. We will definitely be recommending Mary as an officiant to all of our current and future engaged friends and family!" -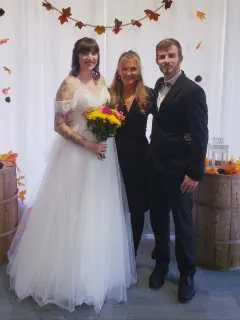 Alyssa & Rob
From our first conversation with Mary Collinson over the phone during our initial phone call, we felt immediately comfortable with her and knew we were in good hands. Mary exceeded our expectations as our officiant and executed our ceremony beautifully. We would 100% recommend Mary as an officiant to any couple looking for someone fun, professional and who takes so much pride in their work. Oct 2022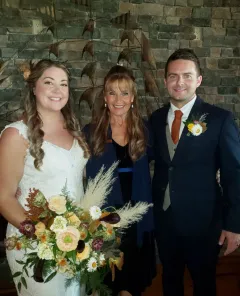 Heather & Jordan
Mary Collinson was a fantastic officiant for our wedding. She was able to accommodate us when we postponed. She was very detailed with the rehearsal and made sure everyone was well prepared for the day of our wedding. She was excellent with communication and made sure we had all the information we needed. She also helped any of our non traditional wedding requests possible. We would definitely recommend Mary to anyone in the future! August 2022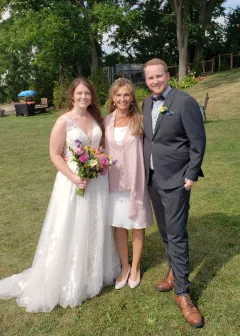 Jennifer & Chad
Mary Collinson was very professional the day of the wedding. She was loud so that all our guests could hear her and they really appreciated that. She left us with all the details and next steps for paper work in a lovely folder and it was very helpful. Thanks again Mary! July 2022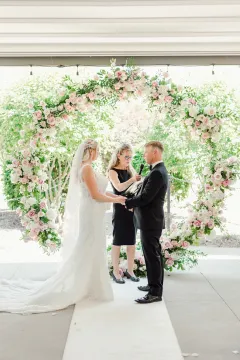 Matthew & Christine
Mary Collinson was wonderful! She made us laugh and put us all at ease. She was dressed to match the grooms suit which was lovely for photos of the ceremony. She was professional, punctual and thorough. Highly recommend Mary! August 2022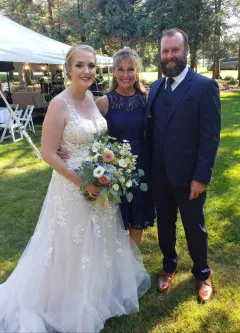 Victoria & Matthew
Mary Collinson is amazing! She was very professional and helped make the ceremony run smoothly? July 2022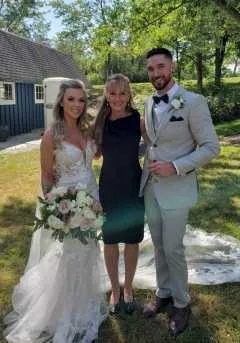 Derica & Hasha
Mary Collinson was very accommodating and understood the exact idea we had in mind for our special day. She has the most comfortable, warm, welcoming and positive energy we could've asked for, for our day. All Seasons Weddings was also was very responsive to our needs and changes leading up to the date. July 2022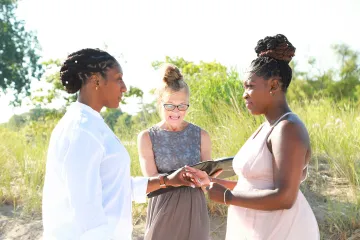 Kimberley & John
Mary Collinson is an extremely caring, understanding lady, who pays attention to detail regarding all people involved in the wedding ceremony. Her friendly smile and calming words helped us get through an emotional day. She made everyone involved feel comfortable. Her clear and precise directions for our ceremony made it easy to understand. We know we made the perfect choice for Mary to be our officiant for our wedding. We would highly recommend Mary, we thoroughly enjoyed her on our special day. June 2022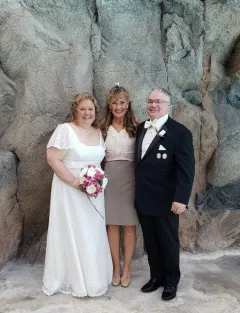 Zeljko & Ingrid
As far as we are concerned, our wedding day could not have been more perfect with one of the best officiants we have ever encountered! It was a pleasure working with Mary Collinson who helped and informed us on our perfect/imperfect day. Despite the fact that we did not have a rehearsal, she carried out our ceremony so effortlessly and professionally. While nervous, we were still excited for this day, and we believe it was God who chose not only this day, but also allowed me to choose the correct officiant for this momentous occasion. Our marriage process has been full of ups and downs, and many things have changed throughout. However, meeting Mary and choosing her as our officiant was the best decision we could have made. Thanks to Mary, who was there for us on our most special day and made the celebration even more magical! Aug 2021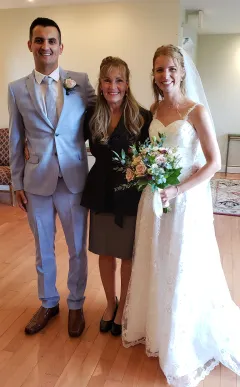 Curtis & Christie
Mary Collinson was an absolute pleasure to work with! She made everything flow so easily and made everyone confident in what they would be doing during the wedding. She was a huge hit with our families, friends and wedding venue. Thank you Mary for making our day incredible. September 2021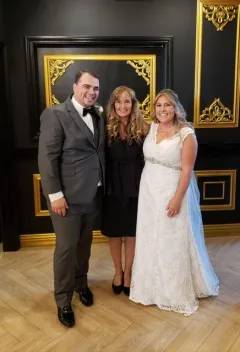 Brandon & Stacey
Mary Collinson was amazing! Mary is professional, kind, caring and genuinely cares about your day. She kept the rehearsal and wedding on track, and focuses on making your ceremony exactly how you want it. I would recommend Mary ten times over to anyone. Thank you Mary for everything, and your attention to the details!! September 2021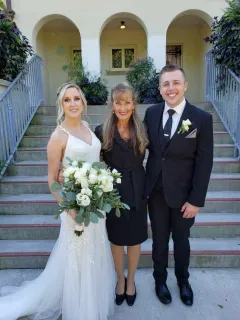 He and Lulu Aug 2021
Mary exceeded our expectations. She accommodated our date change and modified the format of the wedding so we could include a small ring ceremony.
Ashlee & Chris
Mary Collinson was exceptional. From the rehearsal to the day of Mary was knowledgeable and informative! Mary eased us into the process and was so sweet. By the end of the event, Mary was apart of our family. We can't say anything but amazing things about her, she helped make our wedding perfect! Thank you so so much!! We <3 you! Ashlee & Chris July 2021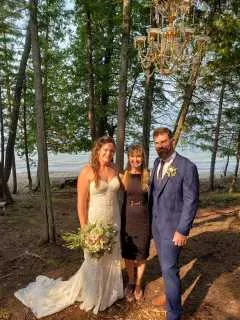 Kevin & Shanah
We loved our ceremony and we wouldn't have known what all to do if it was not for Mary Collinson. We appreciate Mary officiating our wedding. Thank you all seasons wedding ceremonies for helping us get connected with Mary. Kevin & Shanah June 2021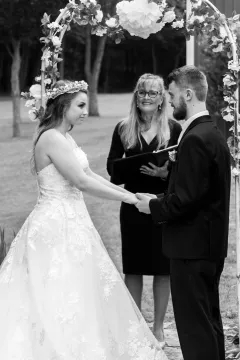 Fahim & Tori
Mary Collinson was able to step in last minute to help us during a very stressful wedding planning time. She was friendly, warm, and had a lot of helpful tips to make the ceremony flow well and make us less nervous. We were very happy to have Mary as our officiant, and would highly recommend her! Fahim & Tori May 2021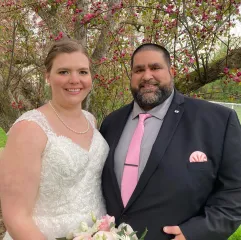 Laura & Katie
Mary [Collinson] was the best officiant Katie and I could have asked for. From the very first phone call, Mary made us feel comfortable and supported. She truly exceeded our expectations on our wedding day and made it so incredibly special. Many of our friends and family continue to comment on just how wonderful she was, and have stated that they'd love for her to officiate their own upcoming ceremony. We cannot thank Mary enough for how wonderful she was. Please use this fantastic woman! Laura & Katie, November 2020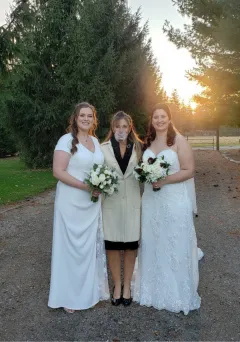 David & Kim
Mary Collinson was amazing and instantly fit into the family. She was professional, accommodating, warm, sincere and did everything she could to have us all prepped and confident for our day with only a virtual rehearsal. David & Kim September 2020
Carly and Lenny
Mary Collinson was an outstanding officiant, she was compassionate and truly a joy to be around. She performed her role efficiently and with confidence. She made the legalities of the ceremony a breeze to handle, getting all the instructions and documents together for us. Mary came prepared, she went above and beyond to hold a spectacular ceremony, we all kept smiling as the rain poured down; it was absolutely beautiful! It was so special that Mary had personal connections to some of our vendors, guests, and the venue, making it feel all the more personal. Thank you Mary! Carly and Lenny August 2020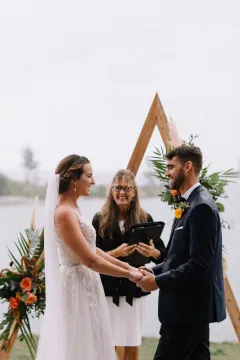 Ryan & Sara
Mary Collinson was the utmost professional, always punctual, willing to accommodate by working with us when schedules needed to change and patient while explaining the process for our big day. Mary brought calm into a day that, at least for the couple; inherently comes with some stress and a little chaos. Mary's previous carrier as a teacher and experience as an athletics coach shows through and makes her well suited for directing such an important event. Mary's attention to detail was impeccable, she even considering wedding colour scheme so as not to wear an outfit which may standout or clash with the wedding party. It was obvious that Mary does not simply want to marry the couple but rather help provide them with the best memories possible. Ryan & Sara September 2019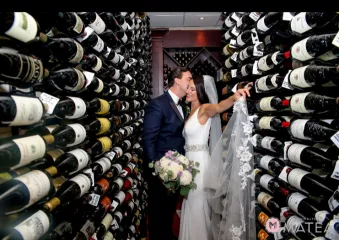 Jacob & Rebecca
Mary Collinson was absolutely amazing! From the very first call we knew that we made the right decision with our officiant. Her professionalism and knowledge eased our minds. To be honest, we really had no idea what we were doing and Mary helped us with planning out the ceremony and how it would flow. During the rehearsal she was well prepared and had knew exactly what we wanted. Parents and wedding party were included in the rehearsal and she was able to go over every detail for each individual thoroughly. This was a tremendous help and it made the ceremony run smoothly. We could not have had a better ceremony and are so thankful that Mary was apart of it! Jacob & Rebecca August 2019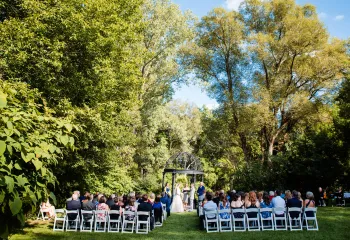 Jessica & Crystal
Mary Collinson far exceeded our expectations! She was warm, kind, friendly and professional! She knew exactly what we needed/wanted and answered all of our questions before we even asked. Just after one phone call I felt like I had known her for years and after meeting her she felt like family. We were very nervous and had no idea what to do or expect and Mary quickly put all our concerns to ease. I am so grateful that she was our Officiant and would highly recommend her to anyone! Jessica & Crystal June 2019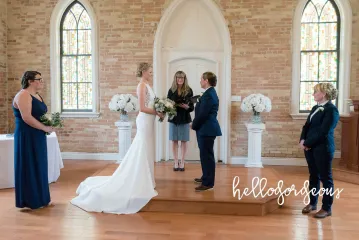 Rick & Balqeis
Mary Collinson was amazing! From the time we first contacted her she was so helpful and accommodating and made the whole process go smoothly. Many of the guests came up to us after the ceremony and for several days after the wedding and said what a lovely job she did! Thanks Mary for doing an amazing job! Rick & Balqeis Sept 2018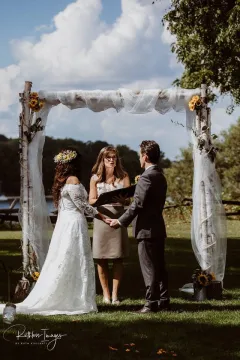 Annie & Greg
Mary Collinson did a great job!