John Huculiak, B.A. (Wilfrid Laurier)
John is a compassionate and outgoing person. As hobbies, he loves reading, cycling and working to protect the environment. With his flexible outlook on life, John can help you with a custom wedding ceremony whether you're looking for something traditional or contemporary, formal or relaxed. John will assist you in creating a ceremony that confirms the uniqueness of you both. He looks forward to discussing your dreams, helping you make them come true on your special day and in your lives ahead. John has been a minister since 2008.
Request John Huculiak
Areas served
Toronto, Etobicoke, Hamilton, Burlington, Stoney Creek
Reviews
Karen
John Huculiak helped to make our day just the way we wanted it. We felt very comfortable with him from the start, and would not hesitate to recommend him to anyone else.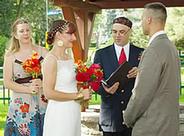 Vince and Pam
John Huculiak did a fabulous job as the minister at our wedding he was very understanding with our needs and guided us in what we wanted to incorporate in our wedding. My wife has 2 kids from a previous relationship and John did a great job in helping us to make them a part of our wedding. Thank you so much John for everything you did for us.Vince & Pam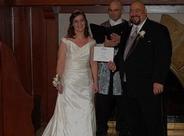 Scott and Laura
John Huculiak was amazing! We really loved his creativity in designing a unique and unforgettable ceremony for our special day.Thanks again John - we're very happy you were our officiant!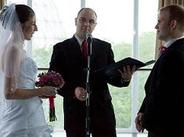 Aura Lea & Bryon
We had a fantastic time with John Huculiak, who guided us through the creation and sucessful excecution of our unique and very personalized ceremony. John played the part, adding character and flair to help make our Halloween wedding a delightfully spooky dream come true. Aura Lea & Bryon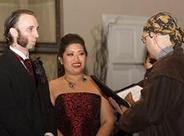 Andrew and Brianne
Hi John,Thank you so much for being there. When we were asked about our most memorable moment throughout the day...it was when we were all standing at the wedding ceremony, waiting to be officially 'husband and wife'. Truly an unforgettable experience!! John Huculiak is the best! Cheers! Andrew & Brianne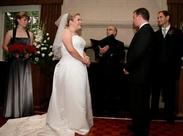 Lisa and Peter
Hi John,Thank you so much for making our wedding so special - we are so happy that we found you and everything was perfect!!! We would HIGHLY recommend you to anyone :) Here is a pic from the wedding... we just got a few today.Cheers (and thank you again) Lisa & Peter
Toli & Renu
John Huculiak was wonderful! We clicked from our first meeting together. Our wedding brought two cultures together, and he was great at listening to what we wanted in a ceremony. We worked together to writhe a ceremony that worked for us. It was a beautiful day and we are grateful for everything that John did to make it so special. We would highly recommend John to anyone – especially those of interfaith backgrounds.
Melissa and John
We couldn't have been happier with John Huculiak as our officiant. His warmth, sense of humour and professionalism shaped our ceremony beautifully.
Leigh Ann & Robert
Thank you John (Huculiak) for making our winter solstice wedding ceremony special. Your guidance and creative ideas made our home wedding the intimate ceremony we wanted to share with our closest loved ones. We would not have wanted any other officiant on our day.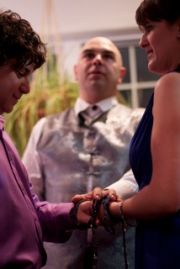 Zada and Lars
We had the privilege of having John Huculiak as our officiant on Sunday March 1st, 2015. We had no idea what to expect (before Sunday we were wondering if the officiant be strict? boring? Would he be irritated at going out of his way to drive to us?) Seeing as we had the Elopement package a planning meeting was not included. However we immediately felt at ease upon meeting John due to his kind and friendly demeanor, warm smile, and his outgoing personality. He made the whole process quick and easy, instantly got along with our friends, and made what was already a special moment even more memorable. We are very pleased with his service and would highly recommend him to anyone who wants someone who is both professional and extremely easygoing. Thank you, John!
David and Allan
Hello John (Huculiak) I wanted to say how much we appreciate the time and effort you put into our wedding. Your support in helping us with our vows along with calm demeanor on the day of eased my nerves. Your open and friendly personality made guests feel welcome and included them on our special day. We enjoyed having you there and would definitely recommend you to everyone we know! Thank you again for everything, David and Allan
Baruyr and Tina
"When my then fiancée and I read John's profile online along with many other profiles of officiant we were so intrigued that we picked him specifically and we picked a very reliable and prompt officiant. On the day of our wedding, we had many questions for John, but he answered each and every one of them thoroughly and patiently. We much appreciate all his help."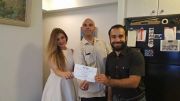 Ian & Sarah
We'd like to say thank you for performing our wedding. It was truly a delightful time and your services were much appreciated!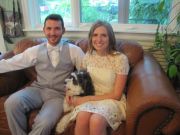 Derek & Laura
I couldn't think of anyone who could have been more perfect to marry my husband and I than John Huculiak. He brought so much light and joy to the ceremony I loved every minute of it. John is kind, friendly and made me feel comfortable throughout the entire ceremony. He was an absolute pleasure to work with and exceeded all my expectations.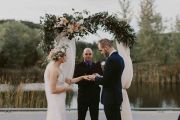 Bev and Jeff
We really appreciated having John (Huculiak) as our officiant on our big day. We received feedback from our family and friends saying that he did such a great job. He was professional, courteous and well spoken. We couldn't have hoped for a better officiant. Thanks John! Bev and Jeff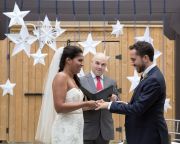 Mimi and Tom
It is our pleasure to let the world know how wonderful you are!! From our very first meeting with John, we felt confident knowing that Our Day would be perfect. His knowledge, sincerity and a dash of humour made our ceremony Pop!! We were asked: "Who is he and where did you find him?! He was wonderful!" We did want to keep our little secret, but we told them! Thank you John!!!! Mimi and Tom September 30/17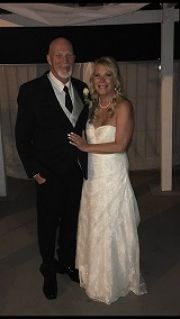 Julia & Peter
John (Huculiak) was a delight to work with and did a fantastic job officiating our wedding ceremony. He let us customize the ceremony to reflect our own personalities, was organized and very helpful in going through all the paperwork with us, and delivered the ceremony with warmth and humour. It was a pleasure working with him and we would highly recommend him! Julia & Peter 09/23/17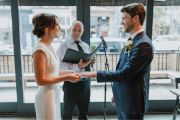 John & Allan
We found John (Huculiak) to be personable, fun, and a pleasure to work with. His manner is gentle, and respectful of the character of the event being planned. He managed to imbue our day with a sense of spiritual fulfillment while keeping our day lighthearted and fun. As a father himself, he treated the young ones attending our event with gentleness and respect. It was our perfect event. We would not have changed a thing. Thank you for everything! John & Allan July 21st, 2018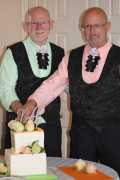 Barry & Carlos
We were very pleased and touched by the professionalism that John Huculiak exhibited, the information that he shared and the personal touch that had us smiling, laughing and at ease throughout the ceremony and paperwork. Thank you for everything John. Oct 2018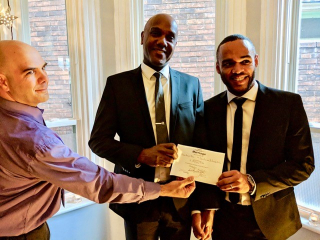 Miroslaw & Karen
Big thank you to Rev. John Huculiak for officiating our wedding ceremony. We made no mistake by choosing you for our special day. We didn't have to worry about anything!!! We would 100% recommend him to anyone. Miroslaw & Karen Feb 2019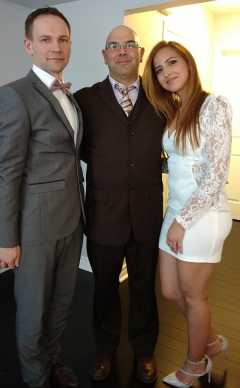 Sarah & Stacey
John Huculiak officiated our garden wedding and from start to finish, our experience with him was exceptional. He energized the ceremony and was entertaining without taking over the spotlight. He encouraged us to be creative in our vows and embraced our non-traditional ceremony. Our texts and emails were responded to promptly, and John did whatever he could to make our day amazing – we would definitely recommend him! Sarah & Stacey October 2019