Jennifer Cobb, B.A. (UofT)
As an Appointed Designated Minister Jennifer lives with her teenage daughter and two cats in Wellington, in the heart of 'the County' with easy access to the Bay of Quinte area. Jennifer swims regularly in Lake Ontario, jogs backroads, and loves wilderness camping, Pilates and writing. She holds a Bachelor of Arts degree from the University of Toronto and a Post Graduate Certificate in Governance from York University. Whatever type of wedding ceremony you choose, Jennifer will make it a sacred, magical and memorable one. Whether it's a formal wedding, private exchange of vows, or festive vineyard ceremony, Jennifer's caring, professional and personalized service will help bring your dreams to reality.
Request Jennifer Cobb
Areas served
Wellington, Bloomfield, Picton, Prince Edward, West Lake, Cherry Valley, Milford, Consecon, Ameliasburgh, Demorestville, Belleville, Bayside,Trenton, Wooler, Brighton, Napanee, Deseronto, Stirling, Foxboro
Reviews
Colin & Janice
Jennifer Cobb was a wonderful officiant for our very special wedding day. She is very personable and well-organized. She met with us and went over details of the ceremony and paid close attention to the names of other friends and family members that also had a part in our ceremony and planning. It was an absolute pleasure meeting her and having her preside over our marriage ceremony. We would highly recommend Jennifer for anyone's wedding ceremony. We would most definitely recommend using All Seasons Weddings and specifically Jennifer Cobb as a wedding officiant.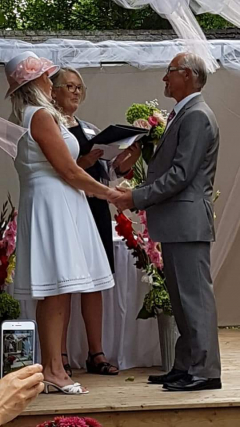 James & Joanne
Jennifer Cobb was the perfect person to perform our wedding ceremony, on our perfect day! She is a warm, genuine and loving person as well as being well-organized. Her presence on our wedding day gave an atmosphere of calmness, control and Love. We would highly recommend Jennifer for anyone's wedding ceremony. We would most definitely recommend using All Seasons Weddings and specifically Jennifer Cobb as a wedding officiant. James & Joanne Sept 2018