Jennifer Cobb, B.A. (UofT)
Jennifer is an Appointed Designated Minister who lives with her teenage daughter, a golden retriever and two cats in Wellington, in the heart of 'the County'. She enjoys easy access to the entire Bay of Quinte area. Jennifer swims regularly in Lake Ontario, jogs backroads, and loves wilderness camping, Pilates and writing. She holds a Bachelor of Arts degree from the University of Toronto and a Post Graduate Certificate in Governance from York University. Whatever type of ceremony you choose, Jennifer will make it sacred, magical and memorable. Whether it's a formal wedding, private exchange of vows, a traditional hand-fasting or festive vineyard ceremony, Jennifer's caring, professional and personalized service will help bring your dreams to reality.
Request Jennifer Cobb
Areas Served
Wellington, Bloomfield, Picton, Prince Edward, West Lake, Cherry Valley, Milford, Consecon, Ameliasburgh, Demorestville, Belleville, Bayside,Trenton, Wooler, Brighton, Napanee, Deseronto, Stirling, Foxboro,Shannonville,Tyendinaga
Reviews
Tina and Steve
Jenn did a wonderful job at making our day even more special. We had a simple wedding in our field of dreams. Exactly what we wanted. Tina and Steve Oct 2020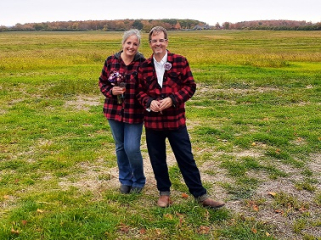 Jesse & Trina
Jennifer Cobbwas amazing! She was so great to work with and had so many great ideas to make our ceremony personal and meaningful to us. We have had so many people compliment Jennifer. Jesse & Trina September 2021
Jeff and Joy Aug 2021
Jennifer did an amazing job; it was so perfect for our little eloping style wedding!
Elana & Jen
Jennifer Cobb went above and beyond what we were looking for in a last minute COVID adapted service! She was very quick to respond to our messages and helped us design a short ceremony that best suited our needs. She even helped us scope out a quiet beach location that couldn't have been any better. She was professional, personable and above all, so sweet. Elana & Jen October 2020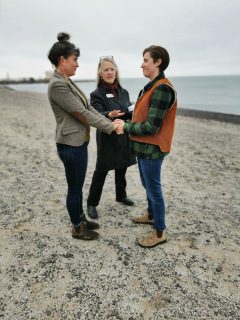 Amanda & Kyle
Three words that describe Jennifer Cobb perfectly are lovely, warm and sincere. She was an excellent communicator and she took the time to ensure we fully understood every part of the process. She respected and supported the decisions we made for our ceremony and sent us a final draft before the wedding day so we knew exactly what to expect. Jennifer was like a beam of light on our cloudy and rainy wedding day! Our ceremony was not too short or too long, and every word she spoke was true and sincere. Each guest at our small, intimate wedding commented on Jennifer's lovely words and how much they enjoyed the ceremony. Thank you Jennifer, we loved our wedding and we were so blessed to have you as our officiant! Amanda & Kyle July 2020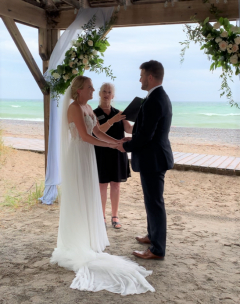 Jennifer & Gerald
Jennifer Cobb thank you so much for delivering a beautiful ceremony. Gerald and I were blown away by how much time and care you took with us. Everyone commented on how lovely the ceremony was thanks to you. It was a perfect day for the both of us. Jennifer & Gerald September 2019
Melissa & Misty
Jennifer Cobb in one word would be " Graceful" she was lovely. Thank you for everything. Melissa & Misty November 2019
Suzanne & Jasmina
From our first meeting with Jennifer Cobb on the phone, we knew immediately that she was the right person to officiate our wedding! From her calm mannerism, her reassuring words and check-ins and her wise guidance in scripting the perfect ceremony for our special day, Jennifer made sure that our day was unforgettable. We will forever be grateful for the major role she played in our wedding. Our family and friends all commented on how warm and wonderful she was and that our wedding was one of the most moving and best ceremonies they had ever witnessed. Thank you Jennifer for making our day into a fairytale perfect wedding! Suzanne & Jasmina September 2019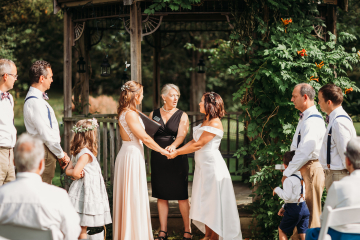 Logan & Sarah
Jennifer Cobb was absolutely amazing! Everyone commented on how well she did and how calm she made both of us feel! Thank you! Logan & Sarah September 2019
Sarah & Cassie
Jennifer Cobb was amazing. She catered to all our needs and made our special day so much better. The ceremony was beautiful and touching. We couldn't have done it without her. I would recommend her services to anyone looking to be married. Sarah & Cassie Aug 2018
James & Joanne
Jennifer Cobb was the perfect person to perform our wedding ceremony, on our perfect day! She is a warm, genuine and loving person as well as being well-organized. Her presence on our wedding day gave an atmosphere of calmness, control and Love. We would highly recommend Jennifer for anyone's wedding ceremony. We would most definitely recommend using All Seasons Weddings and specifically Jennifer Cobb as a wedding officiant. James & Joanne Sept 2018
Colin & Janice
Jennifer Cobb was a wonderful officiant for our very special wedding day. She is very personable and well-organized. She met with us and went over details of the ceremony and paid close attention to the names of other friends and family members that also had a part in our ceremony and planning. It was an absolute pleasure meeting her and having her preside over our marriage ceremony. We would highly recommend Jennifer for anyone's wedding ceremony. We would most definitely recommend using All Seasons Weddings and specifically Jennifer Cobb as a wedding officiant.