David Allman
My wife and I live in Wasaga Beach. I'd like to offer my congratulations on dedicating your lives to one another. I believe that the significant events in our lives should be celebrated in ways that reflect our individuality and values, thus allowing us to remember them as both full of joy and personally meaningful. As a confident professional, I pride myself on bringing calm, affirming support and acceptance to your wedding day by being easy going, a good listener and very flexible. My wife has basic American Sign Language skills and her support could be available if needed or desired. Weddings, commitment ceremonies, and vow renewals can be personalized in many ways. Your joyful occasion can be formal or informal, short and simple with loved ones in attendance, or family and friends, that special pet, can be involved in any way you choose. Any place chosen, words spoken, or vows taken should reflect the level of spirituality, and the values, of you as a couple.
Request David Allman
Areas served
Wasaga Beach, Barrie, Clearview, Springwater, Town of the Blue Mountains, Collingwood, Meaford, Thornbury, Midland, Penetanguishene, Port Severn, Creemore, Elmvale Horseshoe Valley
Reviews
Jane & Gary
David Allman was wonderful! He is very friendly easy to talk to, and flexible. He made our day a lot of Fun!!
Angelie & Ben
David Allman was very professional and helped to put us both at ease. The ceremony itself felt very natural and genuine. Thank you!
Josha & Otto
David Allman was great, we were very happy with him. We also got a lot of compliments regarding the ceremony from our guests
Carrie & Cameron
David Allman was a wonderful officiant. He was fun and had a good sense of humour while also being very responsible and attentive. He was very open and flexible and we definitely recommend him!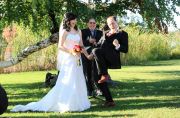 Kathy & Luc
David Allman did a fabulous job performing our ceremony. I would recommend him and your services to anyone getting married in a non-traditional way.
Colleen & John
David Allman went above and beyond. He was attentive to our needs and provided knowledgeable and quick feedback. He was such a pleasure to have at our wedding!!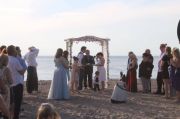 Tara and Shane
David helped make our ceremony a very joyous occasion. He was professional, graceful and fun! From when we first met and spoke over the phone, I knew we were in good hands. My husband and I were extremely happy with his service and all our guests, young and old, approached us and said how great he was! I would recommend David in a heartbeat. He truly cared about yes. He set us at ease so we could enjoy our special moment. Thank you David!
Danielle & Petros
We had decided to have David Allman preform our wedding for us and it was the best choice for my husband and I! He has great comedic timing he kept us laughing during the ceremony probably so we would stop crying lol! (Tears of joy of course) We would recommend him to anyone! Thank you for your great service! Danielle & Petros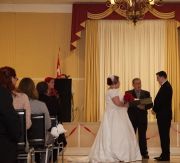 Victoria and Wesley
We had our beach/cottage wedding on May 27, 2017. I just wanted to say that David Allman did an amazing job! We could not have asked for a better day or ceremony. He made our day so worry-free and we appreciated him making it exactly what we wanted. Just wanted to say thank you again for helping us with an amazing day! Victoria and Wesley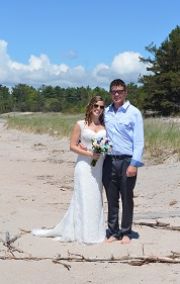 Lindsay and Dan
My wife, Lindsay and I had David officiate our wedding this June. He was a pleasure to work with through out the entire process. Easy to get a hold of, and quick to respond when we had any questions. Preformed the ceremony that we discussed and suited us. We were very happy with his services. Thank you David Lindsay and Dan