David Allman
Request David Allman
Secteurs desservis
Port Rowen, Straffordville, Courtland, Delhi, Simcoe, Port Dover, Turkey Point, Long Point, Tillsonburg, Port Burwell
Commentaires
Logan & Madisun
David Allman was excellent and exceeded our expectations. He was friendly, light-hearted and fun while also professional and helpful. We thoroughly enjoyed David and would recommend him. July 2022
Madisun & Logan
We had an absolutely excellent experience having you as our officiant and very much enjoyed the opportunity to meet ahead of time, to discuss the format of the ceremony, and to customize our ceremony to be exactly what we had envisioned. We appreciated the freedom to make everything our own. Thanks so much again! Madisun & Logan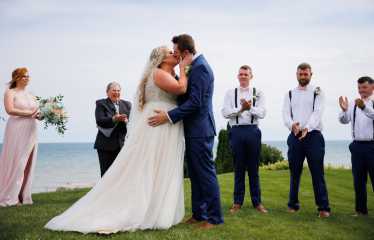 Sophie & Shawn
David Allman was wonderful and the ceremony was perfect. David is a wonderful person filled with joy, humor and happiness . Thank you for making our ceremony perfect. October 2021
Tricia and Daniel
We got married in Collingwood on Saturday October 2nd. We were overjoyed and very happy with the officiant David Allman! He's funny, lighthearted and made our ceremony so relaxed. Which was exactly what we wanted. Kind regards Tricia and Daniel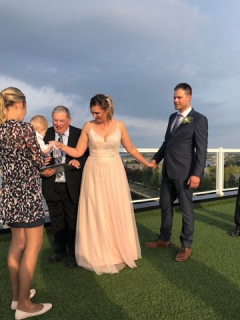 Kyle & Megan
David Allman was all around fantastic. He was on top of all communications from the beginning. He got to the venue before we did. He explained all the processes with the legal stuff and followed up as soon as he sent it off. He was friendly, funny, charming, thoughtful, helpful and professional. We met him for the first time ever about twenty minutes before he married us and it was like he was part of the family. I really can't say enough good things about him. My wife and I have said many times since our wedding that we definitely picked the right officiant. He truly helped to make it a special day. I already have referred a friend for her wedding in October :) Thanks, David! Kyle & Megan August 2021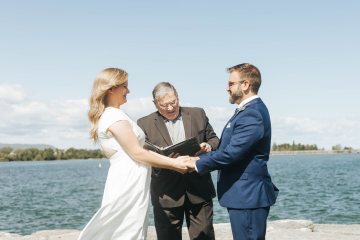 Lori and Jymi
I just wanted to write to say I'm very happy we chose David Allman to officiate our vowes on Saturday. (July 24, 2021) He was warm and friendly, organized and accommodating. He didn't even complain about us dragging him out in the rain! He went above and beyond to make our day special. Lori and Jymi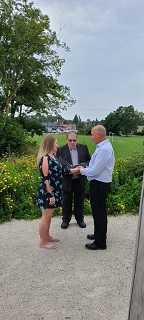 Mealojean and Chris
Hello David, Thank you for your services, it was a pleasure having you facilitate our ceremony. Your sense of humor was a perfect touch to the event. You made all my guests feel welcomed as you were very approachable and personable. Mealojean and Chris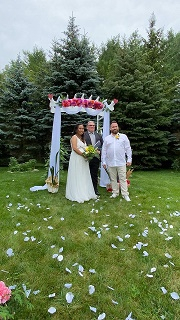 Teodor & Samantha
David Allman was our officiant on May 29th 2021. David has a very outgoing personality and an amazing radio/audio voice that made it so easy for our live stream guest to listen in. He showed up on time and was well dressed. He made our wedding ceremony so wonderful! He is such a kind person and easy to get ahold of through call, text or email. Whenever we had any questions or concerns he answer back very quickly. Thank you so much David! Keep up the amazing work you do. Highly recommend!!! Teodor & Samantha May 2021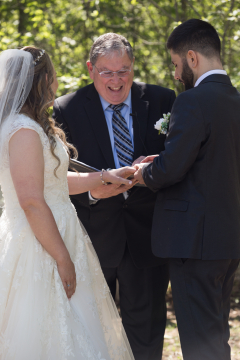 Joelle and Hugh
Hi David, Thank you very much for performing our ceremony! We received a lot of positive feedback from our guests about your service and your ability to incorporate humour. We also really appreciated your flexibility with moving our ceremony time so that we could capitalize on that small window of no rain so that we could get married outside. We give you a 10/10! I've attached a few pictures for your choosing. Thanks again for all of your help! Take good care! Joelle and Hugh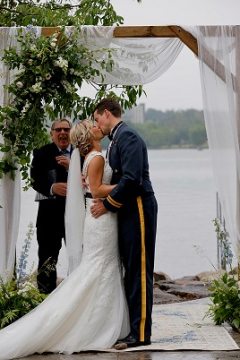 Mike and Sarah
David Allman was the officiant at our wedding—a small ceremony at my parents' home in the country. We could not have imagined a more perfect ally for our special day. David was warm, convivial, and helped put us at ease—both on the day of the wedding and during our meeting beforehand, where we helped us iron out the many specifics and details about the ceremony. He helpfully provided a number of script options and worked with us to hone in on a tailored version that was unique to us. On the day of our wedding, David was a hit! His easy manner at the altar was appreciated by all our guests and we received many compliments on his delivery and personal touch both during the show and while mingling after the fact. He made several knowing departures from the script which created some wonderful, tension-breaking laughs from all in attendance. Particularly given the challenges of a wedding in the COVID era, we appreciated David's expertise and steady hand on the tiller. We unreservedly recommend David's services. —Mike and Sarah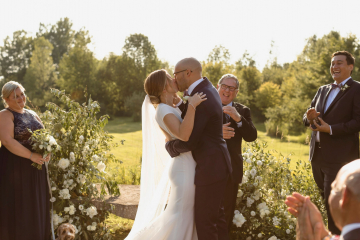 Anson & Lisa
David Allman was everything we hoped for, on our big day as well as leading up to it. We would definitely recommend him to others. Anson & Lisa August 2020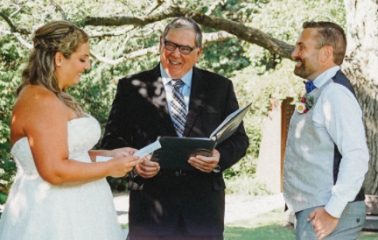 Rob and Barb
We highly recommend David Allman as a wedding officiant. He was very helpful and quick to get back to us when we had questions or concerns. He has a comfortable relaxed manner that put us both at ease during the ceremony. He also made a cute certificate for the kids to sign to make them feel included. His speaking manner was excellent and easy to hear and understand. We cannot think of a single thing that he could improve on. Thanks again David for a job well done. Rob and Barb
Kylie, Matt & Duke
David Allman did an outstanding job and definitely helped make our ceremony fun and lighthearted. It was an absolute pleasure working with David this past year as you were so friendly, organized and resourceful. We would happily pass along your contact info to our friends and family. From the very bottom of our hearts, thank you so much for helping us through this major milestone in our lives. Kylie, Matt & Duke August 2019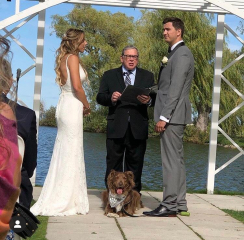 Trevor & Megan
David Allman was a pleasure to work with. He was available to address our questions and was very quick with his email responses. He met with us in person a few weeks before the wedding to review all the final details. He was very informative and professional. David had several templates for the ceremony script and even allowed us to create our own sections of the script. During the ceremony, when our emotions were getting the best of us, David did a wonderful job of keeping the atmosphere light and relaxed. He added in some comic relief which our guests enjoyed. We would definitely recommend David Allman! Trevor & Megan July 2019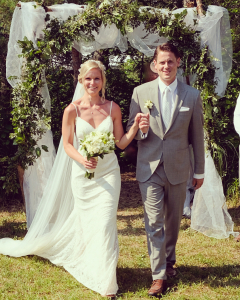 Leanne & Sabrina
David Allman was everything we could've asked for and more. He was sweet, kind and humorous. He helped make a great day even better. Leanne & Sabrina June 2019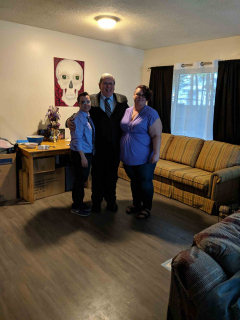 Clarisse and Ryan
David was wonderful and very professional from start to finish! From first communications up until after the wedding day, any questions we had or revisions to the ceremony David was quick to answer and very helpful. He had many great ideas for the ceremony and was very accommodating when we wanted to make it personal. The delivery on the day of was seamless and we had many guests comment on how beautiful the ceremony was. We thoroughly enjoyed our experience and are ever thankful for David marrying us! Best day ever!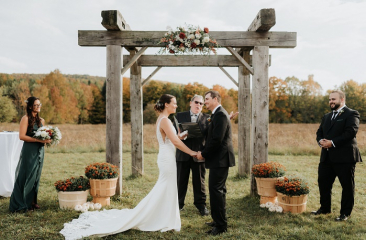 Susan and David
We chose David Allman to officiate at our beach wedding because I knew that he was a highly spiritual soul with a great sense of humour. He invited us to select vows (from his excellent collection) that resonated with us and made great suggestions on how to make the service run seamlessly. We pieced together words and actions that felt right, and he made it all come to life with compassion and humour. He loves what he does, and our guest loved his intimate, casual and thoughtful delivery. We could not have been more happy unless he had stayed for dinner…he had to run off to work his magic elsewhere.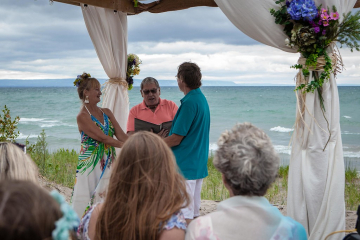 Lindsay and Dan
My wife, Lindsay and I had David officiate our wedding this June. He was a pleasure to work with through out the entire process. Easy to get a hold of, and quick to respond when we had any questions. Preformed the ceremony that we discussed and suited us. We were very happy with his services. Thank you David Lindsay and Dan
Victoria and Wesley
We had our beach/cottage wedding on May 27, 2017. I just wanted to say that David Allman did an amazing job! We could not have asked for a better day or ceremony. He made our day so worry-free and we appreciated him making it exactly what we wanted. Just wanted to say thank you again for helping us with an amazing day! Victoria and Wesley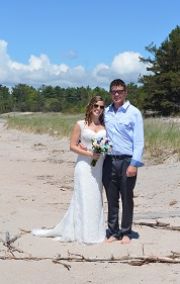 Danielle & Petros
We had decided to have David Allman preform our wedding for us and it was the best choice for my husband and I! He has great comedic timing he kept us laughing during the ceremony probably so we would stop crying lol! (Tears of joy of course) We would recommend him to anyone! Thank you for your great service! Danielle & Petros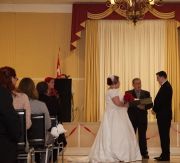 Tara and Shane
David helped make our ceremony a very joyous occasion. He was professional, graceful and fun! From when we first met and spoke over the phone, I knew we were in good hands. My husband and I were extremely happy with his service and all our guests, young and old, approached us and said how great he was! I would recommend David in a heartbeat. He truly cared about yes. He set us at ease so we could enjoy our special moment. Thank you David!
Colleen & John
David Allman went above and beyond. He was attentive to our needs and provided knowledgeable and quick feedback. He was such a pleasure to have at our wedding!!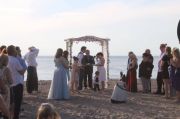 Josha & Otto
David Allman was great, we were very happy with him. We also got a lot of compliments regarding the ceremony from our guests
Carrie & Cameron
David Allman was a wonderful officiant. He was fun and had a good sense of humour while also being very responsible and attentive. He was very open and flexible and we definitely recommend him!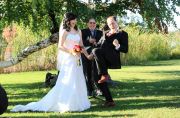 Kathy & Luc
David Allman did a fabulous job performing our ceremony. I would recommend him and your services to anyone getting married in a non-traditional way.
Jane & Gary
David Allman was wonderful! He is very friendly easy to talk to, and flexible. He made our day a lot of Fun!!
Angelie & Ben
David Allman was very professional and helped to put us both at ease. The ceremony itself felt very natural and genuine. Thank you!