Vera Oglan
Vera was recently voted by her peers as the 'Most Popular Wedding Officiant in Windsor' at the prestigious international Wedding Industry Experts Awards. Vera is a very warm, genuine, compassionate and caring person who loves to help people and will go the extra mile to make your wedding ceremony most memorable. Vera has conducted hundreds of wedding ceremonies of every kind and in a multitude of locations. She will sit down and suggest ways you can customize your wedding vows. She will work with you to make sure that your wedding ceremony will be enjoyed by everyone.
Request Vera Oglan
Areas Served
Windsor, LaSalle, Amherstburg, Maidstone, Tecumseh, Belle River, Emeryville, Lakeshore, Kingsville, Essex, Cottam, Comber, Harrow, Ruthven, Leamington, Stoney Point, Wheatley, Woodslee, McGregor.
Reviews
Denis & Lori
Vera Oglan was over the top amazing. We felt like we knew her and she was part of our family. I had so many compliments about how beautiful the ceremony was and people asking where I found her. We cannot express how much her own speech about my mom's passing meant to us, especially since my mom passed away only a week before. She made our day perfect!!! September 2022
Chelsea & Cory
Vera Oglan conducted the perfect ceremony. August 2022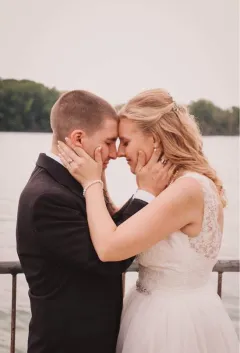 John & Mythily
Vera Oglan was wonderful, we felt so comfortable with her. Vera is so sweet and kind we would definitely recommend her to anyone that's getting married, she honestly the best . Thank you Vera. October 2021
Pat & Ian
Vera Oglan was great, she came on time and provided a service exactly as we had asked! Thank you for such a lovely ceremony Vera! You helped make our day perfect. September 2021
Natasha & Darryl
Vera Oglan made our day very special. She met every expectations and more! Natasha & Darryl July 2021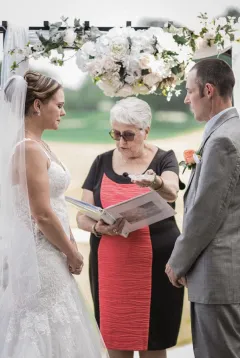 Eugene & Jeffrey
Vera Oglan was so amazing on our wedding day, she was congenial and warm and work with us to ensure our day was so special. We thank her so much for helping make our day so amazing. Eugene & Jeffrey September 2019
John & Heather
Vera Oglan was absolutely wonderful! We couldn't have asked for a better experience and day with her. She help guide us through the ceremony we wanted- and managed to shorten it down to 10 minutes! She was very kind, great to communicate with and did an absolute wonderful job! Would highly recommend her! John & Heather September 2019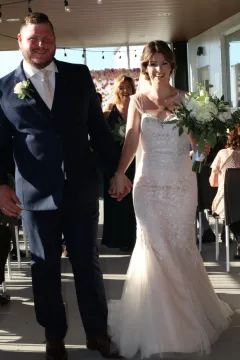 Joe & Barb
Vera Oglan was wonderful in helping us plan our ceremony. Everything went perfectly. Joe & Barb. July 2019
Ryan & Lauren
Vera Oglan was fantastic and exceeded our expectations in making our wedding truly perfect. She was friendly, personable and we could not have imagined a more beautiful ceremony. Her readings were from the heart and we are so happy she was able to make our day so special. Ryan & Lauren June 2019
Rebecca & Tyson
Just wanted to say how very pleased we were with our wedding officiant VERA OGLAN. It was a perfect day and it was such a blessing to have Vera perform the service since she used to be a family neighbour of mine in my youth! Didn't know that when we hired her and it was definitely a great surprise. I will be recommending her services in the future. Thanks. Diane (October 13th, 2018).
Alexander & Krystal
This was a very easy company to work with. Everything being done online made everything run smoothly and not need to interfere with other planning or scheduling. Our officiant Vera Oglan was absolutely amazing, she was fun, knowledgeable and the ceremony she offered for us was perfect. Vera came prepared for everything including having tissues in her binder to offer us if we cried. I have referred your company to many people who I talked to. Thank you for everything you've done.
Julia & Geoff
Vera Oglan was incredibly thoughtful, kind and clearly loves what she does. Her words were perfect and fit our thoughts and feeling to a tee. She was a supportive and calming presence on our wedding day and spoke so eloquently. We are so happy with the way our ceremony was structured and we couldn't have imagined her doing a better job than she did. We love Vera!
Melissa & Andrew
Vera Oglan was fantastic to work with! She was always prompt with email correspondence, pleasant at our meetings and very willing to accommodate our wishes. Our ceremony was perfect and it was all thanks to Vera!
Ashley & Geoffrey
Vera Oglan is such a sweetheart and helped us get prepared with things such as our marriage licence application process and timelines. I love her sense of humour and personable personality. She's a lovely person, and it was wonderful working with her. Thank you All Seasons Weddings!
Paul & Tara
Vera Oglan was wonderful. Several of our guests commented to us how she added a mix of spiritual, official, family and love in her approach. She even had her nails done in our wedding colour!
Emma & Jeremy
Vera Oglan was amazing. She did a great job and loved her professionalism and care. An amazing ceremony, perfect ! I will refer Vera to all my friends with weddings in the future!
Kathleen & Mike
Vera Oglan was amazing she was so warm and welcoming and did a fantastic job. So easy to talk to and was very funny too. We both loved her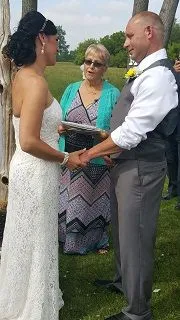 Cindy & James
I would like to say that Vera is a wonderful lady! She married both James and myself and made us feel so comfortable. I would definitely recommend her to my friends and family! So glad that my daughter had recommended All Seasons to us.
Alexandrea and Riley
Vera Oglan performed a beautiful ceremony!
Anne-Marie & Ryan
Vera Oglan exceeded our expectations! Vera was warm and friendly. She made all of our guests feel welcomed at our wedding. It was a great day and we have Vera to thank for it. Thank you for your service!