Tina Larocque
Tina is a happy-go-lucky person, with a passion for life, possessing a very positive disposition, is organized and loves helping others fulfill their dreams. She will work closely with you to ensure your special day is exactly the way you envisioned. Tina is licenced in both Quebec and Ontario and is fluently bilingual. You will find that she is a non-judgemental person and listens attentively, which enables a strong connection to you both. This allows you to express your needs and opinions openly and honestly, and makes the planning enjoyable, effortless and tons of fun.
Request Tina Larocque
Areas Served
Alymer, Buckingham, Cantley, Chelsea, Gatineau, Hull, Masson Angers, St. Pierre de Wakefield, Thurso, Val-Des-Monts, Wakefield and Barrhaven, Bourget, Clarence-Rockland, Cumberland, Navan, Orléans, Ottawa, Ottawa-Bilingual, Ottawa East, Ottawa West, Nepean
Reviews
Mariel & Ben
Tina [Larocque] was excellent to work with, and made everything very easy for us. Her communication was great throughout the entire process, and she was very organized. She provided helpful advice and support along the way and was instrumental in a lovely ceremony. September 2023
Chelsea & Ryan
We had the great honour of Tina Larocque officiating our wedding. From beginning to end, Tina was fantastic to work with and she was everything we wanted in an officiant. She was reassuring in the entire process and diligently made sure everything was in order before our big day. On the day of our wedding, she was so sweet, attentive to our feelings and reassuring — always reminding us to look at each other and take everything in. She listened to our needs and wishes and executed a very personal ceremony for us. It felt very us! Thank you, Tina! August 2023
Jory & Sarah
The selection process was easy and simple. Honestly, Tina was absolutely amazing. She had such a great personality and her ceremony and genuineness made everything so much more special. We honestly could not have picked a better officiant for our special day! With the help of Tina everything went perfectly! Thank you! July 2023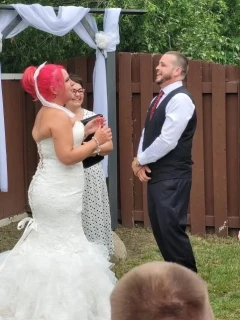 Mike & Emily
Tina Larocque was the most wonderful officiant we could have asked for for our special day. She was very thoughtful and her script for the ceremony was absolutely perfect. She's such a warm caring person and made us feel very comfortable during the whole process. September 2022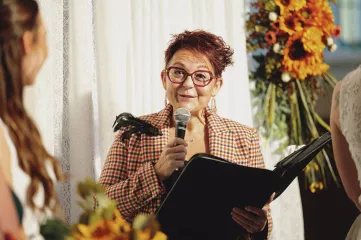 Loretta & Nicholas
Tina Larocque was professional and warm; she was the perfect facilitator for our wedding and we loved having her with us to share our celebratory joy :) Aug 2022
Michele & Sarah
Tina Larocque was absolutely amazing. She definitely adding to the day making it even more prefect. She was calming and her ceremony was written perfectly. I highly recommend Tina. She brings the most amazing energy to you day! November 2021
Kevin & Lindsay
Tina [Larocque] was unbelievable. She was overly accommodating. She was so reassuring the day of, and her calming personality and presence was everything. Tina was perfect for us and we would 100% recommend her. Our situation changed at the last minute and we were overwhelmed at how accommodating everyone was to us. October 2021
Eric & Melodie
Tina did a wonderful job. She was very pleasant and professional throughout. Staff in the All Seasons office were helpful, courteous and professional. We would definitely recommend you. Thanks to the entire team for helping us make our special day a big success! September 2021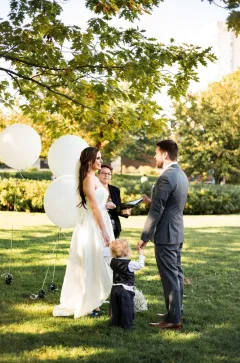 Lindsay & Rose
Tina Larocque was amazing. We felt so at ease once we spoke with her. We planned a somewhat last minute ceremony and the officiant was very helpful and great at walking us through the process and giving us helpful tips for the day. As a queer couple, Tina made us feel very comfortable. September 2021
Amanda & Kristofer
We loved working with Tina Larocque, and would certainly recommend her to anyone! She put together the most beautiful ceremony for us. Even though we were already legally married and weren't going to be signing a document or exchanging rings, the ceremony didn't feel like it was missing anything. August 2021
Mélanie and Alexandre
We were so lucky to have Tina as our officiant. The ceremony was beautiful and she's the sweetest. So glad to have met you! Thank you for everything :)
Samantha and Luc
Tina was my first choice as our Wedding Officiant - I wouldn't have dreamed of anyone else performing our marriage ceremony! She is organized, efficient and willing to cater to all your needs. I highly recommend her services!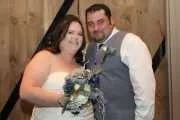 Roger and Mario
Thank you so much for everything about our wedding! We had the best time, and was everything that we imagined when we were planning the wedding. We appreciate how patient you were with us in all our requests and everything ran just so smoothly. We couldn't be happier! Thank you again for being an integral part of our marriage
Christine and Mathieu
Thank you so much for the beautiful ceremony. I can't believe how fast those moments went. And a big thank you for the certificate with the kids signatures and your lovely card. We are so happy to have had you be part of our day and are very grateful. I didn't get to say goodbye and thank you in person before you left. Sending you a big warm hug!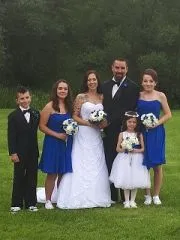 Heather & Derrick
Tina Larocque was an absolute gem! She is a wonderful and happy person, who put us all at ease when our nerves were getting the best of us.
David and Derek
Tina (Larocque) was a fantastic officiant for our wedding!! We did a somewhat non traditional wedding, and she nailed it, to the point where people after were coming up to us and complimenting her. I'd recommend her in a heartbeat! David and Derek
Reese and Deborah
Tina was able to assist us with our last-minute wedding. She accepted our many wording changes to our vows, was able to pull off our wedding with our friends. We would recommend Tina to anyone looking for a personal touch ceremony. Thank you so much Tina, you made our wedding very special.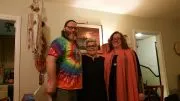 Tiffany and Jacob
Thank you Tina for being a part of our day! I will definitely recommend you to anyone we know that has plans to get married. It was a beautiful ceremony! Tiffany and Jacob
Jaime and Jean-François
Tina was amazing!!! She made us so comfortable and personalized our ceremony and made it about us. Would 100% recommend her to anyone planning an upcoming wedding, you'd be in good hands with her and can expect an authentic, honest and beautiful experience. Thank you Tina!!
Sam & Sam
Tina we were so delighted to have you perform the ceremony for Sam & Sam yesterday. You did a beautiful job and everyone thought you were fantastic! The afternoon turned out beautiful. A million thank yous for officiating their ceremony and being a part of such a special day for all of us. I will be recommending you to anyone and everyone!! Pamela
Isabelle et Marc-André
Tina est très à l'écoute et ouverte à personnaliser la cérémonie au goût de ses clients. Son sourire et sa joie de vivre sont contagieux!
Samantha & Samuel
We can't say enough how pleased we were to have Tina (Larocque) as an officiant for my daughter and son-in-laws wedding Oct. 10, 2015. My husband and I were married by All Seasons Weddings in 2000 and had a beautiful and unforgettable ceremony and had confidence we would find the same for our daughter and her husband. Responses were quick and very friendly from day one with All Seasons and when we found out Tina was to be the officiant we were thrilled as it turns out we actually went to high school together. I knew we had the perfect match! She is so bubbly and made us all feel very comfortable and at ease. The ceremony was beautiful and everyone loved her!! Many, many thanks for making our daughter and son-in-laws wedding so special just as ours was. Thank you!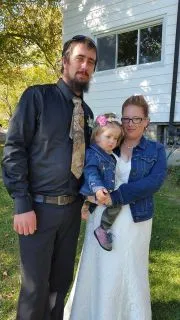 Victor and Brigitte
We were very happy to have Tina officiate our wedding ceremony. She was very open to the way we wanted to set up our special day, and very flexible with our requirements. Her warmth and positivity really added a lot of the happy atmosphere we were hoping for during the ceremony. While we were planning, she was easy to communicate with and had a lot of great suggestions. We are happy to endorse her as an officiant, and we know she will do a wonderful job at all her future ceremonies.
Mylène and Alain
Nous sommes heureux d'avoir eu Tina comme célébrante pour notre mariage. Elle est très patiente, ouverte à toutes nos idées et le plus important elle est à l'écoute de nos besoins. Le meilleur mot pour décrire Tina est merveilleuse. Nous la conseillons à tous, vous n'aurez aucun regret. Merci à toi Tina d'avoir fait de notre mariage une réusite dans le calme, la confiance et dans l'amour pour nous et notre famille.