Tara Johnston
Tara is a seasoned resident of the beautiful Niagara region, with 20 years of experience living and thriving in this gorgeous locale. She is passionate about celebrating and supporting your dream wedding, and is fluent in both Arabic and English, making her an ideal choice for couples seeking a personalized touch to their ceremony. With a Honours degree in Dramatic Arts and a minor in Psychology from Brock University, Tara is well-versed in creating a captivating and memorable experience for you and your guests. She also holds an Events Management Diploma from George Brown College and a certification from the Wedding Professionals Institute of Canada (WPIC), adding to her extensive knowledge of the industry. With a background in hospitality and events, Tara is one of our most energetic officiants, and is comfortable performing in front of large crowds. When she's not busy creating unforgettable moments for couples, you can find her unwinding with a good puzzle, exploring new restaurants, indulging in some retail therapy, or even taking a leap of faith with a skydiving adventure. Rest assured that Tara will bring her infectious enthusiasm, care, and attention to detail to your special day, ensuring that it's everything you've dreamed of and more.
Request Tara Johnston
Areas Served
Beamsville, Chippawa, Chrystal Beach, Fenwick, Fonthill, Fort Erie, Grimsby, Jordan, Lincoln, Niagara-On-The-Lake, Niagara Falls, Port Colbourne, St. Catharines, St. David's, Smithville, Stoney Creek, Thorold, Vineland, Virgil, Wainfleet, Welland
Reviews
Scott & Grace
It was super easy to book Tara Johnston through All Seasons. We loved everything about our wedding! July 2023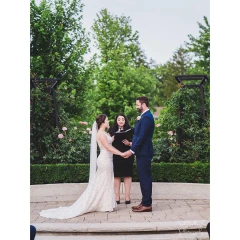 Andrew & Kaitlin
Tara helped to make the ceremony run smoothly with our great rehearsal the night prior . We where very happy with the services and Tara was helpful answering any of our questions about the license process June 2023
Madison & Braedan
Tara Johnston, Thank you so much for helping make our day effortless. We are so thankful to have had you officiate our wedding. June 2023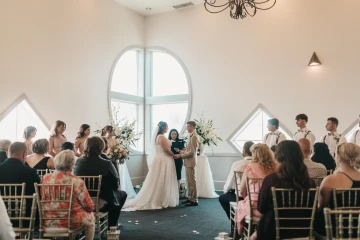 Gary & Lip-How
Tara Johnston was friendly, professional and adapted perfectly to the needs of our (rather unconventional) wedding. In the lead up to the wedding, when there were issues with travel plans and paperwork, Tara was always supportive and willing to do anything in her power to help facilitate our wedding. All in all, I can't imagine anyone would have made a better job of our wedding than Tara. Our sincere thanks. April 2023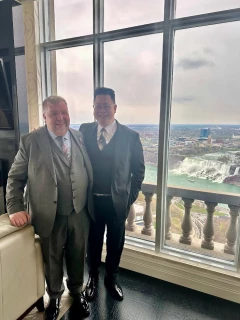 Glen & Tracey
Tara Johnston went above and beyond my expectations !!! She was sensational! She was helpful with our personal vows she was prompt with ever reply she did an amazing job for our service! Beyond pleased with Tara ! We will definitely refer her 110%! November 2022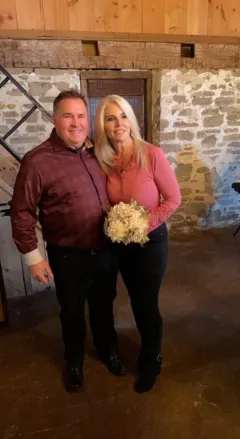 Allan & Devry
Thank you so much Tara [Johnston]! It was lovely to meet you and thanks for all the help and the beautiful ceremony! And thanks also for the reminders of next steps! October 2022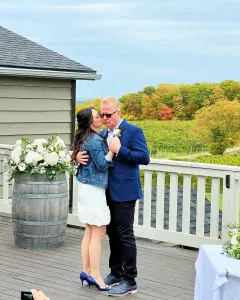 Stephanie & Julieanne
We enjoyed working with Tara; she did not rush through the planning meeting and listened to our ideas and dreams of how we wanted our ceremony to go. Great experience and will definitely be referring others. Thank you Tara! August 2022
Claire & Travis
A very warm thank you for being our officiant, Tara [Johnston]. You were absolutely the perfect fit for the day and we couldn't be more thrilled with how it all turned out! September 2022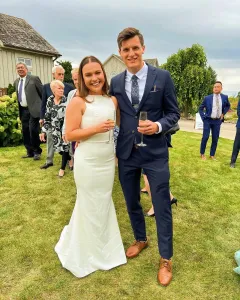 Aaron & Dianna
Tara Johnston was lovely, low-key, exactly what we needed. She helped make what I expected to be a technical moment very special - while also respecting our somewhat unpredictable schedule! Loved working with her and so grateful she was part of the day. August 2022
Sam & Chad
Tara, Thank you for being part of our perfect day! You did an amazing job! September 2022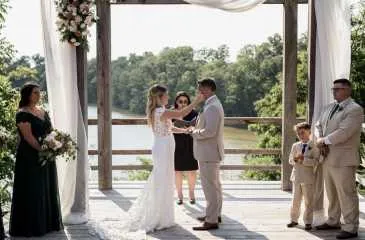 Brooke & Michael
Tara, Your energy is just what we needed for our big day! August 2022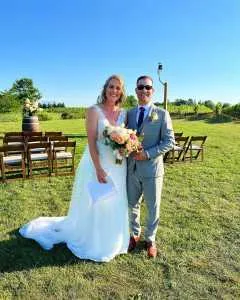 Stephanie & Julianne
Tara [Johnston], Thank you for being there and sharing in the day with us! August 2022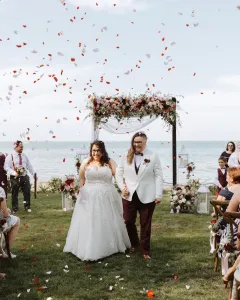 Aaron & Dianna
Thank you so much Tara!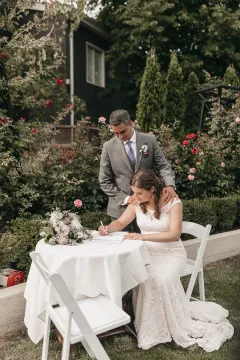 Michelle & Robert
Thank YOU for doing such a lovely job with our ceremony! It was exactly what we wanted. I appreciated everything - from the rehearsal guide you sent us, to the under-the-breath cues during the ceremony (because we all know we had no idea what we were doing, hahaha). [...] You made everything so very easy and it was beautiful! Michelle & Robert, September, 2021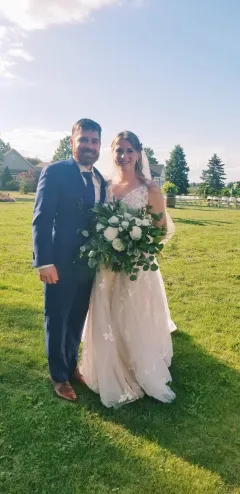 Diana & Adam
Thank you so much for everything! We're so happy that the day finally happened. Diana & Adam, September 2021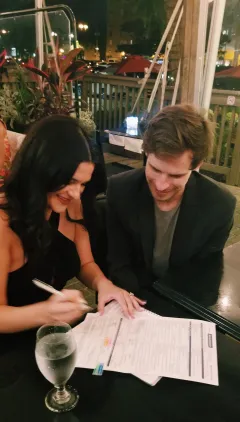 Brenda & Dennis
Thank you so much Tara for being part of our day. It was perfect!! Brenda & Dennis, August 2021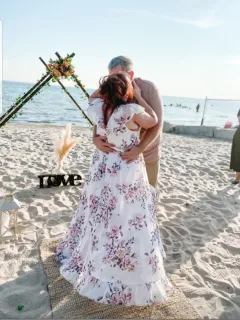 Karen & Thanh
Thank you so much for everything! [...]Thank you for being a friend and professional and both even virtually. You did an amazing job at the ceremony -- everything was SPOT on. Karen & Thanh, August 2021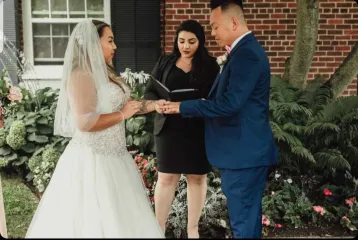 Miyuki & Mitch
Thank you for being our guide through wedding planning and being so flexible and understanding through all the changes. Miyuki & Mitch, August 2020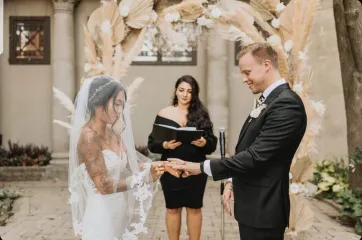 Meghan & Alessandro
Thank you for answering all of our questions and being very helpful! Meghan & Alessandro August 2020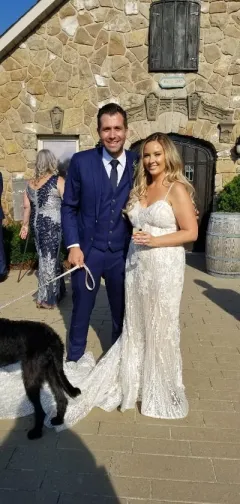 Thomas & Ashley
Tara Johnston was fantastic and perfect! We highly recommend her. Thomas & Ashley, May 2020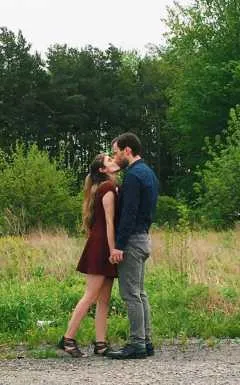 Kelvin & Teresa
Tara Johnston was very nice, professional and responded to all of my questions in a timely manner. Thank you Tara for everything. Kelvin & Teresa ' November 2019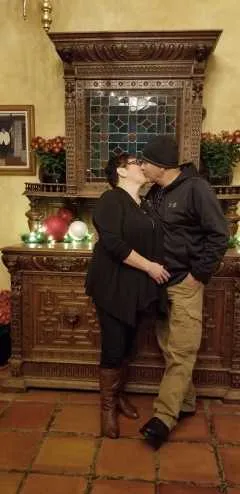 Andrew & Shelby
Tara Johnston went above and beyond, helping us to plan our day beyond the ceremony and highlighting what we were missing. We will highly recommend Tara to anyone we know looking for an officiant! Andrew & Shelby September 2019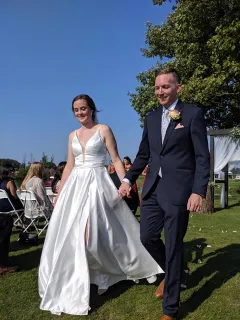 Cody & Geniveve
Tara Johnston was so nice and helpful, even when things weren't running on schedule! Thank you for everything ! Cody & Geniveve August 2019
Liam & Andrea
Tara Johnston was a wonderful officiant for our wedding! Planning was very easy with her. Tara was incredibly easy to communicate with and very quick to reply to any questions we had. Thank you Tara! Liam & Andrea, August 2019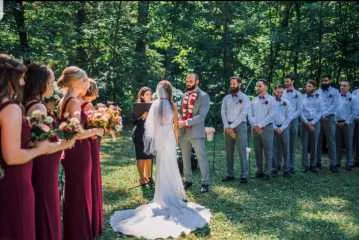 Marcel & Nicole
Tara Johnston was an amazing officiant. She provided us with all the information required in order to make our special day extra special without any hiccups! Thanks again Tara! Marcel & Nicole July 2019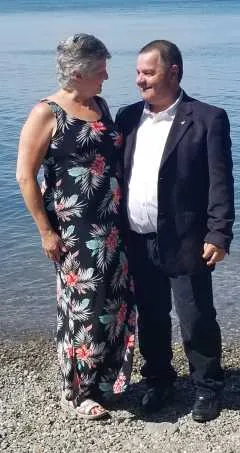 Ben and Joséphine
We're both very grateful to have had Tara Johnston to marry us and been there to be part of our day. Thank you for your professionalism, all the info you've given us regarding the licence and for being so patient while waiting in the sun a whole day! You were great and made everything feel so easy. Ben and Joséphine June 2019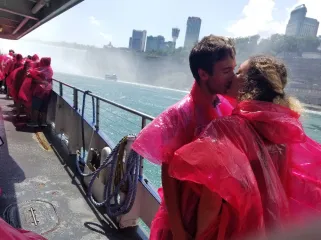 Tyler & Lisa
Thank you Tara! Tyler & Lisa, August 2018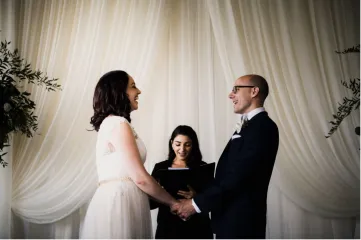 Chris & Amanda
We highly recommend Tara [Johnston] to other couples. It's no exaggeration to say that by the end she felt like one of the family! Thank you to All Seasons Weddings for making our day a breeze to organize. Chris & Amanda, August 2018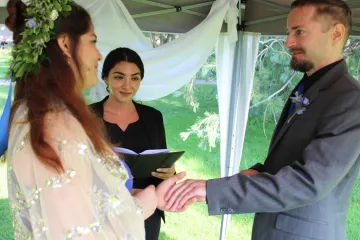 Hayley and Liam
"Thanks again for making our day so special!"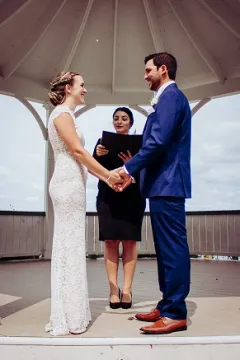 Meaghan & Mike
Tara (Johnston), Mike and I would like to extend our greatest appreciation for your services on Saturday. The day was perfect and it turned out exactly as we envisioned - lighthearted and full of good energy. Meaghan & Mike, June 2018