Suzanne Veh
Suzanne enjoyed a teaching career with the Upper Canada Board and Algonquin College in Ottawa. After many years of working and raising a family in Russell, Ontario, she and her husband retired and settled in beautiful Lanark County. Suzanne enjoys swimming, cycling, yoga, volunteering locally and sharing this beautiful environment with friends, family and grandchildren. She respects anyone's choice of religion and right to marry. With her warm personality and great communication skills, Suzanne is ready to work with you to make your celebration special, personal and memorable – whether it is indoors or outdoors, a traditional or casual ceremony, same gender, or a spiritual celebration in the park or by the lake!
Request Suzanne Veh
Areas Served
Perth, Smith's Falls, Glen Tay, Maberley, Gillies Corners, Lanark, Innisville, Balderson, Rideau Ferry, Port Elmsley, Lombardy, Westport
Reviews
Curtis & Alyssa
The process to book our Officiant Suzanne Veh was very easy and stress free! It was exactly as we wanted and planned it to be! September 2023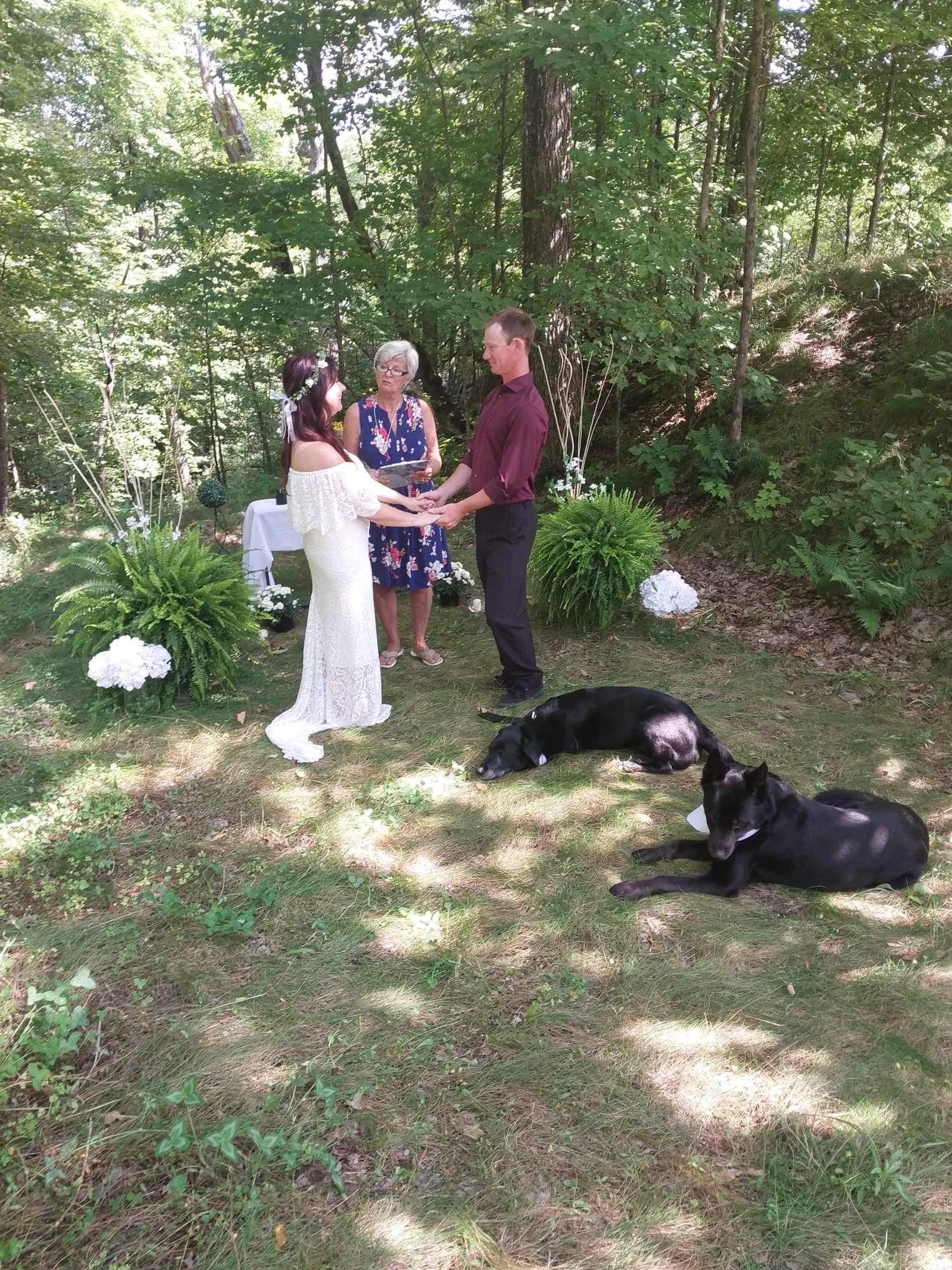 Blair & Jayne
It was very easy and excellent!! The best part was when Suzanne announced to our mothers that they were there to witness a wedding, as we had kept it a secret until then. Suzanne said the exact words that we couldn't come up with and the reactions were priceless. We would like to thank Suzanne once again for the incredible job she did and for making our day that much more special!! June 2023
Kyle & Shawna
The process was great! Quick and easy, loved the many reviews that helped us choose who would be the right fit! Loved how simple and sweet our wedding was. Suzanne was so easy to work with and helped make our ceremony uniquely us! . So happy with Suzanne! She was kind, communicative and was perfect for our very special day! June 2023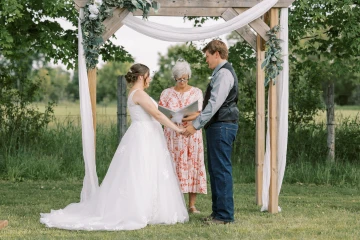 Credit: Isabelle Buckley
Aaron & Thomas
My husband and I got married December 3rd 2022 and we chose Suzanne Veh as our officiant. She's a very down to earth, bubbly, funny and professional woman. She made us comfortable from the very first meeting. She made sure all the details we wanted on our big day were included without hesitation. We knew we were in good hands. On the day of she was absolutely perfect, she knew we were nervous and helped us through without skipping a beat. I highly recommend Suzanne to anyone getting married in her area. She truly was a pleasure to work with! December 2022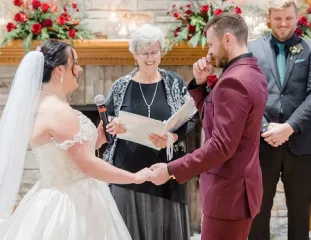 Meagan & Curtis
We are so happy we had Suzanne Veh officiate our wedding. At the beginning we had several questions about the process and Suzanne took the time to meet with us and was able to address all the questions we had. Suzanne was more than accommodating, we were able to incorporate pieces that we thought were more fitting to us and we were able to amend things that didn't speak to us. I also had asked Suzanne to look over my vows and she took the time to do so. I could not have imagined anyone else officiating our wedding day more beautifully than Suzanne did. Thank you! October 2022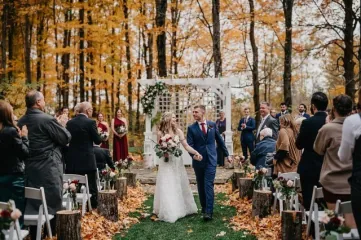 Maggie & Dylan
Suzanne Veh was truly wonderful to deal with! Would highly recommend her!! Oct 2022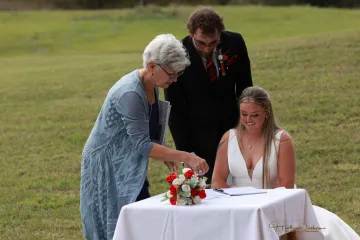 Kathryn & Nick
Suzanne was an absolute pleasure to work with. The task of finding an officiant seemed a little daunting, but once we spoke she set our minds at ease. Suzanne was easy to connect with and flexible when our ceremony had to move inside at the last minute. She gave us realistic ceremony templates and was open to any little changes that we wanted to make. We were so happy with her services and would recommend her to any of our loved ones! Thank you so much, Kathryn & Nick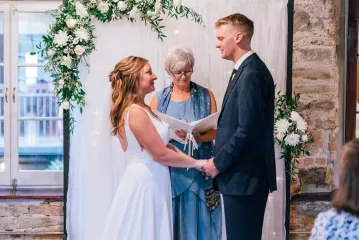 Cathy & Lauren
Suanne was very accommodating to our requests and ceremony. She was very thoughtful the entire time she spent with us. We were very happy with her services. Thank you Suzanne. Cathy & Lauren
Four couples celebrating their 40th anniversary
"Thanks for helping us celebrate - it was a priceless memory!"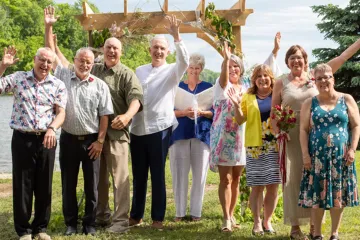 Holly & Owen
I just wanted to thank you Suzanne [Veh] for being a part of our big day. You made the process so simple, smooth and easy! You guided us through exactly what to do and kept it seamless for us. You helped to keep our ceremony quick and simple -- the way we wanted it. Our guests and other vendors had nothing but lovely things to say about you. You were very kind, patient and accommodating to what we wanted. We would recommend you time and time again. Thank you, thank you, thank you! September 2021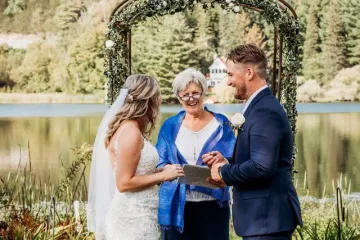 Tina & Shane
We literally planned our wedding in four weeks and were thrilled to find Suzanne [Veh] to officiate it. We chose to have our non-denominational wedding at our off-grid cabin. Suzanne was very accommodating and lovely to work with. She made everyone feel comfortable and at ease. Thank you again for everything Suzanne! October 2021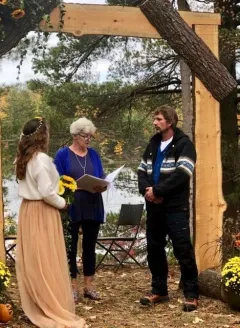 Gisela & John
Suzanne Veh was lovely! She was very personable and made us and our guests comfortable. September 2021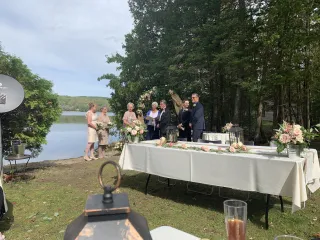 Osama & Sabrina
Suzanne [Veh] was a wonderful addition to our wedding. She made the process so simple and guided us throughout. Suzanne is very detail oriented, personable, and a pure joy. She took the time to ask questions and executed our special day how we imagined it. With her caring, outgoing personality and expertise, we are truly grateful that Suzanne was part of our wedding day. August 2021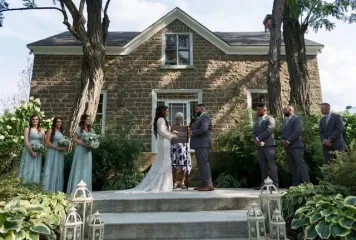 Gisela & John
We found All Seasons Weddings online when looking for a non-denominational officiant for our wedding at the lake. Since this was not a first marriage for either of us, we wanted a simple service. Suzanne Veh was our choice and was wonderful to work with. Despite numerous date changes due to Covid, she was very accommodating and tailored our vows exactly to what we wanted. She was personable with us and our guests, and put us at ease. We wouldn't hesitate to recommend Suzanne, and All Seasons Weddings for anyone looking for an officiant. September 2021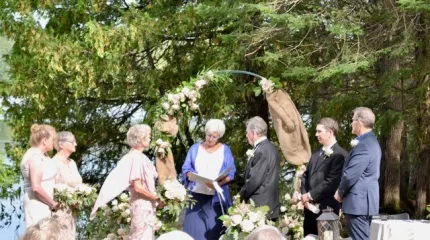 Garrett & Kayla
Suzanne Veh was very kind and patient, she cared very much about making sure that our day was special. Her presence went very well with the atmosphere of our wedding. Thank you so much Suzanne and All Seasons! August 2019
Kyle & Michelle
Suzanne Veh was absolutely wonderful. Despite my lack of communication for a good chunk of time she was kind and patient. My fiancé was worrisome about being married by a stranger as our original plan had been a family friend that fell through. We were told numerous time how awesome Suzanne was. We were overly happy with the service offered. August 2019
Ann & Greg
Suzanne Veh was very friendly and willing to work with us to have a ceremony that was very personalized. Thank you Suzanne for making our day exactly what we wanted. August 2019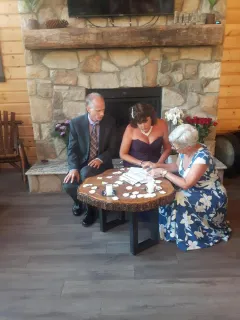 Megan & Julien
Good morning Suzanne, Just wanted to thank you again for the wonderful ceremony! We appreciate everything you did up there to help make it so memorable :) Thanks again! October 2018
Sarah & Nathan
Suzanne (Veh), I just want to extend a deep appreciation for all that you did for our wedding. We couldn't have done it without you and we are very grateful for everything! It was a beautiful day. February 2018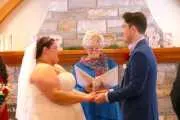 Karen & John
Suzanne (Veh) officiated at our wedding this last Saturday - she was wonderful! Pleasant, patient, caring and took great care of us - we're very pleased and would highly recommend her to anybody in the region with upcoming nuptials.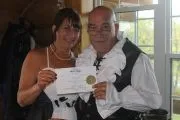 Amber & Josh
Hi Suzanne (Veh). Everything was amazing. A great success. We wish we could could do it over and over again. Thank you for being a great officiant. We are very happy with everything you said and did. Thanks again :)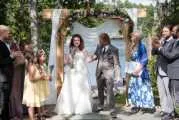 Danielle & Jeff
Suzanne (Veh), Jeff and I wish to thank you for your support, patience, sense of humour and graciousness. You were the perfect officiant for us.