Suzanne Veh
Suzanne enjoyed a teaching career with the Upper Canada Board and Algonquin College in Ottawa. After many years of working and raising a family in Russell, Ontario, she and her husband retired and settled in beautiful Lanark County. Suzanne enjoys swimming, cycling, yoga, volunteering locally and sharing this beautiful environment with friends, family and grandchildren. She respects anyone's choice of religion and right to marry. With her warm personality and great communication skills, Suzanne is ready to work with you to make your celebration special, personal and memorable – whether it is indoors or outdoors, a traditional or casual ceremony, same gender, or a spiritual celebration in the park or by the lake!
Request Suzanne Veh
Areas Served
Perth, Smith's Falls, Glen Tay, Maberley, Gillies Corners, Lanark, Innisville, Balderson, Rideau Ferry, Port Elmsley, Lombardy, Westport
Reviews
Garrett & Kayla
Suzanne Veh was very kind and patient, she cared very much about making sure that our day was special. Her presence went very well with the atmosphere of our wedding. Thank you so much Suzanne and All Seasons! Garrett & Kayla August 2019
Kyle & Michelle
Suzanne Veh was absolutely wonderful. Despite my lack of communication for a good chunk of time she was kind and patient. My fiancé was wearisome about being married by a stranger as our original plan had been a family friend that fell through. We were told numerous time how awesome Suzanne was. We were overly happy with the service offered. Kyle & Michelle August 2019
Ann & Greg
Suzanne Veh was very friendly and willing to work with us to have a ceremony that was very personalized. Thank you Suzanne for making our day exactly what we wanted. Ann & Greg August 2019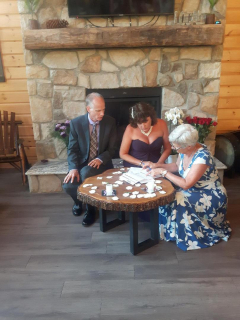 Megan & Julien
Good morning Suzanne, Just wanted to thank you again for the wonderful ceremony! We appreciate everything you did up there to help make it so memorable :) Thanks again! [October 20, 2018]
Sarah & Nathan
Suzanne (Veh), I just want to extend a deep appreciation for all that you did for our wedding. We couldn't have done it without you and we are very grateful for everything! It was a beautiful day. Sarah and Nathan -- Feb. 9, 2018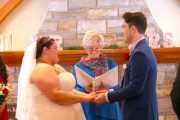 Karen & John
Suzanne (Veh) officiated at our wedding this last Saturday - she was wonderful! Pleasant, patient, caring and took great care of us - we're very pleased and would highly recommend her to anybody in the region with upcoming nuptials.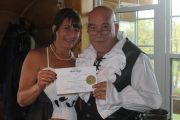 Amber & Josh
Hi Suzanne (Veh). Everything was amazing. A great success. We wish we could could do it over and over again. Thank you for being a great officiant. We are very happy with everything you said and did. Thanks again :)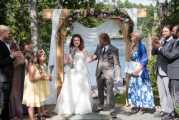 Danielle & Jeff
Suzanne (Veh), Jeff and I wish to thank you for your support, patience, sense of humour and graciousness. You were the perfect officiant for us.