Suzanne Quirion
As an Appointed Minister, Suzanne believes marrying the love of your life is one of the greatest joys you will experience, just as having your day turn out exactly how you planned it. She says: 'I'm very comfortable performing French, English or bilingual wedding ceremonies anywhere in the Thunder Bay area. I am fully bilingual and an experienced public speaker. In the last few years, I have witnessed the two beautiful weddings of both my sons. Partaking in these weddings has given me the clarity to understand the importance of detail, the magic of words, the wisdom to listen and the heart to put it all together. Let me be part of making your day as you want it!'
Request Suzanne Quirion
Areas Served
Thunder Bay, Oliver-Paipoonge, Murillo, Neebing, Kakabeka Falls, Rosslyn, Stanley, Conmee, O'Connor, Nolalu, South Gillies, Shuniah
Reviews
Lauren and Alexander
Suzanne Quirion was wonderful! She exceeded our expectations. She made us feel so comfortable. She was warm, kind and professional. Suzanne was an extra ray of sunshine on our day. For anyone in Thunder Bay looking to elope or have a traditional ceremony, Suzanne should be your first pick! She was so easy to work with. She was dressed beautifully and professionally with out taking away from us. I only mention this because I've seen officiants in very loud outfits before and it was distracting. Again, Suzanne was amazing and we were so pleased. 10/10 recommend Suzanne forever. - Lauren and Alexander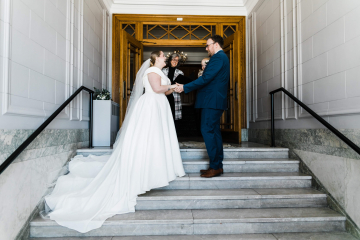 Kyle & Cathleen
Suzanne Quirion was absolutely amazing! From the first time we met to discuss and plan our wedding, we knew she was the perfect officiant for us! She helped us in the midst of a pandemic to prove that love wins! ♥️ Kyle & Cathleen December 2020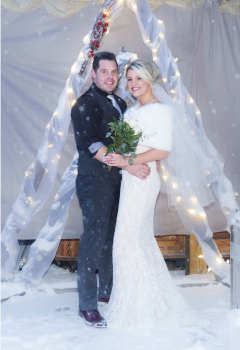 Kim and Bryan
Thank you so much for moving the date up from the 26th to the 23rd due to the lockdown. We really appreciate how you accommodated us on such short notice. The wedding ceremony was beautiful, cold but beautiful. 😊 However it does make for really nice pictures and great stories to tell for many years to come. We were happy with the overall process and developing the ceremony and vows with you. I'm also very appreciative that you incorporated the French language into the ceremony. My family was quite pleased with that added bonus. I would definitely recommend you and your services to others. Thanks again for everything. Merci toujours, Kim and Bryan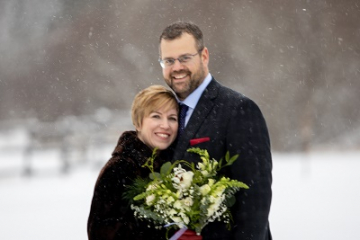 Brandon and Maureen
"Suzie helped make our special day that much more special. She brings a warm, inviting, and personal touch to her approach as an officiant and we are truly thankful we were able to have her be a part of our wedding day". Thank you so much again Suzie for helping to make our wedding day so special. We are thankful for you and appreciate you taking part in the day. Brandon and Maureen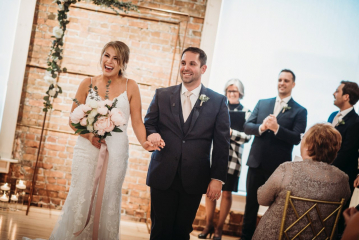 Jessica and Sheldon
Suzanne Quirion was absolutely phenomenal and helped make our day perfect!!!!!!! My husband and I were thrilled with her! Thank you so much!!! Jessica and Sheldon October 2020
Sean & Nicole
Suzanne Quirion went above and beyond our expectations. We have seen her officiate other weddings and really liked her style and tone of voice. She has an extremely calming and soothing voice. Many people in our family commented on how much they enjoyed her speaking at our wedding ceremony. In addition, she made us feel very comfortable during the ceremony, saying things like "good job" and so on. We never expected to feel so relaxed and free of anxiety during our ceremony and we feel that this has a lot to do with Suzanne's style and personality. We would recommend Suzanne. Sean & Nicole October 2020
Richard & Dominique
Suzanne Quirion is fantastic! She exceeded our expectation and made our day perfect. Thank you Suzanne! Richard & Dominique August 2020
Carol & Jack
Suzanne Quirion was the best She was professional friendly caring and kind Would recommend her to everyone. Thank you for making our day as perfect as could be. Carol & Jack July 2020
Diane & Brian
We got married in March 2020. Suzanne (Quirion) from beginning to end has been absolutely amazing to deal with. She is an amazing, kind person who provides a loving ceremony. We would absolutely recommend Susanne because not only does she deliver a heart-felt ceremony, she is by far the kindest, most loving person we have met! Diane & Brian March 2020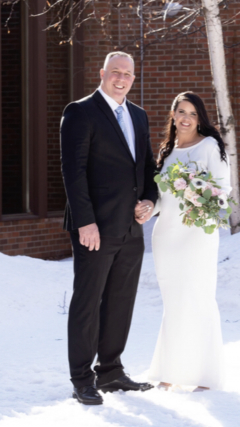 Rik & Linda
Suzanne Quirion was such a pleasure to get to know and to have officiate our wedding. The whole process was clearly explained by Suzanne and when we had questions, she responded immediately. Suzanne was professional, personable, organized and great with any last minute changes we suggested. She was very patient, understanding and supportive through it all. Suzanne is very passionate about what she does and makes you feel comfortable and relaxed . Many compliments from family and friends. Highly recommend Suzanne! Rik & Linda July 2019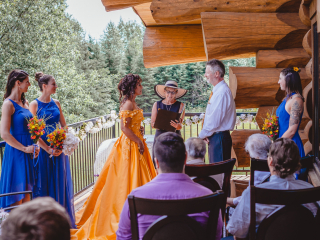 Tyler & Calagh
Suzanne Quirion was wonderful! The process was easy and so helpful. We found the perfect officiant for our wedding ceremony. We couldn't be more pleased with it! Thank you very much! Tyler & Calagh October 2019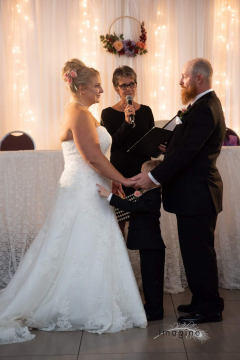 Ashley & Chris
Suzanne Quirion did such an amazing job performing our ceremony on Sept 28th 2019. She really helped us to personalize the ceremony to suit both my husband and I. Everything was so perfect. We cannot thank Suzanne enough! Ashley & Chris Sept 2019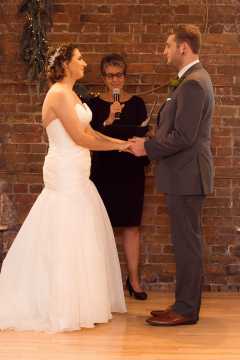 Justin & Katelyn
Suzanne Quirion went beyond our expectations!Thank you for everything ! Justin & Katelyn August 2019
Mike & Drue
Suzanne Quirion was very patient and solved any issues that presented themselves. Thank you for being apart of your day ! Mike & Drue August 2019
Ken & Sherry
Suzanne Quirion was amazing. She is very well spoken and seemed to truly enjoy being a big part of our special day. Suzanne, we thank you for making our day so special. Ken & Sherry August 2019
Lee & Ashley
Suzanne Quirion was professional, compassionate and helped us to create a ceremony that reflected our vision for our wedding day. We would definitely recommend Suzanne to other couples in search of a wedding officiant. Thank you Suzanne, for helping us craft a ceremony that reflects our relationship, our values, and our vision. Lee & Ashley July 2019
Marlo and Bill
Suzanne (Quirion) was absolutely delightful to work with. She was extremely accommodating and flexible when it came to the ceremony and the extra additions added to the ceremony. Her addition of the French language to the ceremony was extra special. We both highly recommend Suzanne to perform any ceremony!! Thank you once again. Marlo and Bill. July 2019.
Debbie and Jeff
Suzanne Quirion delivered a beautiful ceremony for our very tiny and intimate wedding. It was everything I had hoped for. Very personal, upbeat and happy and Suzanne always had a smile and made me feel at ease. After meeting with her for the first time about our unique ceremony, we left very excited and knew we had chosen the perfect officiant for us. Thank you again Suzanne!! Debbie and Jeff January 18/19 was a very happy day!!
Stephanie & Patrick
Suzanne Quirion did an amazing job for our wedding ceremony. She was easy to work with and went above and beyond my expectations. Highly recommend her for your wedding. Stephanie & Patrick Oct 12th, 2018
Dave & Dan
SUZANNE QUIRION ROCKS! After our first visit with her, we knew we had to have her not only as our celebrant but as a guest at our reception as well. We absolutely adore her and her positive upbeat personality. She also gave us exactly what we wanted as far as the ceremony went as well. Thanks again for everything!! Oct 2018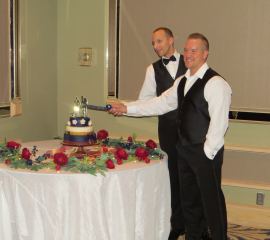 Danielle & Markus
Suzanne did an amazing job officiating our ceremony. We had many compliments on how she delivered the ceremony and my husband I felt very comfortable with her. She went out of her way to learn how to pronounce our last name. I would highly recommend her to anyone looking for an officiant.
Marietta & Gerry
Suzanne Quirion did a wonderful ceremony for our wedding and we will certainly recommend her to anyone who is planning a wedding.
Judy & Lorne
Suzanne Quirion was exemplary in her position. She made us feel so special and she was such an important part of our ceremony. Her service, her smile, her personality was perfect. She made our day the best it could ever be and our fiftieth anniversary felt like our first day together. Thank you Suzanne for everything. She was a perfect representative for your services. She was professional, sincere, happy and made our special day the best it could be. She gave us advice and made our guests feel welcome and was part of our successful and enjoyable fiftieth wedding anniversary. Thank you Suzanne!!!
Autumne & Lyndon
Suzanne Quirion was beyond amazing. She met with us before our wedding and talked with us. We felt that she was warm and really tried to understand our family. She was very helpful at assisting us with some of the wording in our ceremony and had some good ideas to help us organize things. She was on time, had a beautiful presence and conveyed so much warmth and genuine happiness to be there. She was simply amazing. Thank you so much! Everyone was very kind and helpful. We had an excellent experience.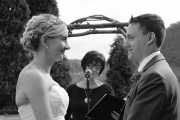 Lori & Shawn
I feel Suzanne Quirion went out of her way to make sure our every need was met. Could not have asked for a more wonderful officiant!
Lauren & Keith
Suzanne Quirion make the ceremony feel so personal and it was clear she genuinely cares about her job as an officiant. I couldn't have asked for a better person to share our special day with and I highly recommended her to anyone. I also has many people approach me afterwards and talk about how wonderful she was. SO thankful for her :)
Diana and Daniel
Suzanne Quirion far exceeded all of our expectations. She wrote a beautiful ceremony and was very happy to embrace all of our changes and touches to make it fully our own. She is so accomodating and flexible, we always felt that we were in control yet very grateful for all of her guidance and support. We felt like she was behind us the whole way and was very sweet and very humble while commanding considerable respect. We couldn't have had a better officiant, we cannot recommend her enough. Thank you so much Suzanne from the bottom of our hearts :)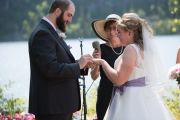 Liz & Jodi
Suzanne Quirion was amazing!! Her words were so eloquent and beautiful!! The ceremony was our favourite part of the day!
Dave & Sarah
Suzanne Quirion was amazing to work with and she helped make our wedding day the best it could be! If anyone I know is looking for an officiant, I would jump at the chance to recommend Suzanne! Couldn't have asked for a better officiant!
Sarah & Spencer
Suzanne (Quirion) was exactly what we were looking for when it came to an officiant. We are so grateful we found her. She wrote a beautiful ceremony that captured our personalities so well, everyone thought we wrote it ourselves. Our guests only had the best things to say about her. Her warmth made everyone feel comfortable and at ease. We could not be more grateful or happy with Suzanne. If you are looking for an officiant that that will give you guidance and direction, fill your ceremony with warmth and joy and have all the patience in the world, then Suzanne is the lady. Thank you Suzanne, you are the reason our ceremony was perfect and we will be forever grateful. Sarah & Spencer <3