Susanne Hodgins
I am a contemplative person who has been meditating regularly for over twenty years. I would love the privilege of performing your customized wedding ceremony. As a Designated Minister and trained spiritual director, who loves all Life Celebrations, I see myself as an Elder in the community. I'm a woman of Ritual! I come from a non- judgmental place and will bring a quiet presence of sincerity, authenticity and positive joyfulness to your wedding ceremony.
Request Susanne Hodgins
Areas Served
May through September: Bayfield, Forest, Port Frank's, Sarnia, Strathroy, Thedford, Zurich October through April; Belmont, Delaware, Glencoe, Ilderton, Komoka, London, Lambeth, Lucan, Melbourne, Melrose, Mount Brydges, Strathroy, Thamesford, Thorndale, St. Thomas
Reviews
Marnie & Sheila
Susanne Hodgins was warm and kind, organized and efficient. It's exactly what we wanted. October 2022
Rebecca & Tyler
We enjoyed meeting Susanne [Hodgins]! She was so efficient and happy to assist with anything! She arrived early and quietly and calmly went about her duties. I really appreciated her! We have referred you and would do so again! September 2022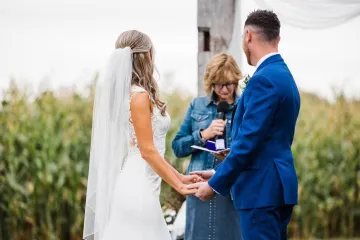 Craig & Robyn
Susanne "Susi" Hodgins was fantastic. Our wedding day was very special and Susi was a big part of that. Thank you so much. October 2021
Dylan & Sara
Susi went above and beyond to make sure the style of our wedding was perfect! She includes important family members and took the time to lead us in a rehearsal. Susi's guidance and support made our special day exceptional! Sept 2021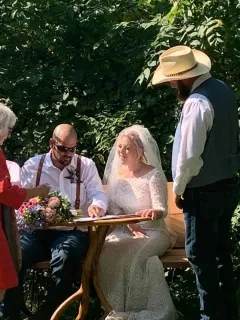 Stefano & Wendy
Susanne was amazing! She has wonderful energy and knew the right things to say and do to make our wedding beautiful. Stefano & Wendy May 2021
Katherine and Craig
Thank you Susanne Hodgins so much for officiating our wedding. You did such a wonderful job. We appreciate your help throughout the whole process. Katherine and Craig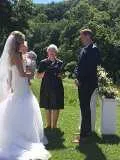 Rachel and Rory
Hi Susanne (Hodgins). Rory and I want to thank you for being our officiant. You made us feel so comfortable and it was great getting to know you. You did an absolutely amazing job and i smile when I look at the photos of us wit you marrying us. Thanks again, you are a lovely person and we could not have chosen a better officiant :) Rachel and Rory

Katlyn & Luke
Susanne Hodgins gave us exactly what we wanted for our wedding! We are not a very traditional couple and she helped direct us in customizing a very sweet and intimate ceremony for us, our family, and our friends. She was super kind, friendly, professional, and accommodating. She exceeded our expectations and her contributions made our wedding even more romantic and sweet than I had imagined. We couldn't have had a better officiant for our needs! All my questions we answered promptly, politely, and in detail.My experience was great all around, and I would definitely recommend All Seasons to a friend. I cannot emphasize enough what a great officiant Susanne was! Many thanks to her and to All Seasons for helping to make it a fun and stress free day!